Strawberry Rolls with Vanilla Glaze are the perfect fun and fruity breakfast treat! The soft rolls are swirled with fresh strawberry jam and topped with a sticky sweet glaze that's sure to please. These would be a beautiful addition to any breakfast or brunch!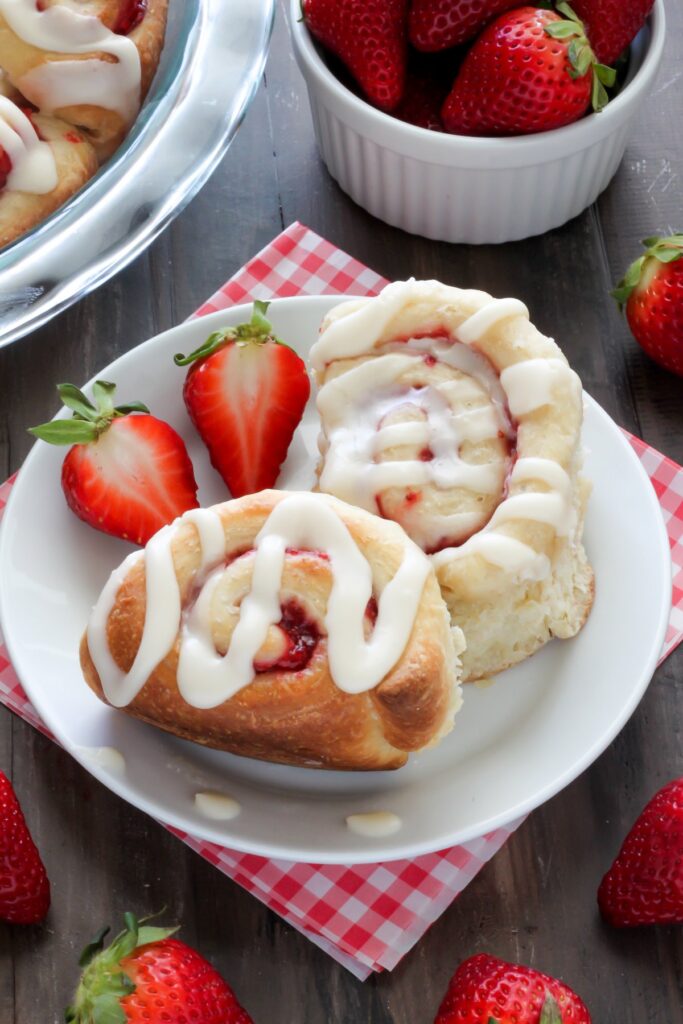 Strawberry Rolls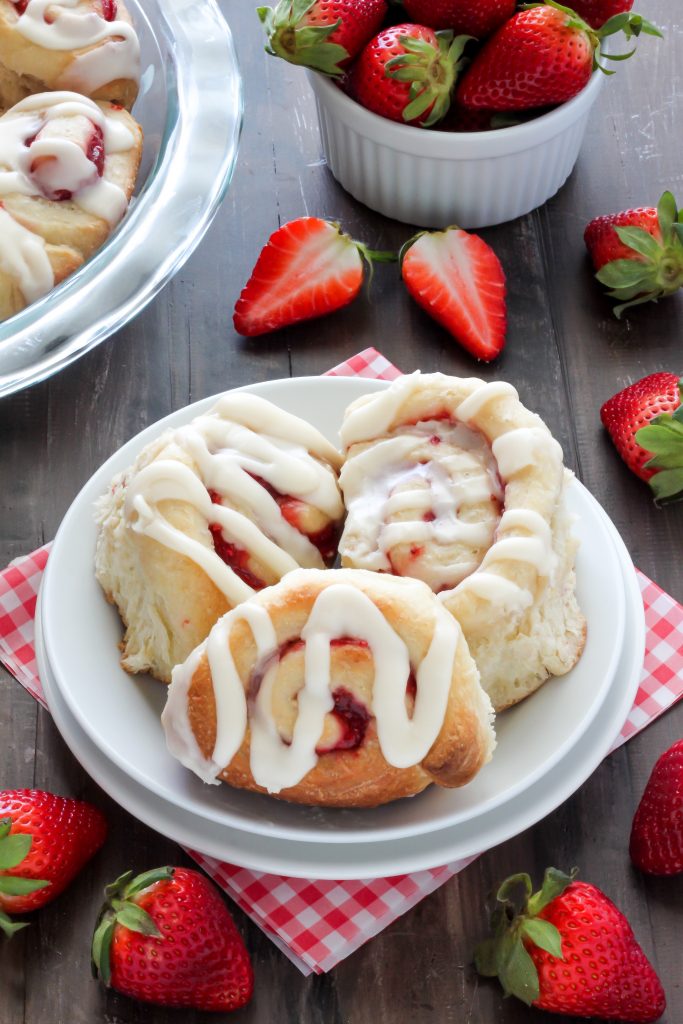 Friends! Today I'm super excited to be sharing with you a recipe from the amazing (!!!) Sally's Baking Addiction Cookbook. I'm also excited to announce I'm giving away a copy of this fabulous book!  One lucky winner is going to receive this beautiful book as well as a brand new Corningware French White 9″ Pie Plate
and Black Marble Rolling Pin
. Basically all of the things you'll need to get in the kitchen and start baking these incredible strawberry rolls! Be sure to check out all of the giveaway information at the very bottom of this post, ok?!
Now, on to the recipe! I have to admit, I had the hardest time picking just one recipe to make from Sally's cookbook. The pages are covered with dreamy desserts, and I probably spent a good 3 hours just gawking at the gorgeous photography. Then I landed on page 23… and my decision was made just like that. Page 23 held a photograph for Strawberry rolls with vanilla glaze, and after quickly glancing over the recipe and jotting down what I needed to grab from the store, I shuffled into action. What can I say? I'm a sucker for fruity desserts!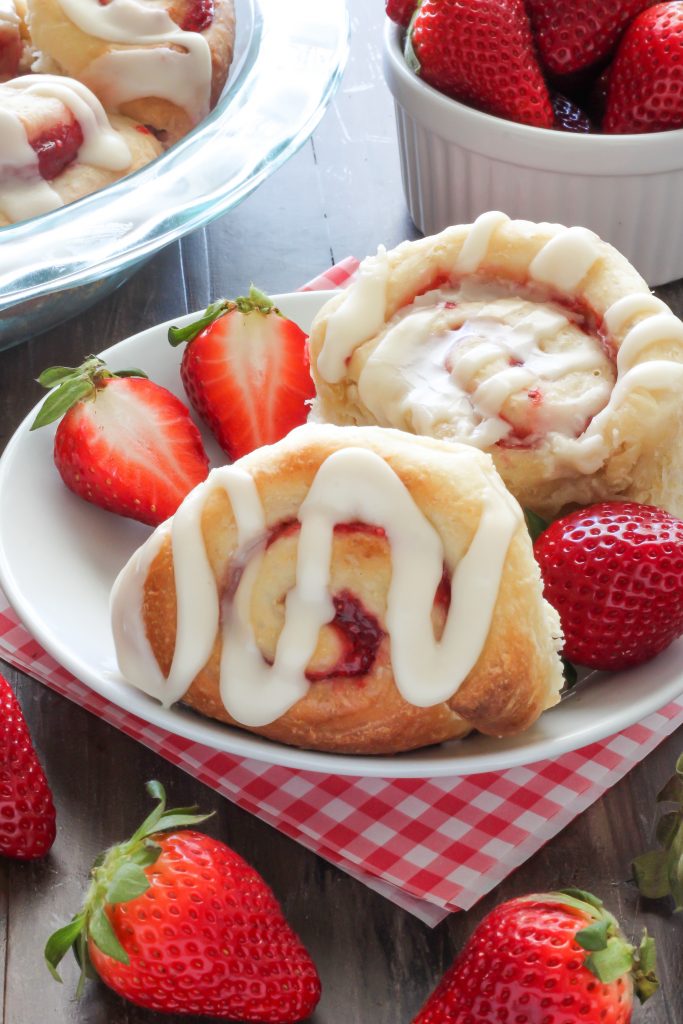 One of the things I love about this recipe is how easily accessible all of the ingredients are. I mean, I majorly heart baking – and do it as a profession – but nothing gets under my skin more than a cookbook that calls for wild and crazy ingredients that are nearly impossible to find at a regular grocery store. For this recipe, the only ingredient I had to run out for was fresh strawberries. Everything else listed in the ingredient section was already waiting for me in my kitchen. I love it when that happens!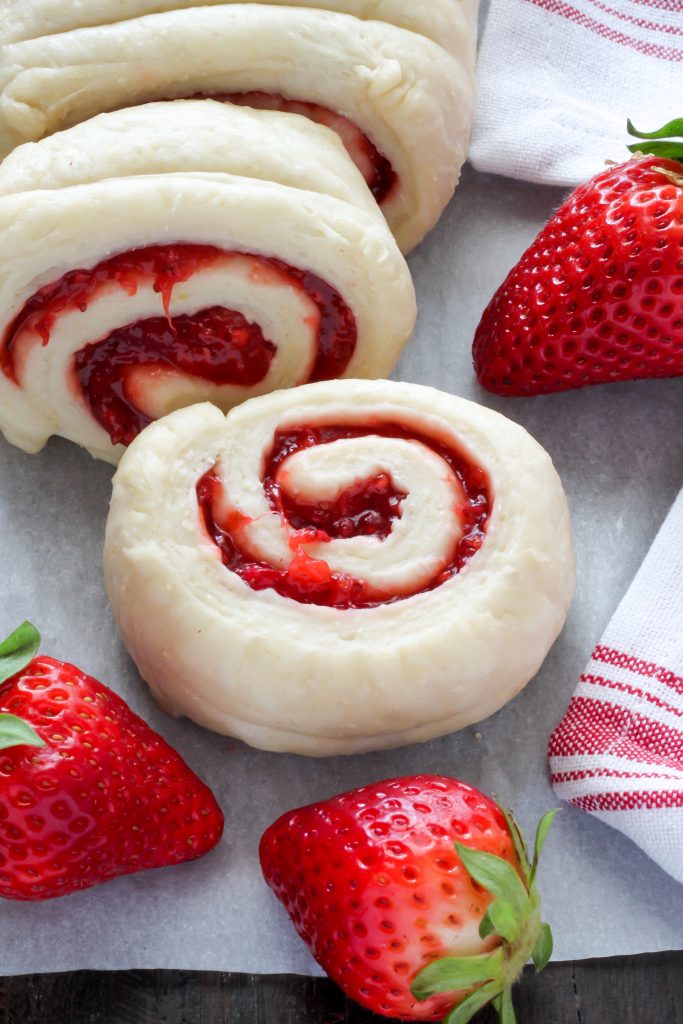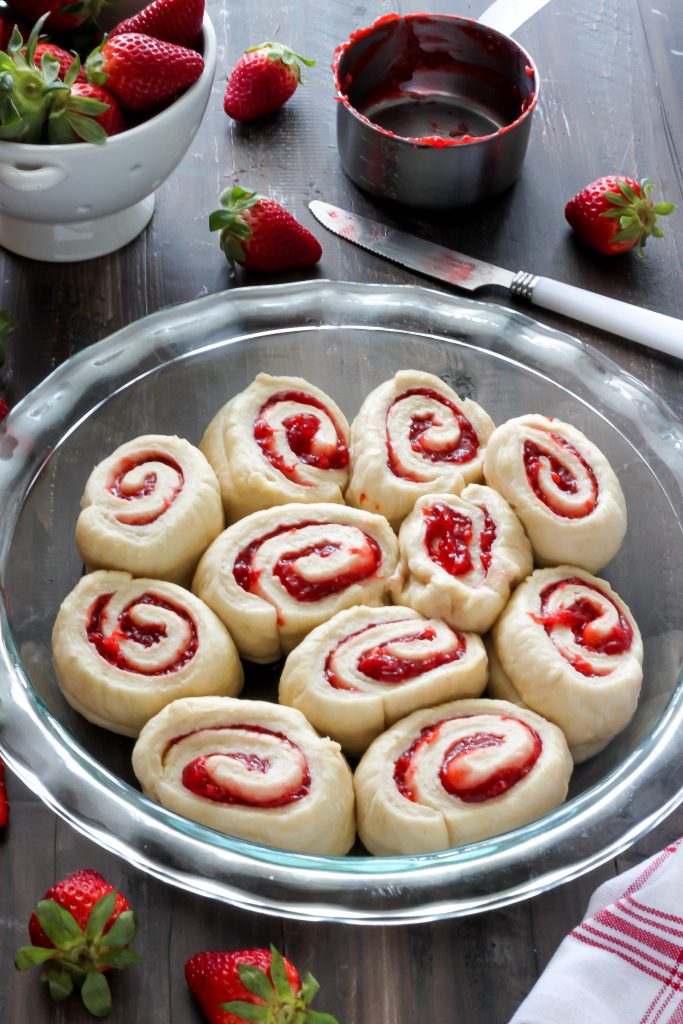 When planning to make this recipe, I have a few (hopefully) helpful suggestions to make your baking adventure smooth sailings!
1) I recommend making the strawberry filling before you begin working on anything else. In fact, if you can, I suggest making it an hour or so before you even start making the bun dough. The reason it's important to start with the filling isn't because it is a difficult or long task, but because the filling MUST cool completely before being spread over the dough. I found my filling took close to an hour (in the fridge) to cool.
2) This recipe only calls for one rise, making it much quicker than most bun recipes. It is very important however, that you allow the dough to rise in a warm environment. Our new kitchen is very warm so this is never an issue, but our old kitchen was super drafty and a nightmare for rising yeast-based doughs. I suggest allowing the dough to rise anywhere it's warm and draft-free… even if that means moving them out of the kitchen and in to a warmer room of the house.
3) When spreading your filling, be sure to leave a 1″ border around the edges of the dough. I know it can be tempting to spread it everywhere, but leaving the border clean helps make the rolling process much easier, not to mention much cleaner. #Trustmeonthisone
4) If it's impossible to find fresh strawberries in your area, I believe frozen would work just fine for the filling.
I hope those little snippets help you feel confident and ready to tackle these strawberry rolls!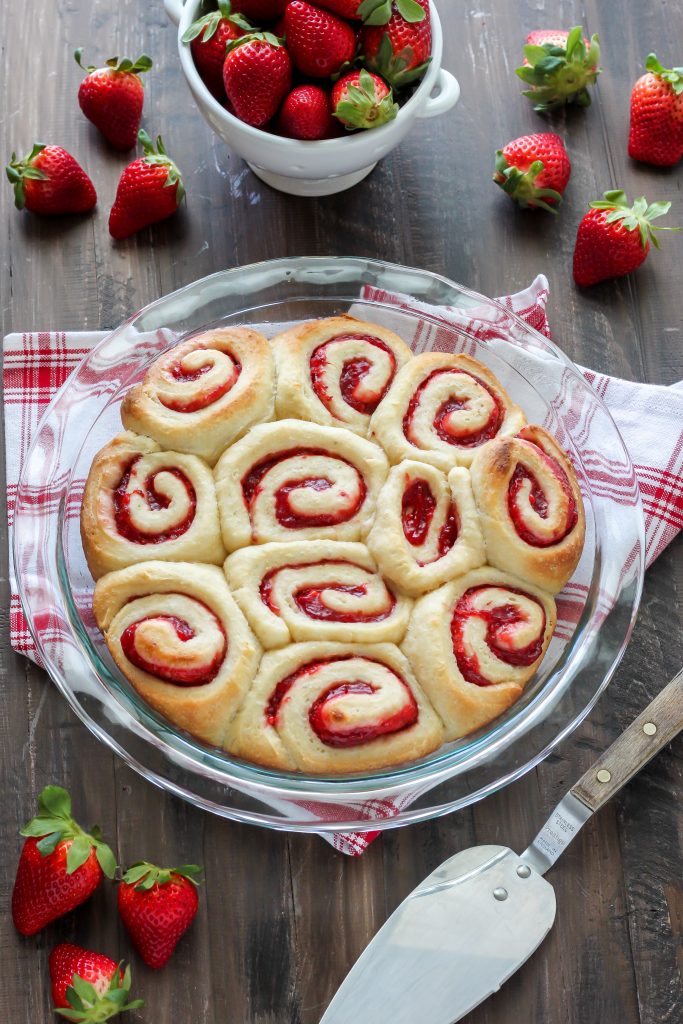 Ok. So let's move on to taste and texture!
Taste: These strawberry rolls with vanilla glaze just burst with flavor! The dough itself is light and buttery, allowing the filling and glaze to really shine. The filling tastes, as it should, just like fresh strawberry jam. I love that it's not overly sweet or sugary. The glaze is also light and lovely. It's subtly flavored with vanilla extract, and the perfect finish for these strawberry rolls.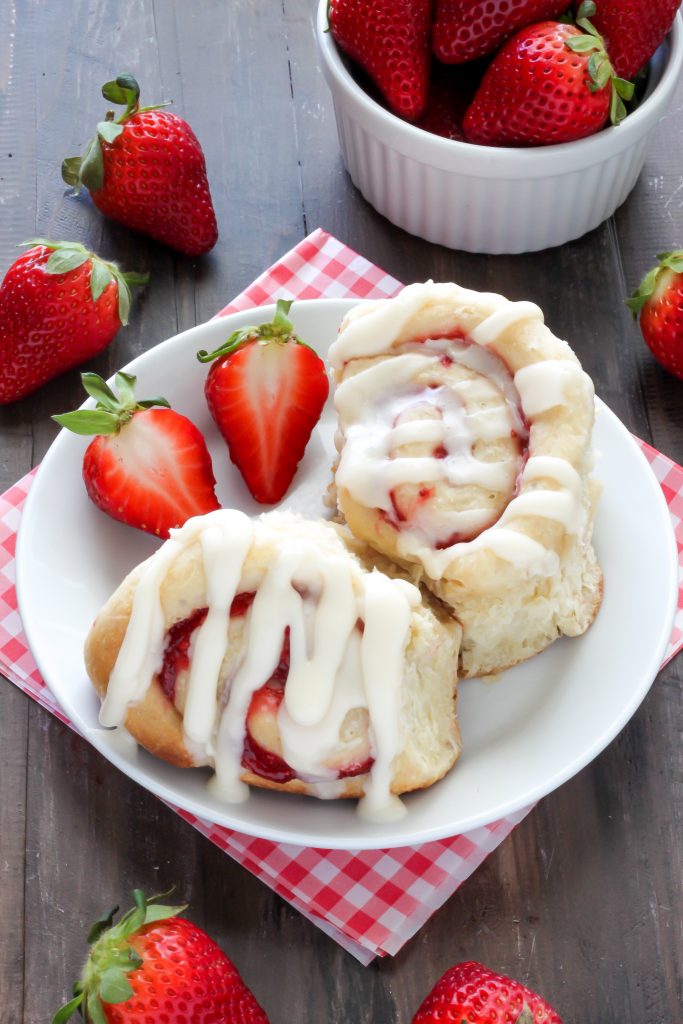 Texture: Incredible! The edges of the rolls get lightly browned and chewy, while the interior stays delightfully soft and melt-in-your-mouth fluffy. I am so picky about texture when it comes to sweet rolls, but these were spot on! Cue the happy dance.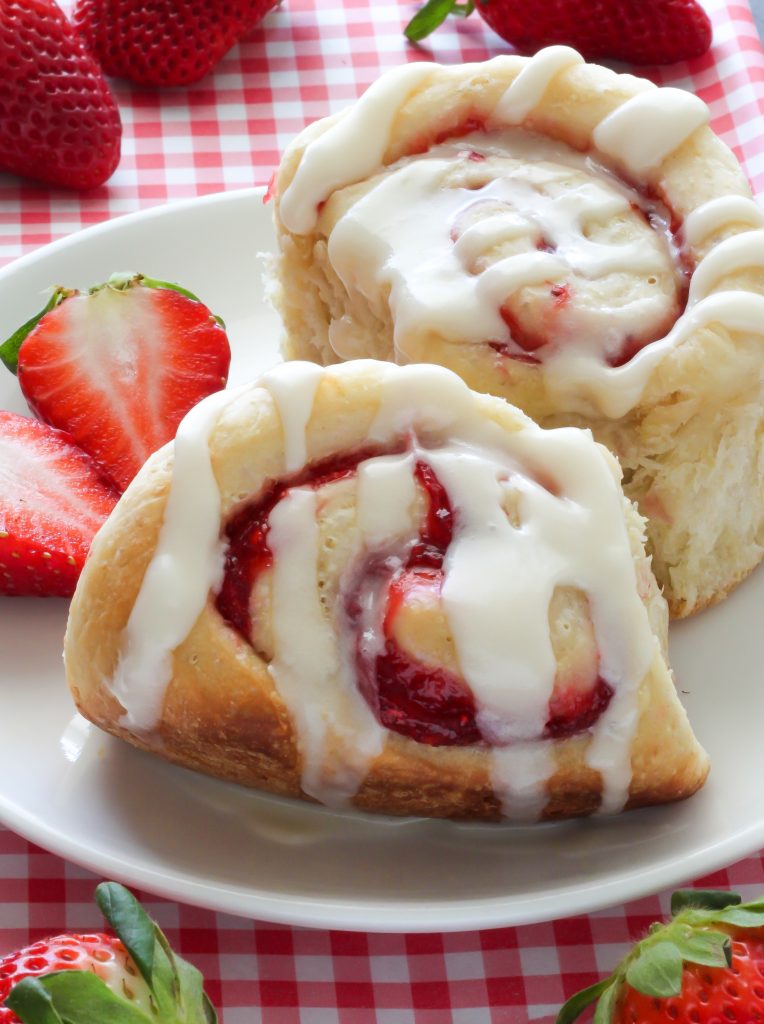 If you've never made sweet rolls before, all this may sound intimidating, but I promise, this recipe couldn't be easier! And the results are worth their weight in gold. I told Sally I had to take an extra long run after making these because I ate TWO straight off the pan – with extra vanilla glaze, of course. You guys… so worth it!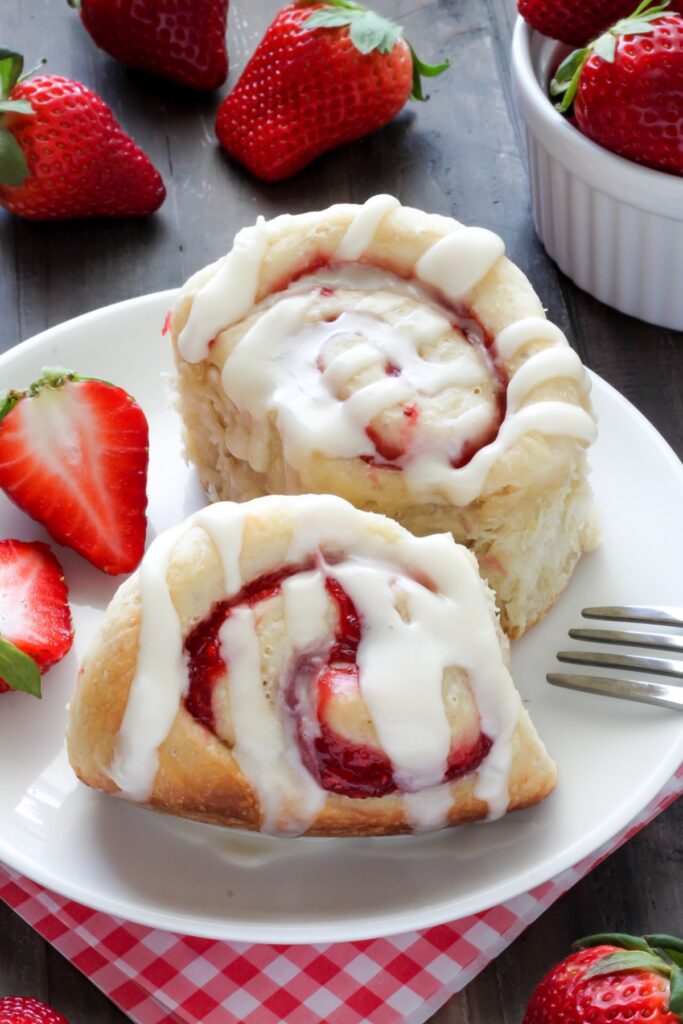 So, wanna know how you can win this fabulous cookbook, pie plate, and rolling pin? Simply pop over to Sally's site, take a look around, then come back and let me know what recipe you'd make first from her archives! Be sure to leave your email in my comment section below. A winner will be chosen, by random, April 1st, 2015. Good luck! (GIVEAWAY NOW CLOSED)
More Sweet Rolls Recipes: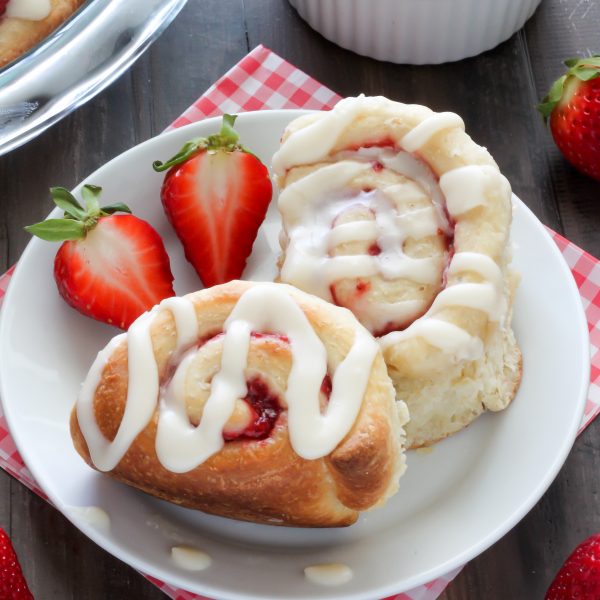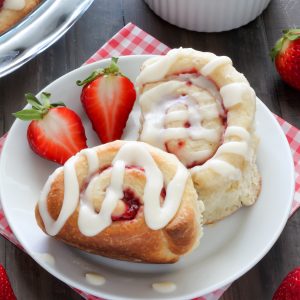 Strawberry Rolls with Vanilla Glaze and a Giveaway
Sweet and Fluffy, these Strawberry Swirled Rolls are topped with an incredible Vanilla Glaze. A wonderful yeast recipe for beginners!
Ingredients
For the Strawberry Filling:
1 1/2 cups fresh strawberries, chopped into tiny pieces
1/3 cup granulated sugar
1 1/2 tablespoons cornstarch
For the Dough:
2 3/4 cups all-purpose flour, divided, plus extra for dusting
3 tablespoons granulated sugar
1/2 teaspoon table salt
2 1/4 teaspoons instant dry yeast (1 standard package)
1/2 cup water
1/4 cup milk (I used almond milk here but any milk should work fine)
3 tablespoons unsalted butter
1 large egg, at room temperature
For the Vanilla Glaze:
1 cup of confectioners' sugar
1 teaspoon vanilla extract
2 tablespoons of milk OR heavy cream, more if needed to achieve desired consistency
Instructions
To make the Strawberry Filling:
Place the chopped strawberries in a small saucepan over medium-heat. Cook for 6-8 minutes, stirring constantly, or until the strawberries are very soft and their juices have been released. Add in the sugar and cornstarch and continue to cook - and stir - for another 1-2 minutes. The mixture will thicken up dramatically during this time. Remove pan from heat and transfer the filling into a small bowl. Chill filling completely before use.
To make the Dough:
In a large bowl combine 2 1/4 cups of the flour, the granulated sugar, salt, and yeast; mix well to evenly combine. Set aside.

In a small saucepan over medium heat, warm the water, milk, and butter until the butter is completely melted and the mixture is hot to the touch but not scalding (it should be between 110-115 degrees F). Stir the liquid mixture into the flour mixture. Add in the egg, then add in at least 1/3 of additional flour. You may need to add up to 1/2 cup of additional flour. Your dough is at the right consistency when it gently pulls away from the side of the bowl and is slightly elastic in consistency.

Scoop the dough out and transfer it to a lightly floured work surface; gently knead the dough by hand for 3 minutes. Lightly spray a clean bowl with non-stick spray, then set the ball of dough inside. Cover the bowl with plastic wrap and set aside to rest for 20 minutes.

After the 20 minutes have passed, roll the dough out into a 14x8" rectangle. Spread the cooled strawberry filling on top, leaving a 1" boarder around the edges. Roll the dough up tightly along the edge (jellyroll/cigar style), letting it rest on the seem. Cut the roll into 10-11 pieces (I got exactly 11), then arrange them in a lightly greased 9" round or square baking dish. Loosely cover the rolls with plastic wrap and set them in a warm, draft-free place to rise for 1 1/2 hours.

Once the rolls have doubled in size, preheat the oven to 375 degrees (F). When the oven comes to temperature, bake the rolls for 25-30 minutes, or until slightly browned. After 15 minutes, you'll want to rotate the pan in the oven and cover the rolls with aluminum foil, to avoid heavy browning.
To make the Vanilla Glaze:
In a small bowl combine the confectioners' sugar, vanilla, and cream; whisk until smooth, adding more cream as needed to reach desired consistency. Drizzle over the rolls right before serving.

Unglazed rolls can be frozen for up to 2 months.
Notes
This recipe is excerpted, with permission, from the Sally's Baking Addiction Cookbook. All words, opinions, and notes are my own, and I am in no way being compensated for this giveaway.