Coffee Cake Donuts with Vanilla Glaze are perfect for those mornings you're craving coffee cake but don't have time to bake one! Ready in less than 30 minutes, the donuts are baked not fried, and so delicious with a cup of coffee!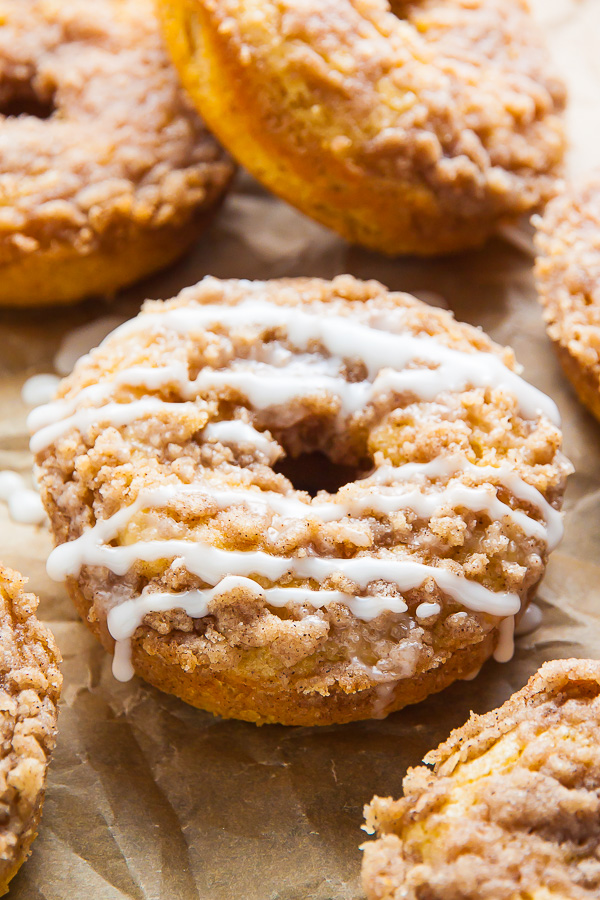 Coffee Cake Donut Recipe
New day, new week, new baked donut recipe for you! Today we're talking coffee cake donuts with vanilla glaze. This vanilla cake donut recipe is  supremely moist, loaded with buttery crumbs, and finished off with a sweet vanilla glaze! The best part? They bake up in just 10 minutes!!!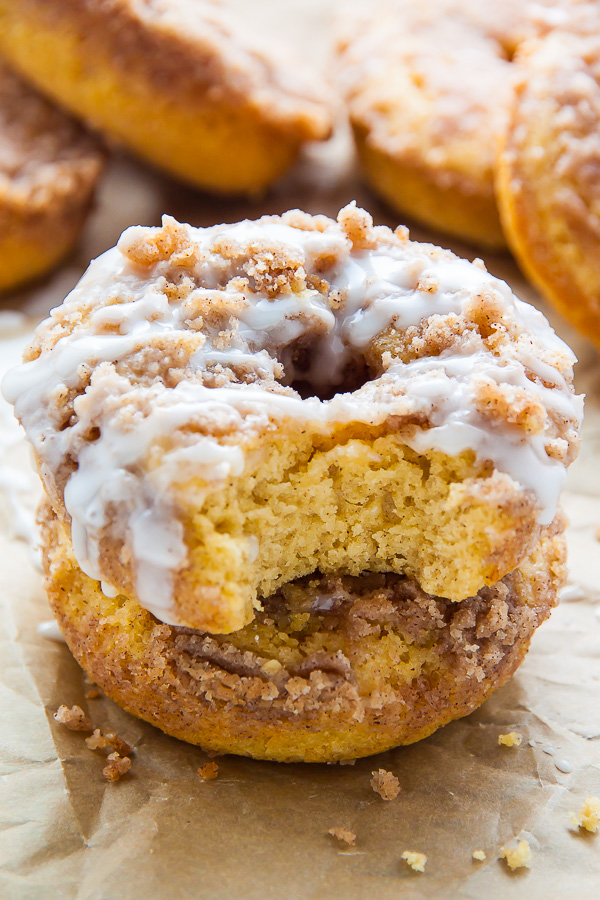 There are 3 parts to this recipe: the crumb topping, the baked donut base, and the vanilla glaze. As I mentioned earlier, these donuts are baked, so you will need a donut pan for this recipe. If you don't own one already, click here to check out the one I've been using for years.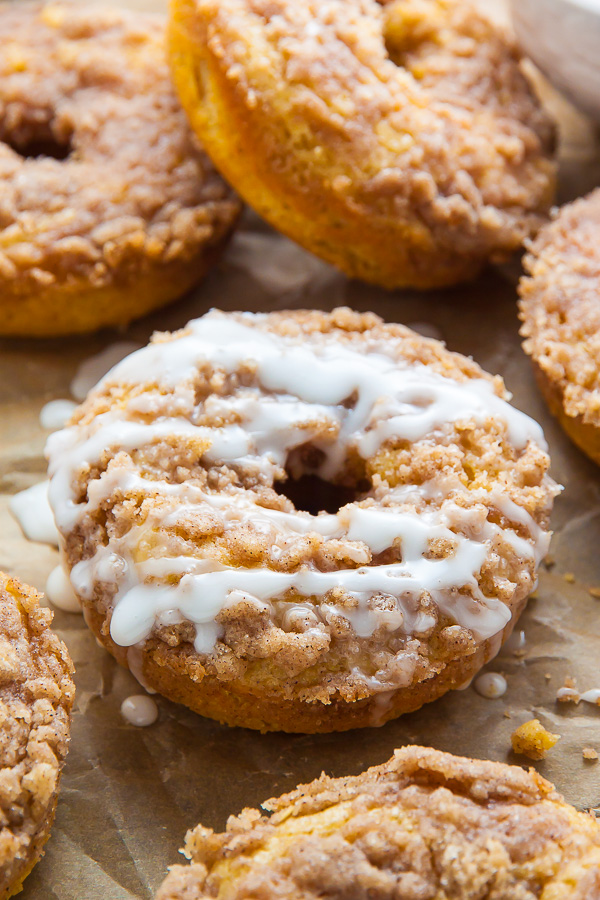 You'll want to make the crumb topping first so it has time to chill in the freezer. For the crumb topping you'll need cold unsalted butter, granulated sugar, all-purpose flour, and cinnamon. You cut the butter into small cubes, then quickly work it into the remaining ingredients until the mixture resembles a course meal. Then pop the bowl in the freezer while you make your donut batter. Chilling the crumbs in the freezer helps them melt more slowly during the baking process.
To make the donut batter you'll need all-purpose flour, light brown sugar, a pinch of salt, baking powder, sour cream, unsalted butter, and an egg. You'll combine the wet ingredients first, then gently whisk in the dry ones. Super easy! You'll want to make sure your donut pan is generously greased before evenly dividing the donut batter among the molds. You can do this with a spoon, or you can transfer the batter into a ziplock bag, snip off one end, and pipe the batter into the molds. For a visual on this, click here.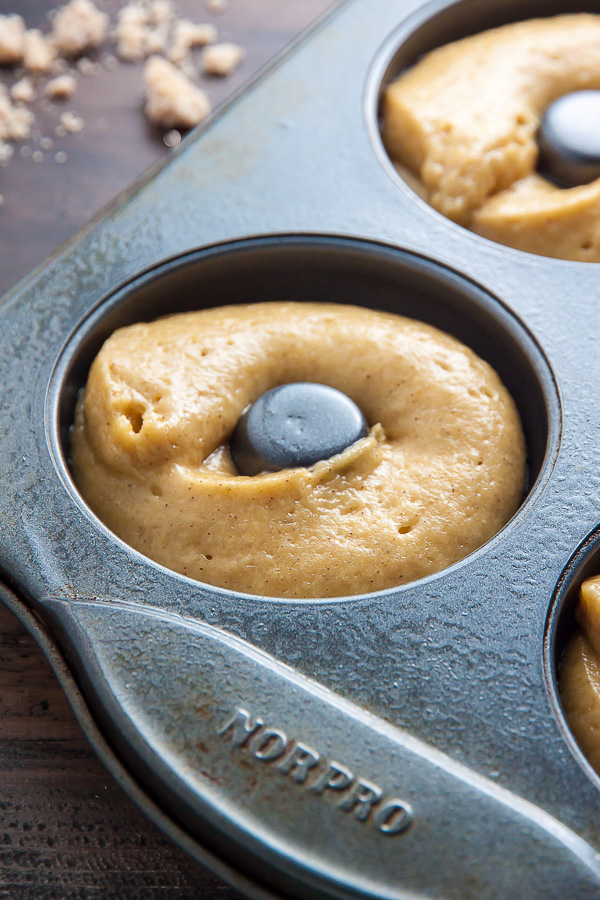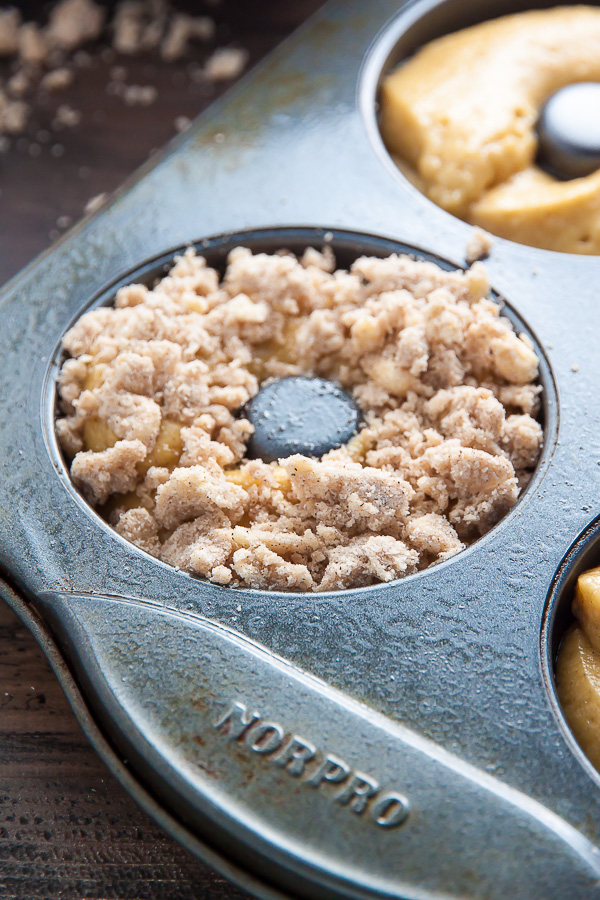 The donuts only need to bake for 10-11 minutes, so be sure you keep an eye on them. When you remove the donuts from the oven, you may notice some of the crumb topping has baked over the "hole" area – don't fret! This is normal and will probably happen. Simply use a skewer or toothpick to clean it up. Then you're going to let the donuts cool in the pan for 10 FULL minutes before gently lifting them out and onto a cooling rack.
While the donuts cool, you can make your glaze. The glaze is seriously the easiest part! Simply combine confectioners' sugar with a little milk and vanilla, whisk smooth , and viola – you're ready to drizzle! If you're not serving the donuts right away, I suggest holding off on the glaze, as they do get soggy after a while.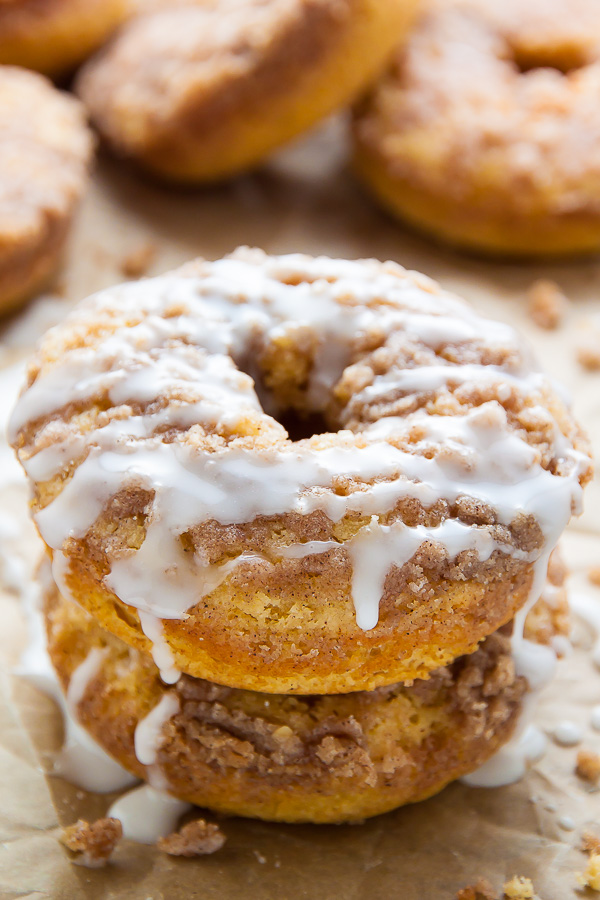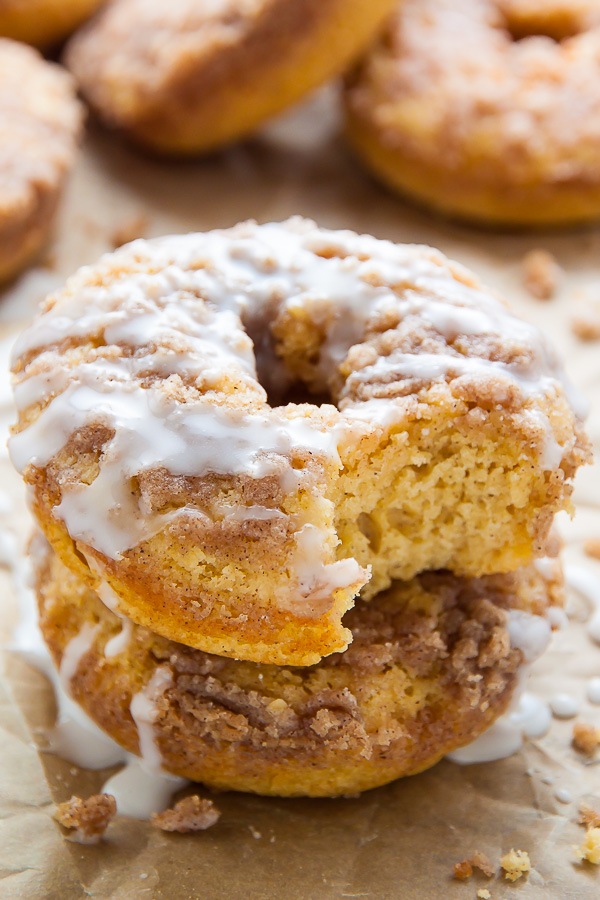 Bake them now, thank me later 😉
If you try this recipe, let me know! Leave a comment below and don't forget to snap a pic and tag it #bakerbynature on Instagram! ♥
More Donut Recipes: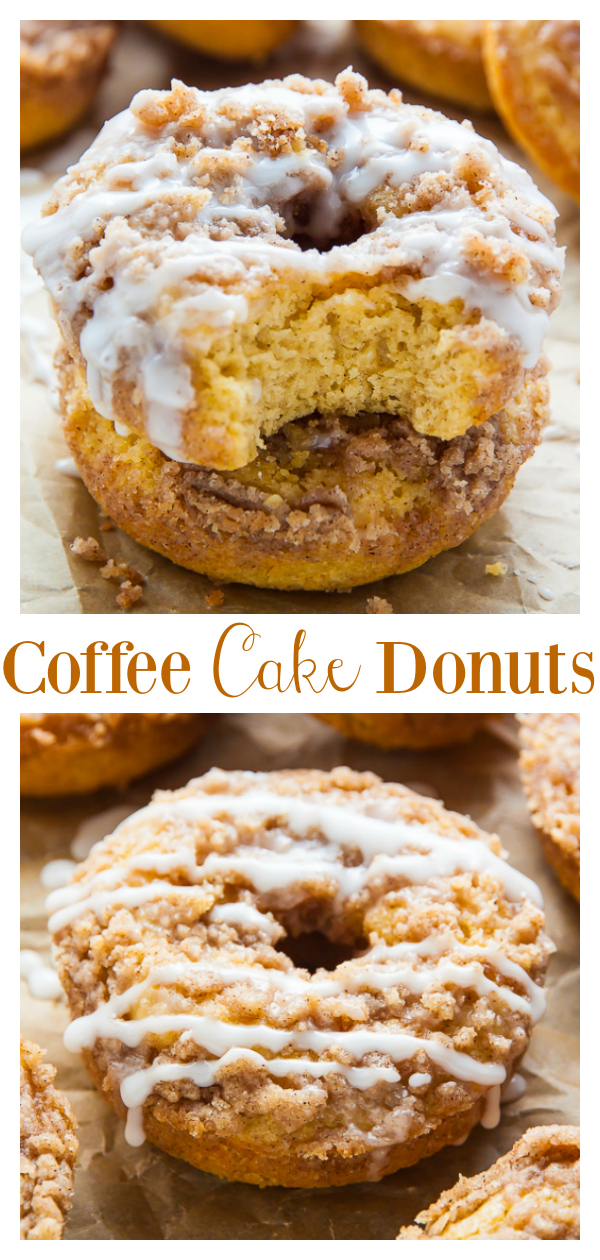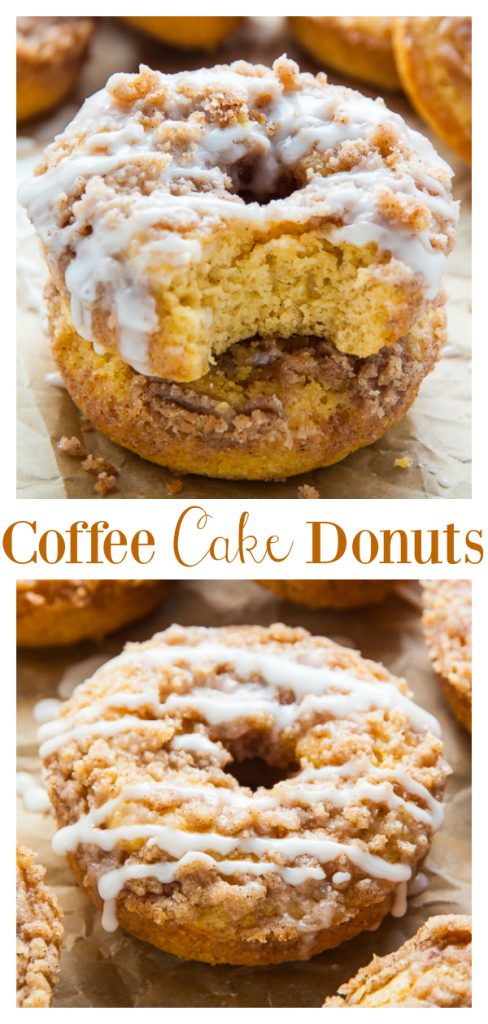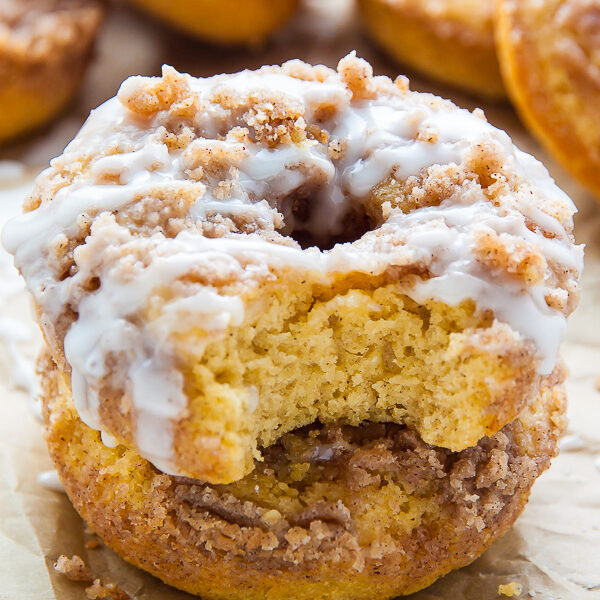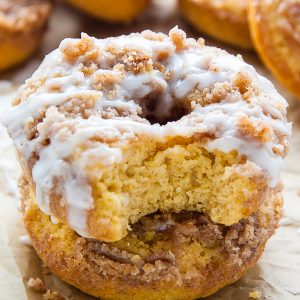 Coffee Cake Donuts with Vanilla Glaze
Coffee Cake Donuts topped with Vanilla Glaze! Ready in less than 30 minutes.
Ingredients
For the crumb topping:
1/4 stick cold unsalted butter, cut into tiny cubes
1/4 cup granulated sugar
3 and 1/2 tablespoons all-purpose flour
1/4 teaspoon cinnamon
For the donuts:
1 cup all-purpose flour
1/2 cup light brown sugar, packed
1/2 teaspoon salt
1 teaspoon baking powder
1/2 cup full-fat sour cream
2 1/2 tablespoons unsalted butter, melted
1 large egg, at room temperature
For the vanilla glaze:
1/2 cup confectioners' sugar
1/2 tablespoon whole milk
1/2 teaspoon vanilla extract
Instructions
Preheat oven to 350 degrees (F). Spray a 6 mold donut pan with non-stick baking spray; set aside.
For the crumb topping:
In a small bowl combine the sugar, the flour, and cinnamon. Add in the butter cubes and quickly work them into the mixture until it resembles a coarse meal; chill the topping in the freezer while making the donut batter.
For the donuts:
In a large bowl whisk together the dry ingredients. In a separate bowl whisk together the wet ingredients. Gently fold the wet mixture into the dry mixture - don't over mix!

Spoon or pipe the batter into the prepared doughnut pan. Divide crumb topping evenly among donut tops, then bake for 10-11 minutes, or until the doughnuts spring back when lightly pressed. Allow doughnuts to cool for 10 minutes in the pan before gently lifting them out and transferring to a wire rack to cool for a few more minutes.
For the glaze:
In a small bowl whisk together the confectioners' sugar, milk, and vanilla. Drizzle over donuts and serve at once.