Thick and ultra creamy, this Strawberry Vanilla Smoothie is made with just 4 ingredients. Healthy enough for breakfast, but so delicious you might just find yourself making it for dessert!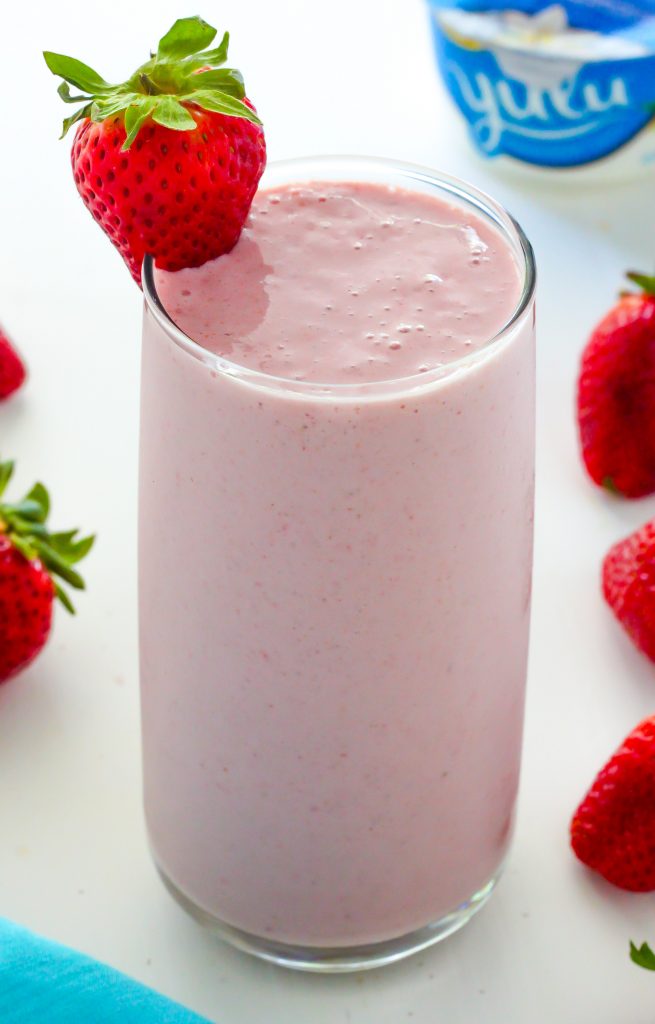 Summer is getting closer, my friends. So close in fact I can almost feel the sand between my toes, the wind in my hair, and the sun on my skin. This Summer is going to be all about early mornings on the beach, road trips with my girls, long hikes with my guy, and eating ALL of the Summer fruit I can get my hands on.
Question: What are your Summer dreams/plans?!
Since Summer is typically jam packed with work (boo!) and fun (always!), prepping meals and snacks is something I try to cut back on. Who wants to spend an hour in the kitchen when there are adventures to embark upon and magic memories to be made? Not me. Not you. <—- TRUTH.
GOOD NEWS: This month I'm going to be sharing with you all of my tips and tricks for eating well, drinking well, and snacking well —> AND FAST. Because when the sun is shining ain't nobody got time for dirty dishes and hour-long cook times… am I right?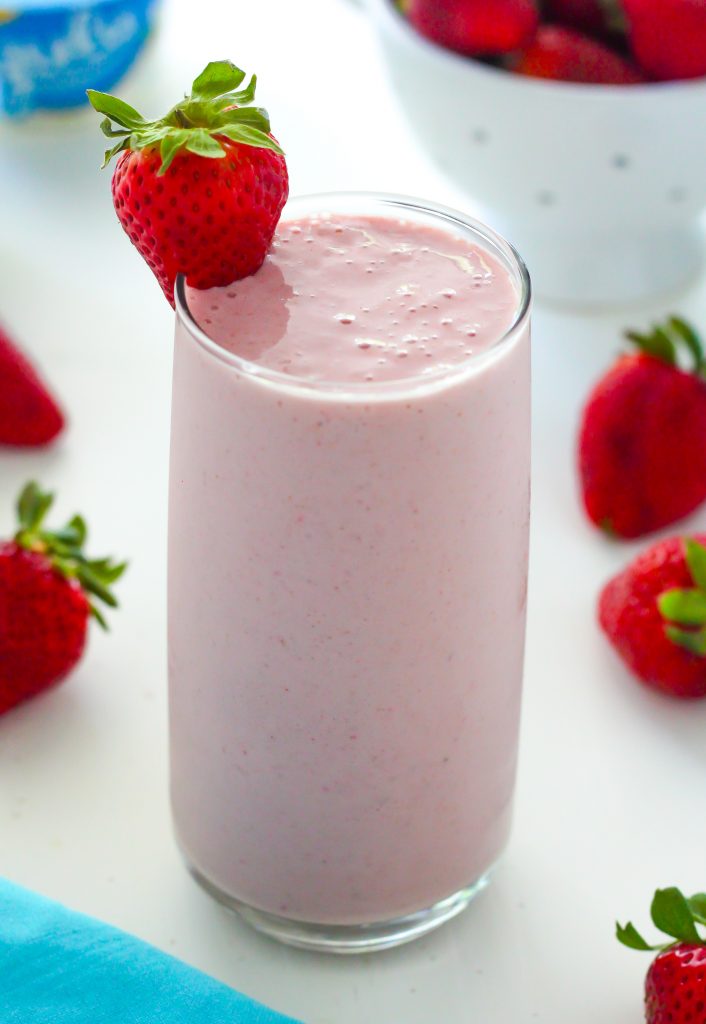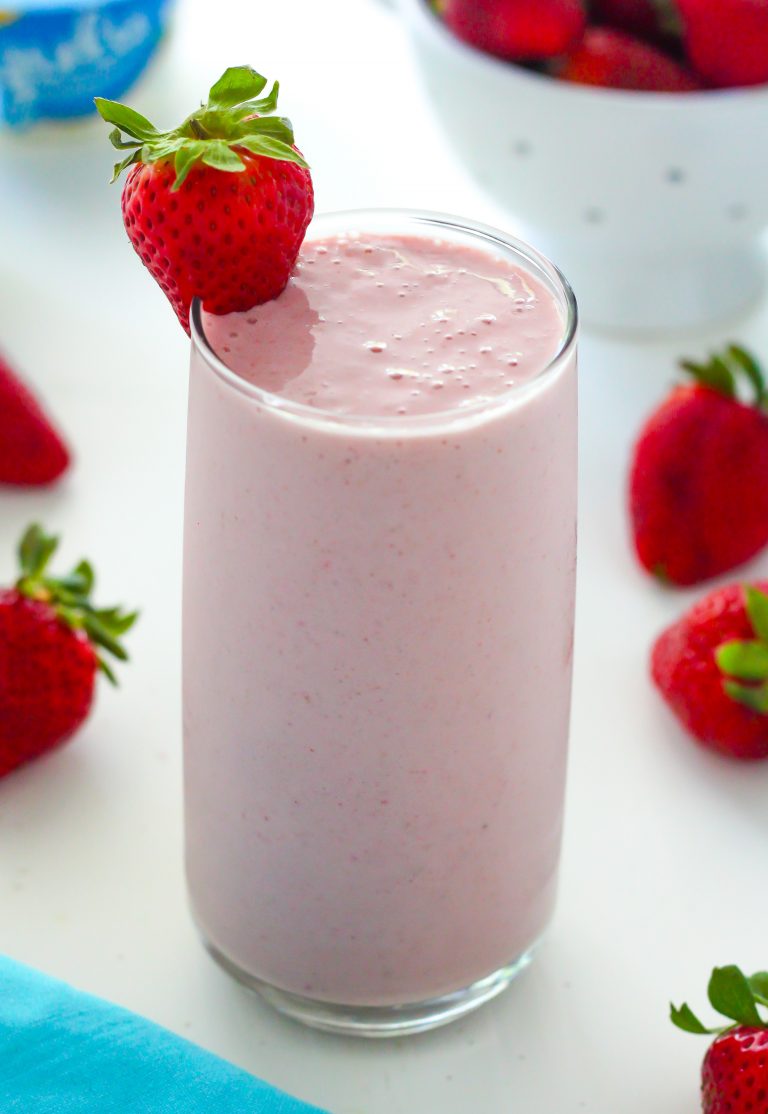 First order of business? Making the most important meal of the day like a BOSS. Say hello to my favorite pink pick-me-up —-> The Strawberry Vanilla Smoothie. It's thick; it's creamy; it's so vibrantly rich in strawberry vanilla flavor you'd swear you're slurping down a milkshake. And yet! This sweet little treat has only 4 (yes, FOUR) ingredients. Can I hear an Amen?
The four ingredients you'll need? Strawberries (fresh or frozen will both work, but if you're using fresh please freeze them first), Yulu Vanilla Bean Yogurt, vanilla extract (the real stuff; not the imitation), and vanilla almond milk. Once you toss those 4 ingredients into the blender, all you need to do is blend, pulse, and pour. How easy it that?!
If you read the ingredient list above and are wondering what exactly Yulu yogurt is, read on my friends! Today I'm proudly teaming up with Yulu to introduce you guys to a whole new taste in yogurt! Yulu yogurt is inspired by an authentic Australian recipe, and is double-smoothed = a double delicious finished product. The taste is slightly sweet and refreshing, and the texture is so luxuriously smooth and creamy you're sure to fall for it after just one bite. I know I did.
Another thing I love about yulu? It's made with honest ingredients and real fruit – no nasty secret ingredients or chemicals lurking in the mix! Just creamy, dreamy, delicious yogurt. YES.


Want to know more about Yulu? Sign up for their newsletter, my friend! This will keep you up to date on coupons, giveaways, and more. It's a no-brainer 🙂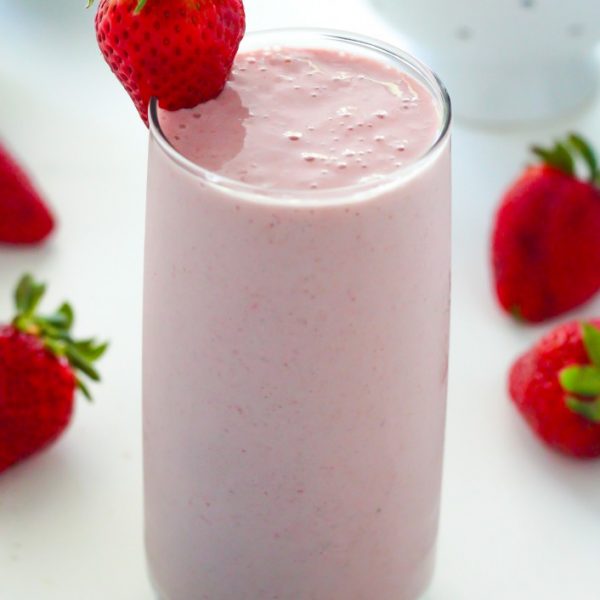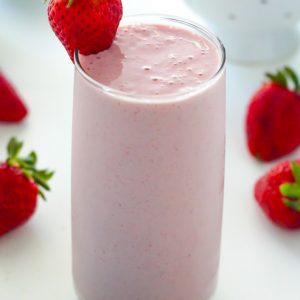 Strawberry Vanilla Smoothie
Thick and Creamy Strawberry Vanilla Smoothies are ready in just seconds!
Ingredients
2 1/2 cups frozen strawberries
1/3 cup vanilla almond milk (or your favorite milk choice)
1 1/2 teaspoons PURE Vanilla extract
(2) 5.3 oz containers Yulu Vanilla Bean Yogurt
Optional:
1 tablespoon honey, if wanted to sweeten
1 cup Ice, if wanted to make a more icy smoothie
Instructions
Add all ingredients into the body of a blender; blend/pulse until completely combined. Serve immediately.

*If the smoothie is too thick, add more milk; 2 tablespoons at a time. If smoothie is too thin, add more fruit; 1/4 cup at a time.