Fruit smoothie purists, this Strawberry Mango Smoothie is for you! This refreshing drink is made up of frozen strawberries, chunks of sweet mango, fresh squeezed orange juice, and a splash of water. So refreshing!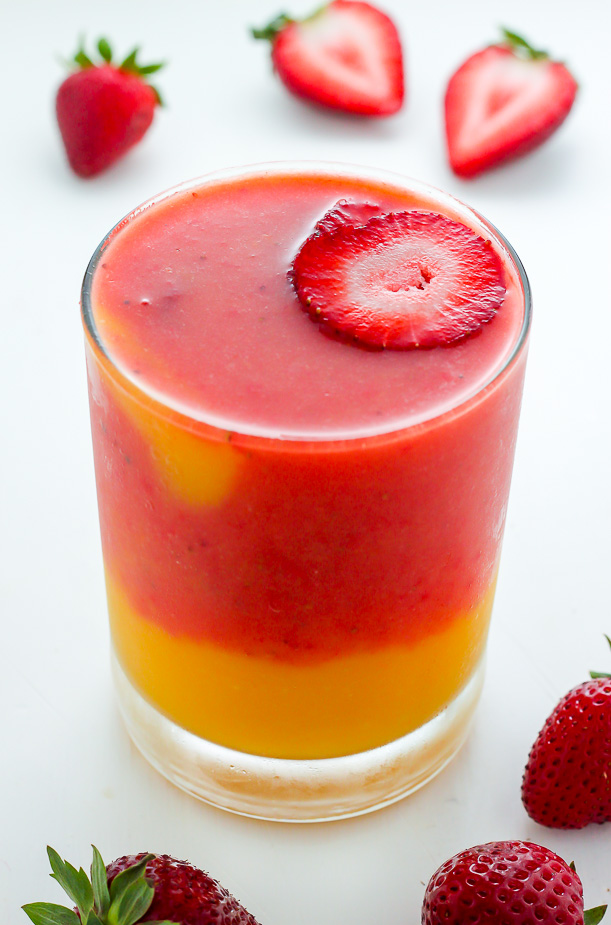 Mango and Strawberry Smoothie
Refreshing smoothies are synonymous with warm Summer mornings. In the past I've created several smoothies inspired by decadent desserts, but today's smoothie recipe is actually inspired by one of my favorite adult beverages: the margarita! ♡♡♡
I wanted to create a smoothie – or mocktail, as my little brother might call it – that was healthy, pretty, and guaranteed to quench your thirst. Basically I wanted to make you a margarita that's totally acceptable to slurp down at 8 am.
I was also on a mother trucking mission to make a smoothie recipe that didn't call for frozen banana. <— Many of you have requested this in the past; I was listening 😉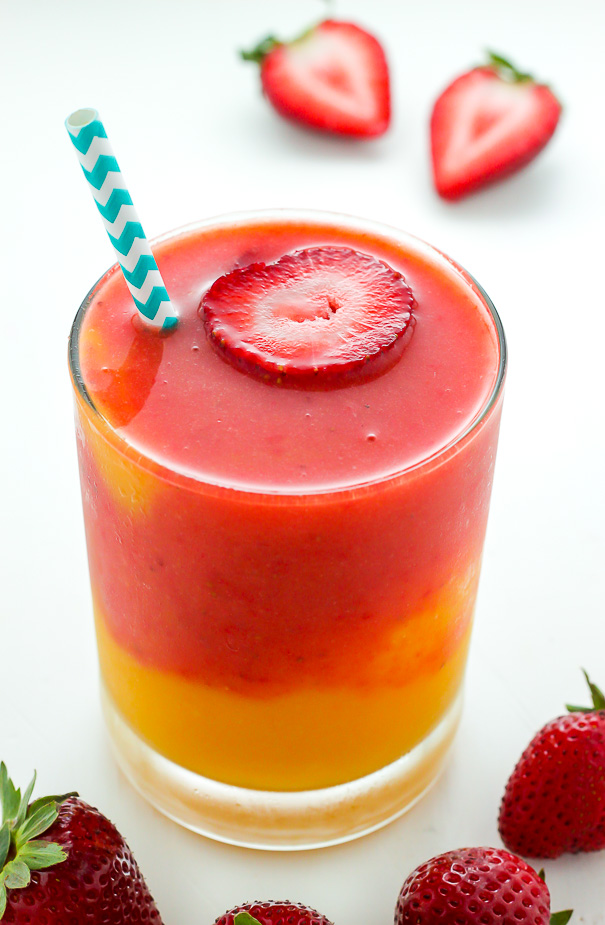 Friends, meet the Strawberry Mango Smoothie! Isn't she a beaut?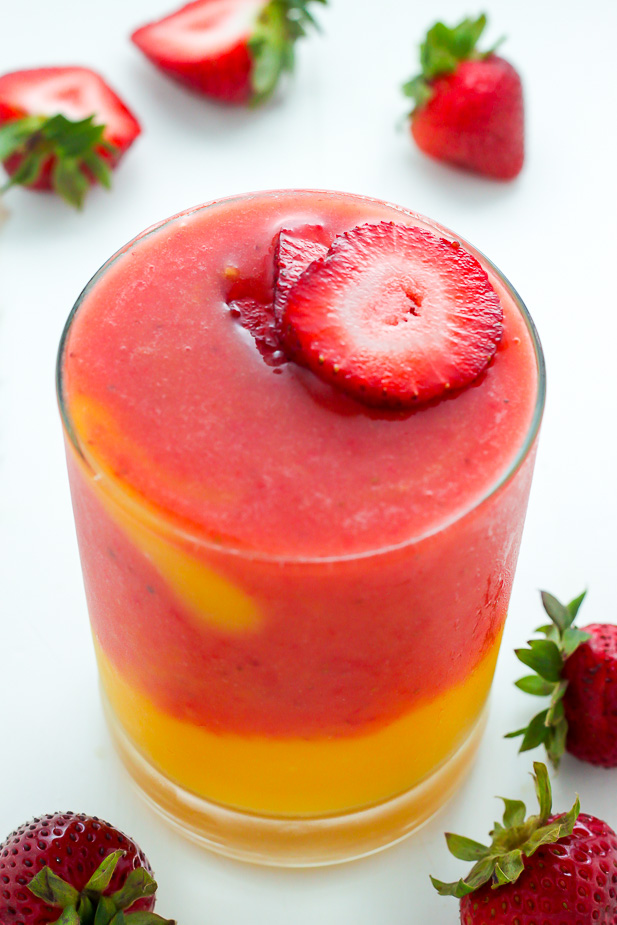 This smoothie was 100% inspired by these Raspberry Mango Margaritas. I decided to play off of that idea, ditch the raspberry in favor of strawberry, ditch the booze in favor of fresh squeezed orange juice (go ahead and add some if you want; I won't judge), and test test test.
Recipe testing is truly the best part of my job!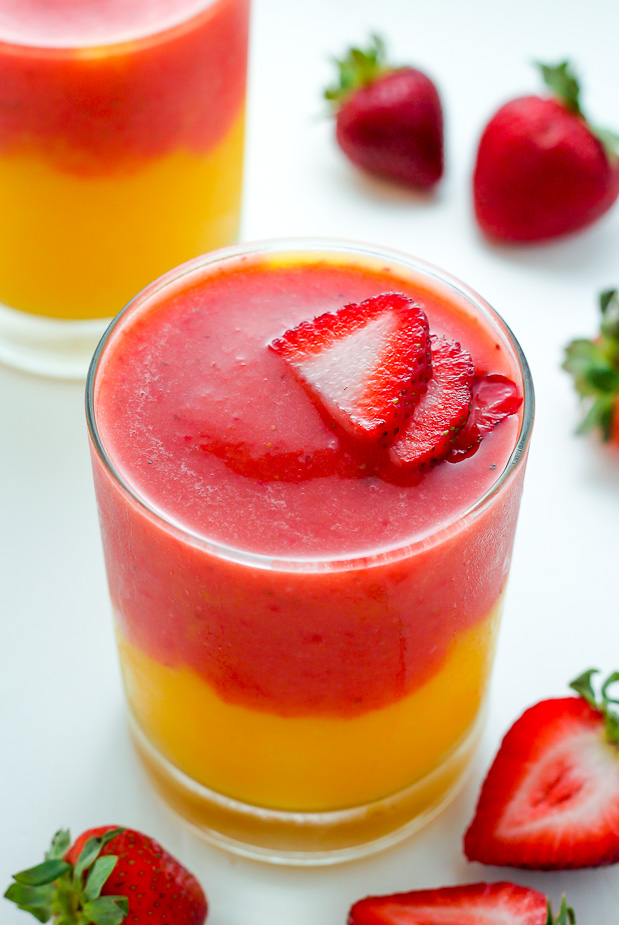 How to make a Strawberry Mango Smoothie
I chose to blend the mango smoothie mix and the frozen strawberry smoothie mix separately so they could be swirled together right before serving. I did this mainly because I find it so aesthetically pleasing (and fun), but if you're short on time, please feel free to blend everything together in one batch. They will be equally delicious… but may lose a few pretty points since you won't have the vibrant color duo shining through your glass.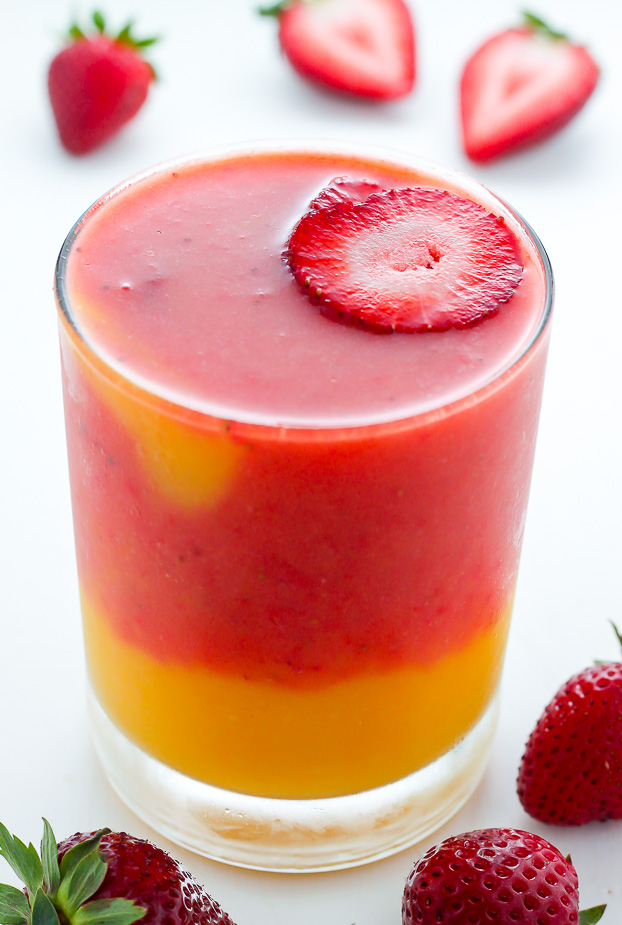 This mango strawberry smoothie recipe is made up of fresh fruity flavors, a kick of bright citrus, and not much else. Feel free to add a tablespoon of sugar or honey to the smoothie base, if you prefer a very sweet treat, or leave it as is for a naturally delicious drink.
Final words: Make a batch of these today! They're creamy, dreamy, and ferociously refreshing on a hot Summer day.
More Strawberry Recipes:
More Mango Recipes: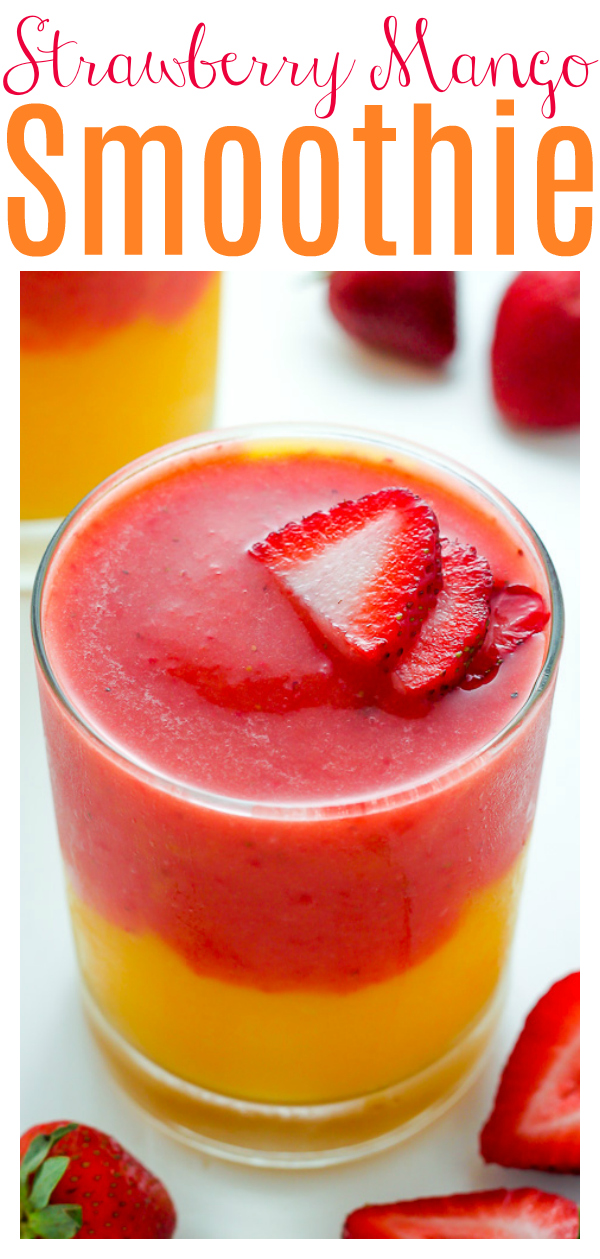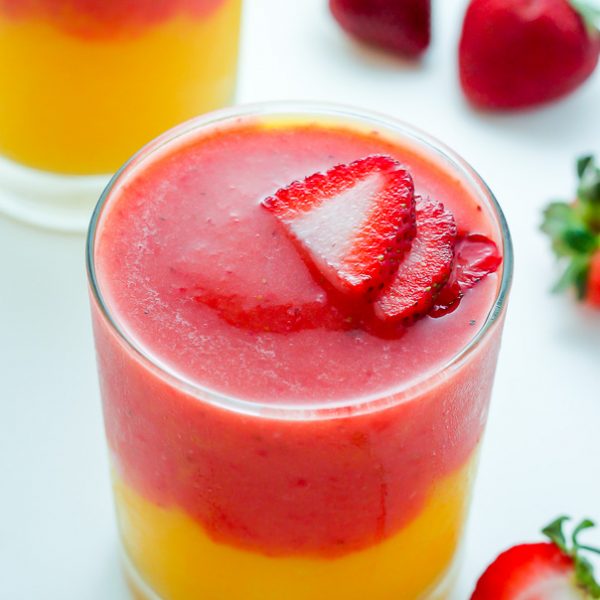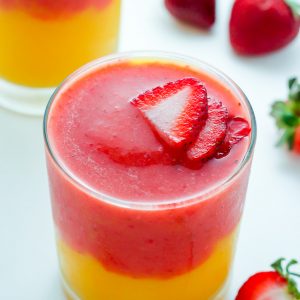 Strawberry Mango Smoothie
A fun and fruity strawberry mango smoothie perfect for days you need a quick and refreshing drink!
Ingredients
For the mango layer:
Heaping 1/2 cup frozen mango chunks
3/4 cup orange juice
3 tablespoons water
For the strawberry layer:
Heaping 1/2 cup frozen strawberries
1 cup orange juice, more if needed
1 tablespoon honey or sugar, optional
Instructions
For the mango layer:
Place all of the ingredients in the body of a blender; pulse until smooth, adding a little more orange juice or water to thin, if needed.
For the strawberry layer:
Place all of the ingredients in the body of a blender; pulse until smooth, adding a little more orange juice to thin, if needed.
Assembly:
Fill each glass half way with the mango mix then fill the rest of the glass with the strawberry mix; add straws and serve at once!
Notes
Add honey or sugar for a sweeter drink.
Replace the orange juice for yogurt for a creamier smoothie