These homemade super easy one bowl Funfetti cupcakes are a family favorite! Fluffy, beautiful, and bursting with rainbow sprinkles, they're pure happiness! And perfect for birthday parties!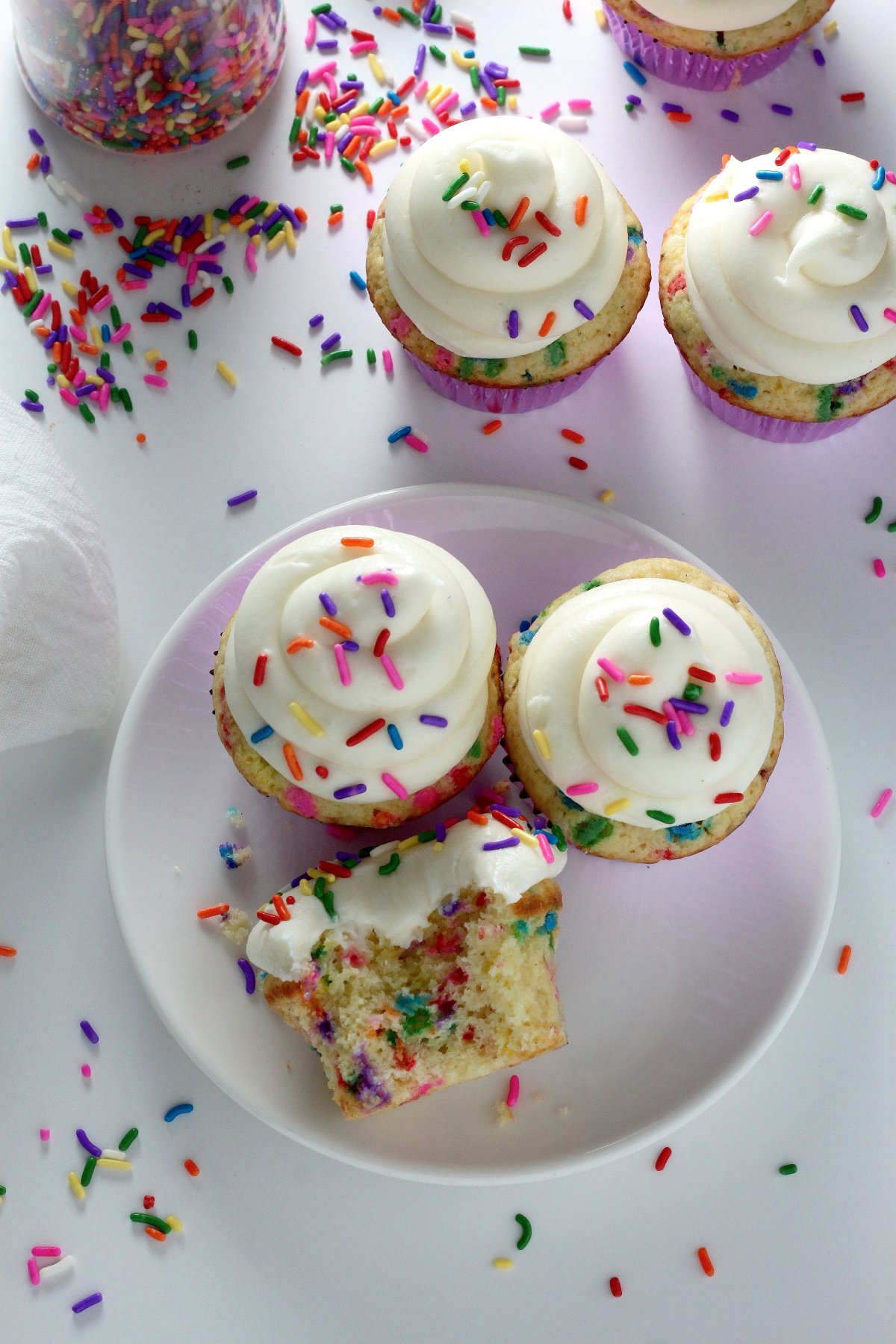 One Bowl Funfetti Cupcakes
I've been aching to make you some funfetti cupcakes for a while now! They're so fun and happy; so delicious and dreamy. Perfect for humans small and fully grown. Tiny hands and large hands reach out and grab these sprinkle sugar explosions up in equal haste and excitement. Everyone loves them… I'm 99.9% sure of it.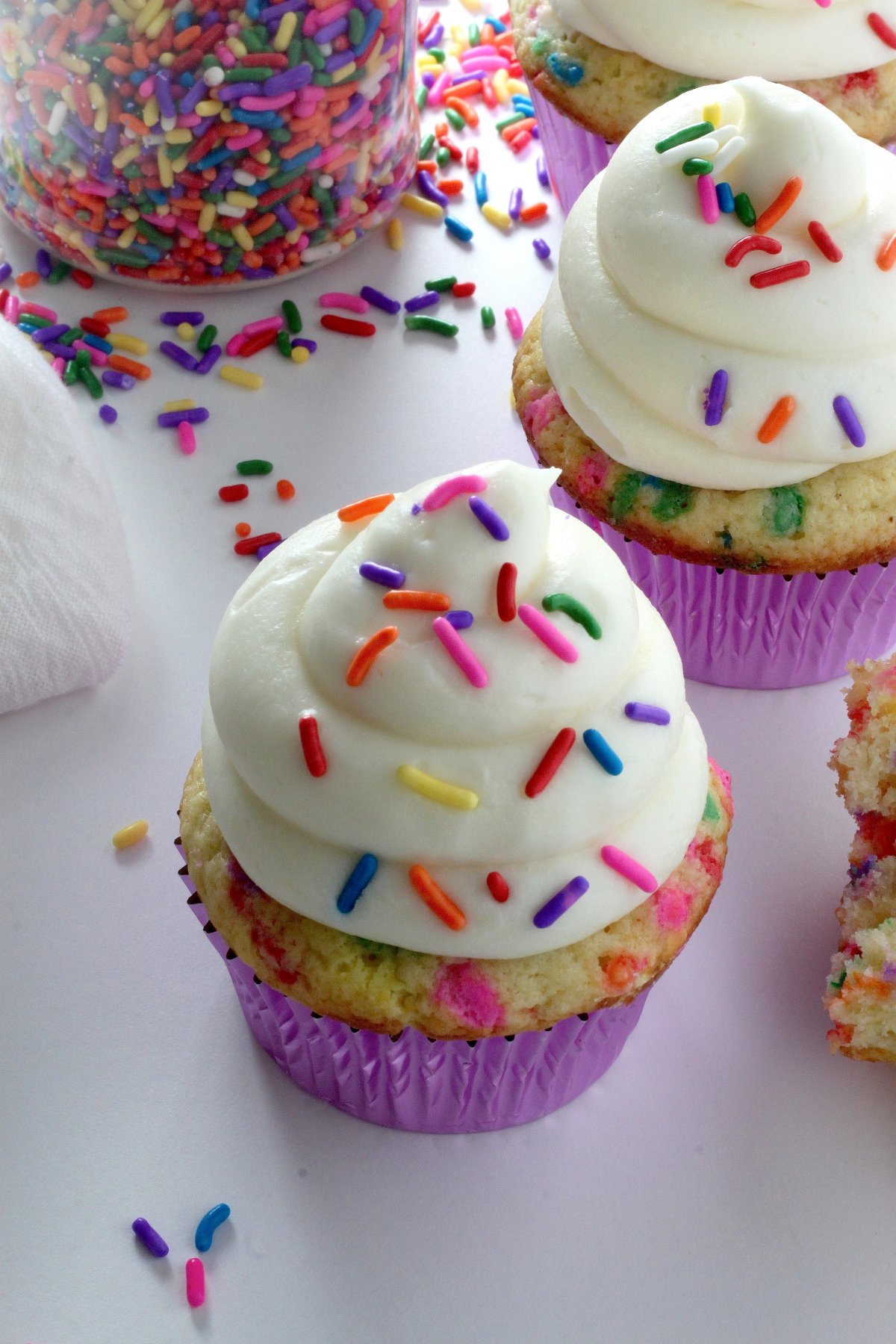 There are about one billion and twelve funfetti cupcake recipes dancing around the internet, but I'm here to fill you in on a little secret… these one bowl funfetti cupcakes are the best! 
Obviously I'm completed biased in this opinion… but really, let me whisper in your ear a little longer and share with you why I think what I think; believe what I believe; and feel strongly that you should drop all your plans and rush into the kitchen to make these now. Ready?!
These funfetti cupcakes are:
Oh so fluffy!
Made in one (I said one!) bowl!
Super easy!
Ready to eat in less than one hour!
Visually stunning and happy!
Perfect for parties or sharing with friends!
Easy enough to make on a weeknight for a casually epic dessert.
So easy to make, in fact, that you may become slightly addicted to making them once a week (me—>guilty!).
ALL OF THE SPRINKLES. All OF THE CUPCAKES. ALL OF THE YES.
So my dears, are you convinced yet? Convinced that these cakes are amazing? Convinced that you must gallop on into your kitchen; grab your bowl and your whisk and your largest container of sprinkles; and preheat your oven to 350? I hope so. Now let's get to baking.
More Funfetti Recipes:
Super Easy One Bowl Funfetti Cupcakes
Fluffy homemade funfetti cupcakes made in just one bowl! Topped with creamy vanilla frosting and extra sprinkles. These are perfect for parties or sharing with friends!
Ingredients
2 sticks (8 ounces) unsalted butter, melted and slightly cooled
2 cups granulated sugar
1 tablespoon vanilla
4 large eggs, at room temperature
1/2 cup whole milk
1/2 cup vanilla bean Greek yogurt
3 cups cake flour (properly measure; don't pack it)
2 1/2 teaspoons baking powder
1 teaspoon salt
1 cup rainbow sprinkles
Vanilla Frosting
1 stick (4 ounces) unsalted butter, very soft
4 ounces cream cheese, very soft
5-6 cups confectioners sugar
2-3 tablespoons cup half and half
1/2 teaspoon vanilla extract
Rainbow sprinkles for decorating
Instructions
For the cupcakes:
Preheat oven to 350 degrees (F). Line or grease two twelve-mold cupcake tins; set aside.

Place butter in a large microwave-safe bowl and heat on low for 20 seconds, stir, and heat again, repeating this process until the butter is completely melted. Allow the melted butter to cool a minute or two, then whisk in the sugar and vanilla, beating well. Add in the eggs, one at a time, beating well after each addition. Fold in the whole milk and vanilla yogurt.

Add the flour to the wet mixture and before stirring top the flour with the baking powder and salt; using a small fork gently mix the dry ingredients together on top of the wet ingredients, then – using a rubber spatula – fold the dry ingredients into the mixture, stirring just until combined. Fold in sprinkles.

Spoon batter into prepared pans (filling each cup about 3/4 full) and bake for 18-20 minutes, or until a cake tester inserted in the center of the cupcake comes out clean. Allow cupcakes to cool completely, then frost.

While the cupcakes cool, clean your bowl and use it to make the frosting!
For the Frosting:
Using a handheld electric beater on medium speed, beat the butter and cream cheese together until both are completely smooth and combined. Reduce speed to low and slowly add in the confectioners sugar, a little bit at a time. Beat in the half and half and vanilla extract. Once all of the ingredients have been combined, beat frosting on high speed for 2 minutes. Refrigerate for 10 minutes then frost cooled cupcakes. Decorate cupcakes with sprinkles.

Keep refrigerated until ready to serve!
Notes
*Half and half can be found in the dairy section of most grocery stores; it is half heavy cream half milk.
*When adding the dry ingredients to the wet ones, be sure to lightly stir the baking powder and salt into the flour, then stir the dry ingredients into the wet ones.
*When measuring your cake flour, be sure not to pack it into the measuring cup. Instead try lightly spooning the flour into the measuring cup, then gently leveling it off with the flat side of a knife.