My Perfect One Bowl Vanilla Cupcakes with Vanilla Buttercream Frosting are sure to become your favorite!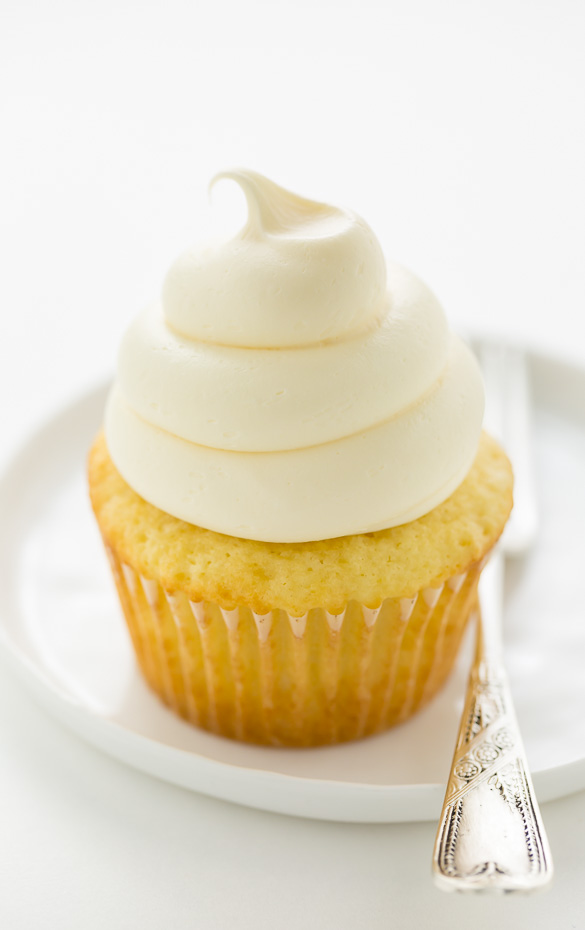 Best Moist Vanilla Cupcake Recipe
Last week I asked you guys what recipe you'd most like to see on Baker by Nature and the response for Classic Vanilla Cupcakes was (awesomely) overwhelming!
Lucky for us, I've had this incredible one bowl vanilla cupcake recipe on the blog for years. It just needed a little… facelift! So here we are; new photos, tons of tips and tricks, and a foolproof recipe for One-Bowl Vanilla Cupcakes with Easy Vanilla Frosting. I hope you'll make them, fall in love with them, and share them with everyone you know.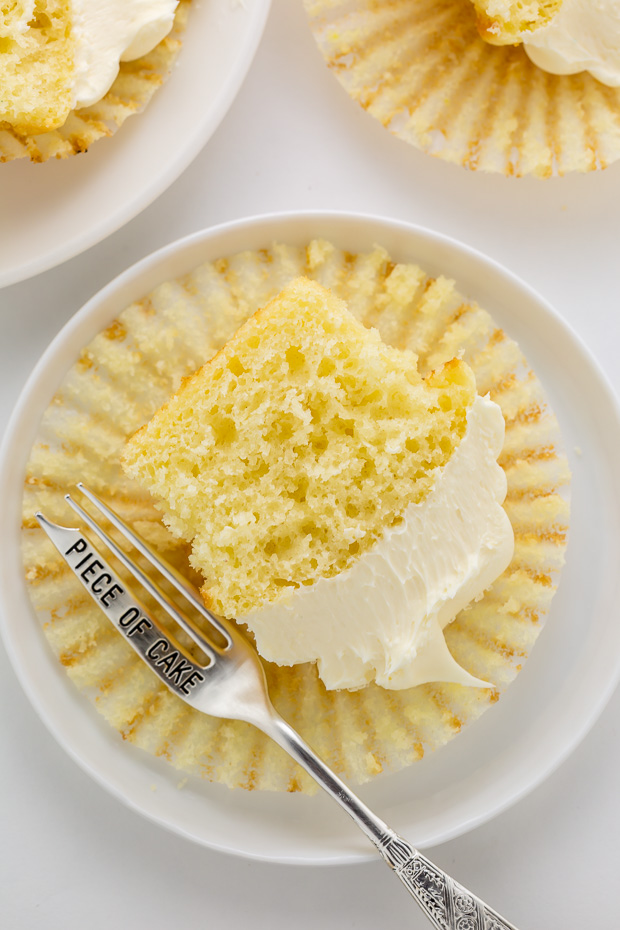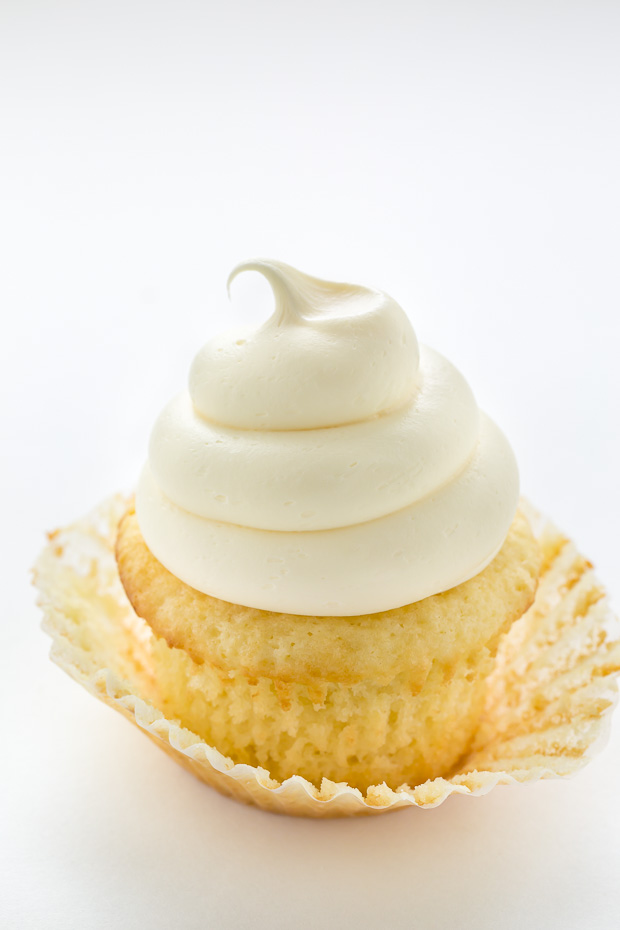 How to make the Best Vanilla Cupcakes
Tips and Tricks for Recipe Success:
This recipe calls for cake flour. Cake flour is extra finely ground, which gives our vanilla cupcakes their silky soft texture. In most grocery stores you can find cake flour in the baking aisle. If you can't find it – don't fret! You can buy it here online, or make your own! Making your own cake flour is easy, and only requires two ingredients: cornstarch and all-purpose flour. Here's what you do: For every 1 cup of flour called for in the recipe, remove 2 Tbsp of flour. Then add in 2 Tbsp of Cornstarch for every 1 cup of flour (you're replacing the tablespoons of flour taken out with cornstarch). Sift this mixture a few times (you want it well combined) and that's it – you just made ready-to-use cake flour.
For the best flavor, I highly suggest using Pure Vanilla Extract.
Before you begin baking, make sure your butter, eggs, sour cream, and milk have all come to room temperature. Cold ingredients do not bond!
When you measure your flour, be sure you're not packing it into the measuring cup. Packed flour will yield dense and dry vanilla cupcakes.
For the vanilla buttercream frosting, you'll want to make sure your butter is VERY soft before creaming it.
To decorate, I frosting the cupcakes using this kit with the open round tip.
If you'd like your frosting to be stark white, omit the vanilla extract or use clear vanilla extract.
To keep this a "true" one bowl recipe, simply wash out the bowl you make the batter in and use it again to make the frosting 😉
You will need a handheld electric mixer or stand mixer for this recipe.
Question! What recipe would you like to see next? Your wish is my command 😉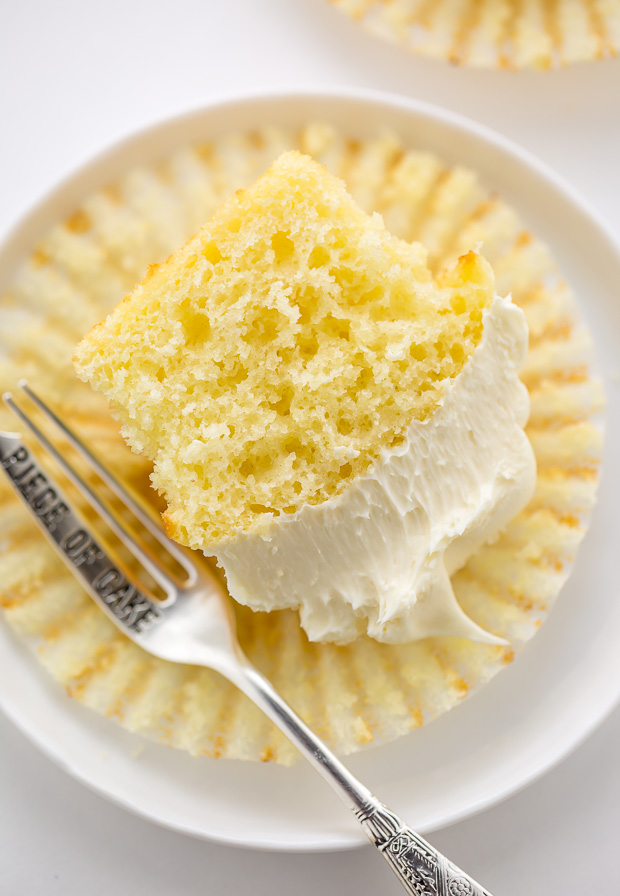 More One-Bowl Cupcake Recipes:
If you try this fluffy vanilla cupcake recipe, let me know what you think! Leave a comment below, and don't forget to snap a pic and tag it #bakerbynature on instagram! Seeing your creations makes my day ♥
Btw, you can find the adorable "piece of cake" fork you see in my photos HERE 😉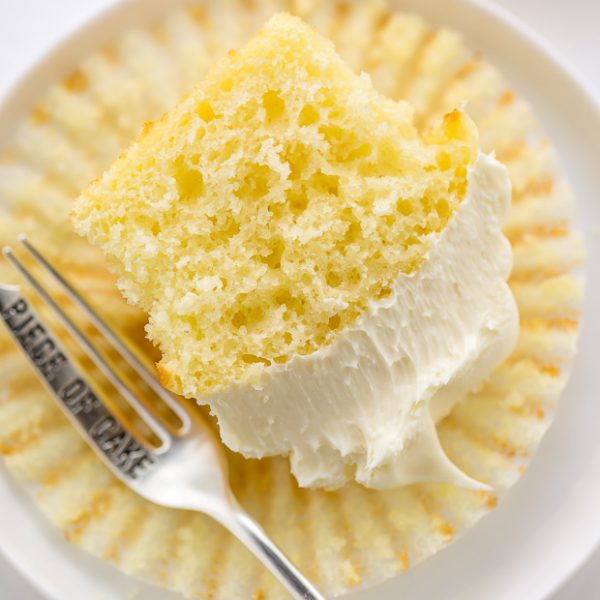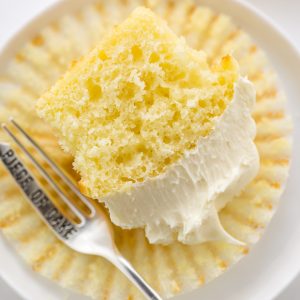 Perfect "One Bowl" Vanilla Cupcakes with Vanilla Buttercream Frosting
Simply perfect Vanilla Cupcakes made in just one bowl! Top with vanilla buttercream and get ready to fall in love.
Ingredients
For the Vanilla Cupcakes:
2 sticks (8 ounces) unsalted butter, very soft
1 tablespoon vanilla
2 cups granulated sugar
4 large eggs, at room temperature
1 cup full-fat sour cream
1/2 cup whole milk
3 and 1/4 cups cake flour
1 and 1/2 teaspoons baking powder
1/2 teaspoon baking soda
3/4 teaspoon salt
Vanilla Buttercream Frosting
2 sticks (8 ounces) unsalted butter, very soft
4 to 5 cups confectioners' sugar, sifted
1/4 cup whole milk
1 tablespoon vanilla extract (omit if you desire a stark white frosting)
1/4 teaspoon salt
Instructions
For the cupcakes:
Preheat oven to 350 degrees (F). Line 2 cupcake tins with paper liners; set aside.

In the bowl of a stand mixer fitted with the paddle attachment, or in a large bowl using a handheld electric mixer, beat the butter, vanilla, and sugar on medium speed until light and fluffy, about 2 minutes. Add in the eggs, one at a time, beating well after each addition. On low speed, beat in the sour cream, then the milk. Turn mixer off. Add in the cake flour, baking powder, baking soda, and salt. Use a fork to lightly toss the dry ingredients together. Using a rubber spatula, gently fold the dry ingredients into the batter, mixing just until combined. Be sure not to over mix here or you cupcakes will be dense!

Spoon batter into prepared cupcake tin (filling 1/2 way each - not more or they'll overflow) and bake for 18-20 minutes. Cool completely before frosting.
For the Frosting:
In a stand mixer fitted with the paddle attachment, or in a large bowl using a handheld electric mixer, beat the butter on medium-speed until completely smooth. Reduce the mixer speed to low and gradually add the confectioners sugar, no more than a 1/2 cup at a time. Once all of the sugar has been incorporated, pour in the milk and vanilla extract. Once all of the ingredients have been incorporated, increase the speed to medium-high and beat for 2 to 3 minutes, or until fluffy.

If the frosting appears too thin, add a little confectioners' sugar, one tablespoon at a time; if the frosting appears too thick, add a little more milk, one tablespoon at time.