Thick and chewy, these Sweet and Salty Chocolate Peanut Butter Granola Bars are full of flavor and exploding with mini chocolate chips and mixed nuts! Here's the recipe for my perfect granola bars.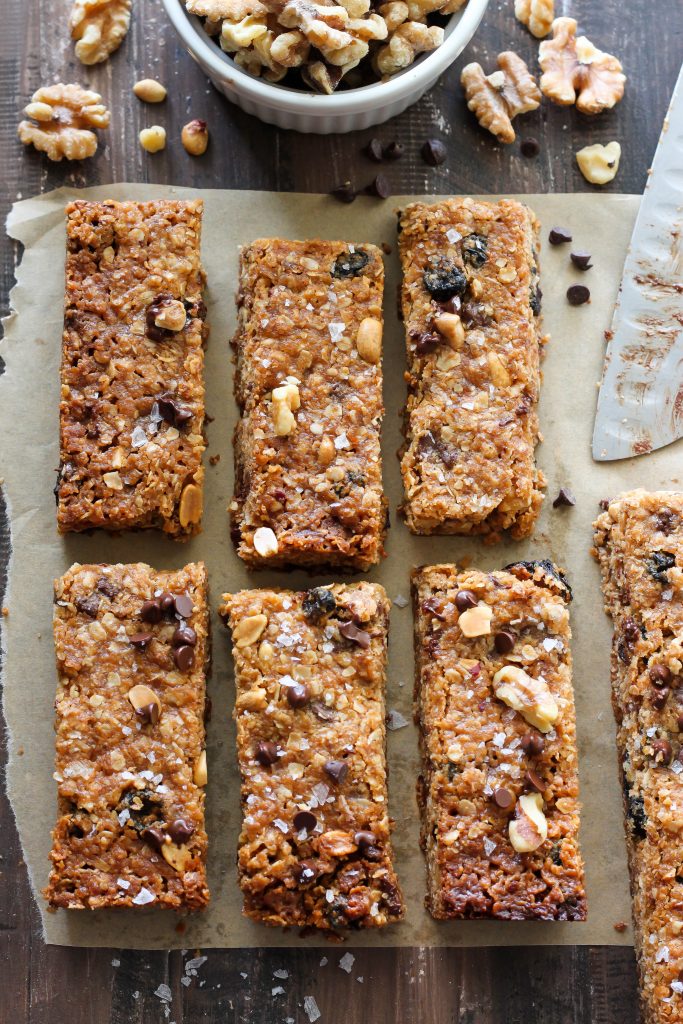 Peanut Butter Granola Bars
Confession: Up until a few weeks ago I'd been in the habit of buying, eating, and semi-enjoying store-bought granola bars. I justified this indulgence with thoughts of "well, I can't make everything myself" and "some things are just easier to grab from the store". Then my BFF Cindy came over with a batch of homemade granola bars and holy cow, my friends – everything changed. These granola bars were thick and chewy… sweet and salty… homemade and heavenly.
Obviously it was time for a change. Obviously It was time to find my perfect homemade granola bar recipe.
After 8 batches of meh and mediocre results, I finally found the perfect granola bar balance on my 9th try. I would have happily continued trying until I found "the one", but now that I have it, I have to admit I'm quite glad my days of burnt and bland granola bars over.
Here are my tips and tricks to help you master the art of homemade granola bars, too.
1) Measure out all of your ingredients ahead of time. This makes it so much easier when you're mixing everything together. I'm pretty sure 70% of my recipe failures happen because I forget to add something into the recipe. Having everything measured out and right in front of you makes forgetting almost impossible.
2) Don't over-bake. Doing this is so easy with granola bars! Mainly because when you pull them from the oven they don't look "done". My advice? Pull them out anyway. Much like cookies, the granola bars will firm up a lot while cooling. Over-baking them will lead to very hard and crumbly bars.
3) This is an extremely flexible recipe, so feel free to be creative and make it your own. If you're not a fan of nuts – leave them out. Or, if you hate dried fruit – ditch it! Not into mini chocolate chips… well, that's just weird – but totally OK. You can basically swap and switch the mix-ins to fit your own personality and taste preferences.
Closing words: these are, by far, the best granola bars I've ever tasted. Make them and I highly predict you'll feel the same 😉
If you do make them, please leave me a comment letting me know how they came out, what changes you made, or snap a picture and share it on instagram using #bakerbynature. Hearing your feedback and seeing your kitchen creations always makes my day. xoxo
More Granola Bar Recipes:
Sweet and Salty Chocolate Peanut Butter Granola Bars
Sweet and Salty Chocolate Peanut Butter Granola Bars make perfect snacks on-the-go!
Ingredients
3 1/3 cups quick rolled oats
1 cup light brown sugar, packed
2/3 cup oat flour
1 1/4 teaspoons finely ground sea salt
3/4 teaspoon ground cinnamon
1 cup salted peanuts, roughly chopped
1/2 cup salted almonds, roughly chopped
1 cup walnuts, roughly chopped
1 cup sour cherries, roughly chopped
1 cup mini chocolate chips
1 1/3 cups creamy peanut butter
1 1/4 cups coconut oil (or canola oil), melted
3/4 cup honey or maple syrup
Instructions
Preheat oven to 350 degrees (F). Line an 9″x13" baking pan with parchment paper; lightly grease the parchment paper and any exposed pan with a non-stick spray; set aside.

Stir together all the dry ingredients, including the fruit and nuts. In a separate bowl, whisk together the peanut butter, coconut oil, and honey. Pour the wet ingredients over the dry ingredients and use a rubber spatula to mix everything together (it will be a crumbly mix).

Pour the mixture into the prepared pan and press it down firmly (you want it really packed down into the pan so it holds its shape).

Bake the bars for 30-35 minutes, or until they're golden brown on top and around the edges. They'll seem soft and slightly under-baked when you're removing them from the oven - not to worry - they'll firm up as they cool.

Cool the bars in the pan completely before cutting.

Once cool, use a very sharp (preferably serrated) knife to cut the bars into rectangles. Store in the fridge, freezer, or at room temperature in an airtight container.