These super rich and totally indulgent chocolate coconut cupcakes are filled with coconut cream, topped with thick coconut buttercream and finished off with a hearty sprinkle of toasted coconut! These are sure to be any coconut lovers new best friend!
Greetings from sunny California! As you probably have noticed by now, I'm on vacation. I flew out of NYC last Thursday, and have been a busy little bee out here on the West Coast. Updates coming soon – promise! Until then… I made you cupcakes!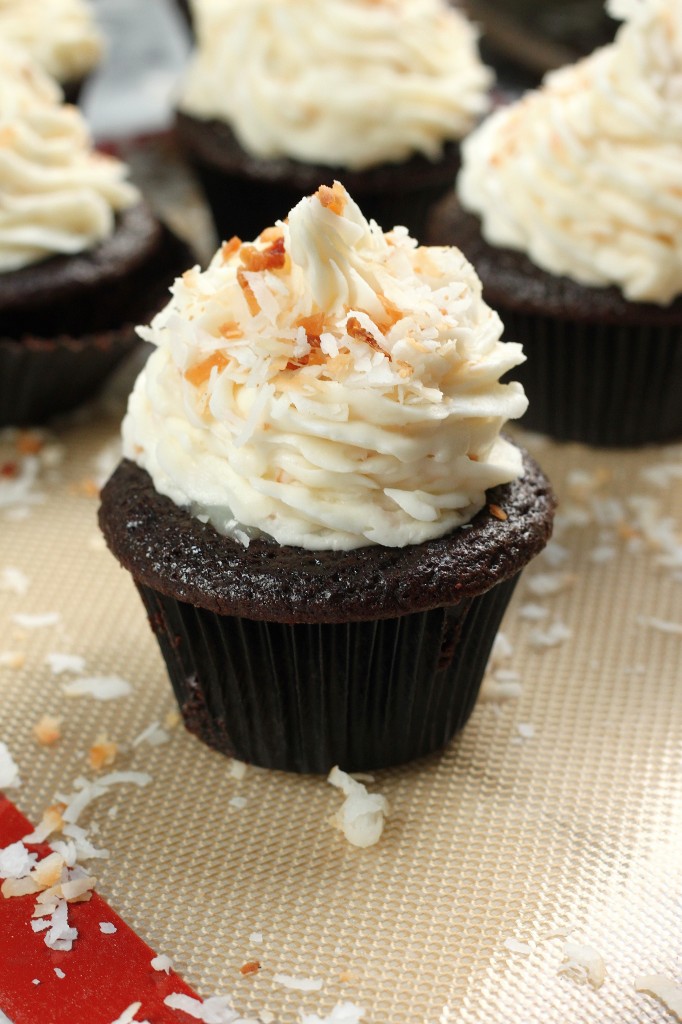 These cupcakes are a coconut lovers dream! Every element of these cupcakes involves coconut, but don't worry – it's not overwhelming! Chocolate and coconut are a great flavor team, and really balance each other out.
The base of this swoon worthy coconut treat is an insanely moist chocolate cupcake. The cupcake is made with coconut oil, ensuring a light coconut flavor, and a perfectly tender crumb. Exactly what we want! Exactly what we need!
Now for the filling! Creamy, sweet, and full of coconut flavor – it's the perfect thing to stuff in the center of these cupcakes. Once you've made – and cooled – your filling, all you'll need to do is cut a little hole in the center of your cooled cupcakes and fill away!
The final step in our cupcake adventure is the buttercream! This buttercream is made with coconut milk and shredded coconut, and is the perfect final touch to these dreamy cupcakes. I like my buttercream very thick, so in the recipe I recommend starting with a small amount of milk, but you can always add more if you like.
To make things pretty I topped each chocolate coconut cupcake with toasted coconut, and highly recommend you do to 🙂 It looks good and tastes great!
Happy cupcaking to you, friends! We'll be back to a normal posting week as of Monday – promise! xoxo
The Best Chocolate Coconut Cupcakes
Ingredients
For the cupcakes:
3 tablespoons coconut OR canola oil
1 stick unsalted butter, melted and slightly cooled
1/2 cup semi-sweet chocolate chips
1 cup granulated sugar
2 large eggs + 1 large egg yolk, at room temperature
1 teaspoon vanilla
3/4 cup + 2 tablespoons all-purpose flour, not packed
1/2 teaspoon baking soda
1 teaspoon baking powder
1/2 cup unsweetened cocoa powder
1/2 teaspoon salt
1/2 cup full fat sour cream
1/2 cup hot coffee OR hot water
For the coconut cream:
1 cup heavy whipping cream
3/4 cup plus 2 tablespoons granulated sugar
1 stick butter, at room temperature
1 1/2 tablespoons cornstarch
1 teaspoon vanilla extract
4 ounces sweetened shredded coconut
For the buttercream:
6 ounces unsalted butter, very soft
1 teaspoon vanilla extract
3 cups confectioners' sugar, sifted
2 tablespoons coconut milk
1 (7 ounce) package sweetened flaked coconut, divided
Instructions
For the cupcakes:
Preheat oven to 350º F.

Place cupcake liners in muffin tin. Spray lightly with PAM cooking spray. *The cooking spray really helps the cupcakes not stick to the liners.
For the cupcakes:
Preheat the oven to 350 degrees (F). Line a 12-cup cupcake/muffin tin with cupcake liners and lightly spray the liners with non-stick spray (optional but it does help them peel right off).

Melt the oil, butter,and chocolate together in the microwave, heating in 30 second increments, and stirring between increments each time. You can also melt the oil, butter, and chocolate over very low heat on the stove top, but I find the microwave to be much easier. Whisk mixture until completely smooth and set aside to cool.

In a medium sized bowl combine the flour, baking soda, baking powder, cocoa powder, and salt; stir together until thoroughly combined; set aside.

In a large bowl, whisk together the eggs, yolk, sugar and vanilla together; beat until smooth. Add the cooled oil/butter/chocolate mixture and whisk until smooth. Add half of the flour mixture, then half of the sour cream. Repeat the process until everything is added, and be sure to mix until JUST combined - then quickly stir in the hot coffee/water. It's important not to over mix, here! Just stir until evenly combined.

Divide the batter among the 12 liners in your prepared pan. Bake for 16-18 minutes, or until a toothpick inserted in the center comes out clean. Cool completely before frosting.
For the coconut cream:
In a small, deep heavy-bottom pot heat the heavy cream, sugar, and butter over medium-high until the sugar has completely melted; whisk well to combine.

Whisk the cornstarch and vanilla into the cream mixture and bring to a boil.

Continue cooking the mixture until thick, about 1 minute.

Remove from the heat and stir in the coconut. Let the mixture cool completely before using.
For the buttercream:
Beat butter with an electric mixer in a large bowl until smooth; add vanilla extract.

Gradually add confectioners sugar to butter, beating until well blended. Don't worry if it looks dry!

Add milk into butter mixture and beat until smooth.

Fold half the coconut into the icing.

Sprinkle remaining coconut over cupcakes.
Assembly:
Once cupcakes are cooled, cut a small hole in the center of each cupcake. Place a tablespoon of filling in the center of each cupcake, then top with buttercream. Top each cupcake with toasted or untoasted coconut, and serve!