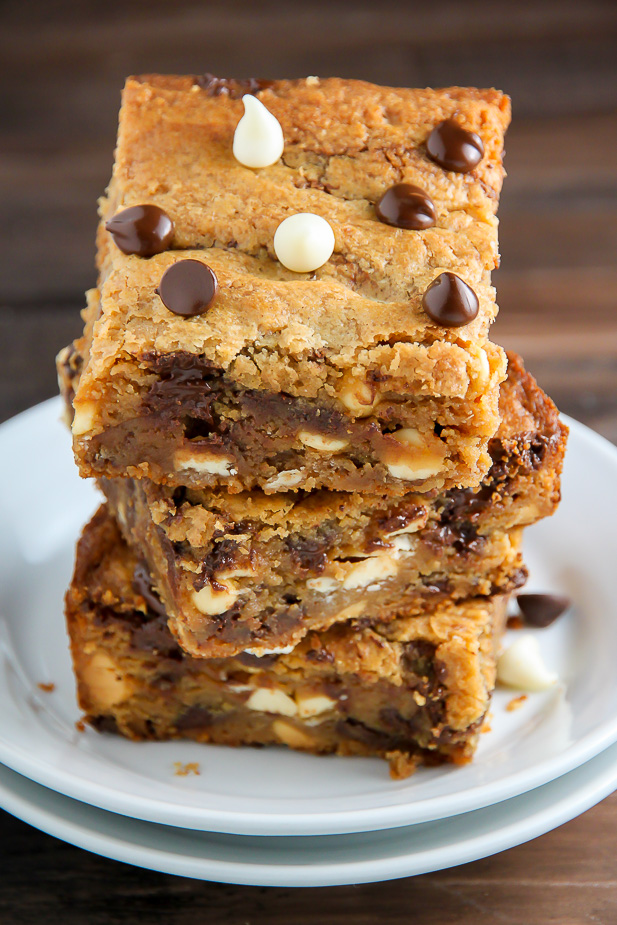 When your morning starts off with creamy hot coffee, a plate of fresh fruit, and two – TWO (!!!) – thick and chewy triple chocolate peanut butter blondies… it's hard to think anything other than "LIFE IS GOOD!". <—- Try it for yourself and you'll totally see what I'm talking about!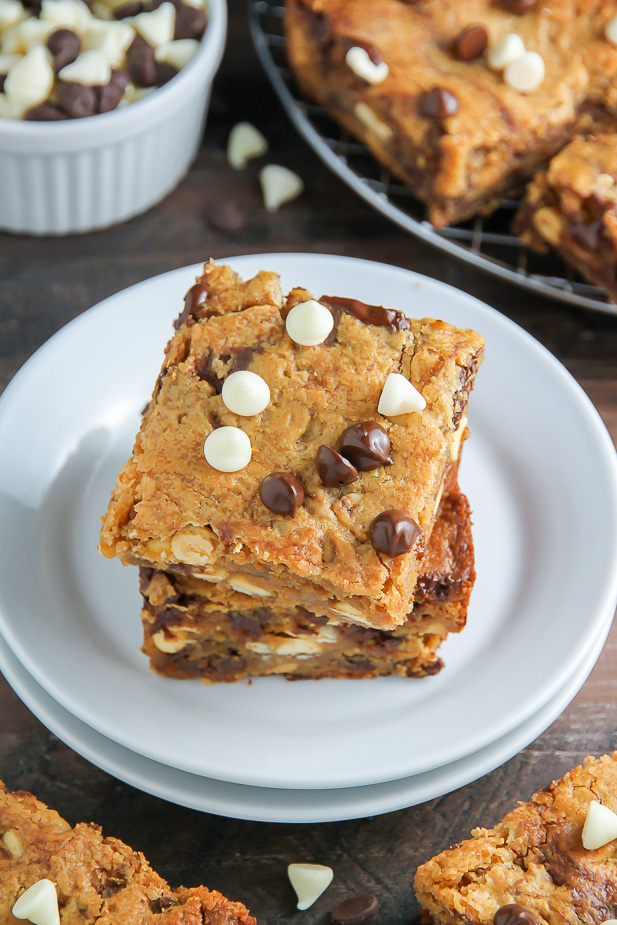 One thing I have been loving lately: the blondie. This is definitely the dessert we eat most often in our house, and my triple chocolate peanut butter version is a new favorite. I mean, when you pack three varieties of chocolate chips and a hearty dose of creamy peanut butter into a thick and chewy blondie… you really can't go wrong.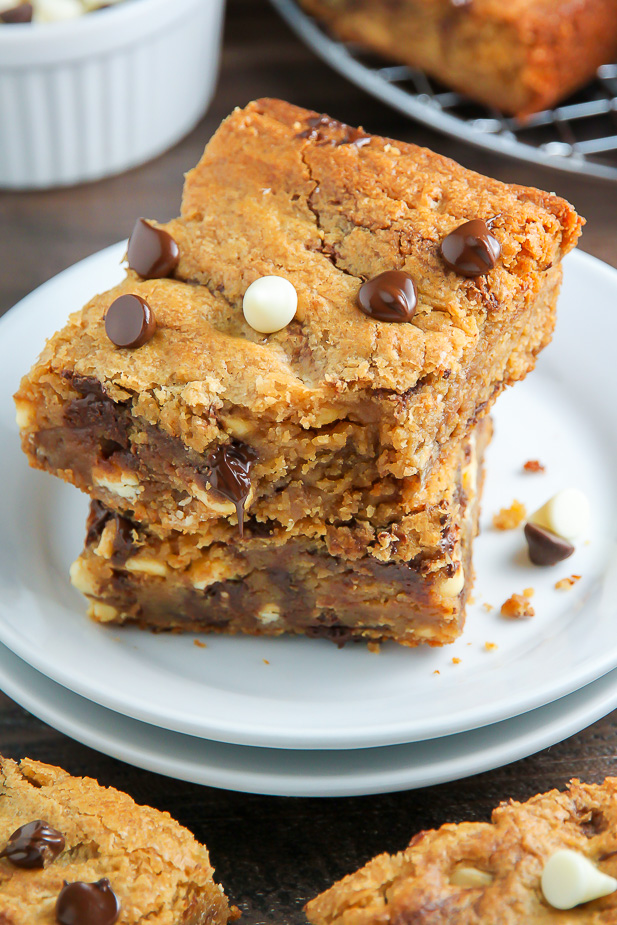 If you're familiar with blondies you probably already know how quick and easy they are to assemble and bake. If you're a newbie, you'll be happy to know this recipe comes together in just one-bowl, and bakes up in less than 30 minutes!
Blondies are also insanely adaptable, so if you're not a fan of a mix-in, feel free to leave it out, or use a similar ingredient in it's place. For example, if you don't like semi-sweet chocolate, you could leave it out, and add in some chopped peanuts or some dark chocolate chips in their place. I've also made these with peanut butter chips and all milk chocolate, which is d-e-l-i-s-h!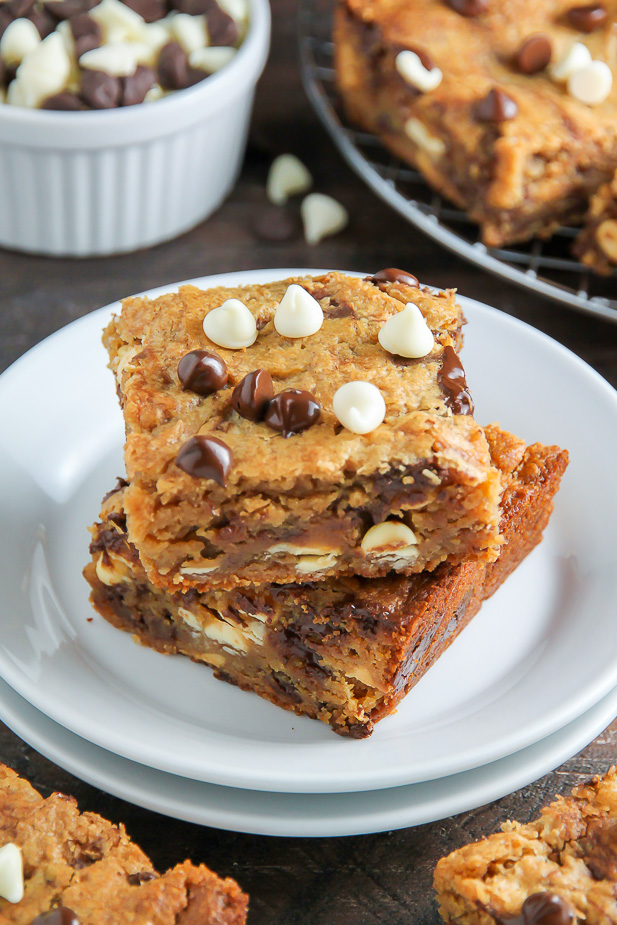 One thing! Be sure you don't over bake your blondies. You want them to have set edges but a very soft looking center. The blondies will firm up a ton during the cooling process, so don't be afraid to pull them out of the oven while they still have a little "wiggle".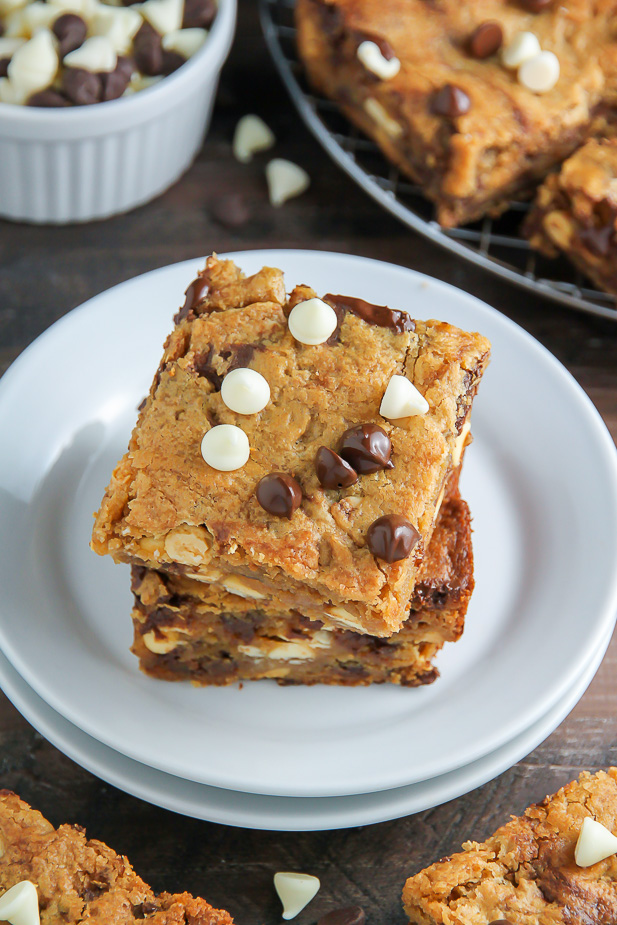 How beautiful are all those glistening chocolate chips on top?
Semi-sweet, milk chocolate, and creamy white… I love em' all. These blondies are really delicious straight from the oven, but they will stay fresh for a couple days in you store them properly (wrap them in saran or place them in an airtight container). They're a delightful treat in the morning with a cup of coffee or a great dessert… especially when topped with a scoop of ice cream 😉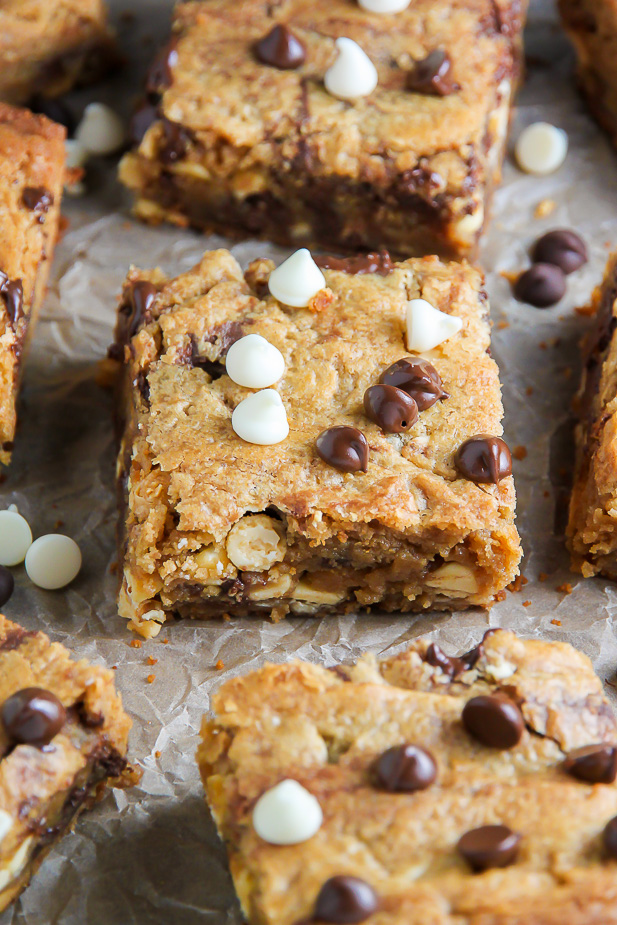 Thick and Chewy Triple Chocolate Peanut Butter Blondies
Thick and Chewy Triple Chocolate Peanut Butter Blondies are a bakery quality dessert that can be made at home in less than an hour! These are great with a cup of cold milk.
Ingredients
1 stick (4 ounces) unsalted butter, melted
3/4 cup creamy peanut butter
1 3/4 cups light brown sugar, packed
2 large eggs, at room temperature
1 teaspoon vanilla extract
1/2 teaspoon salt
2 cups all-purpose flour
1/2 cup dark chocolate chips (or semi-sweet)
1/2 cup milk chocolate chips
1/2 cup white chocolate chips
Instructions
Preheat your oven to 350 degrees (F). Line an 8x8 pan with tinfoil, allowing two sides to overlap; generously grease foil and any exposed pan; set aside.

Melt the butter, then mix with peanut butter until smooth. Add in the brown sugar and mix until well combined. Beat in the eggs, one at a time, then add in the vanilla; stir until well combined. Mix in the salt and flour and stir until everything is just combined (be sure not to over mix here). Quickly fold in the chocolate chips (dark chocolate, milk chocolate, and white chocolate). Smooth batter into prepared pan and bake for 25-30 minutes; the edges should be completely set and the center should wiggle just a little bit. Cool completely in pan before cutting and serving.