If you love sweet and salty snacks as much as I do, you're going to go nuts over these homemade Trail Mix Granola Bars!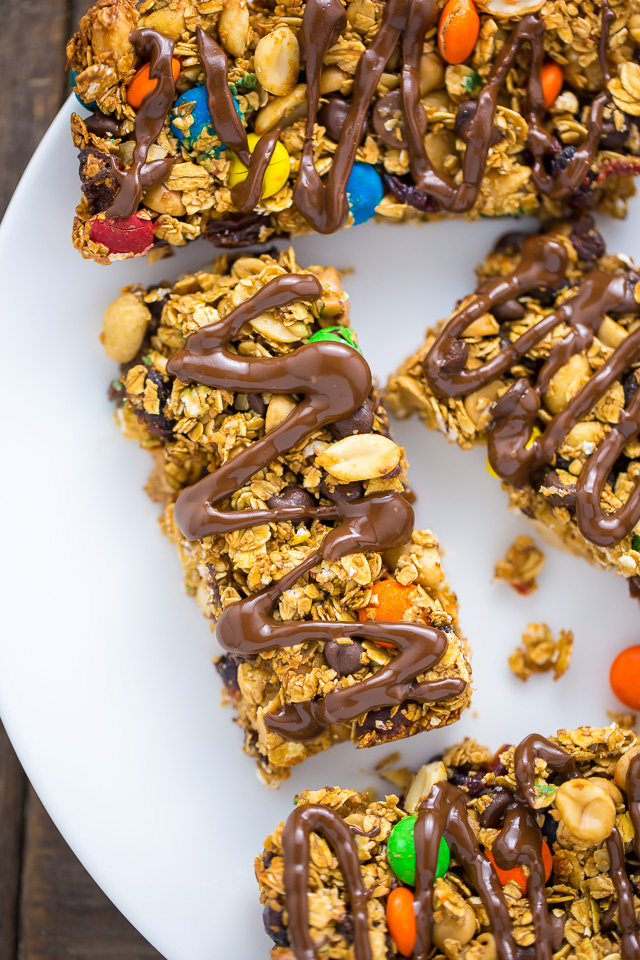 There's no denying it: Summer 2016 is quickly coming to an end! I went shopping over the weekend and was greeted with display tables overflowing with back-to-school gear, Halloween paraphernalia, and a tower of canned pumpkin taller than me. The silver lining? Fall is the most delicious seasons EVER! I'm already working on my Fall baking bucket list (apparently this is my thing now) and the recipes are really starting to pile up!
P.S. Don't worry – I'm not done sharing fruity Summer recipes with you juuuust yet! There will be cobbler and pie for you later this week 😉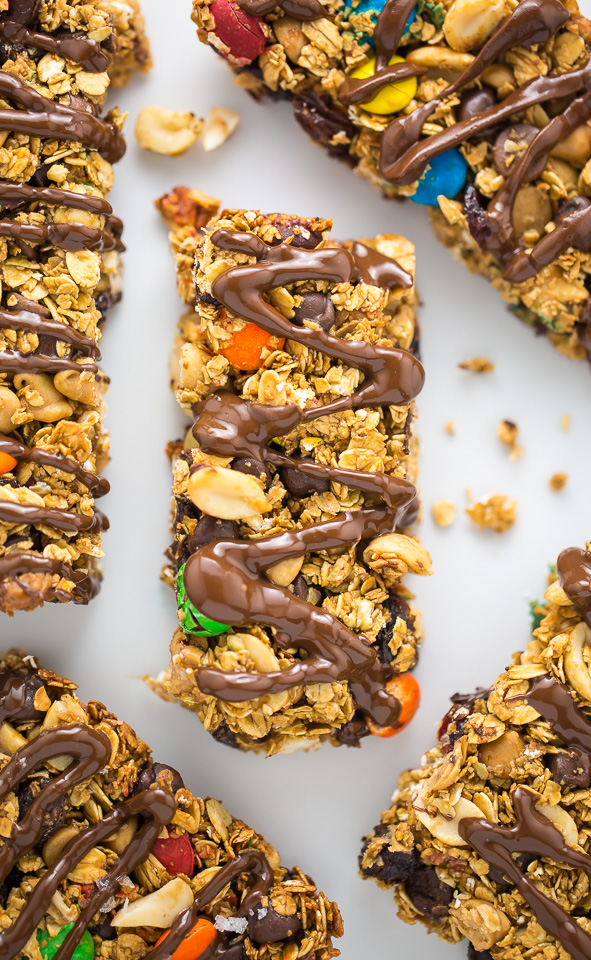 Today we're easing into that "Fall feeling" with a quick and easy snack that's perfect for back-to-school treats: Trail Mix Granola Bars!!! I've baked these twice this month and plan to whip up another batch sometime later this week. They're so convenient for anyone who lives an on-the-go lifestyle, and personally have saved me from the dangerous "hangry" zone many times!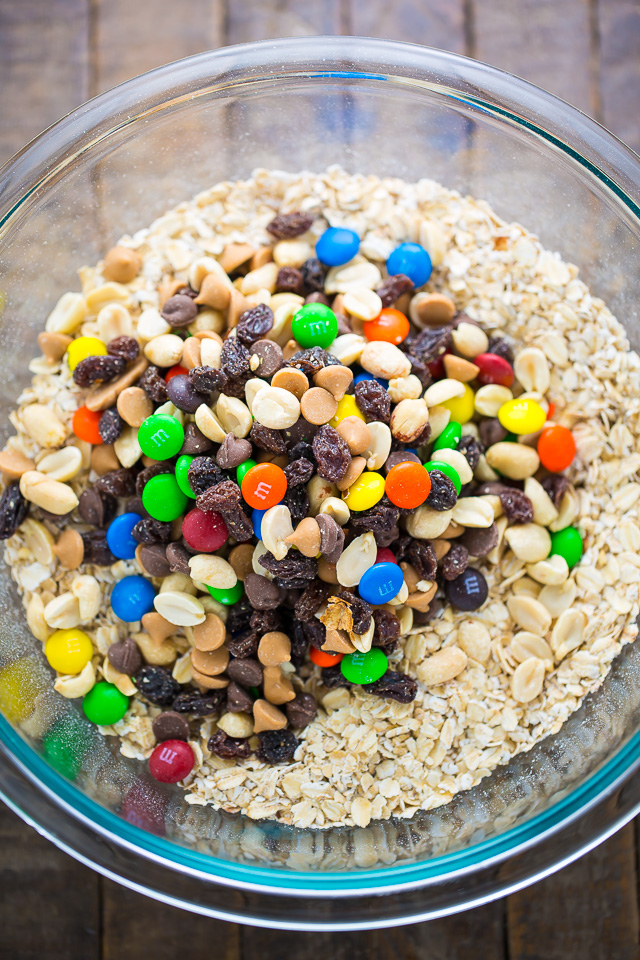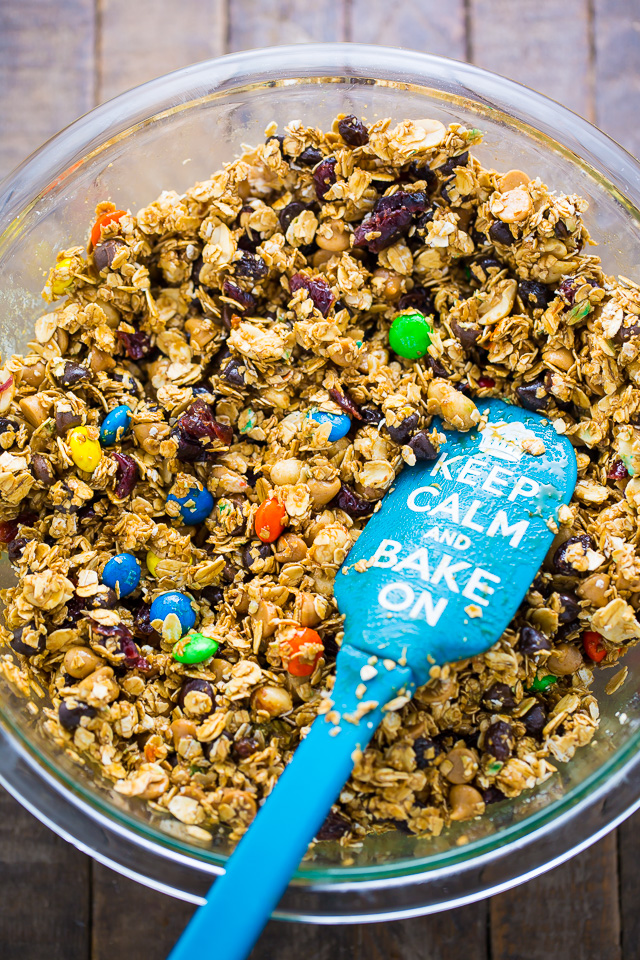 Tips and Tricks for Recipe Success:
Be sure to line your baking pan with parchment paper or tin foil! You'll want to leave an inch or so of the parchment (or foil) overlapping on 2 sides of the pan. These will work as handles when you need to remove the bars from the pan. I also suggest lightly greasing the parchment paper (or foil) – and any exposed pan – with non-stick spray or butter to ensure nothing sticks.
For the trail mix you can make your own (simply combine a mix of snack items like salted peanuts, m&ms, chocolate chips, raisins, and peanut butter chips) or use your favorite brand! Just be sure not to exceed the called for amount. There's only enough liquid in this recipe to bind together the called for amounts, so using more will result in dry and crumbly trail mix granola bars. In case you're curious, I used Monster Trail Mix. If you don't want to buy it online, you can also buy it at Target.
When you pour the batter into the prepared pan, make sure you press the mixture firmly and evenly into the pan. This helps form solid bars that don't crumble when cut. An easy way to do this is by wrapping your hand in a piece of plastic saran wrap and manually pressing it into the pan.
Don't over bake! Once the edges of your trail mix granola bars are lightly golden brown, they're ready to come out of the oven.
To avoid crumbling, you'll want to cut your trail mix granola bars while they're still warm.
The chocolate drizzle is delicious but totally optional! If you do use it, I recommend using a quality chocolate brand you know melts well. I love Ghirardelli, but Trader Joe's pound plus bars, Godiva, and Baker's chocolate are also favorites in my kitchen. Just don't try melting chocolate chips! The texture and taste won't be the same.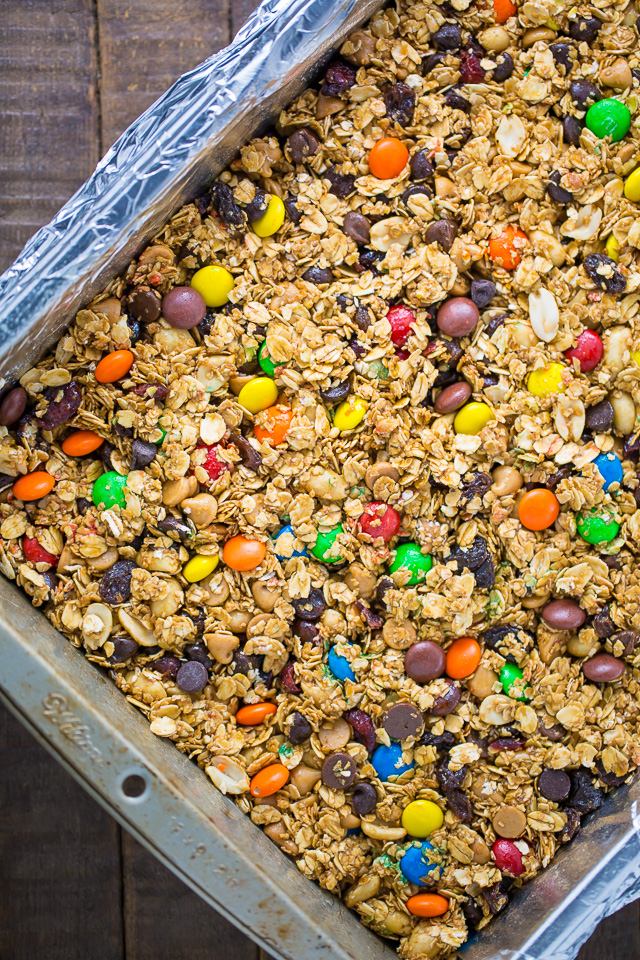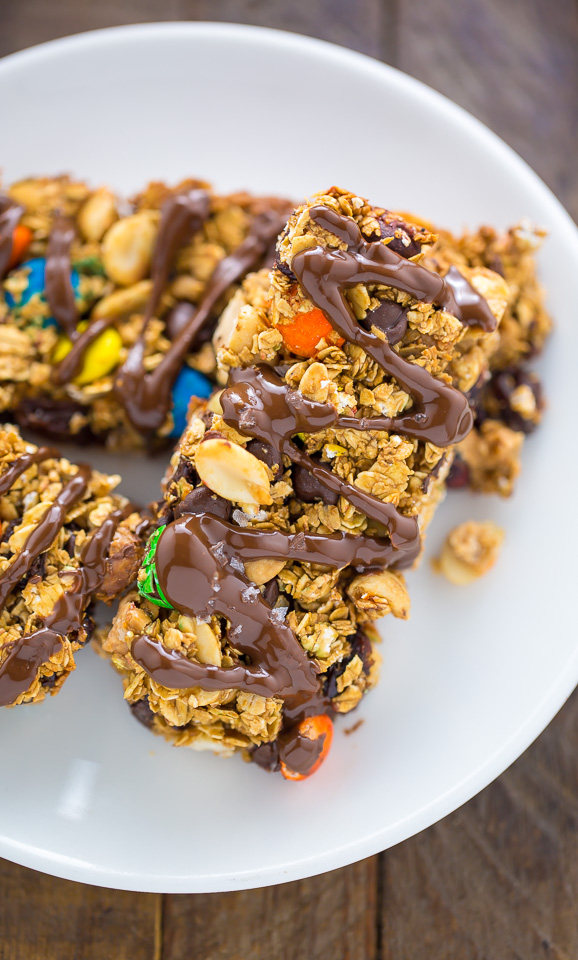 Perfectly sweet, chewy, and just a little salty, these trail mix granola bars are sure to be a hit in your house all year long!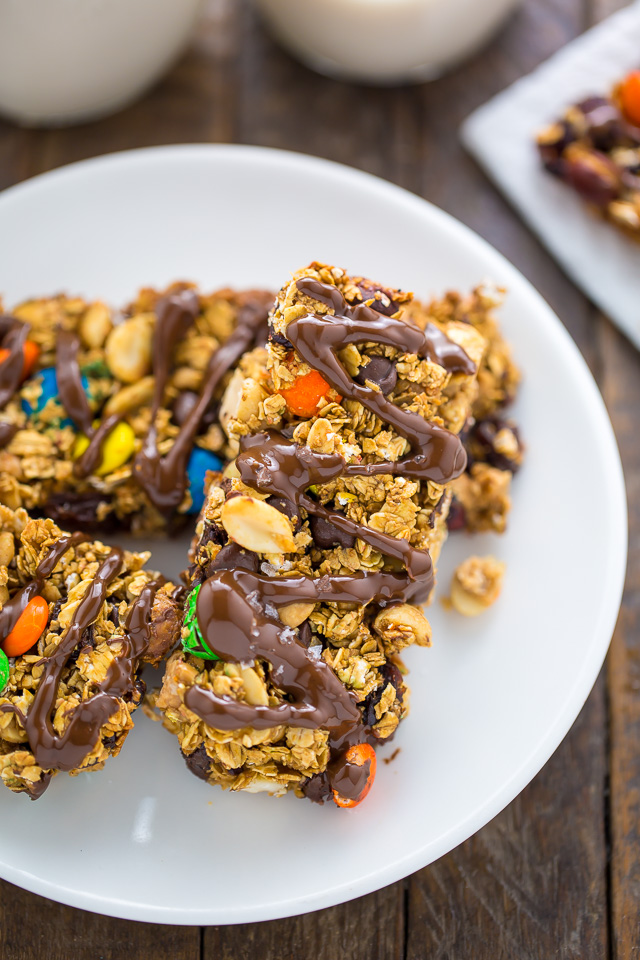 If you try this recipe, let me know what you think! Leave a comment below, and don't forget to snap a pic and tag it #bakerbynature on instagram! Seeing your creations makes my day.

Trail Mix Granola Bars
Homemade Trail Mix Granola Bars are perfect for breakfast or snack!
Ingredients
2 large eggs, at room temperature
1/2 cup light brown sugar, packed
2 teaspoons vanilla extract
2 tablespoons all-purpose flour
1/2 teaspoon baking powder
1/4 teaspoon salt
2 cups quick-cooking oats
1 cup old-fashioned oats
2 and 1/2 cups trail mix (use your favorite brand!)
For the Chocolate Drizzle:
8 ounces high-quality semi-sweet chocolate (see post for more on this)
1 tablespoon coconut OR canola oil
Instructions
In a large bowl combine the eggs, light brown sugar, vanilla, flour, baking powder, and salt; whisk well to combine. Set aside.

Preheat oven to 350 degrees (F). Line a 9x13" pan with parchment paper, leaving an inch or so of the parchment paper overlapping on 2 sides of the pan - these will be handy makeshift handles when you need to remove the bars from the pan. Lightly grease the parchment paper with non-stick spray and set aside.

In a large bowl add the quick-cooking oats, old-fashioned oats, and trail mix; mix well to combine. Add in the liquid egg/sugar mixture and quickly stir with a rubber spatula until the ingredients are well combined. Pour the mixture into the prepared pan, and evenly press the mixture down into the corners and out to the sides.

Bake in the preheated oven until the center is set and the edges are lightly golden brown, about 15-20 minutes. Allow the the bars cool for 10 minutes in the pan before using the parchment paper sides to lift them from the pan. Use a sharp knife to cut into bars; transfer to a wire rack to cool completely. Store in an airtight container for up to 3 days.
For the Chocolate Drizzle:
In a small microwave-safe bowl combine the chocolate and oil. Heat on low, in 30 second increments, stirring between each, until chocolate is completely melted. Whisk smooth and cool for a few minutes. Drizzle chocolate over each cooled granola bar. Allow chocolate to set before serving.