Chewy and delicious Homemade Garlic Knots! This yeasted dough recipe is straightforward and sure to be a big hit with your family and friends!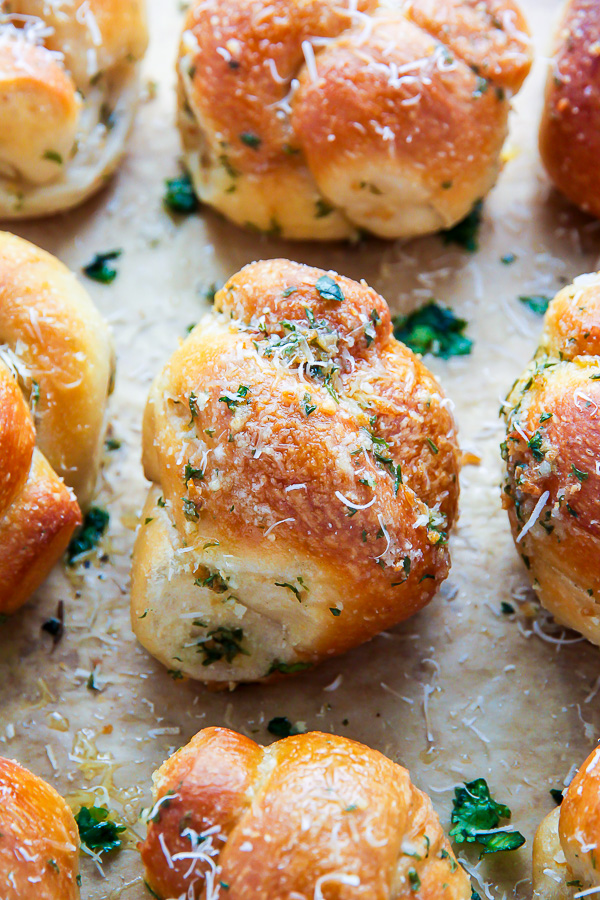 Garlic Knots Recipe
Hello! Keeping things short today because the sun is (finally) shining here in Hamburg and I'm aching for an outdoor adventure. I've been eager to try this fresh squeezed juice place downtown, so that's our first stop, then I'm thinking lunch outside (!!!) and a long walk by the harbor. Any signs of Spring popping up in your neighborhood? Any exciting weekend plans on the horizon?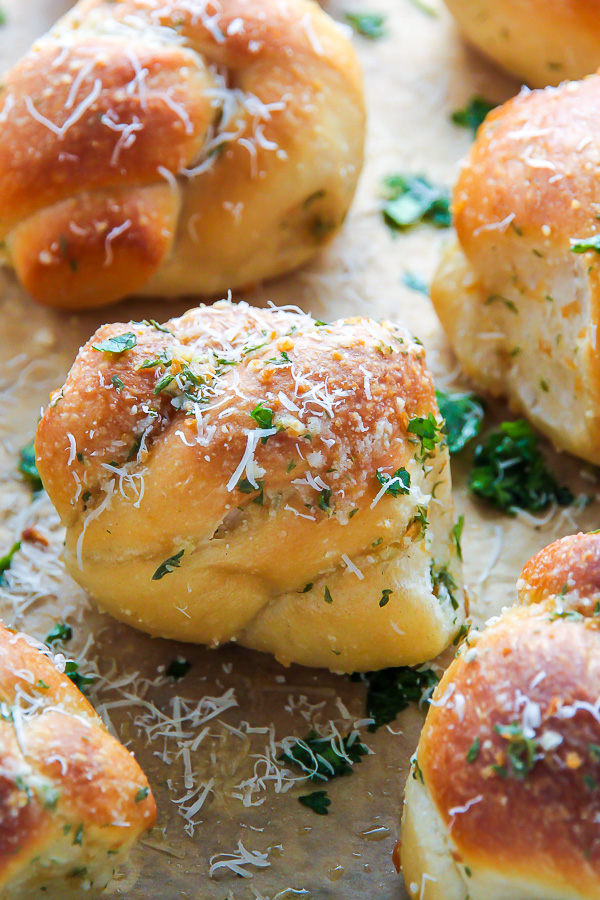 How to make Garlic Knots
Alright, time to get down to biz! Super excited to share these homemade garlic knots with you today. They're not super complicated, but there are quite a few steps, so make sure you take the time to read through the entire recipe before getting started. I also recommend reading through the ingredient list to making sure you have everything on hand!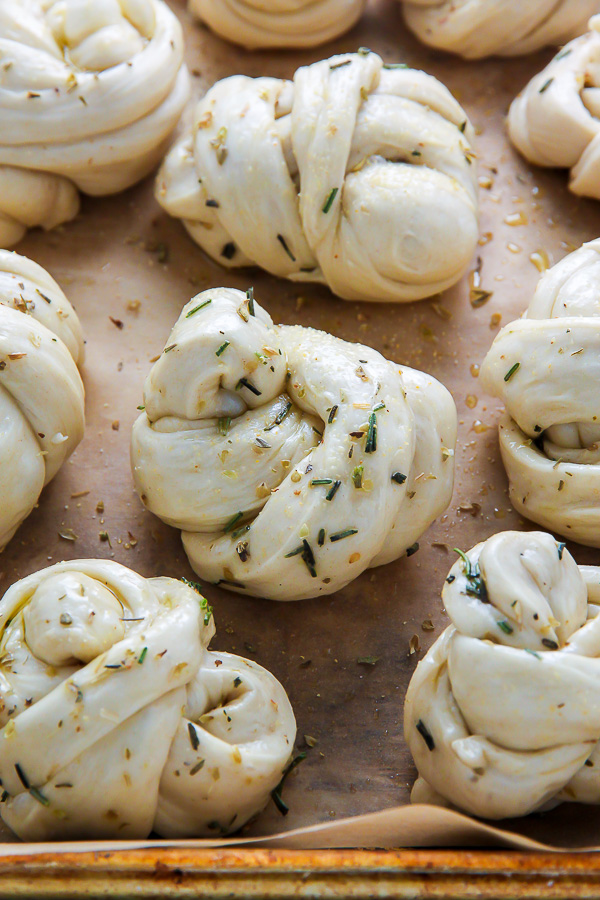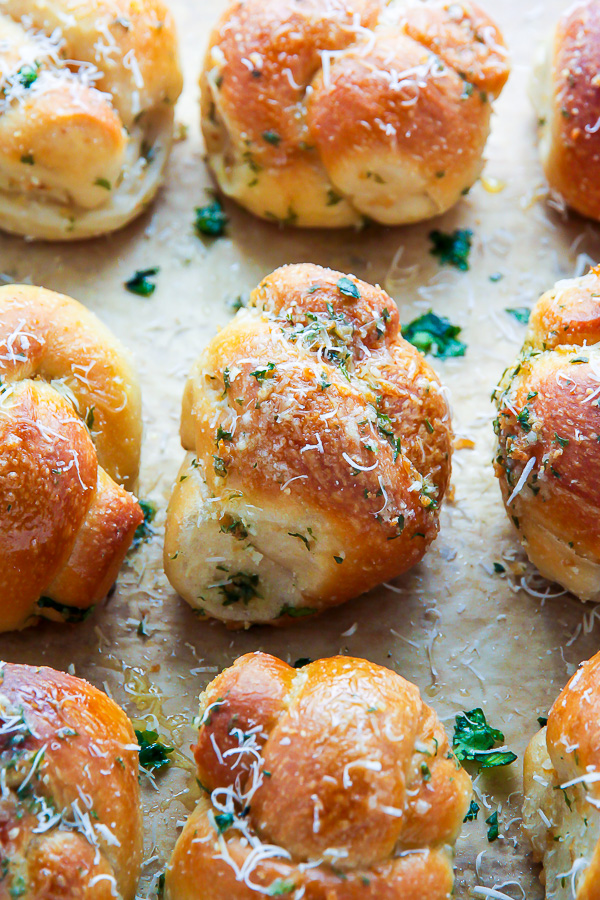 This recipe calls for bread flour. Bread flour is a high-gluten flour that has a tiny amount of barley flour and vitamin C added. The barley flour helps the yeast activate, and the vitamin C increases the elasticity of the gluten and its ability to retain gas as the dough rises and bakes. Bread flour is typically used in pizza crust and garlic knot recipes because of the chewiness that the extra gluten provides. I did test this recipe with all-purpose flour and unfortunately the results were tough, dry, and utterly disappointing.
Moral of the story? If you want soft, chewy, and incredibly delicious garlic knots, don't skip the bread flour!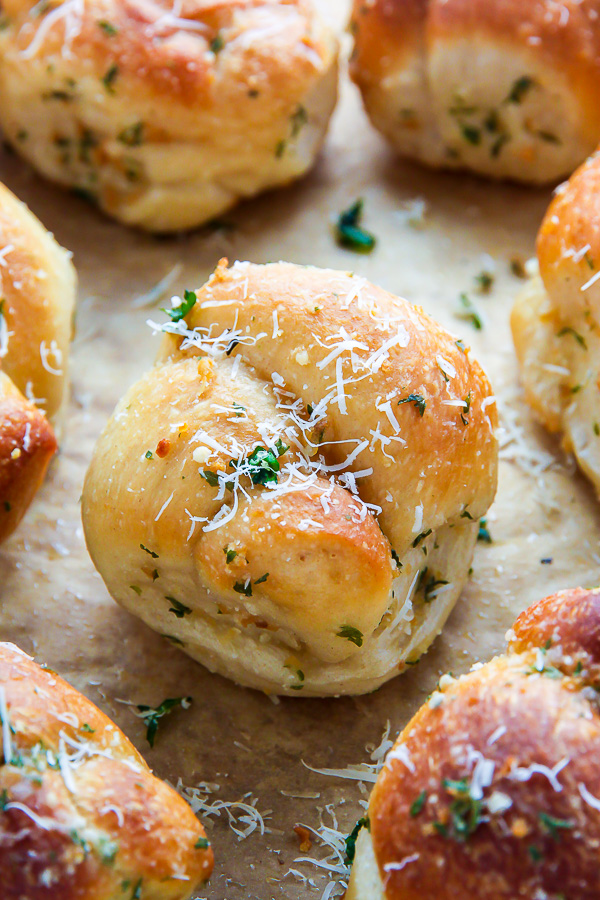 If you're in a time crunch, I suggest making the dough ahead of time and freezing it. Then simply thaw and continue with the following steps as directed in the recipe. I always keep a batch of this dough hidden in the back of my freezer for when a garlic knot craving strikes!
These garlic knots are super delicious on their own – especially straight from the oven – but also go great with a side of marinara sauce. You can check out my homemade marinara sauce here.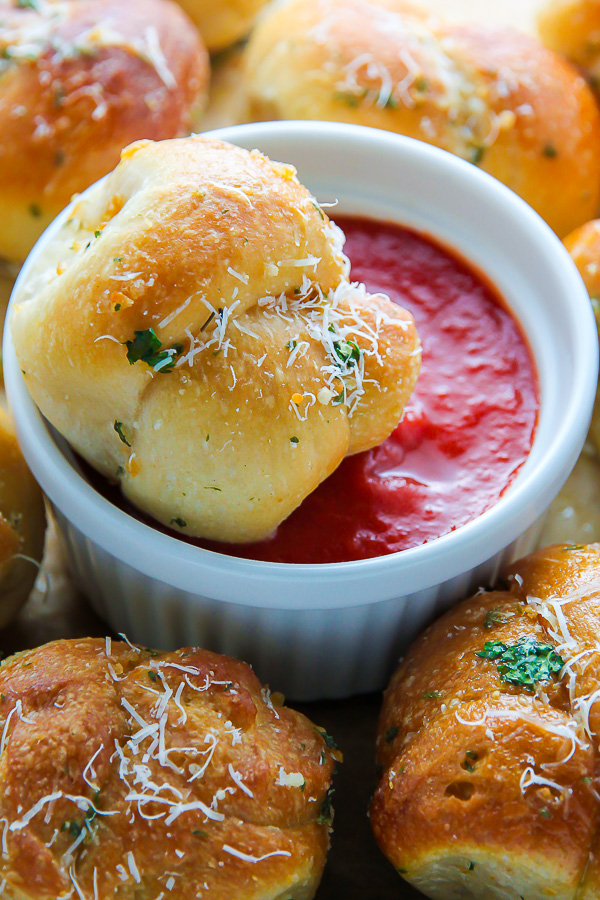 Enjoy your Friday 🙂
If you try this garlic knots recipe from scratch, I'd love to hear about it! Leave a comment below and don't forget to snap a pic and tag it #bakerbynature on Instagram! ♥
Homemade Garlic Knots
Yield 16 large garlic knots
Homemade garlic knots made with simple, everyday ingredients! Delicious on their own, or dipped in zesty marinara sauce.
Ingredients
For the dough:
3 and 3/4 cups bread flour
1 and 1/2 teaspoons granulated sugar
1 envelope active dry yeast
2 teaspoons salt
1 1/2 cups warm water, 110 - 115 degrees (F)
2 tablespoons plus 2 teaspoons olive oil, divided
For the garlic coating:
1 stick unsalted butter
6 cloves garlic, minced
1/2 cup fresh parsley, minced
1 and 1/2 teaspoons garlic salt
1/4 cup Parmesan cheese, grated
Instructions
For the dough:
In the bowl of a stand mixer fitted with the dough hook add the bread flour, sugar, yeast and salt; gently whisk to combine. Turn mixer on low speed and add the warm water and 2 tablespoons of the olive oil; beat until the dough forms a ball around the hook. If the dough is super sticky, add additional flour, 1 tablespoon at a time, until the dough comes together in a solid ball. If the dough is too dry, add additional water, 1 tablespoon at a time. Scrape the dough onto a lightly floured surface and gently knead into a smooth, firm ball.
Grease a large bowl with the remaining 2 teaspoons olive oil. Add the dough, cover the bowl with plastic wrap, and place the bowl in a warm area to rise for 90 minutes, or until it has doubled in size.
Turn the dough out onto a lightly floured surface and divide it into 2 equal pieces. Place each round of dough onto a piece plastic wrap and let them rest for 10 minutes. Dust the top of each round of dough with a light sprinkling of flour and, using a sharp knife, slice each into quarters. Press each quarter into a rectangle, then slice in half again. You should have 16 pieces of dough. Dust each piece with a little flour and quickly shape into individual balls. Roll out each ball into a long rope then tie it into a knot. Place the knots on the prepared baking sheet, covered loosely with plastic wrap, and set aside for 30 minutes.The knots will rise a little more during this time.
Preheat oven to 450 degrees (F). When the 30 minutes are up, remove the plastic wrap and place the garlic knots in the preheated oven. Bake for 20 minutes, or until knots are golden brown and firm.
Cool for 5 minutes, then brush the freshly baked knots with the garlic coating. Sprinkle with cheese and serve warm!
For the garlic coating:
Melt the butter in a small pan over medium-low heat. Add in the garlic and simmer for 1-2 minutes, or until fragrant (be sure not to over cook it here). Add in the parsley and garlic salt and stir to combine. Taste to season (add more salt, if needed), then remove from heat. Set aside until needed.
Notes
For darker and more flavorful garlic knots, brush garlic coating on knots before and after baking.
Courses Dinner
Cuisine Italian
Nutrition Facts
Serving Size 2-3 garlic knots
Amount Per Serving
% Daily Value
* Percent Daily Values are based on a 2,000 calorie diet. Your daily values may be higher or lower depending on your calorie needs.