Loaded with cranberries, macadamia nuts, and topped with a sweet drizzle of white chocolate. These homemade granola bars are as easy as they are irresistible!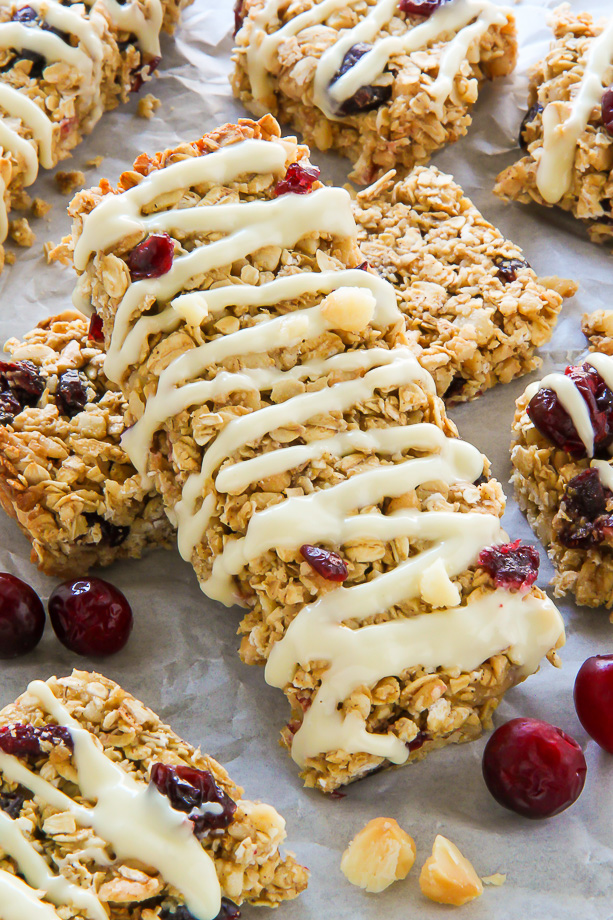 Happy first Monday of the new year! How did you ring in 2016? In between a little online shopping and a whole lot of lazy TV watching I managed to squeeze in the most baking I've done in months. It feels so good to be back! Now if only I can find someone to wash all those dirty dishes…
But I digress! With January here and kicking, I figure some of you may be in the market for healthy recipes to help you keep those 2016 resolutions… am I right? If so –  I've got good news for you! I have a whole month of lightened up recipes coming your way, starting today. With these easy and drop-dead-delicious granola bars. Packed with oats, a touch of brown sugar, crunchy macadamia nuts, tart cranberries, and sweet white chocolate. ♥♥♥
↑↑↑ SO. Damn. Good.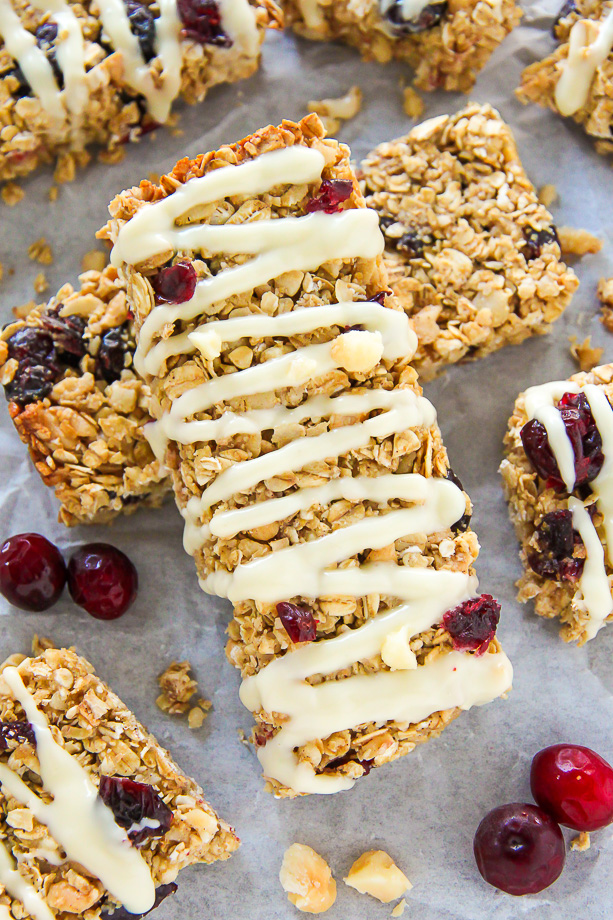 The only downside to these granola bars? They're SO addicting! Crunchy, chewy, chocolatey, cranberry goodness in every bite. Self-control? What self-control?!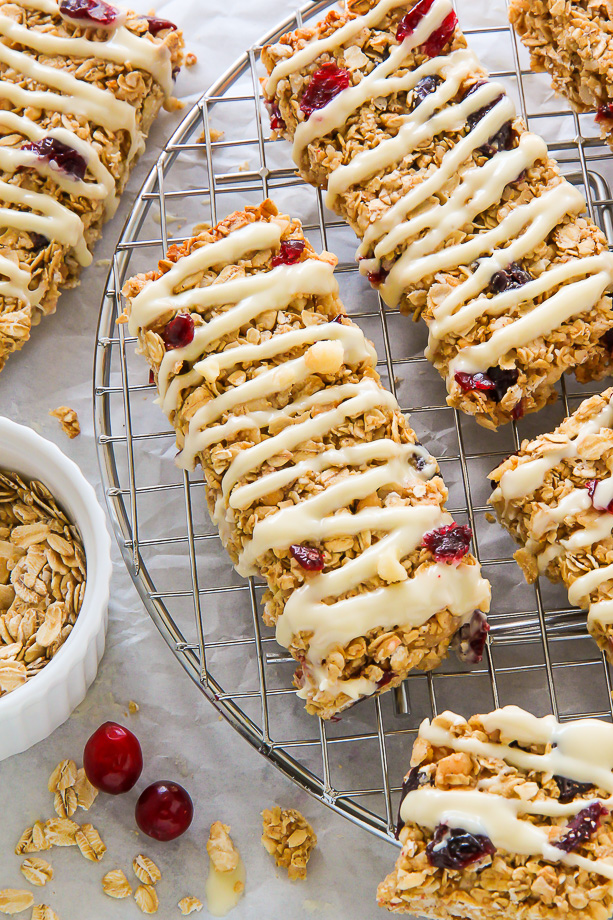 To make these granola bars you'll need: eggs, light brown sugar, vanilla extract, flour, baking powder, salt, oats, cinnamon, nutmeg, macadamia nuts, dried cranberries, and white chocolate.
In one bowl you'll combine the eggs, brown sugar, vanilla, flour, baking powder, and salt. This is our granola bar "glue", if you will.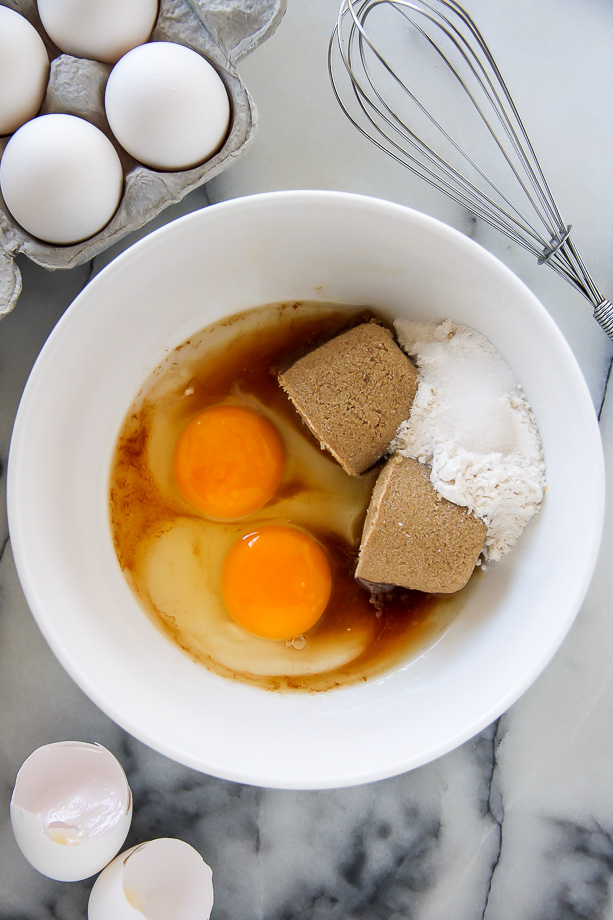 In a separate bowl you'll combine the oats (you will need quick cook oats and old-fashioned oats), cranberries, macadamia nuts, and spices.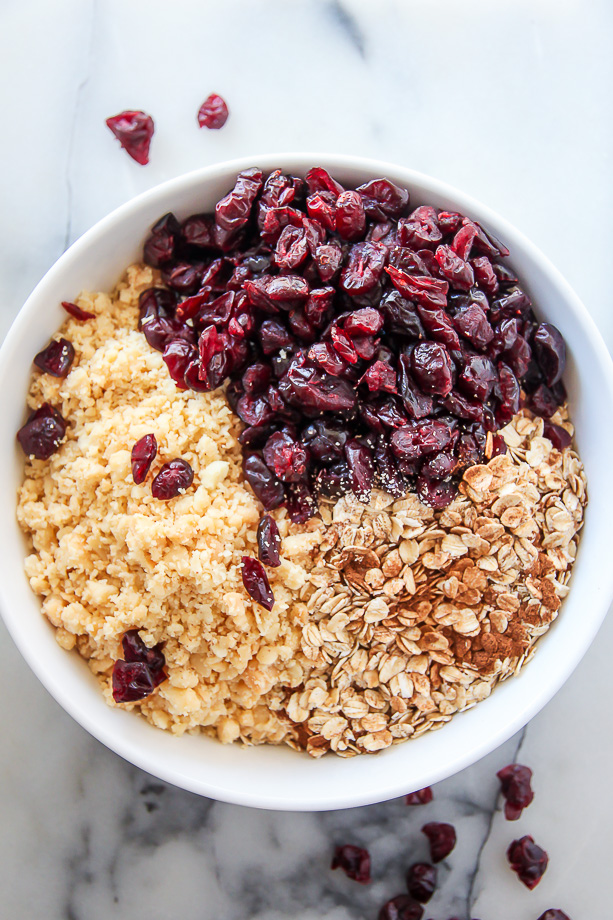 Whisk everything together, press it down into a parchment paper lined pan, and bake for 15-20 minutes. I do recommend keeping an eye on your granola bars as they bake. Some ovens run hotter than others, so yours may be done as soon as 15 minutes. If the edges are slightly golden brown, they're done! Over baking will lead to crunchy and crumbly bars.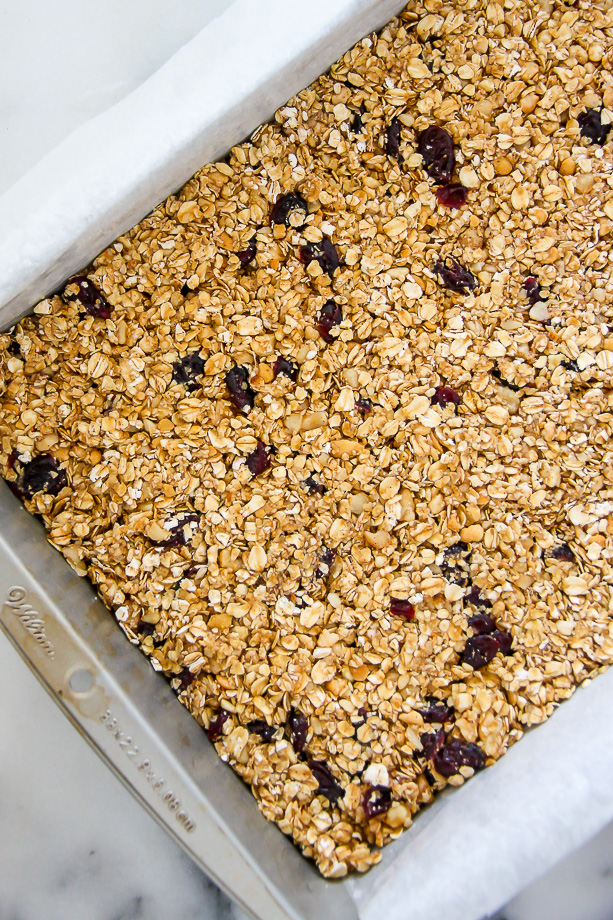 While the granola bars bake, make your white chocolate glaze! To do this you'll simply combine chopped white chocolate and a little oil in a heat-proof bowl and microwave on low in short increments until the chocolate is completely melted and can be whisked smooth. I recommend using high-quality chocolate that you know melts well. I used Baker's premium white chocolate bars
because they melt really great and are quite affordable!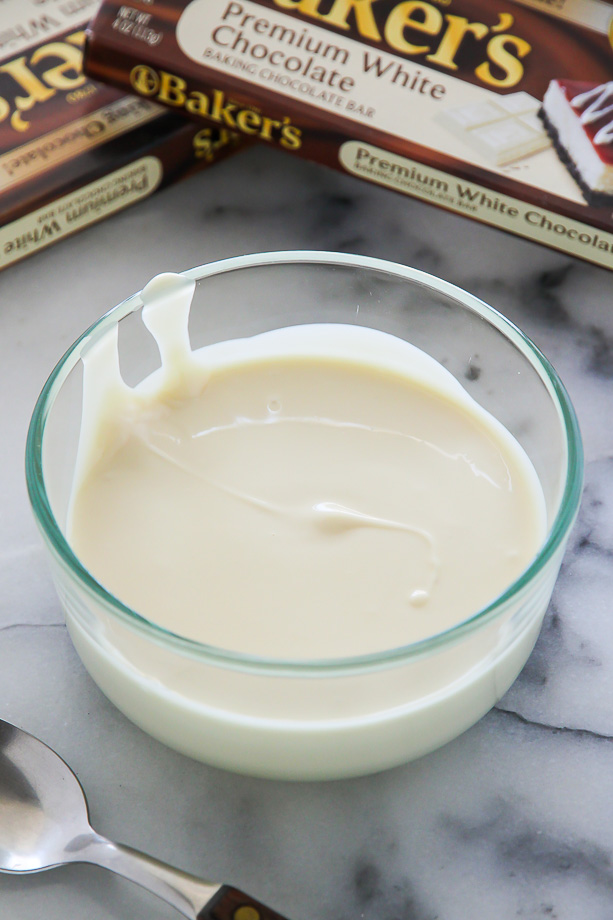 A cross between a white chocolate cranberry macadamia nut cookie and a granola bar… does it get any better than that?!
If you try this recipe, let me know! Leave a comment below and don't forget to snap a pic and tag it #bakerbynature on instagram! Seeing your kitchen creations makes my day.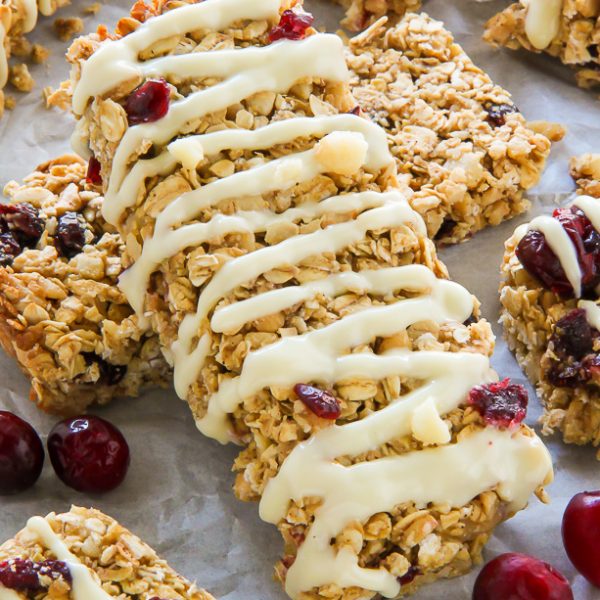 White Chocolate Cranberry Macadamia Nut Granola Bars
Chewy homemade granola bars loaded with cranberries, macadamia nuts, and white chocolate!
Ingredients
2 large eggs, at room temperature
1/2 cup light brown sugar, packed
2 teaspoons vanilla extract
2 tablespoons all-purpose flour
1/2 teaspoon baking powder
1/4 teaspoon salt
2 cups quick-cooking oats
1 cup old-fashioned oats
3/4 teaspoon ground cinnamon
1/4 teaspoon ground nutmeg
1 and 3/4 cups macadamia nuts, roughly chopped
1 cup dried cranberries
For the White Chocolate Drizzle:
8 ounces high-quality white chocolate (see post for more on this)
1 tablespoon coconut OR canola oil
Instructions
In a large bowl combine the eggs, light brown sugar, vanilla, flour, baking powder, and salt; whisk well to combine. Set aside.

Preheat oven to 350 degrees (F). Line a 9X13" pan with parchment paper, leaving an inch or so of the parchment paper overlapping on 2 sides of the pan - these will be handy makeshift handles when you need to remove the bars from the pan. Lightly grease the parchment paper with non-stick spray and set aside.

In a large bowl add the quick-cooking oats, old-fashioned oats, cinnamon, nutmeg, macadamia nuts, and cranberries; mix well to combine. Add in the liquid egg/sugar mixture and quickly stir with a rubber spatula until the ingredients are well combined. Pour the mixture into the prepared pan, and evenly press the mixture down into the corners and out to the sides.

Bake in the preheated oven until the center is set and the edges are lightly golden brown, about 15-20 minutes. Allow the the bars cool for 10 minutes in the pan before using the parchment paper sides to lift them from the pan. Use a sharp knife to cut into bars; transfer to a wire rack to cool completely. Store in an airtight container for up to 3 days.
For the White Chocolate Drizzle:
In a small microwave-safe bowl combine the white chocolate and oil. Heat on low, in 30 second increments, stirring between each, until chocolate is completely melted. Whisk smooth and cool for a few minutes. Drizzle white chocolate over each cooled granola bar. Allow chocolate to set before serving.
Next try these Brown Butter White Chocolate Macadamia Nut Cookies!