White Chocolate Butter Pecan Blondies are a quick, easy, and impressive holiday bake! Loaded with gooey white chocolate chips, crunchy buttered pecans, and sweet toffee! These chewy brown sugar blondies are irresistible!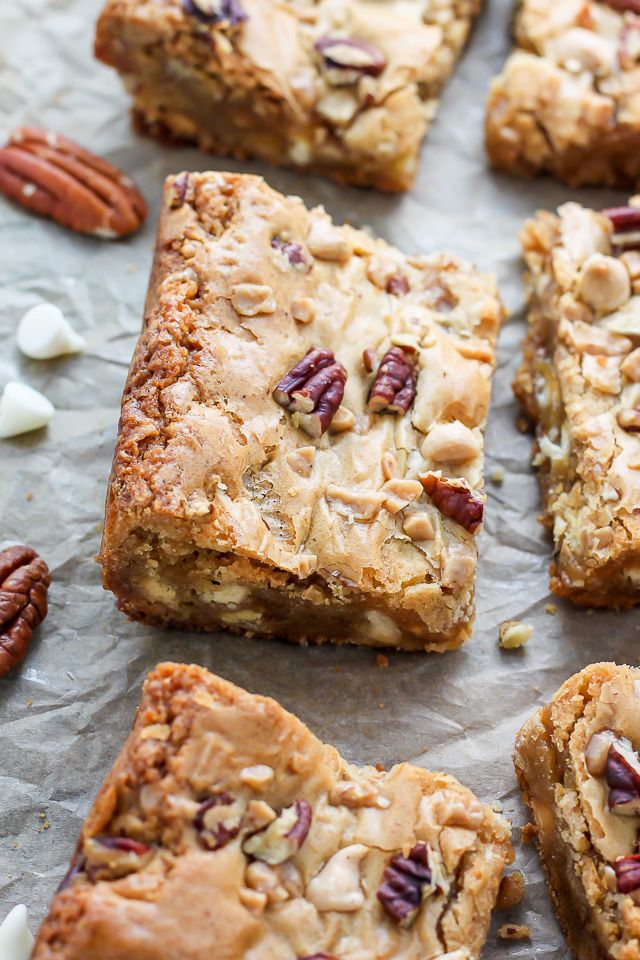 Butter Pecan Blondies
No lie, the very first time I made blondies, I ate the entire batch in one sitting.
I had completely forgotten about this gluttonous achievement until I was baking with my friend Kelly a few weeks ago and she said "maybe we should make blondies… remember that time you ate the whole batch in one sitting and didn't even get a stomach ache?".
This is the part where I pause for a moment of silence in memory of my amazing 22 year old metabolism. <—- Those were the days! But I digress. Our conversation quickly turned from memories to mix-ins and we decided to whip up a batch of white chocolate butter pecan blondies.
This time I promised to share. Because it's the right thing to do… but also because I'm 28 now and pretty sure if I downed an entire batch of blondies you'd have to roll me home in a wheelbarrow.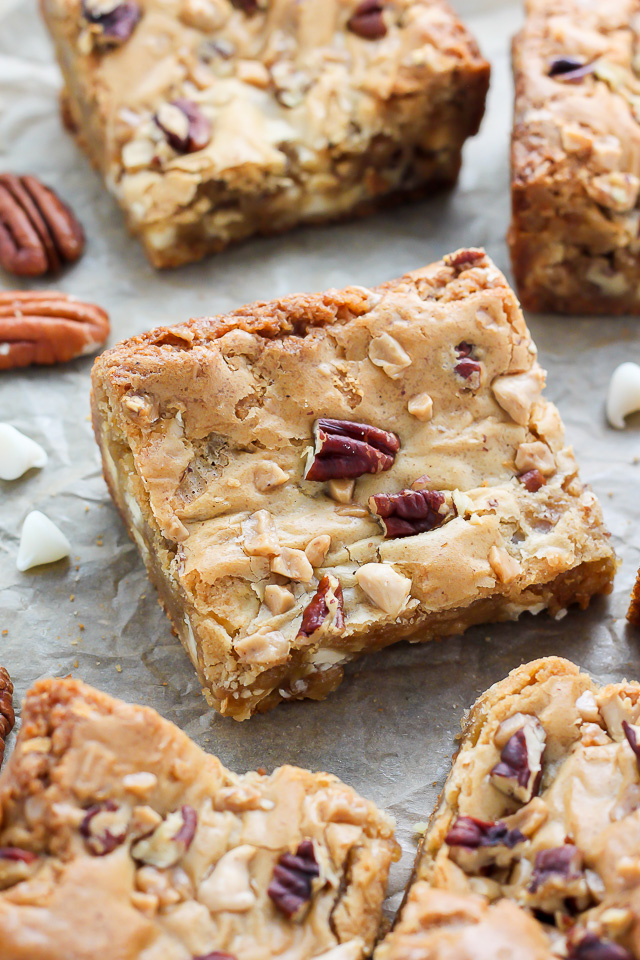 Ingredients for Pecan Blondies
For this recipe you're going to need flour, brown sugar, butter, salt, an egg, pecans, white chocolate, and toffee bits. If you're not a fan of white chocolate, feel free to omit this ingredient or swap them out for semi-chocolate chips! Same goes for the the toffee bits. You could make these a classic butter pecan blondie by just using the pecans!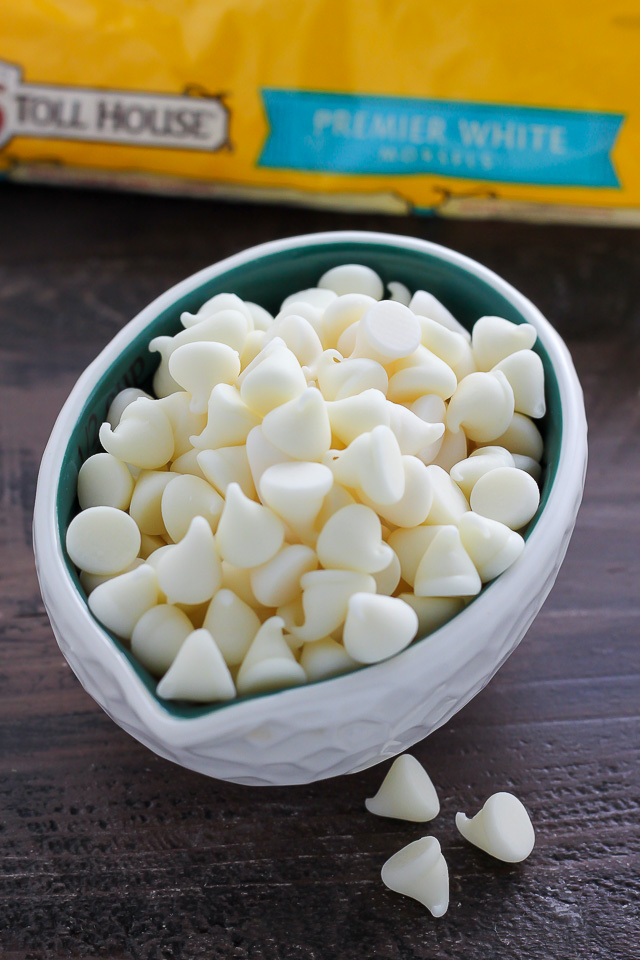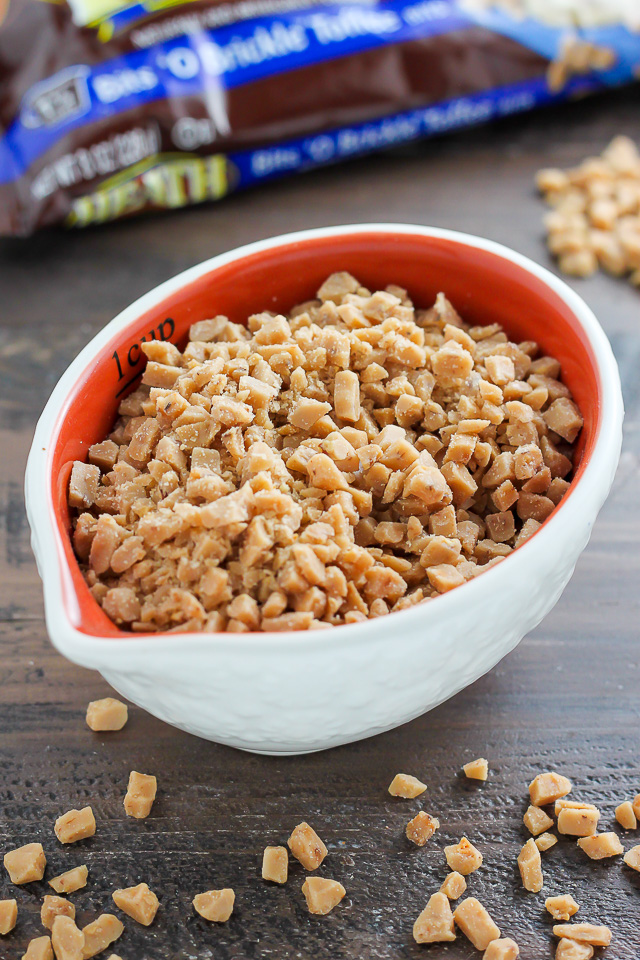 Best Pan to Bake Blondies
You can use an  8×8″ baking pan or a 9×9″ in a pinch. Both of those will yield pretty thin cookie bars. But totally uniform in thickness! If you want extra thick blondies, try using a 9″ loaf pan! The blondies won't be as neat, but they'll be super thick, with some crunchy bits and some super chewy bits! This could be a fun place to experiment and see which baking pan you prefer!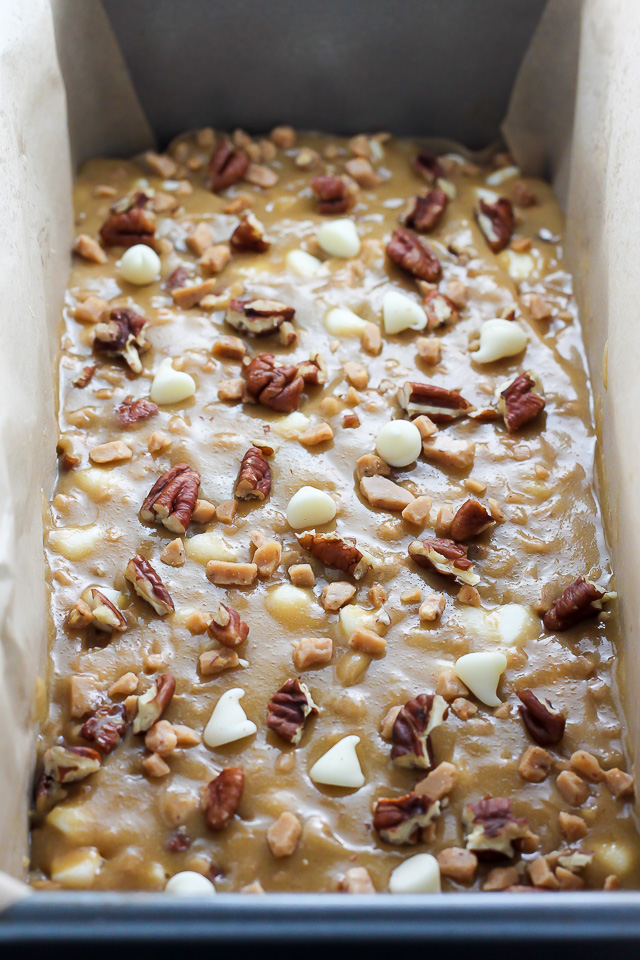 Don't Over Bake!
Word of advice: Don't over bake the blondies! When you pull them from the oven they may look a little wiggly wobbly in the center… that's a good thing. They firm up a great deal during the cooling process. Plus, I'm pretty sure no one has ever complained of a gooey blondie before 😉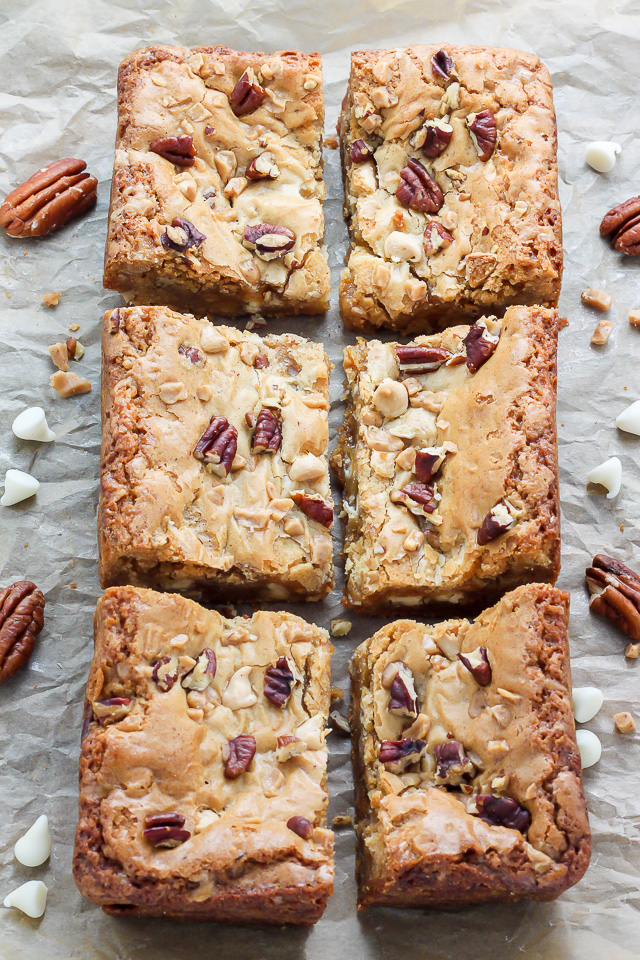 How to Serve Blondies
This is a very rich and satisfying dessert on its own, but if you're looking to take your dessert experience to an EPIC level, add a scoop of vanilla ice cream and a drizzle of salted caramel sauce.
Trust me on this one! SO DARN GOOD!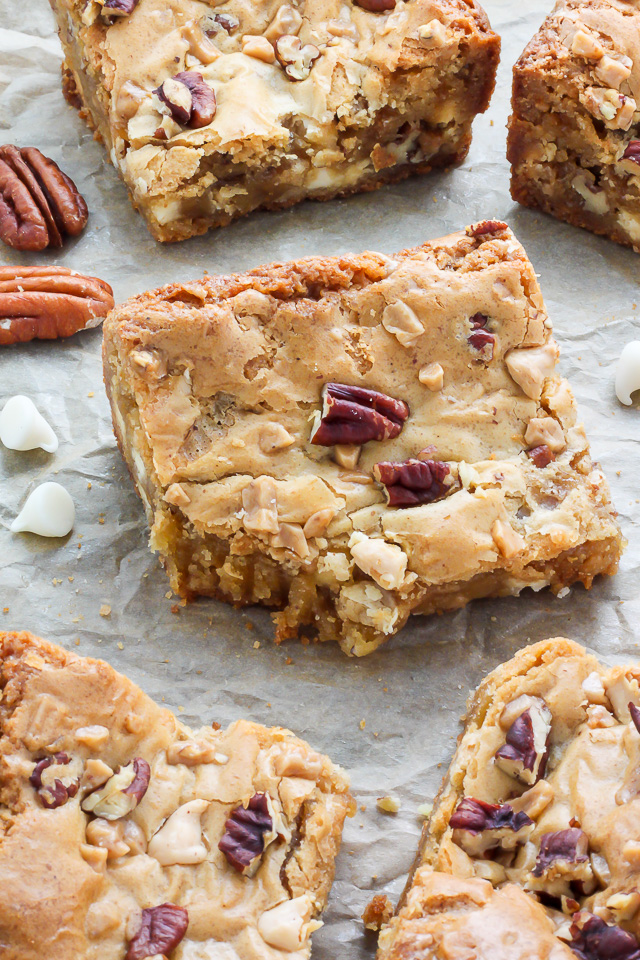 More Butter Pecan Recipes: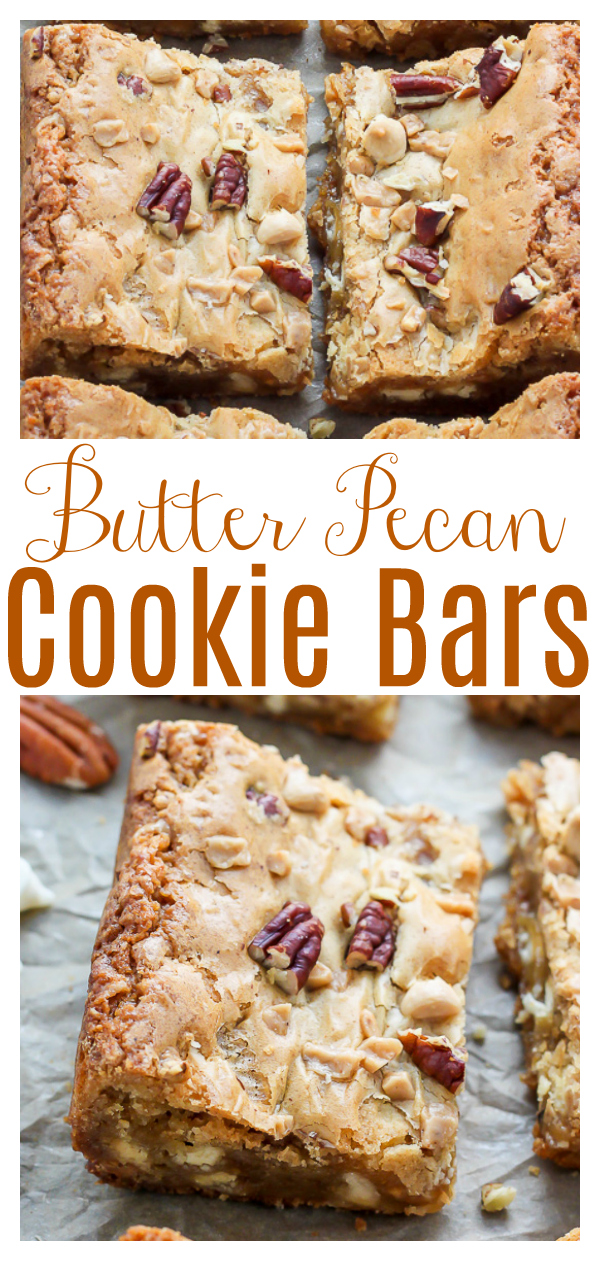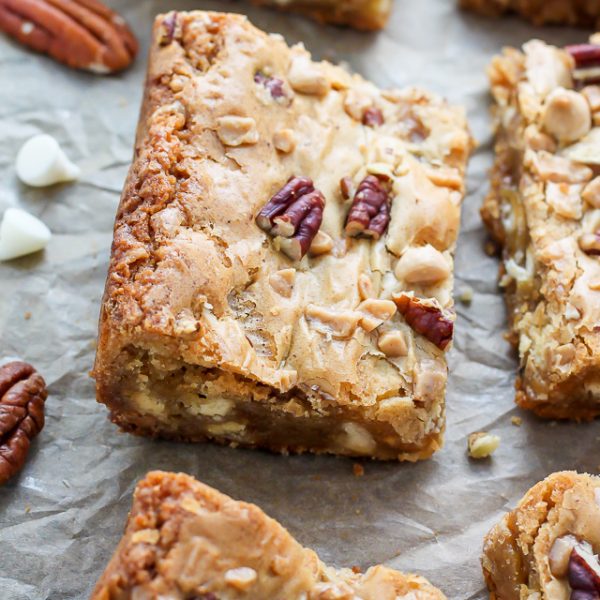 White Chocolate Butter Pecan Blondies
Thick and chewy White Chocolate Butter Pecan Blondies are ready in just 30 minutes!
Ingredients
For the buttered pecans:
1 tablespoons unsalted butter
1/2 cup pecans, chopped
For the blondies:
1 stick butter (4 ounces)
1 cup light brown sugar, packed
1 large egg
1 cup flour (be sure not to pack your flour)
1/2 teaspoon baking powder
1/2 teaspoon cinnamon
1/2 cup toffee bits (not the chocolate covered ones)
3/4 cup white chocolate chips
Instructions
For the butter pecans:
Melt the butter in a small skillet over medium heat. Add in the pecans and cook, stirring frequently, until the mixture is lightly browned, about 5 minutes. Remove pecans from pan and let them cool a few minutes.
For the blondies:
Preheat oven to 350 degrees (F). Line an 8x8 baking pan (or loaf pan) with parchment paper and spray parchment lightly with non-stick spray, set aside.

Melt butter in a medium-sized skillet over medium heat. Remove from heat and cool for a few minutes, then whisk in the brown sugar; beat until well combined. Add in the egg, beating until combined. Gently stir in the flour, baking powder, and cinnamon, being sure not to over mix. Fold in the buttered pecans, toffee bits, and white chocolate chips.

Bake for 25-30 minutes, or until the edges are firm and golden and the center is just slightly wobbly. Cool in pan for at least 20 minutes before cutting.