Butter Pecan Fudge made with just 6 ingredients! This creamy pecan fudge is loaded with crunchy pecans and flavored with a pinch of cinnamon. Makes great a great gift during the holiday season!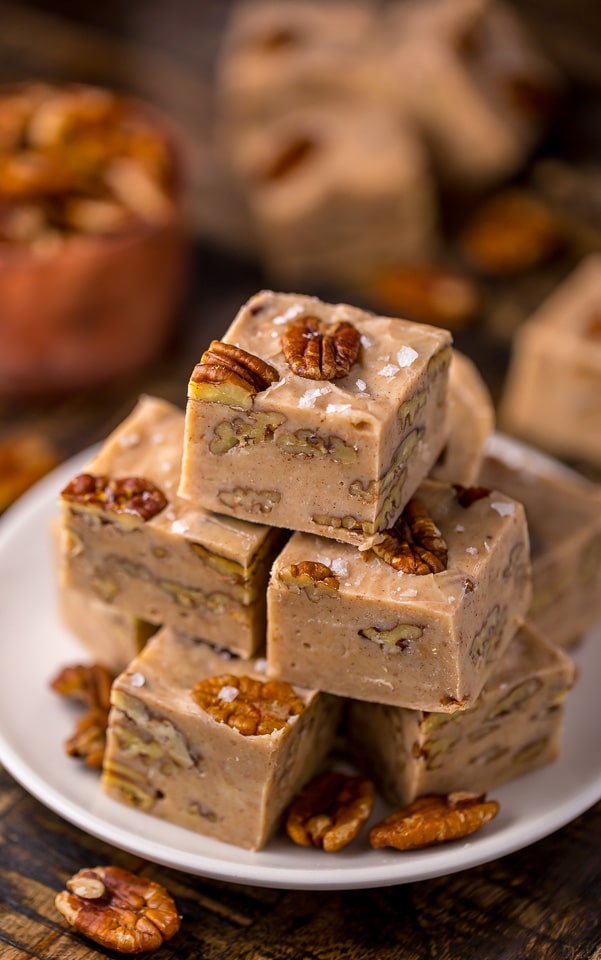 Pecan Fudge Recipe
So by now you probably already know I'm a fudge fanatic! Chocolate fudge, peanut butter fudge, cranberry pistachio fudge… I love them all. But after today, I might have a favorite fudge, because you guys, this butter pecan fudge is ridiculously good. And by good I mean it's sweet, melt in your mouth creamy, loaded with pecans, and insanely easy to make. Like, does it get any better than that?!
My vote is no. No it does not.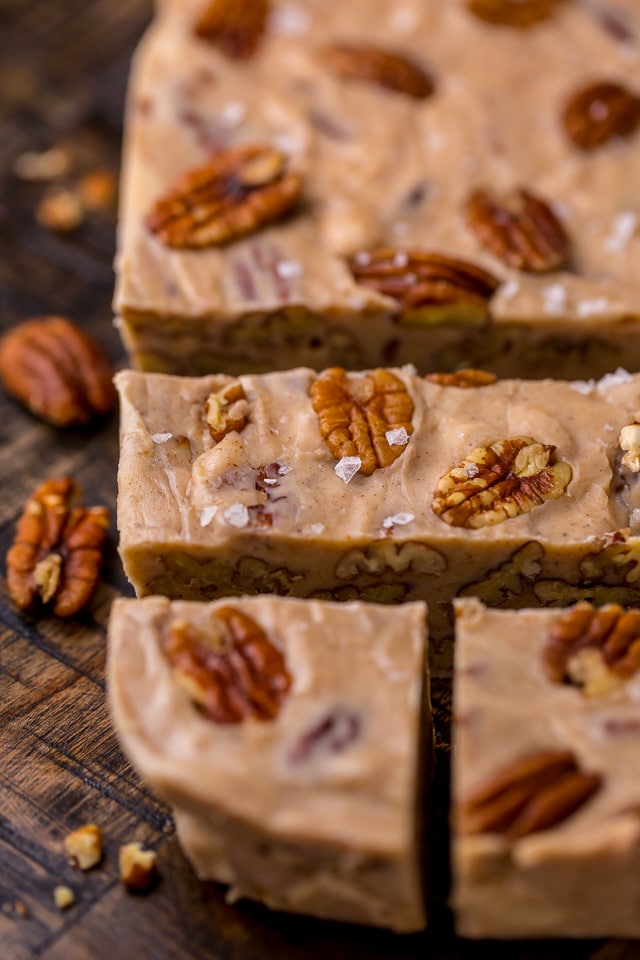 One quick warning about this fudge: it is SWEET! White chocolate always is, ya know? But I balanced the sweetness out with salt (don't skip it!), tons of toasted pecans, brown butter, and plenty of cinnamon. But let's back up to that brown butter for a sec, OK? Because I feel like when you see me ask you to brown 3 tablespoons of butter you're going to be like "um, no"… but do it for me, OK? Actually, do it for you. Do it for the fudge! Because this small amount of brown butter adds incredible flavor to it. And enhances the overall "nutty" flavor. You'll taste what I'm talking about when you sink your teeth into this ↓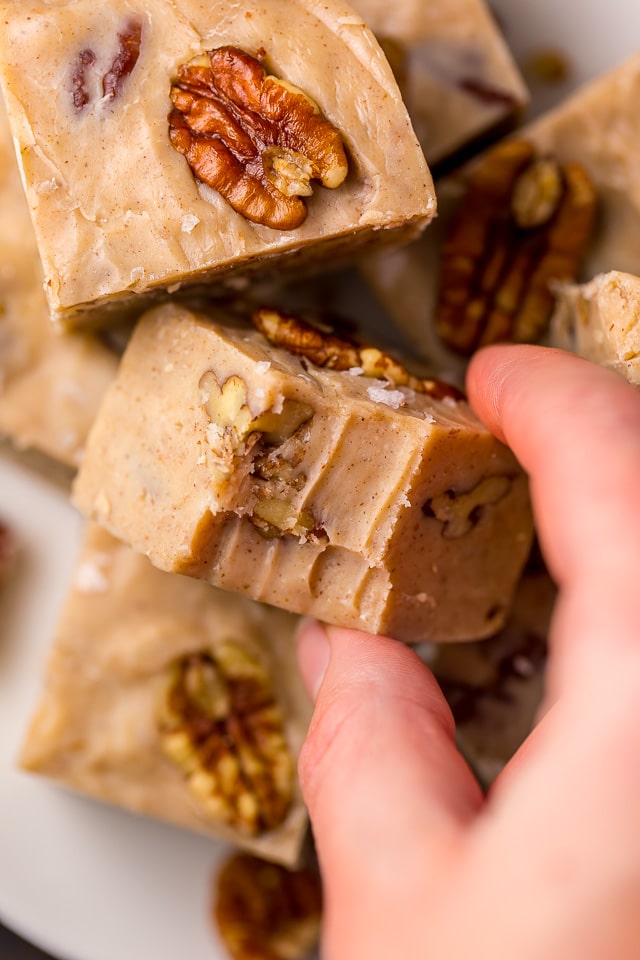 Pecan Candy Recipe with Condensed Milk
Tips and Tricks for Recipe Success:
Using high-quality white chocolate is key to this recipe being a success. It is the main ingredient, after all! I suggest using a premium brand like Lindt or Ghirardelli, which both melt great and don't get grainy after setting. Whatever brand you use, just be sure you don't use chocolate chips! Which are inferior in taste and texture for this recipe.
Taste test your pecans to ensure they're fresh. Nothing ruins a batch of butter pecan fudge like rancid nuts!
This recipe is very sweet, so I don't suggest skipping the salt, which helps balance it out.
This fudge MUST chill for at least two hours. If you try to cut it before then, it will be gooey and likely too soft to slice. The good news? You can make this up to one week in advance and store it in the fridge.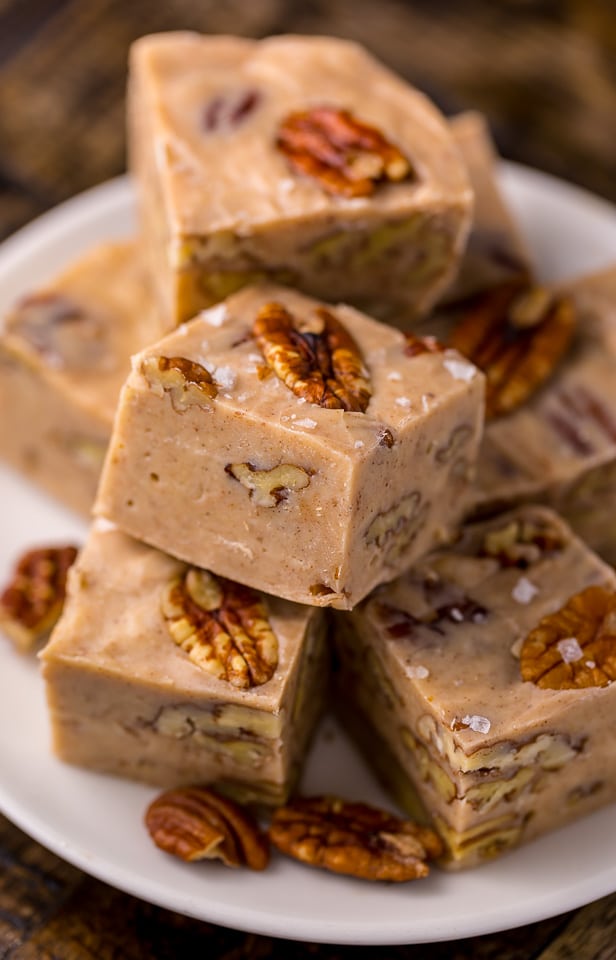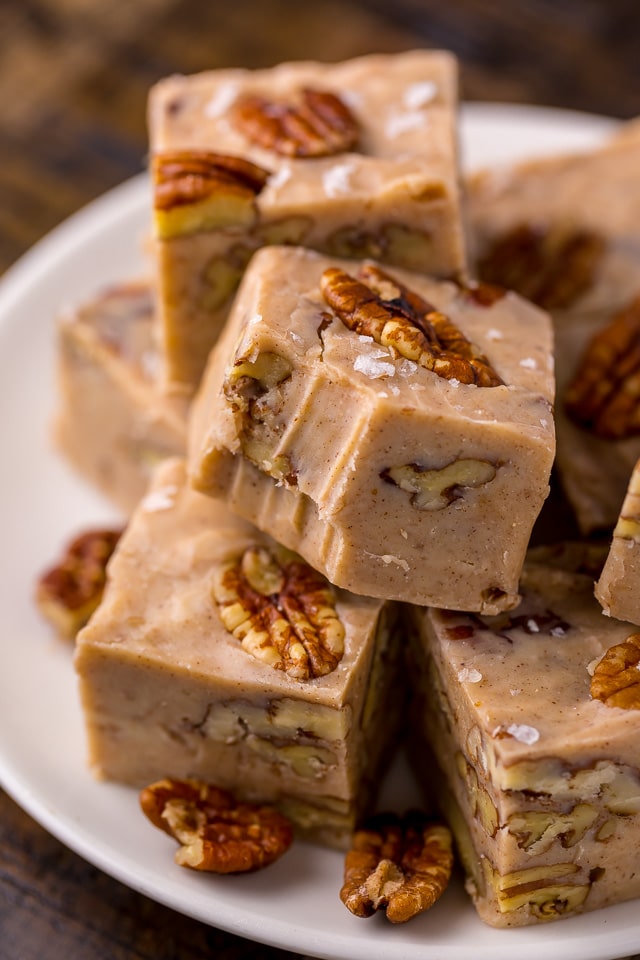 Rich, creamy, and incredibly festive, this Homemade Butter Pecan Fudge is sure to become a new holiday favorite in your house! It already is in mine. I've already made it 3 times this month and the requests to "make it again" just keep rolling in. Not that I mind at all 😉 #pecanloverforlife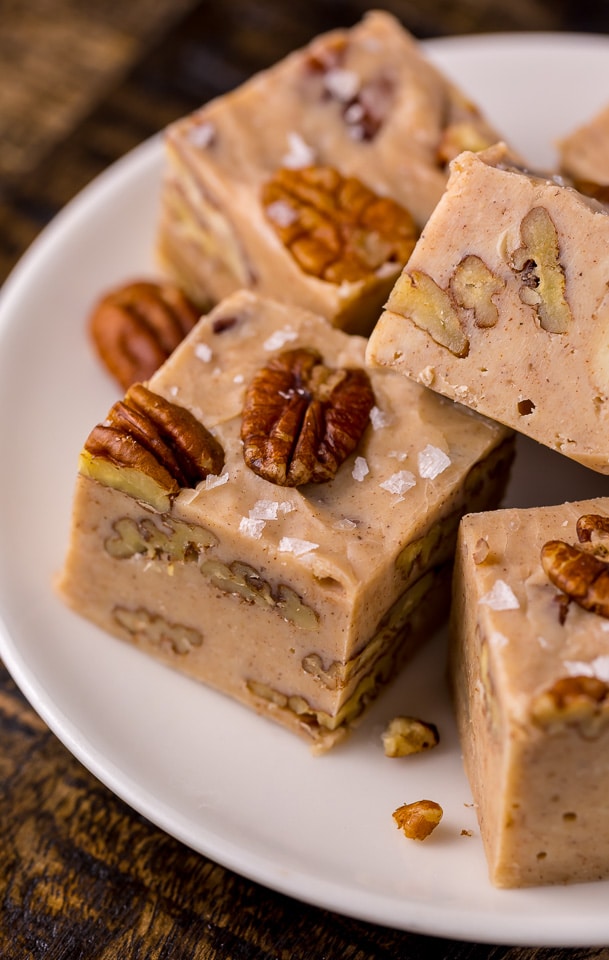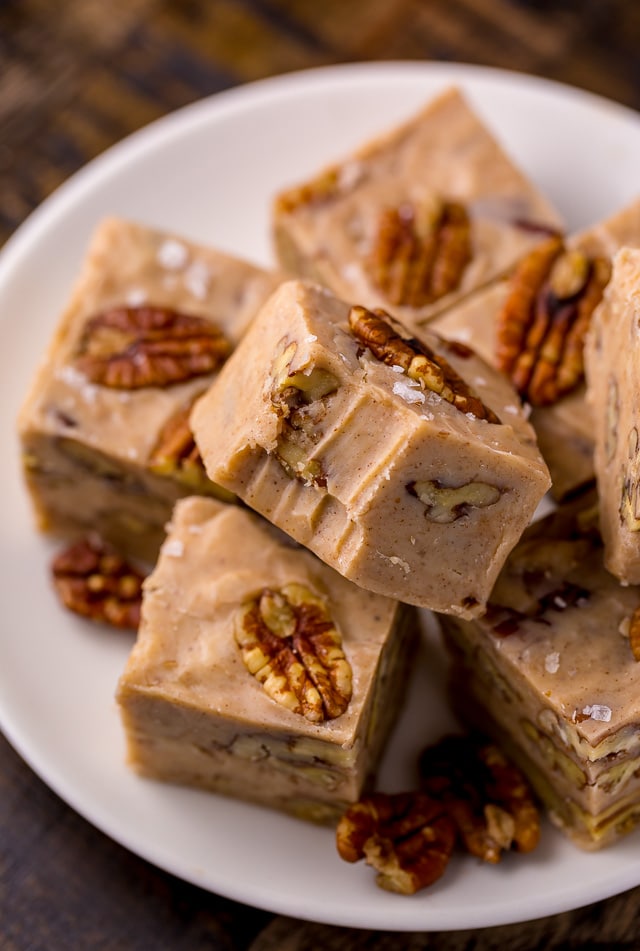 If you try this recipe for Pecan Fudge, let me know! Leave a comment below and don't forget to snap a pic and tag it #bakerbynature on instagram! Seeing your kitchen creations makes my day.
More Butter Pecan Recipes: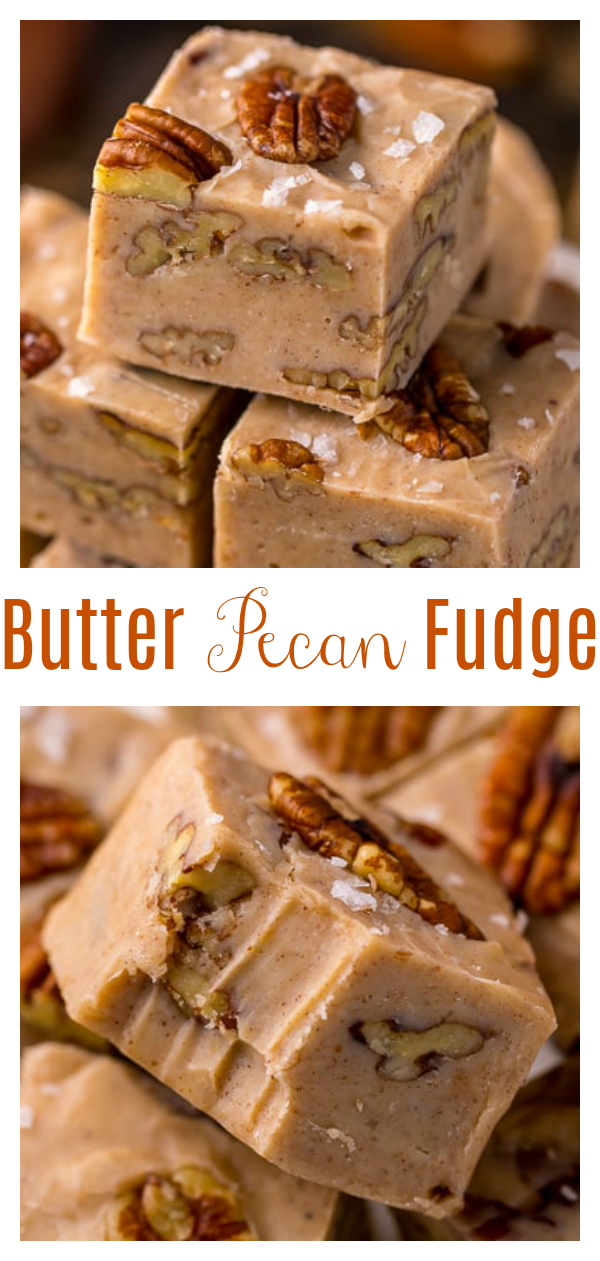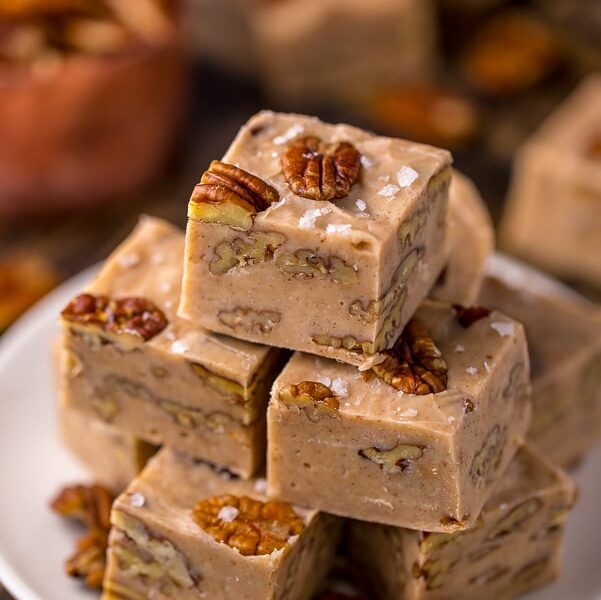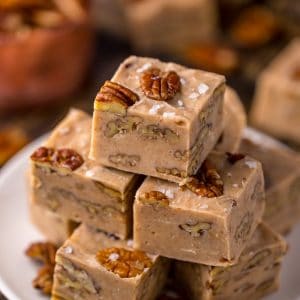 6-Ingredient Butter Pecan Fudge
Butter Pecan Fudge Made with just 6 simple ingredients! Perfect for cookie trays and homemade holiday gifts!
Ingredients
For the Buttered Pecans:
1 and 1/2 tablespoons unsalted butter
1 and 1/2 cups pecan halves
For the White Chocolate Butter Pecan Fudge:
3 tablespoons unsalted butter, melted until browned
(1) 14 ounce can sweetened condensed milk
20 ounces high-quality white chocolate, roughly chopped
1 teaspoon vanilla extract
1/8 teaspoon salt
1 and 1/2 teaspoons ground cinnamon
Instructions
For the Buttered Pecans:
Melt butter in a large skillet over medium heat. Add in pecans and cook, stirring occasionally, for 4 to 5 minutes, or until lightly toasted. Using a large slotted spoon, transfer pecans to clean plate and set aside until needed.
For the White Chocolate Butter Pecan Fudge:
Line an 8x8-inch baking pan with parchment paper, allowing excess paper to overhang on two of the sides. Grease the parchment paper, and any exposed pan, and set it aside.

Melt the butter in a small heavy saucepan over medium heat. Once the butter has melted, reduce the heat to low and continue cooking, until the solids sink to the bottom of the pan and turn golden brown, about 5 minutes. Remove from heat, pour browned butter into a small bowl, and set aside until needed.

Fill a medium pot one-third full with water and bring it to a low simmer over medium heat. Place a heatproof bowl that will fit on top of the pan snugly, but will not touch the simmering water, on top of the pan. Reduce the heat to low and add the sweetened condensed milk, chopped white chocolate, and browned butter into the bowl over the pot. Heat until the chocolate is completely melted, stirring occasionally with a silicon spatula. Once the chocolate is completely melted, stir the mixture smooth, then carefully remove the bowl from the heat. Whisk in the vanilla, salt, and ground cinnamon. Using a rubber spatula, fold in the buttered pecans.

Scrape the fudge into the prepared pan and smooth the top. Sprinkle with sea salt, if using. Refrigerate for at least 2 hours.

Gently run a butter knife around the edge of the pan to loosen the fudge. Remove the fudge and transfer it to a cutting board. Peel off parchment paper, then slice the fudge into small pieces.

Store in an airtight container, in the refrigerator, for up to 1 month. You may also freeze the fudge, in an airtight freezer safe container, for up to 2 months.