Chewy Butterfinger Blondies loaded with White Chocolate Chips! Easy, delicious, incredible.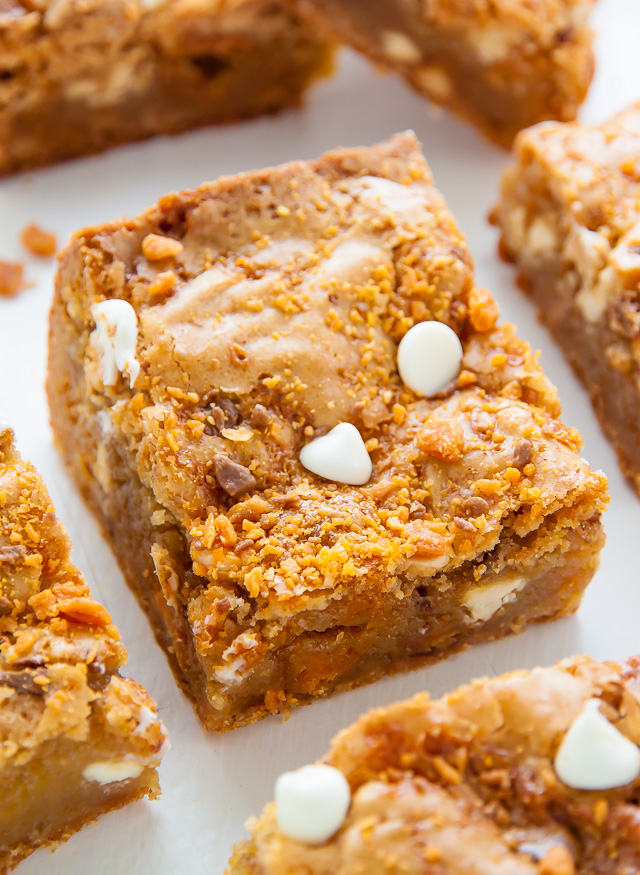 Butterfinger Blondies Recipe
When I can't decide what I want to bake, but NEED to bake something – be it for this blog or a real life dessert emergency –  I turn to my sweet, simple friend: the almighty blondie.
Blondies are always a crowd pleaser, not to mention ridiculously easy to make and extremely versatile, so it's no wonder there are over 20 blondie recipes on my website! And I only foresee that number getting larger and larger over the next few years 😉
But I'm getting ahead of myself; let's focus on today. Today we have White Chocolate Butterfinger Blondies… and yes, they're exactly as delicious as they sound. No scratch that, they're even more delicious than they sound! See proof below ↓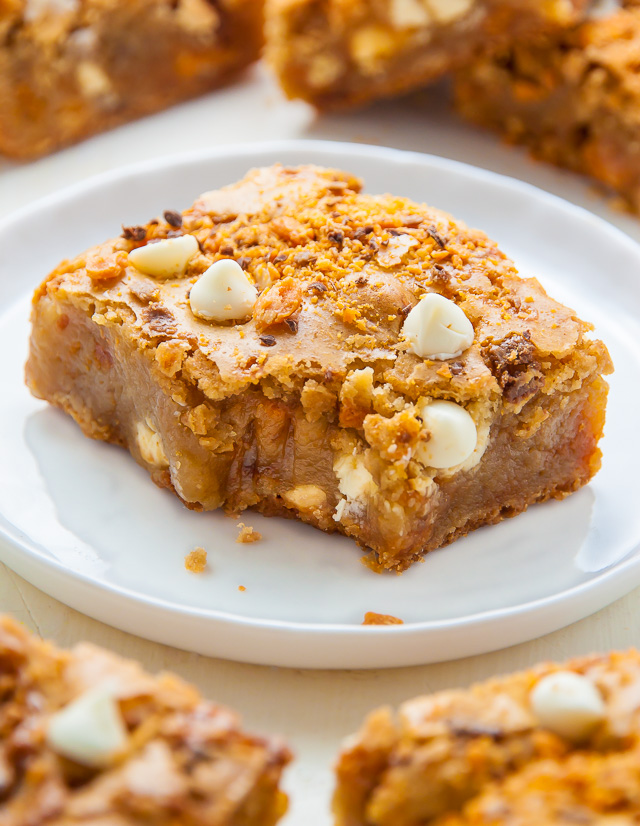 NOM.
Tips and Tricks for Recipe Success:
Be sure not to pack flour when adding it into the measuring cup.
Bring eggs to room temperature before adding them into the batter. To do this quickly, place your eggs in a bowl of warm water for 10 to 15 minutes.
Don't over bake your blondies. They will have a slight jiggle in the center when you remove them from the oven, but will firm up a lot while they cool.
If you don't like white chocolate chips, feel free to use milk chocolate, semi-sweet chocolate, or even dark chocolate in its place.
You can use full-size or fun-size butterfingers for this recipe or you can use butterfinger baking bits (like me) to save time and avoid crumbs everywhere 😉 Both yield equally delicious results
Enjoy! xoxo
If you try this recipe, let me know! Leave a comment below and don't forget to snap a pic and tag it #bakerbynature on Instagram! Seeing your kitchen creations makes my day. ♥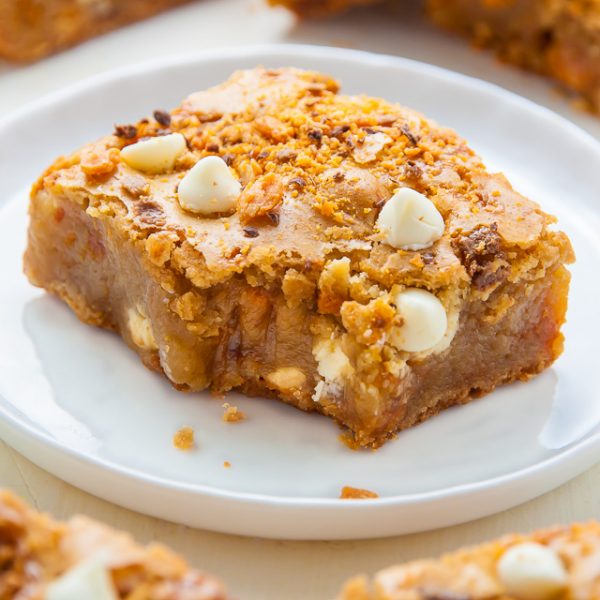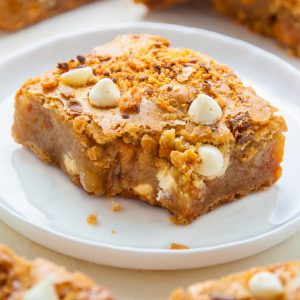 White Chocolate Butterfinger Blondies
Chewy Butterfinger Blondies loaded with White Chocolate Chips!
Ingredients
1 cup (8 ounces; two sticks) unsalted butter, melted
1 and 3/4 cups dark brown sugar, packed
2 large eggs, at room temperature
1/2 teaspoon salt (fine sea salt, table salt, or kosher salt will all work)
2 cups all-purpose flour
1 teaspoon baking powder
1 cup white chocolate chips
1 cup butterfingers, chopped (or use butterfinger baking bits)
Instructions
Preheat oven to 350 degrees (F). Line an 8" x 8" pan with parchment paper; lightly grease the paper and set aside.

Melt the butter in a medium saucepan over medium-heat. Remove from heat and transfer butter into a large bowl. Stir in the brown sugar, whisk well to combine.

Whisk in eggs, one at a time, beating well after each addition. Stir in the salt, flour, and baking powder, mixing just until combined. Fold in the white chocolate chips and chopped butterfinger bits.

Spread the mixture evenly in the pan, then sprinkle the top with additional white chocolate chips and butterfinger bits, if desired. Bake the blondies for 20 minutes, then cover the pan with aluminum foil and bake for another 12-15 minutes, or until they're set at the edges and just slightly wiggly in the center. Carefully remove them from the oven and cool completely before cutting.

You may also enjoy:
Butterfinger Chocolate Cupcakes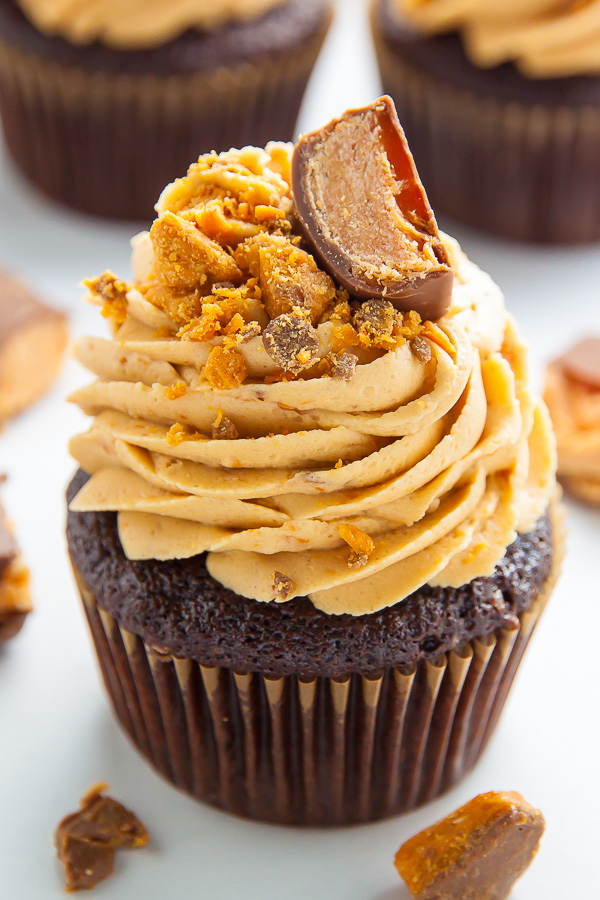 Thick and Chewy White Chocolate Peanut Butter Blondies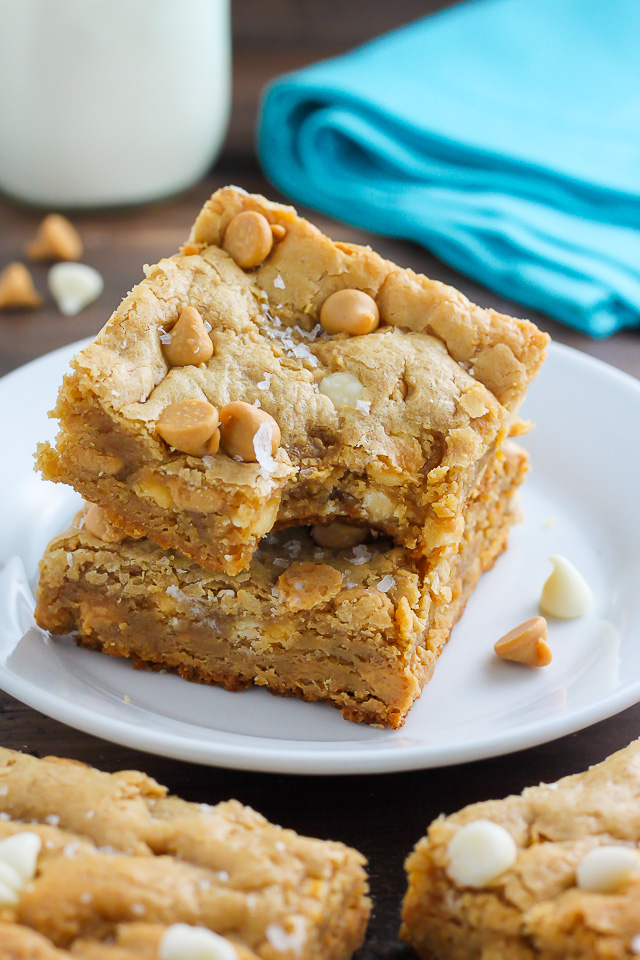 Butterfinger Cheesecake Brownies