An easy and amazing recipe for Butterfinger Chocolate Cupcakes! Imagine moist chocolate butterfinger cupcakes topped with creamy peanut butter butterfinger frosting and you'll know what these taste like! Add crunchy butterfinger bits on top for a fun presentation!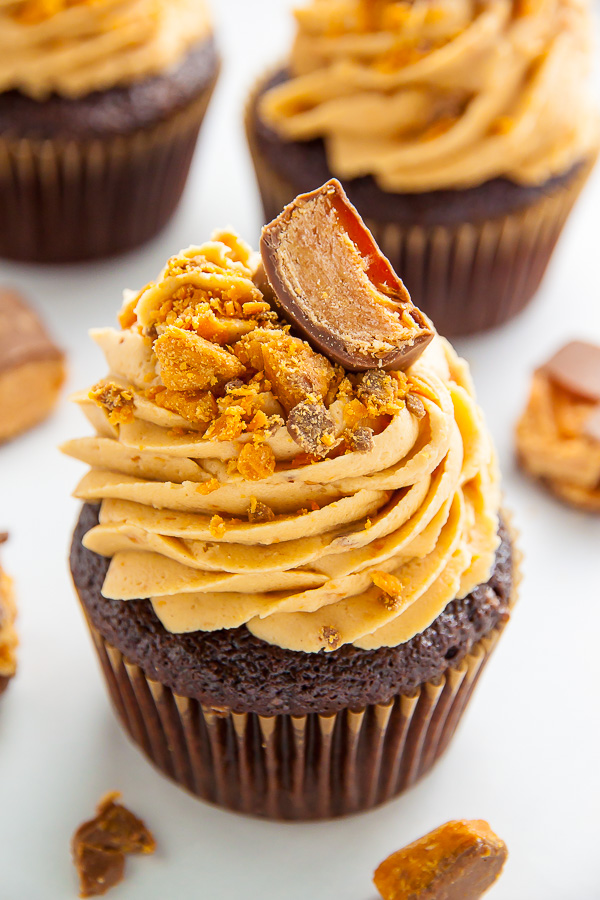 Butterfinger Cupcake Recipe
I have a thing for chocolate and I definitely have a thing for cupcakes. If you peek into my recipe box you'll find old-fashioned chocolate buttermilk cupcakes, dulce de leche chocolate cupcakes, and even dark chocolate BROWNIE cupcakes with salted caramel frosting! Just to name a few 😉
So naturally I'm excited that today we're adding a new recipe to our chocolate cupcake collection: BUTTERFINGER Chocolate Cupcakes! These are a must bake for the peanut butter lover in your life. And they're also a good recipe to keep in mind when you have leftover Halloween candy!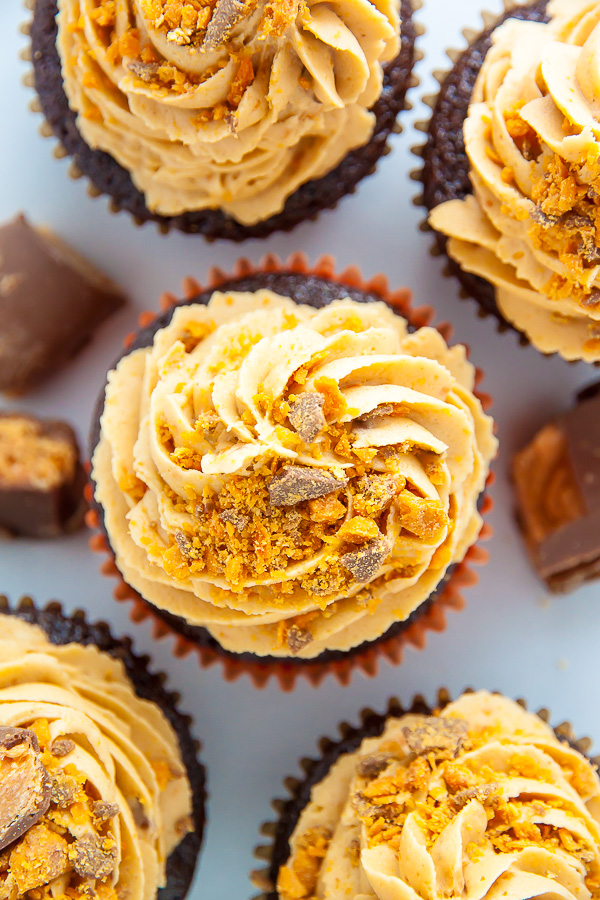 So let's get down to business! There are 3 parts to this recipe: the homemade chocolate peanut butter cupcakes, the peanut butter frosting, and the butterfinger topping. But that last part is hardly a step at all 😉
We'll begin with the easy and delicious cupcake base. These cupcakes are supremely moist, ultra fluffy, and full of chocolate peanut butter flavor. The batter is made with flour, cocoa powder, baking soda, baking powder, salt, eggs, egg yolk, melted butter, peanut butter, milk, and hot water. Nothing fancy here! All of these ingredients add intense moisture and flavor to the cupcakes, and I do not recommend leaving any of them out. So I strongly suggest following this recipe to a T.
P.S. If you'd like to make these cupcakes ahead of time, you can! These cupcakes may be baked then frozen, unfrosted, for up to one month.
Moving on to the rich and creamy frosting! ♥♥♥
These butterfinger chocolate cupcakes are topped with a lush peanut butter frosting that sounds a whole lot fancier than it really is. In reality, it's quite simple to make! Just a few basic ingredients whipped up until smooth and creamy. The key to making luscious bakery style frosting at home is making sure your butter is VERY soft! You'll want to leave your butter out on the counter for at least 30 minutes before beating it smooth. It should be a little softer than room temperature. You'll also want to sift your confectioners' sugar before adding it to the frosting. I know… it's an extra step, but it really does make a difference.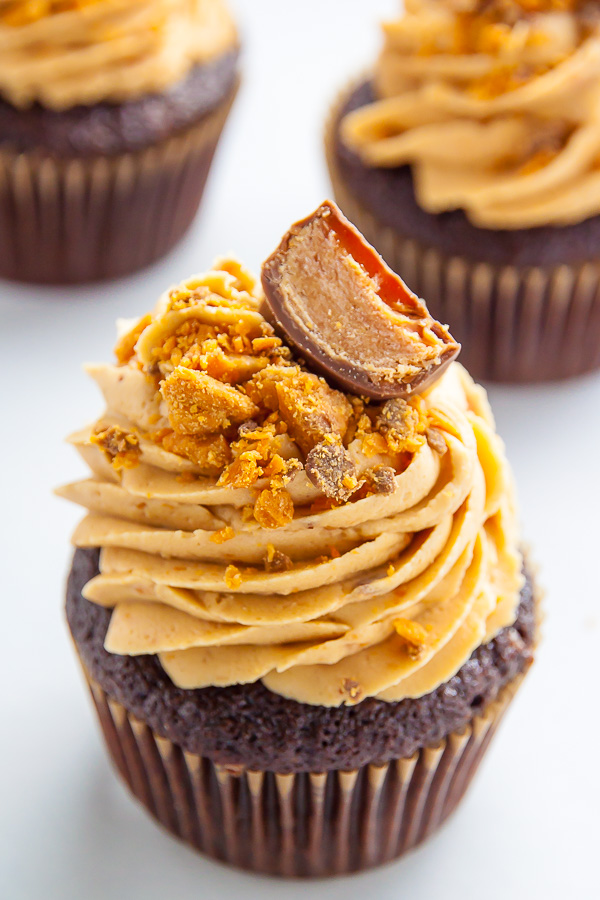 And the final step?! Top with butterfinger bits and – if you're feeling extra indulgent – a mini butterfinger bar! Because more butterfingers make everything better.
Chocolate and peanut butter and butterfingers… these are cupcake heaven! And I just know you're going to savor each and every bite.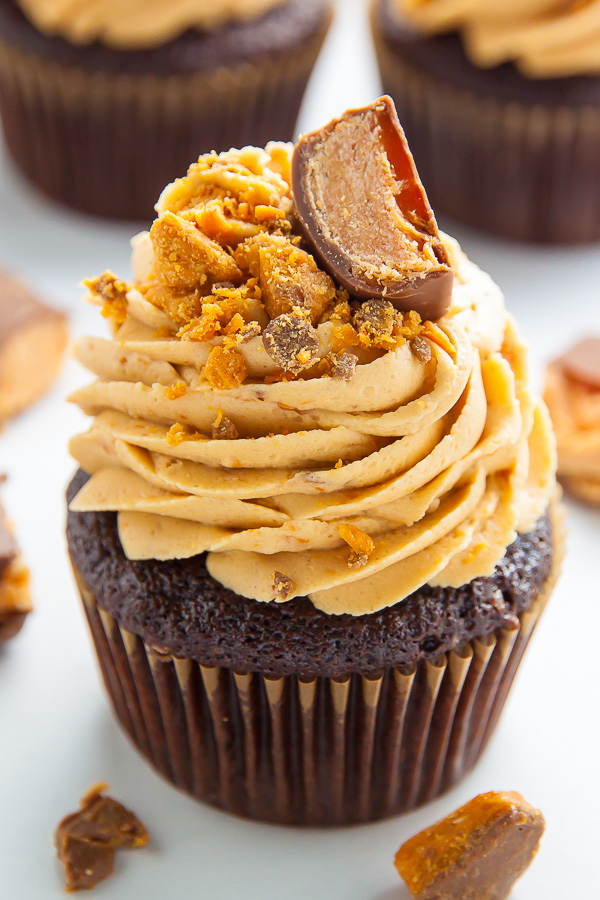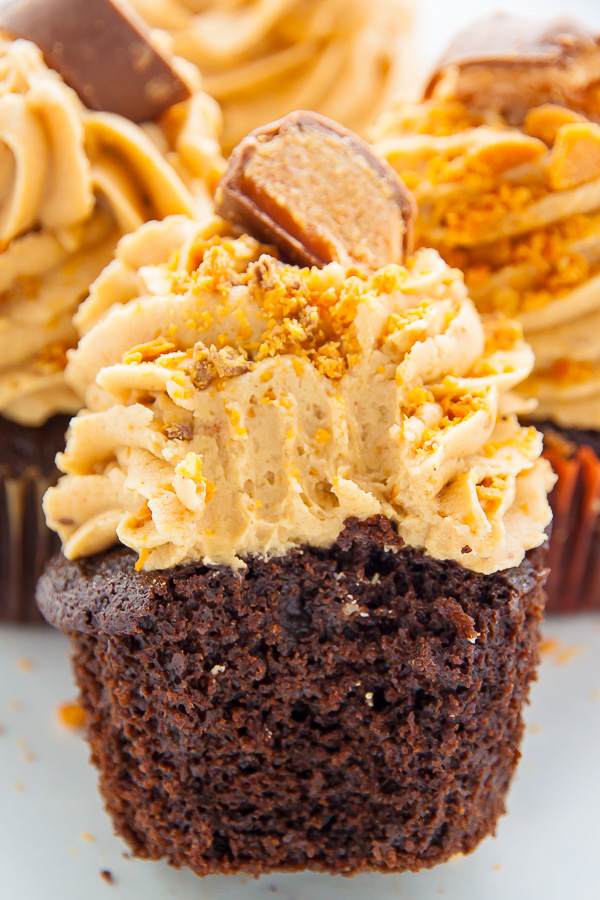 More Butterfinger Recipes: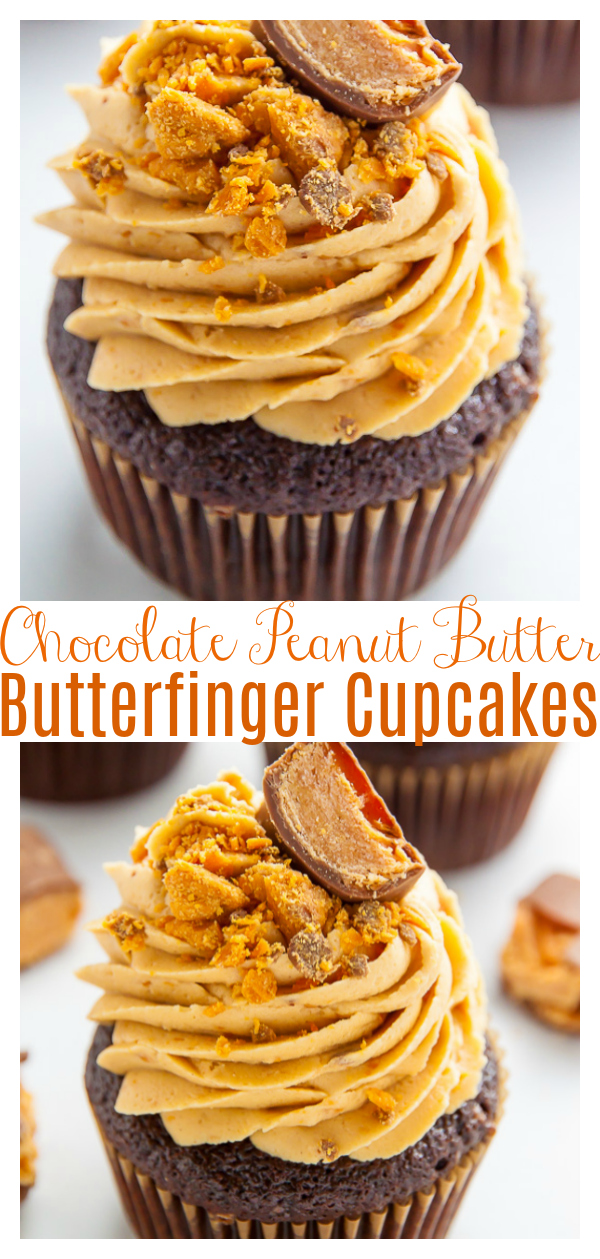 Bake, devour, and repeat.
And if you try this recipe, let me know! Leave a comment below and don't forget to snap a pic and tag it #bakerbynature on Instagram!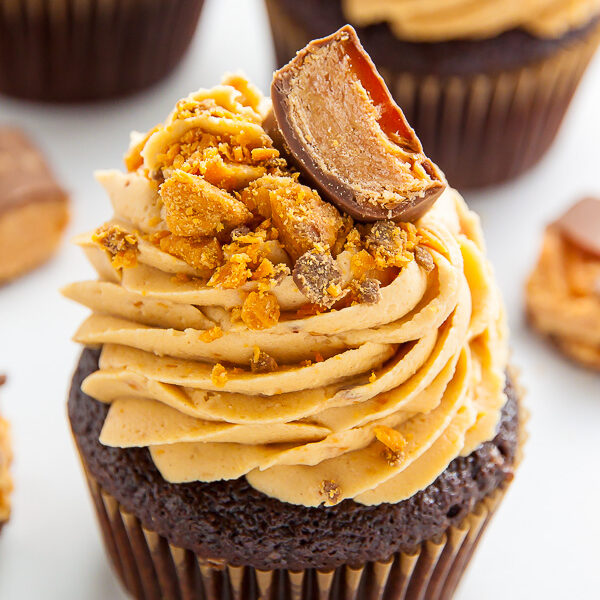 Butterfinger Chocolate Cupcakes
Moist and fluffy Chocolate Peanut Butter Cupcakes topped with Peanut Butter Butterfinger Frosting! These are incredible.
Ingredients
For the Chocolate Peanut Butter Cupcakes:
3 tablespoons creamy peanut butter
1 stick unsalted butter, melted and slightly cooled
6 ounces semi-sweet chocolate, chopped
3/4 cup + 2 tablespoons all-purpose flour, not packed
1/2 teaspoon baking soda
1 teaspoon baking powder
1/2 cup unsweetened cocoa powder
1/2 teaspoon salt
2 large eggs + 1 large egg yolk, at room temperature
1 cup granulated sugar
1 teaspoon vanilla
1/2 cup full-fat milk
1/2 cup very hot water
For the Peanut Butter Frosting:
1 and 1/2 cups creamy peanut butter
1 cup (2 stick) unsalted butter, very soft
1 teaspoon vanilla extract
3 cups confectioners' sugar
1/4 teaspoon salt
3-4 tablespoons full-fat milk
1/4 cup butterfinger bits (see below)
For the Butterfinger Topping:
12 mini butterfinger bars, chopped into small bits
Instructions
For the Chocolate Peanut Butter Cupcakes:
Preheat the oven to 350 degrees (F). Line a 12-cup cupcake/muffin tin with cupcake liners and lightly spray the liners with non-stick spray (optional, but it does help them peel right off). Set aside.

Melt the peanut butter, butter, and chocolate together in the microwave, heating in 30 second increments, stirring between. *You can also melt the peanut butter, butter, and chocolate over very low heat on the stove top, but I find the microwave to be much easier. Whisk mixture completely smooth and set aside to cool.

In a medium-sized bowl combine the flour, baking soda, baking powder, cocoa powder, and salt; stir together until thoroughly combined and set aside.

In a large bowl whisk together the eggs, yolk, sugar and vanilla; beat smooth. Add the cooled chocolate mixture and whisk until combined. Add half of the flour mixture, then half of the milk. Repeat the process until everything is added, and be sure to mix until JUST combined. Quickly stir in the hot water. It's important not to over mix, here! Just stir until evenly combined.

Scoop 3 tablespoons of batter into each cupcake mold; they should be 3/4 full. You will have leftover batter (enough to make another 6 cupcakes).

Bake for 16-18 minutes, or until a toothpick inserted in the center comes out clean. Cool completely before frosting.
For the Peanut Butter Frosting:
Using an electric mixer, beat the peanut butter and butter on medium-speed until completely smooth. Beat in vanilla. Reduce the speed to low and add in the remaining ingredients, beating until fully incorporated. Increase speed to medium-high and beat the frosting for 1-2 minutes, or until light and fluffy.

Once the cupcakes are cooled, spread or pipe the frosting on top then sprinkle with remaining butterfinger bits.