These Creamy Butterfinger Cheesecake Brownies are drizzled with peanut butter glaze!!! They're creamy, crunchy, and a butterfinger lovers dream come true!
Peanut Butter Brownie Cheesecake Bars
I visited my bestie Jenna in NYC last week for a much needed girls day. When I spotted not one, but TWO, giant packs of mini butterfinger bars sitting on her counter, I knew it was a sign. After we did some shopping (because, hello… NYC!) and sipping (I made these mimosas!) we headed back to her apartment where I raided her fridge and set off to make us something sweet. And that, my friends, is where these fabulous butterfinger cheesecake brownies were born.
↑ It's like, even when I'm not working, I'm working! #Ilovemyjob
Oh. So, um… let's just get this one little thing outta the way right now. This recipe is NOT diet food. I repeat, NOT diet food. These cheesecake brownies are loaded with chocolate, butter, sugar, cream cheese, and butterfingers. Are they are worth every single calorie? Hell to the yes.
When I recreated these butterfinger cheesecake bars the second time I decided to up the ante by adding a delightfully drippy peanut butter glaze. Not only is it delicious, but it makes the presentation extra pretty. Delicious decorations fo' life!!!
The best part? Making this dreamy glaze is so simple. You're simply going to melt some peanut butter, then stir in a dash of confectioners' sugar. That's it! Just be sure to use creamy peanut butter; chunky peanut butter won't work for this recipe.
Note: If you're allergic to peanut butter or just don't like it (???), feel free to leave it off. These bars are magical as-is.
Butterfinger Peanut Butter Cheesecake Brownies
Alright! Down to business. The first part of this recipe is the brownie base. These brownies are rich, fudgy, and exploding with chocolate decadence. They're totally on point. And the cheesecake layer? Silky smooth and loaded with chopped butterfinger bars. What more could one ask for?!
Something to keep in mind: Cooling these butterfinger cheesecake brownies completely is a m-u-s-t. It'll take about an hour, and they smell SO good, so get ready to practice your patience.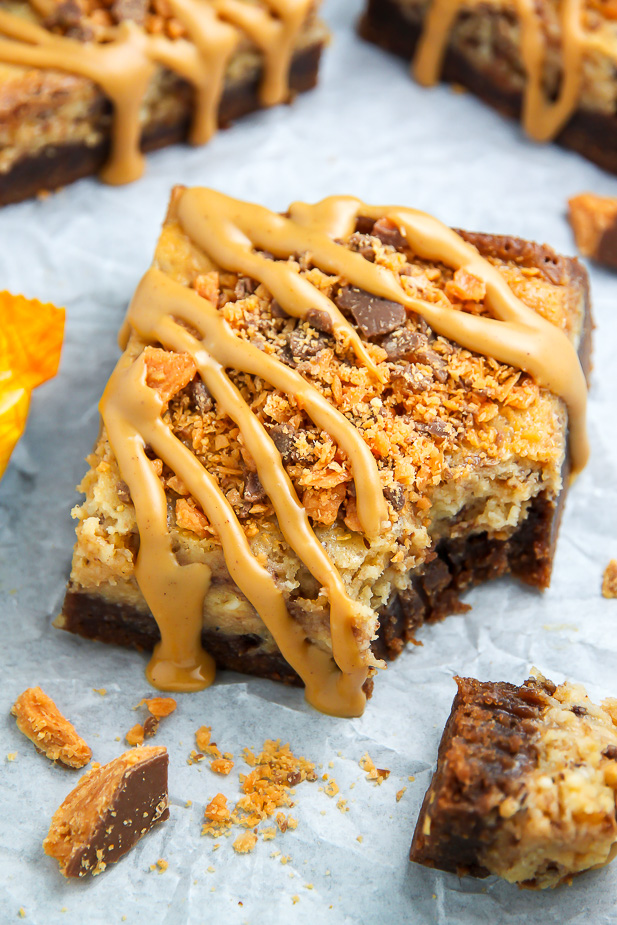 Intensely rich and fabulously fudgy chocolate brownies + silky smooth butterfinger cheesecake + peanut butter glaze = dessert done RIGHT.
What are you waiting for?! Go treat yo' self to a batch of these butterfinger cheesecake bars!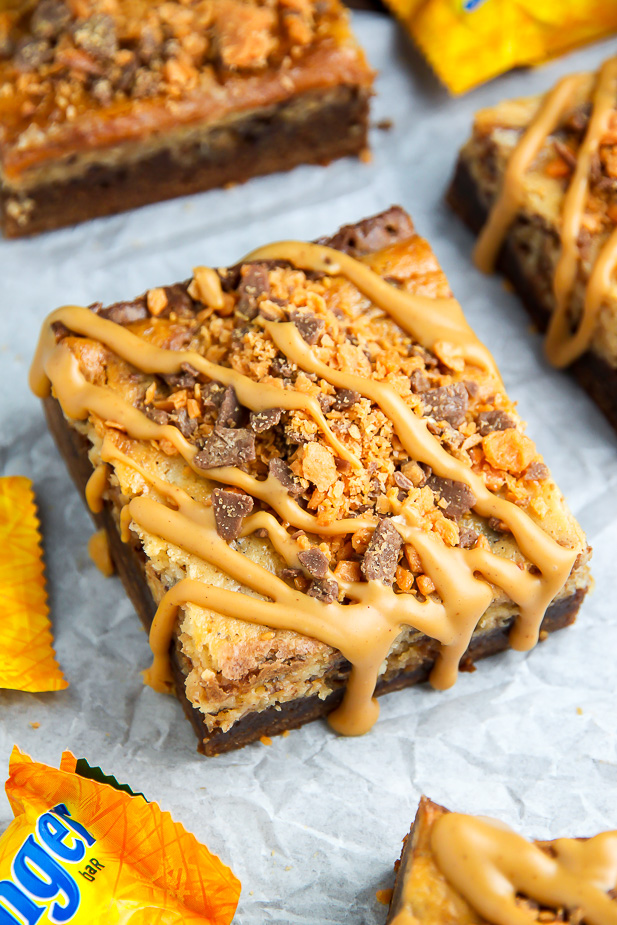 More Butterfinger Recipes: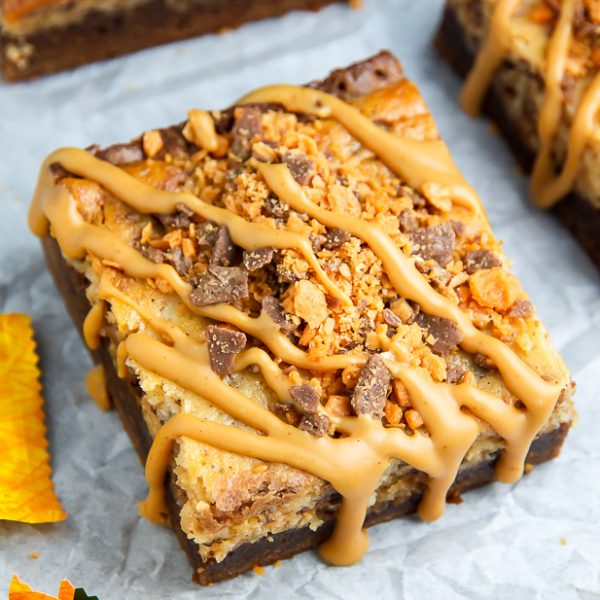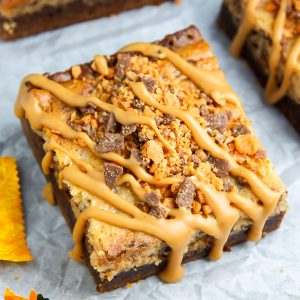 Butterfinger Cheesecake Brownies
Rich chocolate brownies topped with creamy butterfinger cheesecake! These bars are incredible.
Ingredients
For the brownie batter:
1 stick (4 ounces) unsalted butter
2 ounces semi-sweet chocolate, chopped
1 cup granulated sugar
2 large eggs + 1 egg yolk
1/2 teaspoon salt
3/4 cup all-purpose flour
For the butterfinger cheesecake:
8 ounces full-fat cream cheese, very soft
1/2 cup granulated sugar
1 large egg + 1 egg yolk
12 mini butterfinger bars (or 5 regular), roughly chopped, divided
For the peanut butter glaze:
1 cup creamy peanut butter
2 tablespoons confectioners' sugar
Instructions
For the brownie batter:
Preheat oven to 350 degrees (F). Line an 8x8 inch square baking pan with parchment paper; spray parchment paper and any exposed pan lightly with non-stick spray; set aside.

Melt butter and chocolate in a small saucepan over medium-low heat, whisking occasionally, until completely melted; whisk smooth and remove pan from heat. Pour melted chocolate into a large, heatproof bowl and whisk in the sugar, beating well. Add in the eggs and egg yolk and beat smooth.

Gently whisk in the salt and flour, stirring until just combined. Pour batter into prepared baking pan, smoothing the top with a rubber spatula.
For the butterfinger cheesecake:
Using a handheld mixer beat the cream cheese in a large bowl until completely smooth. Add in the sugar and egg yolks and beat until smooth and creamy, about 1 minute. Fold in the chopped butterfingers, reserving 1/4 cup for later use.

Pour the cheesecake batter on top of the brownie batter. Gently stir with a knife for a marbled look. Bake in preheated oven for 35 minutes, or until the edges are firm and the center is just set.

Cool brownie cheesecake bars in the pan, on a wire rack, COMPLETELY before cutting.
For the peanut butter glaze:
Place the peanut butter in a small sauce pan over medium-low heat, cook, stirring occasionally, until completely melted. Whisk in confectioners' sugar.
When ready to serve:
Cut cheesecake brownies into bars. Sprinkle the top of each bar with a little of the reserved butterfinger crumble, then drizzle with the peanut butter glaze.