My favorite thick and chewy peanut butter blondie recipe loaded with creamy white chocolate and plenty of peanut butter chips! So good with a cup of coffee.
Peanut Butter Blondies Recipe
Today's super fabulous white chocolate peanut butter blondies are the epitome of easy dessert bars done right. The batter is assembled in one bowl; the bars bake up in just 30 minutes; and  the results taste exactly one-billion times better than anything you'd swipe up from the bakery <<<< This, my friends, is awesome. So. Dang. Awesome.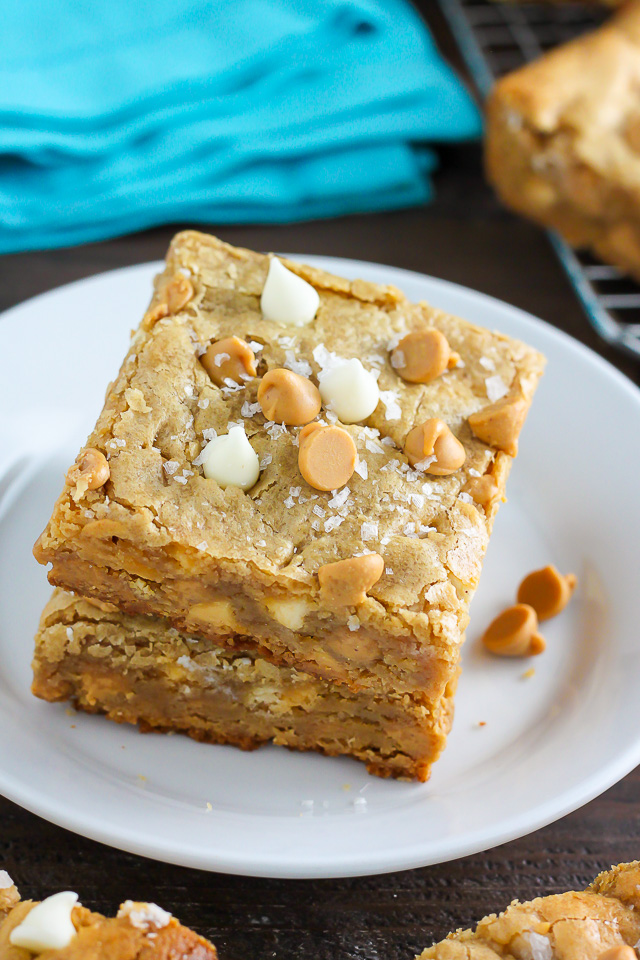 Ingredients for Peanut Butter White Chocolate Blondies
To make this recipe you'll need flour, brown sugar, butter, peanut butter, flaky sea salt, eggs, baking powder, white chocolate chips, and peanut butter chips.
The last two ingredients are obviously the rock stars of this show and not to be skipped or skimped!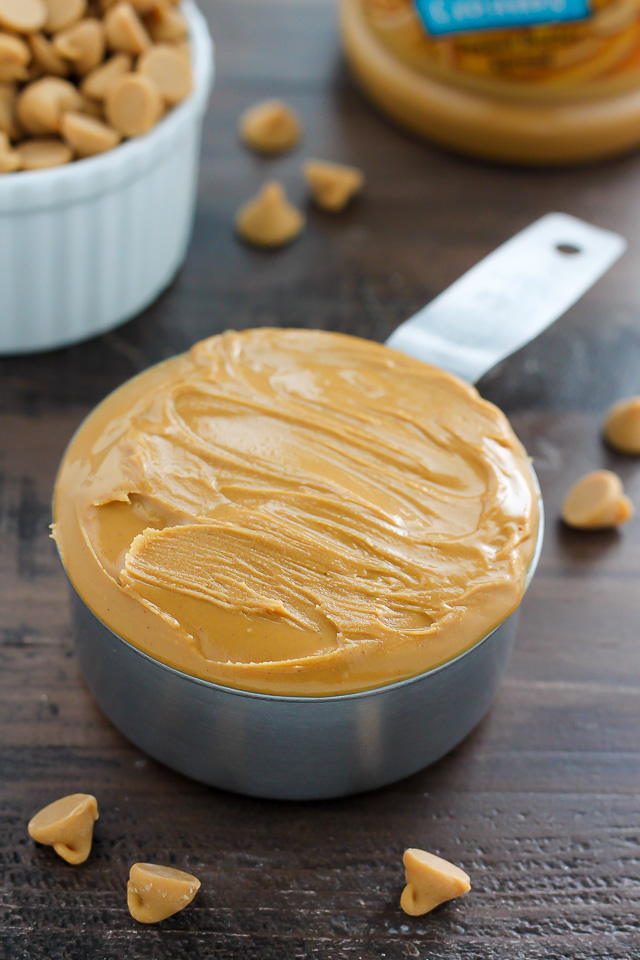 White chocolate and peanut butter chips make me sugar high and happy 🙂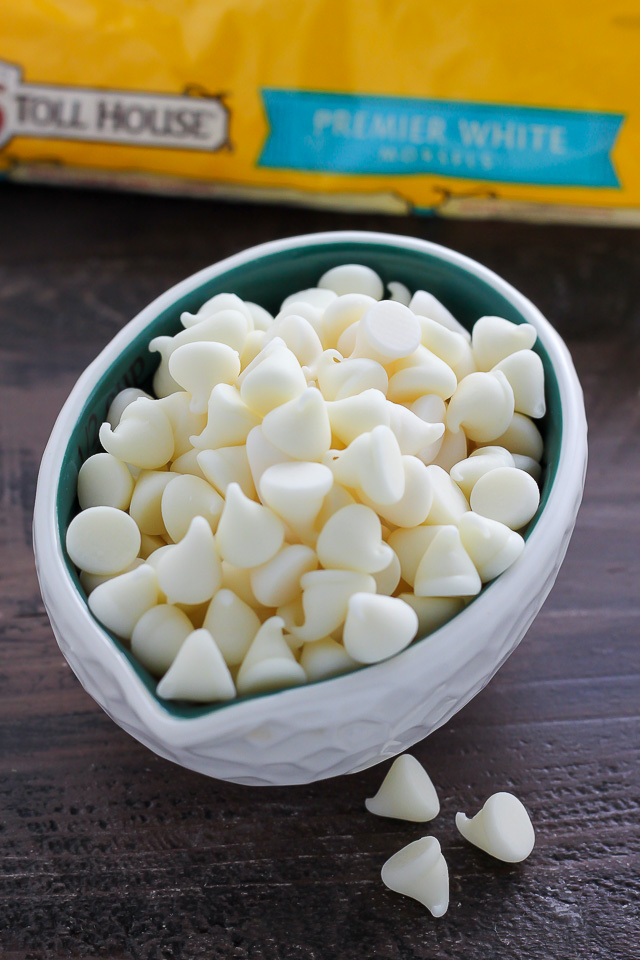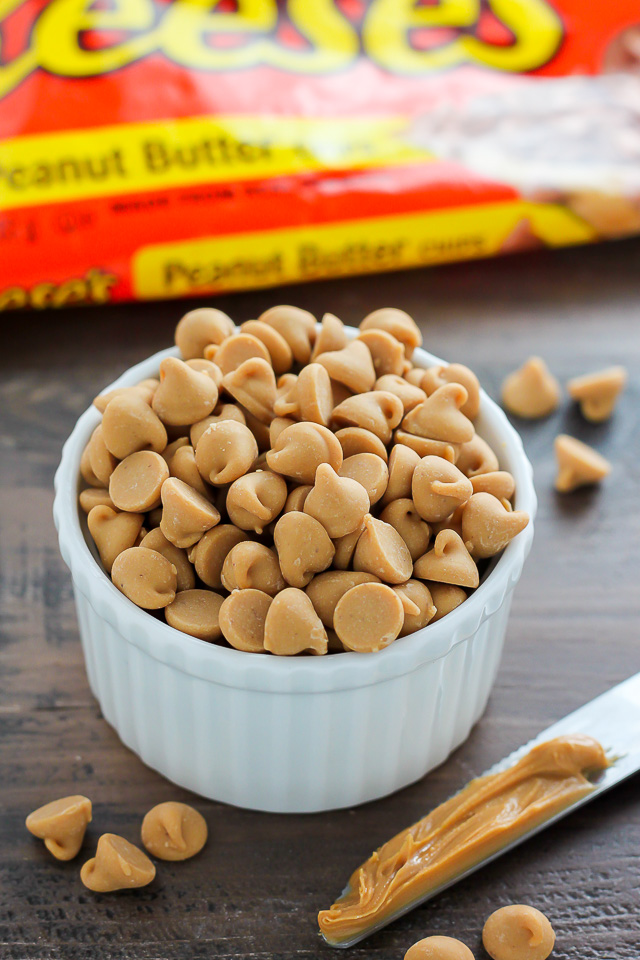 How to bake White Chocolate and Peanut Butter Blondies
The blondies will bake uncovered for 15 minutes, then covered for another 15. It's not life-or-death if you forget to cover them with aluminum foil, but I find it helps prevent the top from getting too brown while baking. It also helps keep the top layer of white chocolate and peanut butter chips niiiiice and gooey.
TIP: It is important to let the blondies rest, in the pan, for about 20 minutes before cutting.
These blondies are seriously like no other. Ultra thick, supremely chewy, and so buttery (we can thank the butter PLUS peanut butter for that) they almost melt in your mouth. A pop of flaky sea salt on top makes everything extra delicious.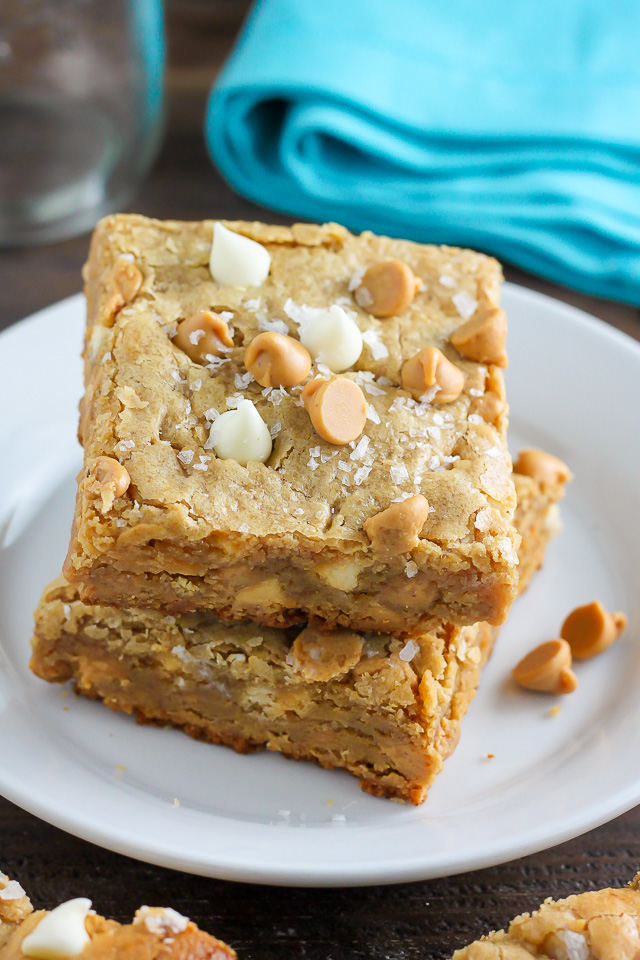 Oh baby… I cannot wait to dig into these. Also, I'm hiding my scale for a week. No wait, forever!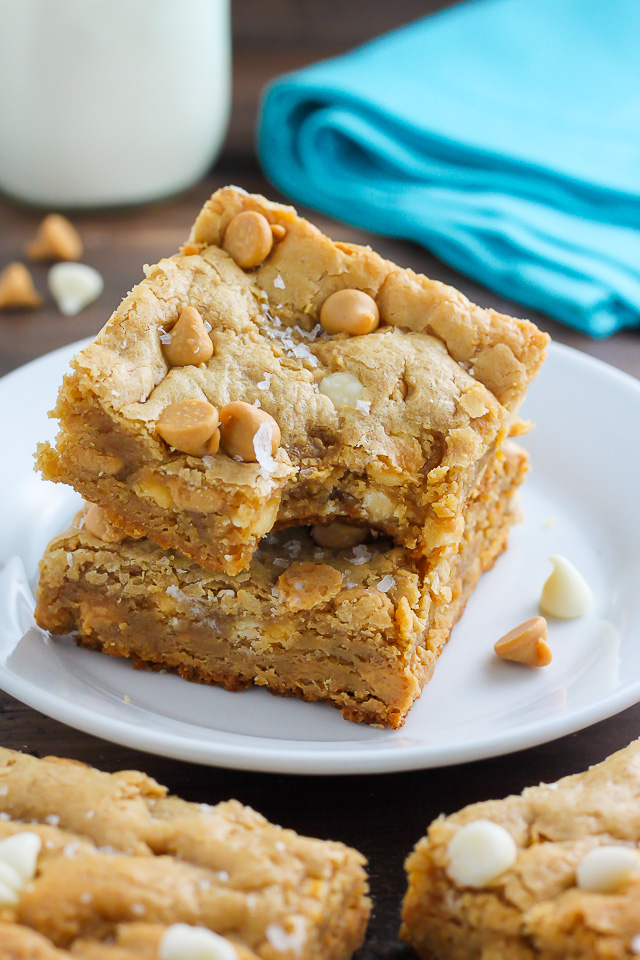 So much sweet and salty awesomeness packed in every square – these babies should come with a warning label!
I would personally word it something like… Warning: Chances of consuming entire pan in just minutes are extremely high.
My advice? Call up every friend in a 10-mile radius and share the wealth 😉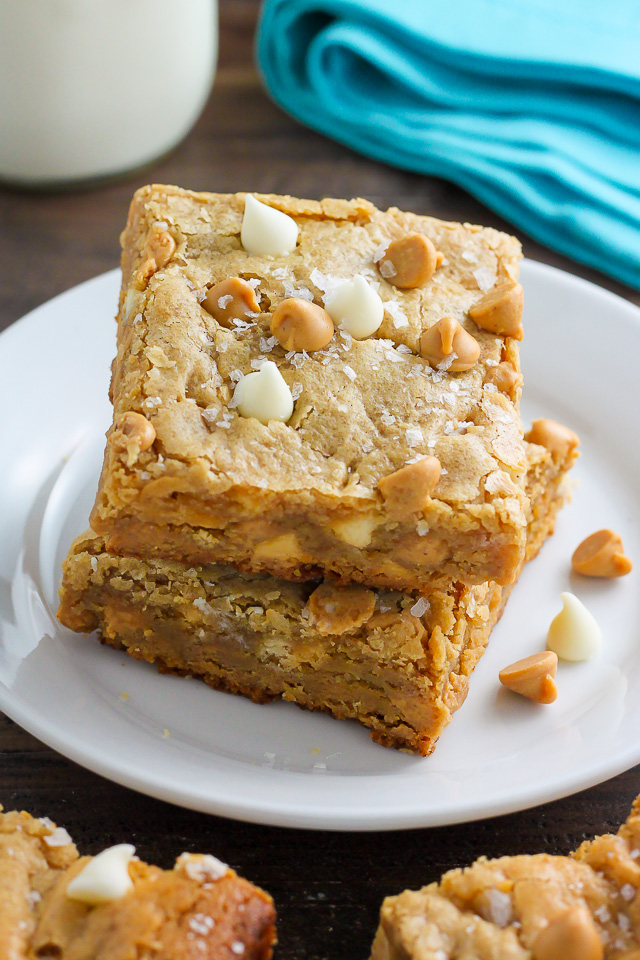 More Blondie Recipes:
Wishing you a very merry weekend! I hope it's bright, shiny, and full of lovely things.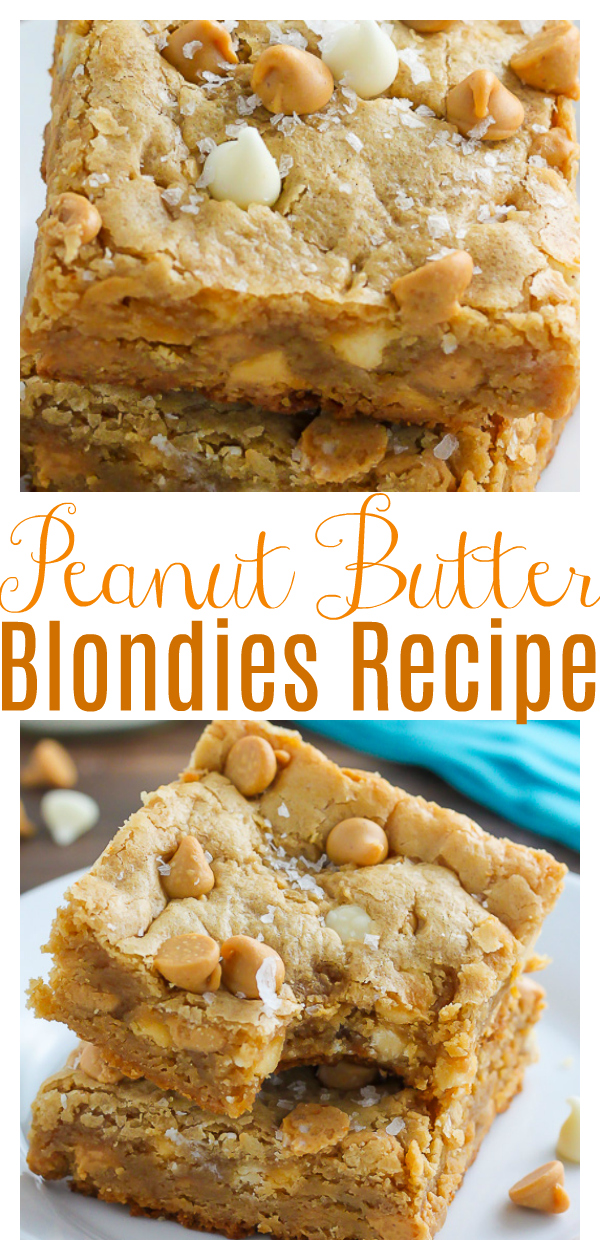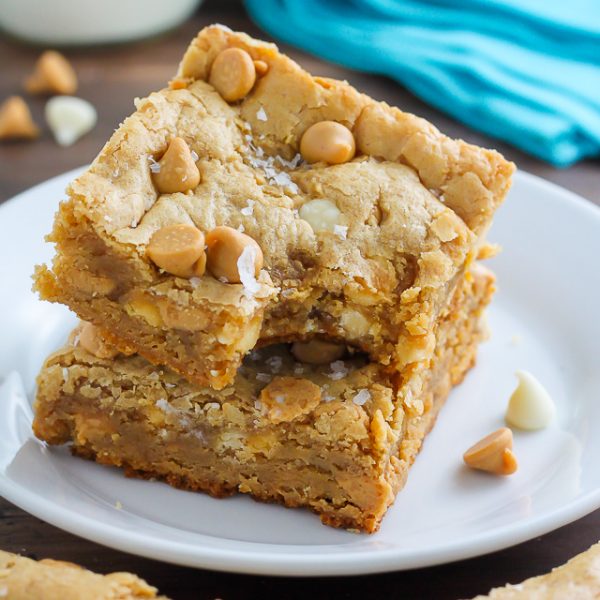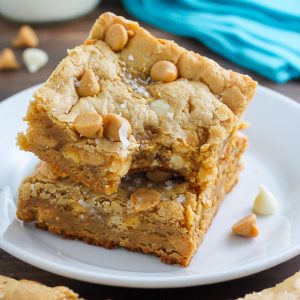 Thick and Chewy White Chocolate Peanut Butter Blondies
Thick and chewy peanut butter blondies loaded with white chocolate and peanut butter chips!
Ingredients
1/2 cup (4 ounces; one stick) unsalted butter, melted
1/2 cup creamy peanut butter
1 and 3/4 cups dark brown sugar, packed
2 large eggs, at room temperature
1/2 teaspoon salt (fine sea salt, table salt, or kosher salt will all work)
2 cups all-purpose flour
1 teaspoon baking powder
1 1/2 cups white chocolate chips
1 cup peanut butter chips
1 teaspoon flaky sea salt (I used Maldon Sea Salt and think it's the best), for sprinkling, optional
Instructions
Preheat oven to 350 degrees (F). Line a 9" x 13" pan with parchment paper; lightly grease the paper and set aside.

Melt the butter in a medium saucepan over medium-heat. Remove from heat and stir in the peanut butter and brown sugar, whisk well to combine.

Whisk in eggs, one at a time, beating well after each addition. Stir in the salt, flour, and baking powder, mixing just until combined. Fold in the white chocolate chips and peanut butter chips.

Spread the mixture evenly in the pan, then sprinkle the top with additional white chocolate chips and peanut butter chips, if desired. Bake the blondies for 15 minutes, then cover the pan with aluminum foil and bake for another 15-18 minutes, or until they're light brown on the edges and top. Carefully remove them from the oven and cool completely before cutting.