Fluffy and flavorful Key Lime Coconut Donuts are baked, not fried, and ready in less than 30 minutes!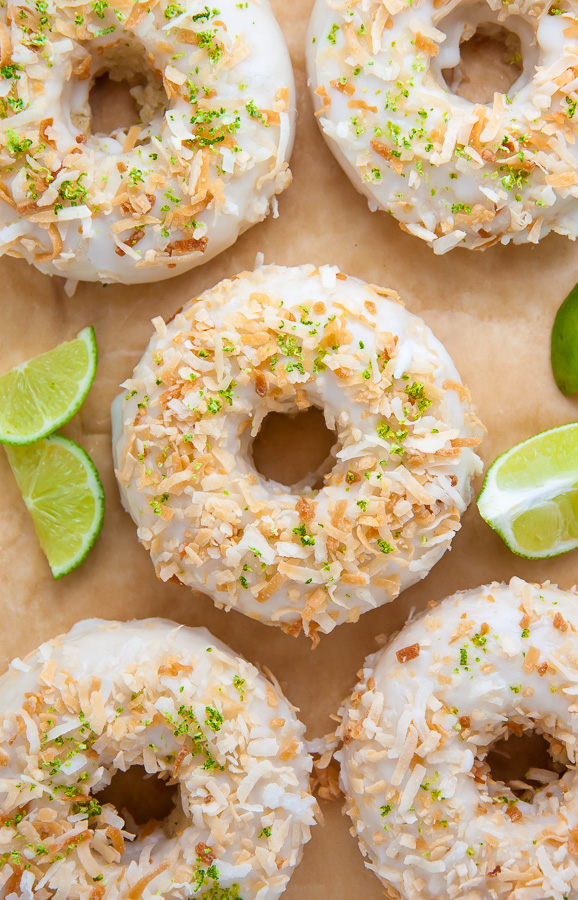 Baked Lime Coconut Donut Recipe
Hallelujah, It's finally Friday!
What's on your weekend agenda? Hanging with friends? Maybe a Spring picnic? Pizza and Netflix? DONUTS? ← Definitely make room in your schedule for that last part 😉
These Key Lime Coconut Donuts are:
exploding with real key lime and coconut flavor
simple and stunning
better than the bakery
ready in like 25 minutes TOTAL
made with simple, everyday ingredients
a must for key lime lovers!
And if those facts didn't convince you… feast your eyes on this ↓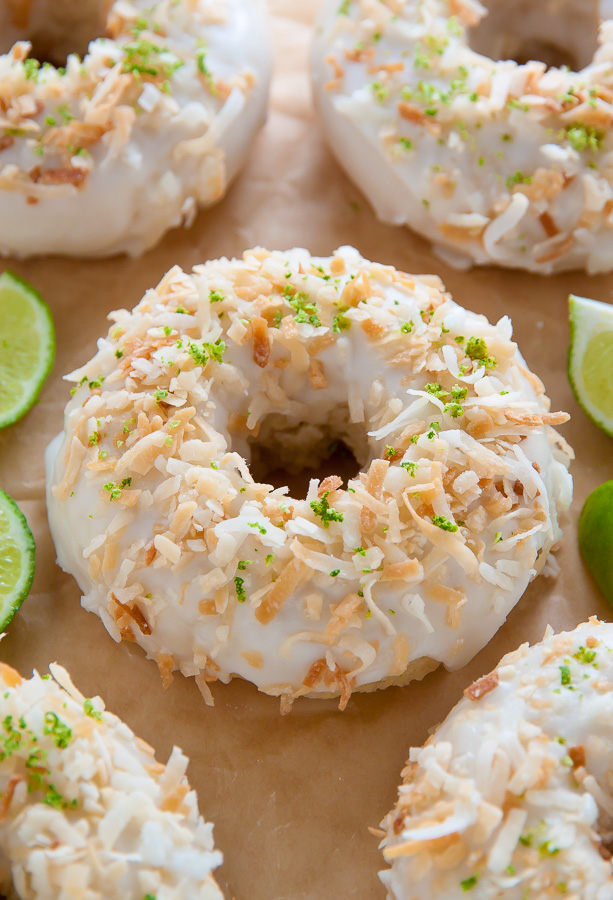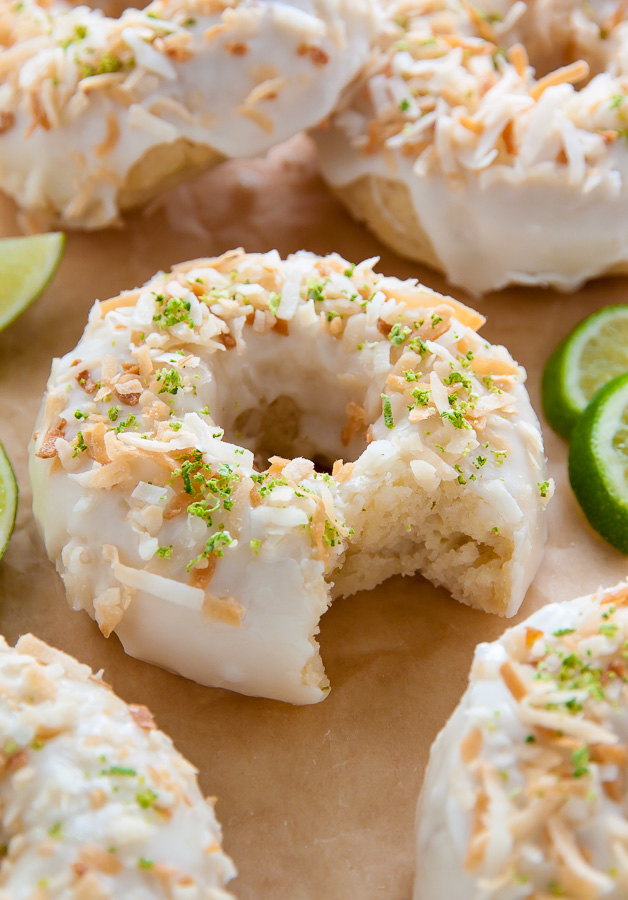 Made these donuts 3 times last week for various celebrations (it's wedding/baby shower/graduation/everything season right now!) and 6 different people asked me what bakery they were from. Ha! That's when I knew I needed to hustle home and bake some for you.
So here you go, my friend: homemade key lime coconut donuts, from me… to you 😉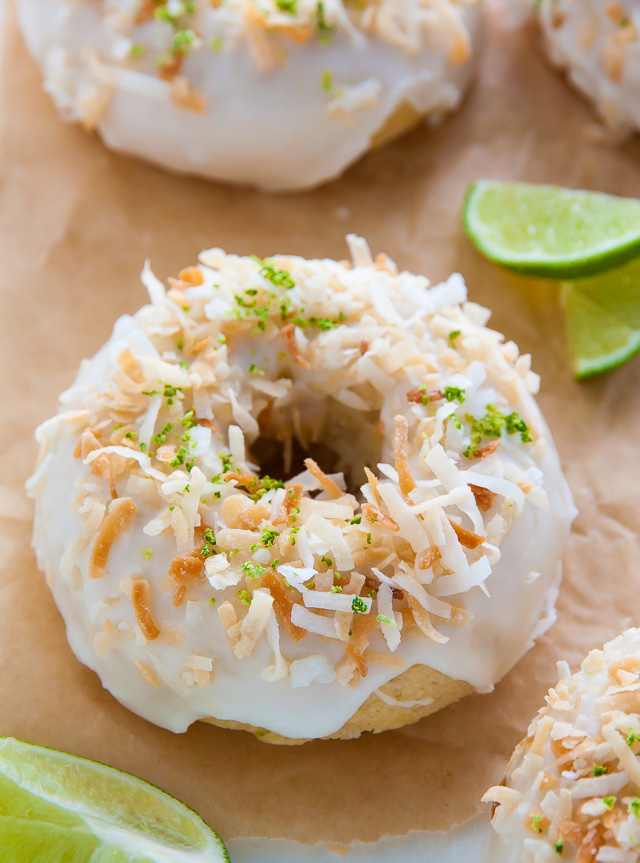 Tips and Tricks for Recipe Success:
You can use any kind of coconut oil, but it must be melted before being combined with the sugar. If you live in a warm climate, your coconut oil may already be liquified, if not, simply run the jar under some hot water until it is. You can also measure out the amount of coconut oil called for and melt it in the microwave.
You cannot make this recipe without a donut pan. If you need help picking one out, THIS is the donut pan I've been using for the last 4 years. I love it!
If you cannot find fresh key limes at a store near you, you can use regular lime juice or use bottled key lime juice. THIS is the brand I use when I cannot use fresh squeezed juice.
The donuts only need to bake for 10-11 minutes, so be sure you keep an eye on them.
So are you ready to bake eat some donuts, or what!? Enjoy!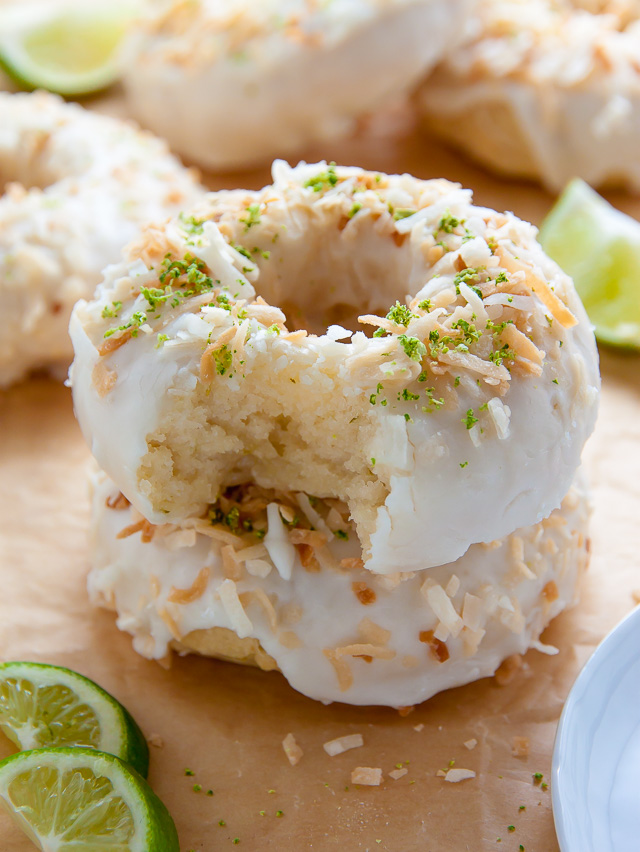 More Key Lime Recipes:
If you try this recipe, let me know! Leave a comment below and don't forget to snap a pic and tag it #bakerbynature on Instagram! Seeing your kitchen creations makes my day. ♥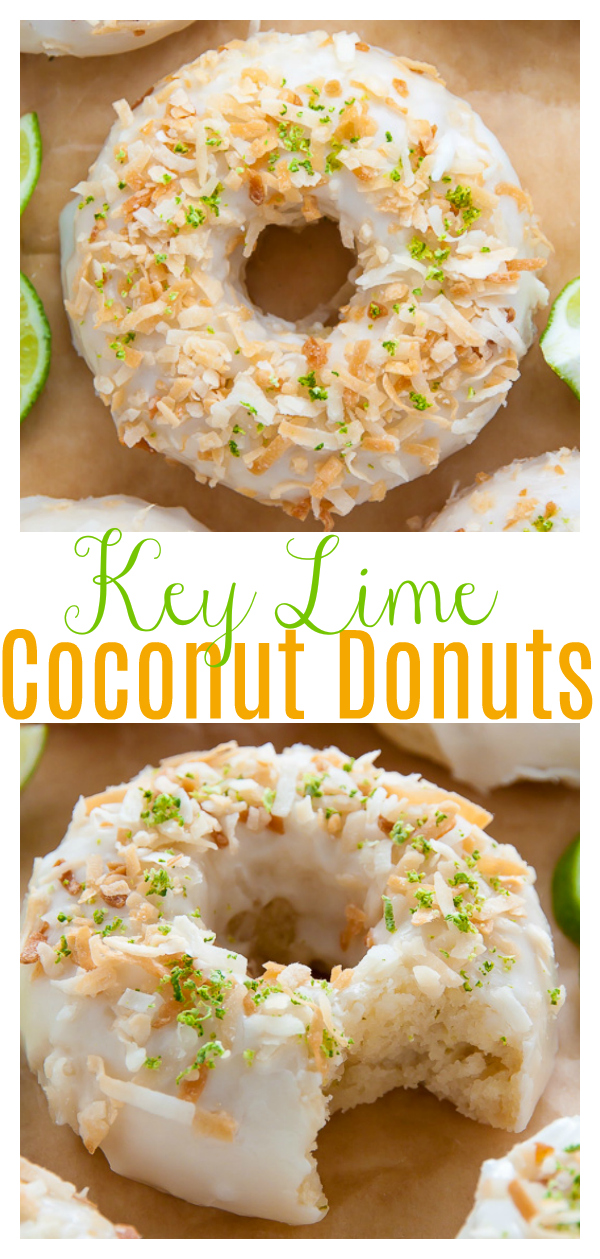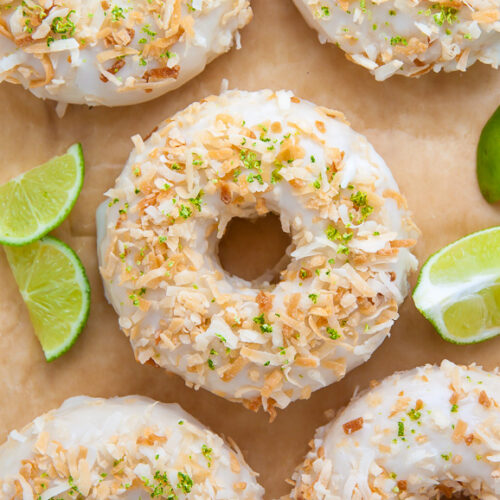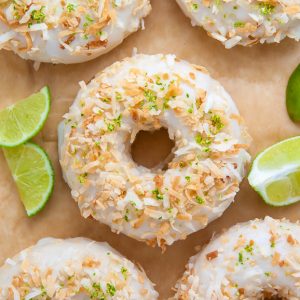 Key Lime Coconut Donuts
Fluffy and flavorful Key Lime Coconut Donuts are baked, not fried, and ready in less than 30 minutes!
Ingredients
For the Key Lime Coconut Donuts:
1 and 1/4 cups all purpose flour
1 teaspoon baking powder
1/2 teaspoon salt
1/2 cup granulated sugar
2 teaspoons fresh lime zest
2 1/2 tablespoons coconut oil, melted
1 large egg, at room temperature
1/2 cup coconut milk
For the Key Lime Glaze:
1 cup confectioners' sugar
1 and 1/2 tablespoons key lime juice
1 teaspoon lime zest
1/8 teaspoon salt
(Optional) Decoration:
1/2 cup shredded coconut, toasted
2 teaspoons lime zest
Instructions
For the Key Lime Coconut Donuts:
Preheat oven to 350 degrees (F). Generously grease a doughnut pan; set aside.

In a small bowl whisk together flour, baking powder and salt; set aside.

In a large bowl combine the granulated sugar and lime zest; mix together with your fingers until zest is evenly distributed in the sugar. Add in the melted coconut oil and, using a whisk, mix until combined. Beat in the egg, then stir in coconut milk.

Add in the dry ingredients and gently fold the mixture together using a rubber spatula, stirring only until mixture is evenly combined.

Divide the thick batter evenly among the molds of your prepared pan, filling each mold up 2/3 of the way. Bake for 10-11 minutes, or until firm and lightly golden on the tops.

Remove pan from oven and allow doughnuts to cool for at least 10 minutes in the tray before transferring to a cooling wrack to cool completely.

Once cool, dip each doughnut in glaze and serve! The glaze does take a few minutes to set, so you may want to wait about 5 minutes after glazing to dig in... but it's hard!
For the Key Lime Glaze:
In a wide, shallow dish combine juice and sugar, and whisk to combine. If the glaze appears too thick, add a little more lime juice until desired consistency is achieved; if glaze appears too thin, add a little more confectioners' sugar until desired consistency is achieved. Carefully dip cooled doughnuts in the glaze, and let rest for 5 minutes - if you can wait - before serving. If you'd like your donuts to look exactly like mine do in the photos, top each glazed donut toasted coconut and extra lime zest.
Notes
Donuts are best eaten the day they are made.