Soft and chewy cookies loaded with white chocolate, Reese's pieces, and peanut butter chips! If you love peanut butter, but don't want them to overwhelm, these cookies are for you!
Reese's Pieces Cookies
I don't know what it's like weather wise where you live, but for us, Fall is in the air and I'm loving it! Everyday this week has been just warm enough for shorts and a sweatshirt (my go-to uniform in the early days of Autumn) and in the evenings, a most glorious chill settles in, making sleeping with the windows thrown wide open a heavenly experience!
We are heading to a hot and sticky (and wonderful) New Orleans this weekend, so I am soaking up every second of Fall life while we're home!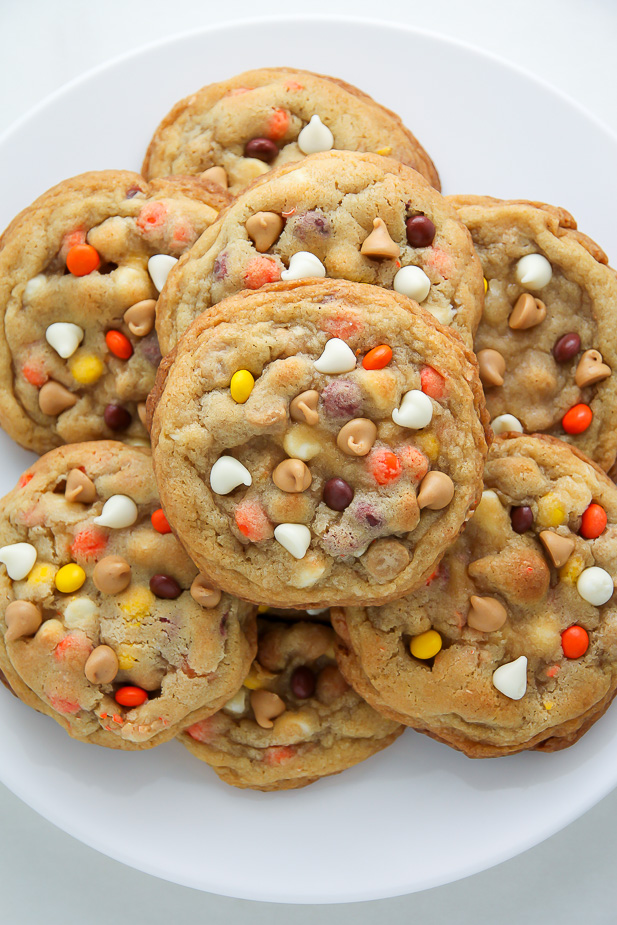 With all these autumnal vibes in the air, I can't help but feel excited for the upcoming holiday season. Today I wanted to share a cookie recipe that is perfect for Fall, but so delicious you'll definitely want to keep baking them year round! They'll be perfect for holiday baking when the time comes…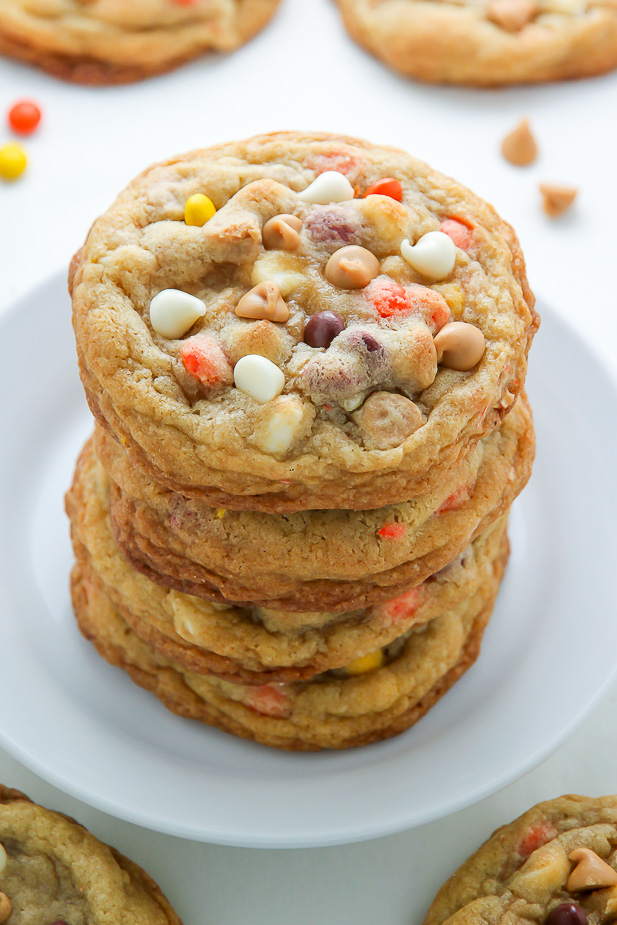 I originally developed this cookie recipe for a gift basket I was shipping to a friend (Hi JP!). Literally moments after he opened the package I received an elated text raving over the White Chocolate Reese's Pieces Peanut Butter Chip Cookies I had sent.
I knew then and there I needed to make them for YOU – and fast!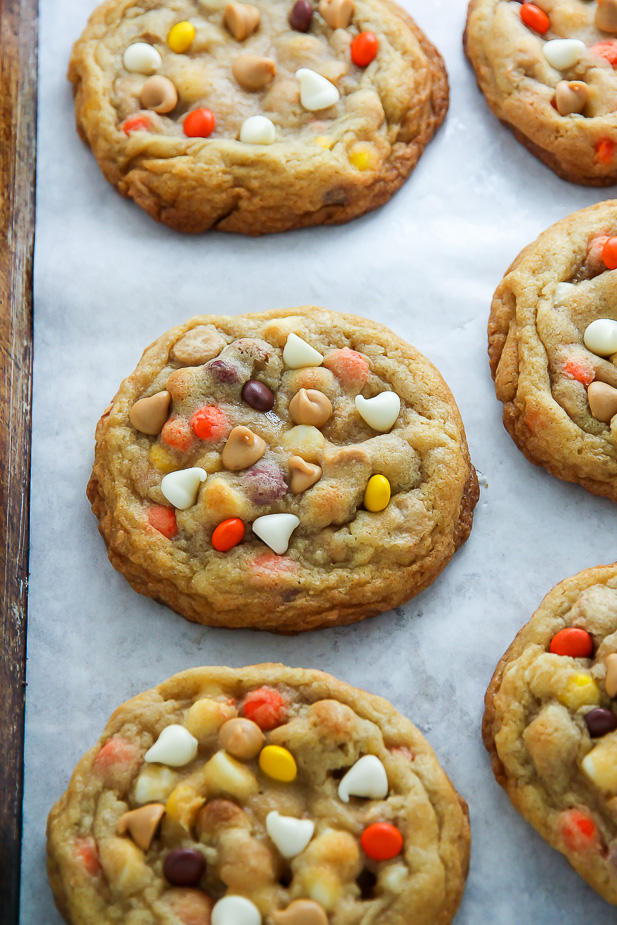 I should get this out of the way now and let you know these are not actually peanut butter cookies. But don't fret – they are loaded with tons of peanut butter flavor thanks to a peanut butter chips AND Reese's pieces. There are also a ton of white chocolate chips in the batter, because, um… balance 😉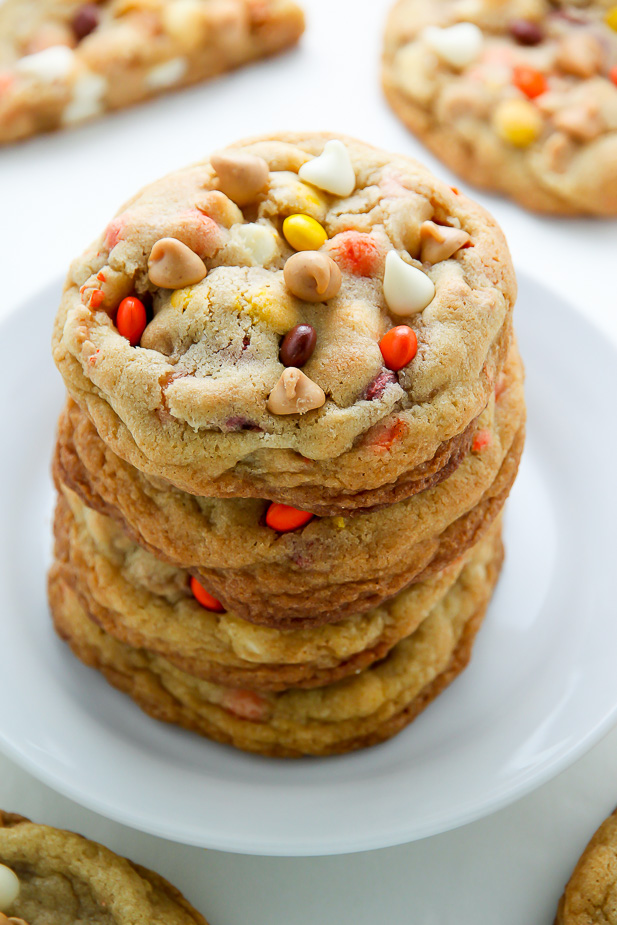 The base recipe for these delicious cookies is nothing new. I have a trademark recipe for cookies I developed a few years ago and it is what I use 99.9% of the time when I bake. Would you believe my triple chocolate cookies, salted caramel stuffed chocolate chunk cookies, and flawless chocolate chip cookies are all made from almost the same exact cookie dough?
The best part? My base cookie dough is made with simple ingredients you probably already have in your pantry. Flour, sugar (brown and granulated), baking soda, salt, eggs, and vanilla. ← Nothing fancy here. It's simply the perfect measurements and a consistent method that takes these basic ingredients and transforms them into thick and chewy cookies, every-single-time!
It's like magic.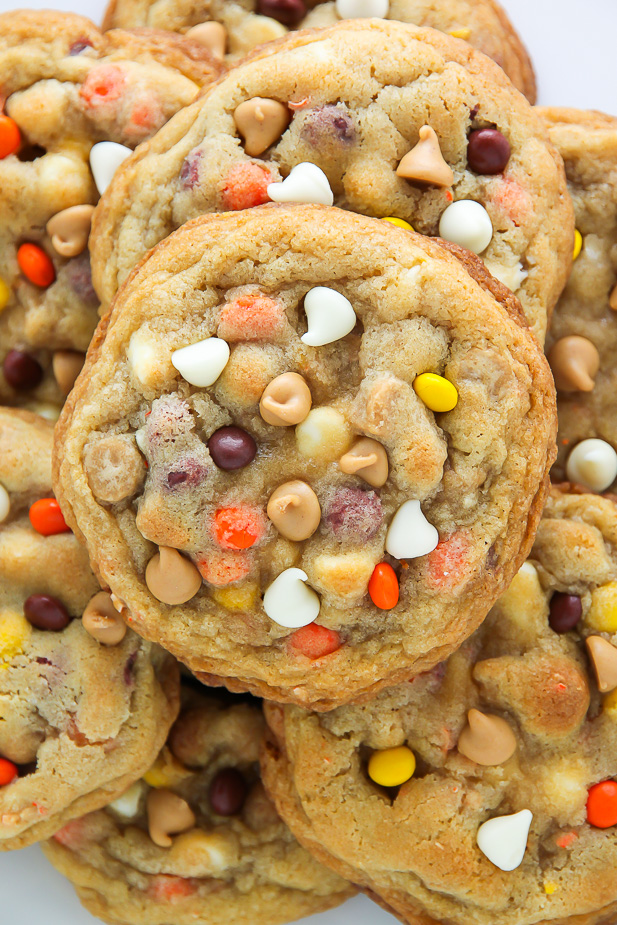 For these cookies you're also going to need to get your hands on white chocolate chips, peanut butter chips, and Reese's pieces. I used the mini Reese's pieces (they're so cute), but full-sized will work too.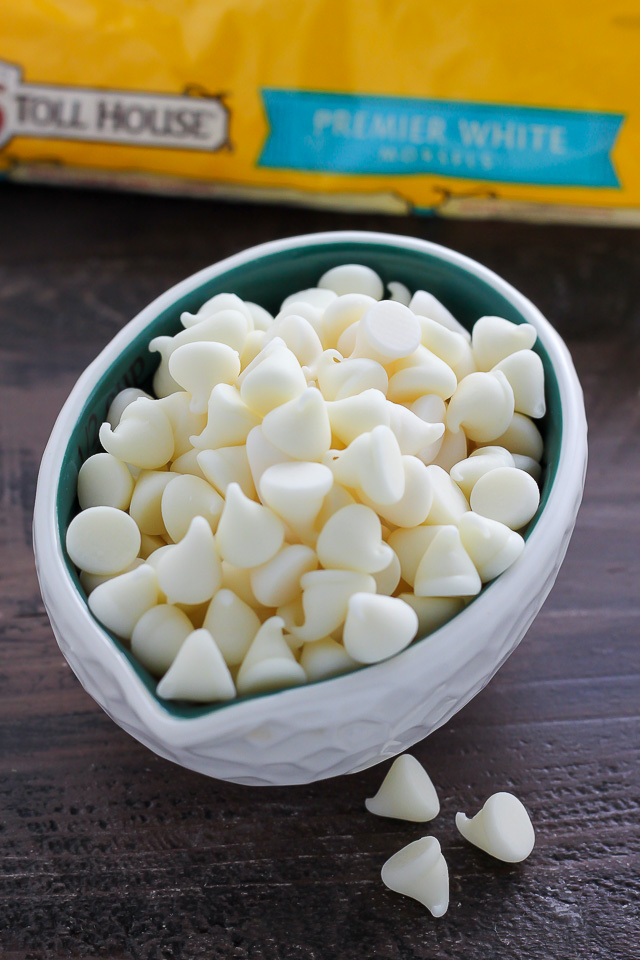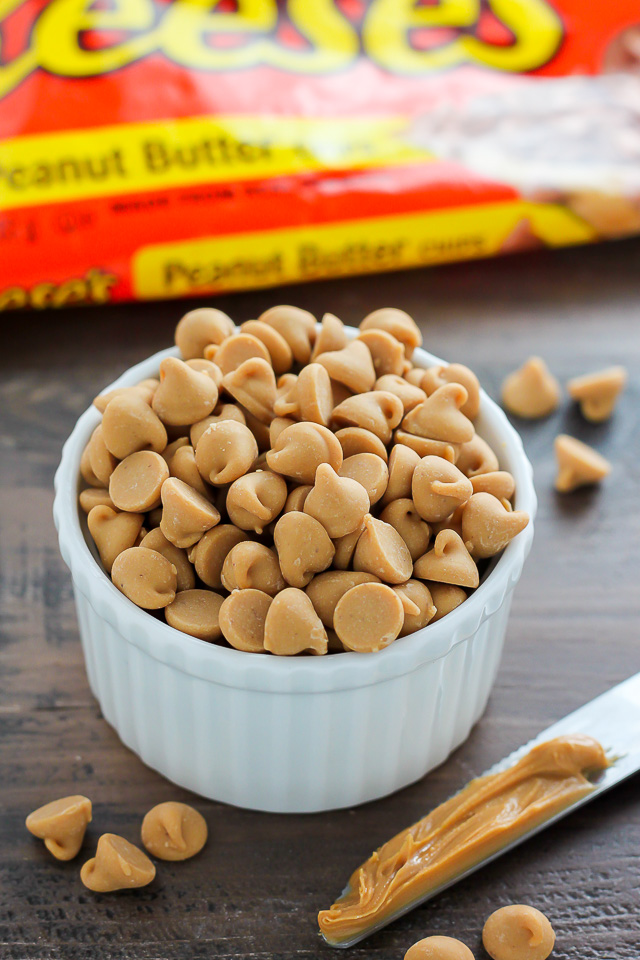 These cookies bake up with crispy edges and supremely soft centers.
↓↓↓ Look at that plush cookie interior! Loaded with so many goodies, too. Pure bliss.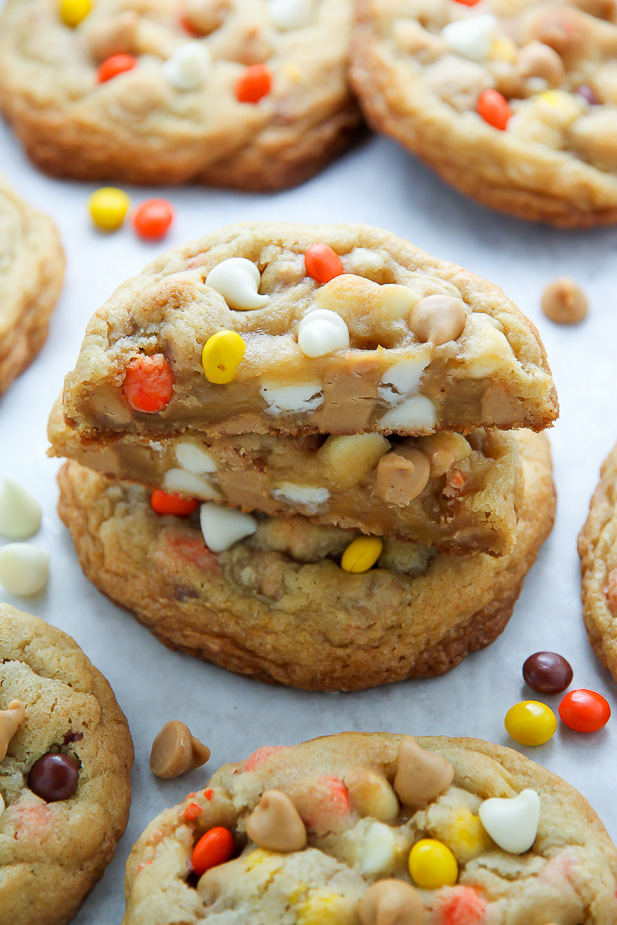 These cookies bake at 375 degrees (F) for 11 minutes. They will look pretty soft when you remove them from the oven. Not to worry – the cookies will firm up greatly while they cool, so be sure not to over bake them! If you'd like your cookies to look just like mine, gently press a few peanut butter chips, white chocolate chips, and Reese's pieces on top of the cookies right after they come out of the oven. It's important you do this right away – while the cookies are still soft. Let the cookies rest on the baking sheet for 5 minutes or so before transferring them to a cooling rack.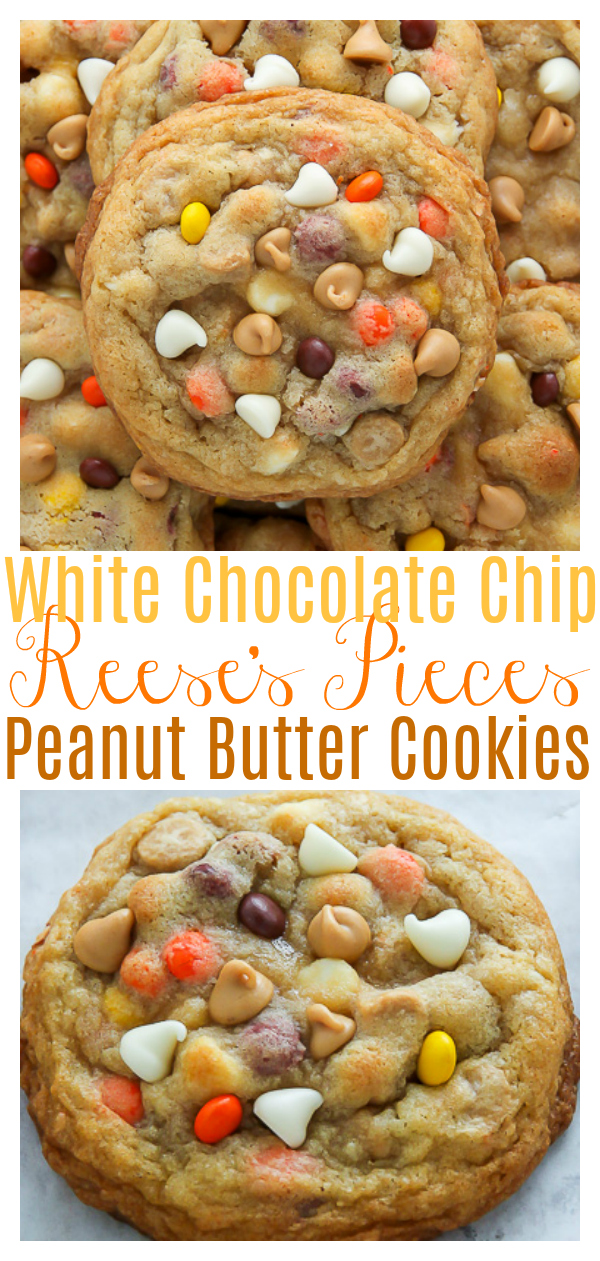 Make today's White Chocolate Reese's Pieces Peanut Butter Chip Cookies for all your Fall festivities! They will definitely be making an appearance at our Halloween party… and you know I'm packing a few for our flight on Saturday.
You can never have too many cookies in your life. ♥♥♥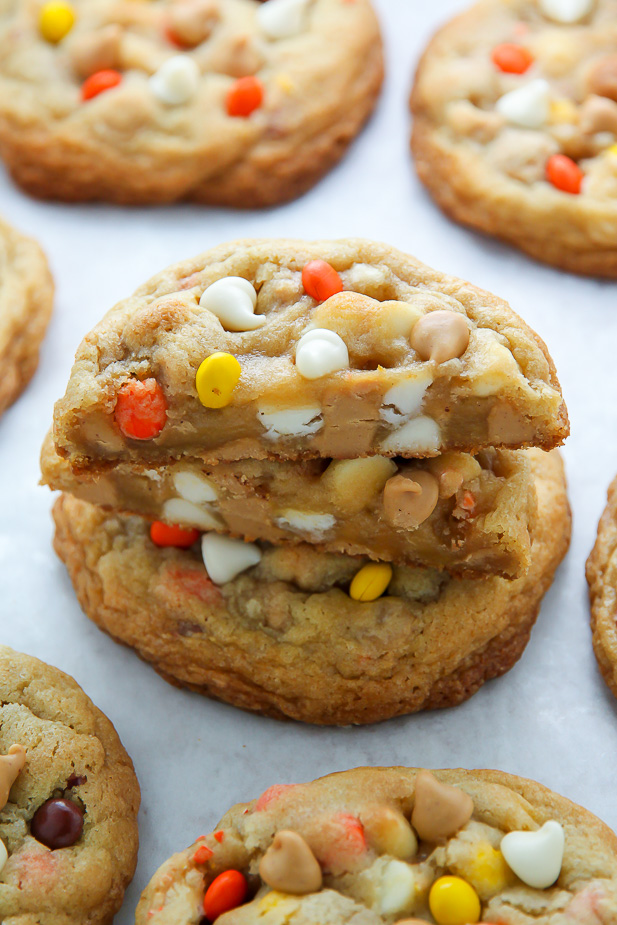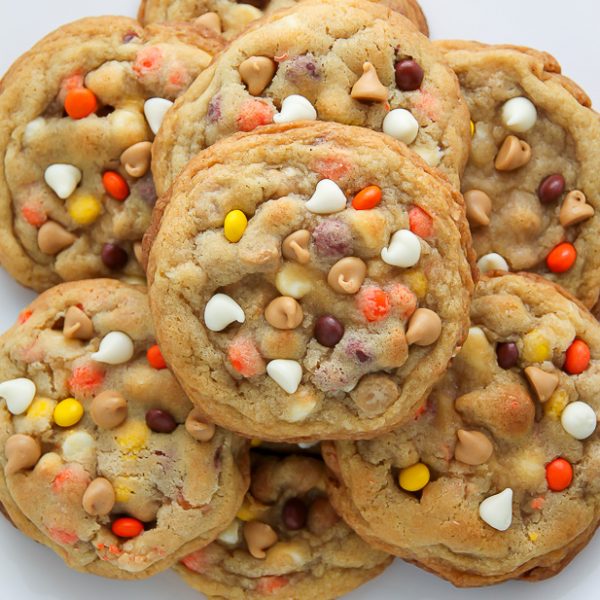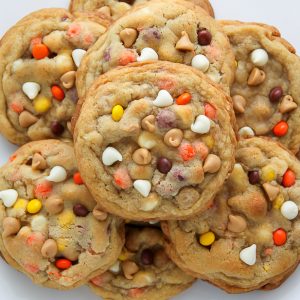 White Chocolate Reese's Pieces Peanut Butter Chip Cookies
Thick and chewy White Chocolate Reese's Pieces Peanut Butter Chip Cookies are sure to be a new favorite!
Ingredients
2 and 1/2 cups all-purpose flour
1 teaspoon baking soda
1/2 teaspoon salt
2 sticks (8 ounces) unsalted butter, at room temperature
1 cup light brown sugar, packed
1/2 cup granulated sugar
2 teaspoons vanilla
2 large eggs, at room temperature
1 cup white chocolate chips
1 cup peanut butter chips
1/2 cup Reese's Pieces (I used the minis but full-sized are OK, too)
Instructions
Preheat oven to 375 degrees (F). Line 2 large baking sheets with parchment paper and set aside. In a medium sized bowl whisk together the flour, baking soda, and sea salt; set aside.

Add the sugars, vanilla, and butter to a large bowl and whisk until light and fluffy; about 2 minutes (I recommend using a stand mixer/ handheld mixer to help here, if you have one). Add the eggs and beat quickly – for only about 30 seconds – until they're just combined. Let the mixture rest for 5 minutes, then beat the eggs for another 30 seconds. Gently fold in the flour mixture with a rubber spatula, stirring only until the flour begins to disappear. Fold in white chocolate, peanut butter chips, and Reese's Pieces.

Roll 3 tablespoon sized balls of dough between your palms to form a ball (they should be big; almost a 1/4 cup), then place on prepared sheet (make sure to leave enough room in between each cookie for inevitable spreading). Continue this process until all the dough has been rolled. Place baking sheets in preheated oven and bake for 11 minutes, or until golden at the edges but still soft in the middle. Let cookies cool for 5 minutes on the sheet before transferring to a wire wrack to cool completely.