A hidden pocket of gooey salted caramel adds an incredible amount of decadence to these thick and chewy chocolate chunk cookies! Perfect for those days you need an extra special cookie fix.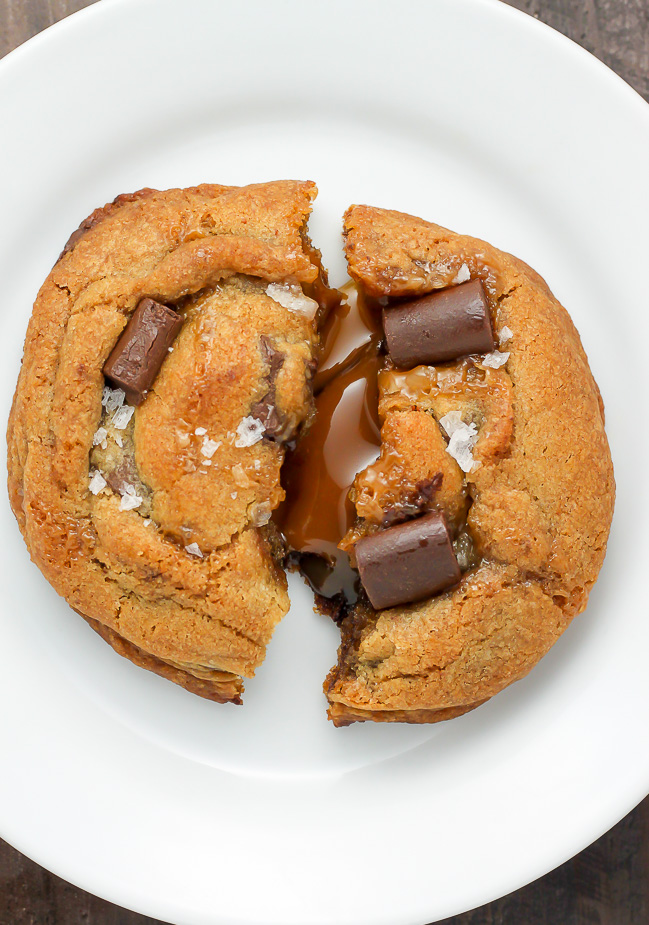 Here we go my friends! Another day… another cookie recipe for you. Today I'm teaching you exactly how to elevate your cookie game from good to great.
Spoiler alert: it's by adding salted caramel to the center of your cookies.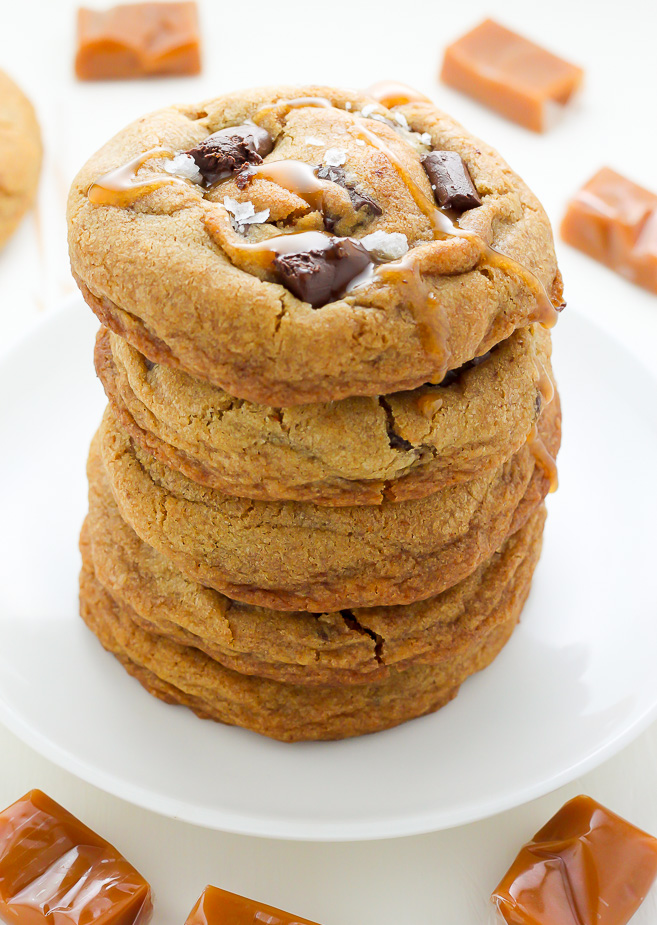 The chocolate chunk cookies themselves are s-t-u-n-n-e-r-s: ultra thick, crispy edges, soft centers, good chew, tons of chocolate. <<< I really could have just stopped there. But if you know me, you know that just ain't my style. Plus, Fall baking will be here before we know it (and then, WINTER), so this is my way of putting us ahead of the game. One can never have too many fool-proof cookie recipes in their repertoire 😉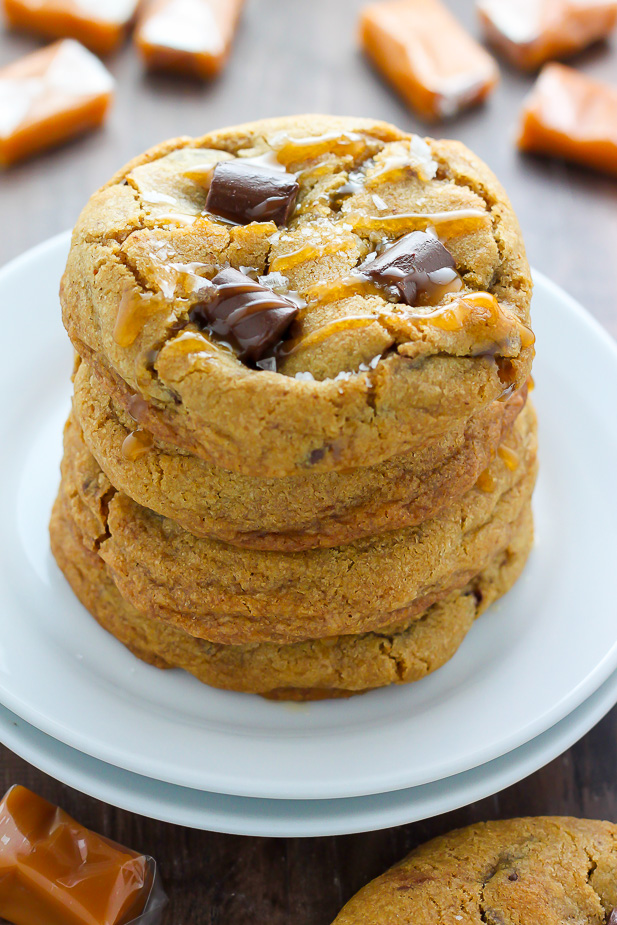 These cookies are really easy to make (like, surprisingly easy!) and each step is very simple and straightforward. Since I can't be there with you in the kitchen as you're baking these (I really wiiiiish I could) I'm going to quickly break down the steps in case you find yourself needing a little extra guidance during the process.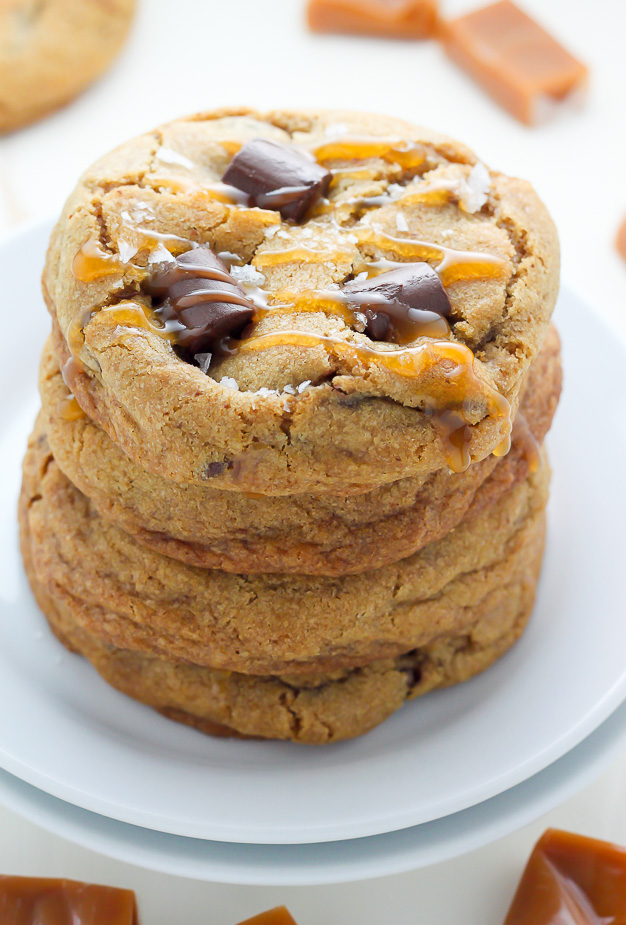 First thing you're going to do for these cookies: Brown that butter.
I know what you're thinking; "Ashley, you are a brown butter fanatic". It is true. But trust me, babes – one bite of these cookies and you'll see why this extra step makes it into so many of my recipes. You'll want to brown the butter first so that you can pop it in the freezer and let it firm back up; this will take about 30-40 minutes (you want it solid but soft; also known as "at room temperature").
The brown butter adds an incredible depth and flavor to these cookies so I don't suggest skipping this step. That said, you're free to toss my advice to the wind and use regular butter under this one condition: please make sure it is at room temperature. Cold solid butter or too soft/liquified butter will leave you with less than phenomenal results. The butter – browned or conventional – should be just soft enough that when you press your finger into the top it leaves a small indentation.
End butter rant 😉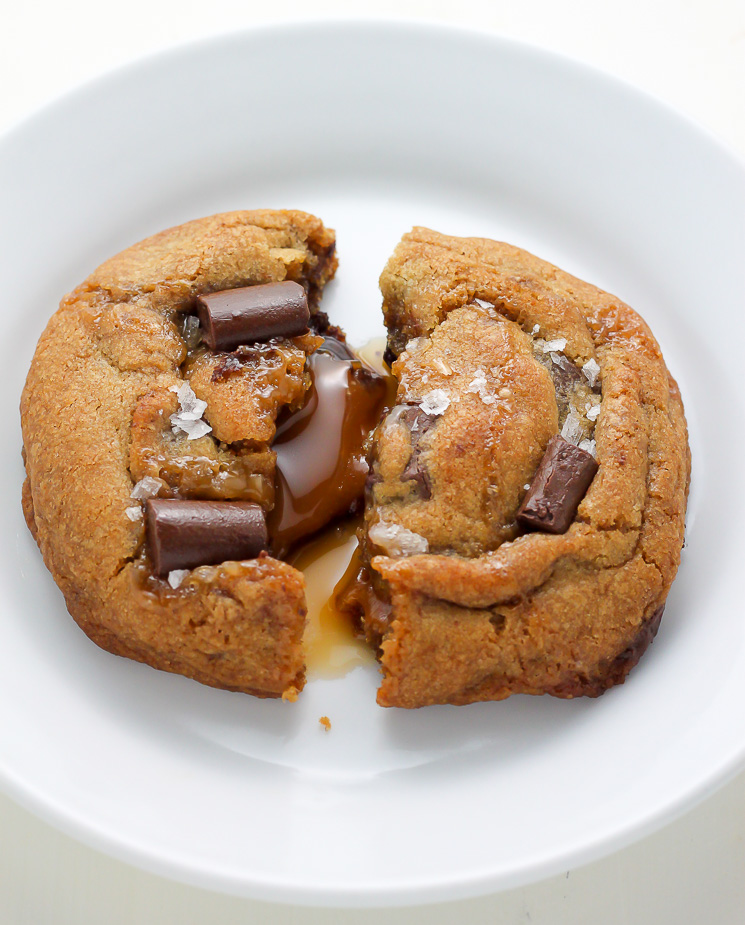 Now that we've talked (and talked and talked) about the butter process, let's do a quick run-down of the remaining ingredients. The cookie dough is made of flour, brown sugar, granulated sugar, eggs, baking soda, salt, and chocolate chunks. There is nothing fancy about this cast of characters and I bet you have most of them – if not all – sitting right in your pantry. That's what makes this recipe so seductive. Simple ingredients measured and mixed to create something really WOW worthy.
The one fancy(ish) ingredient called for? Salted Caramels. I use these extremely affordable ($2.99!!!) Fleur De Sel Caramels from Trader Joe's (<<< Not getting paid to say that; just the truth) and they work p-p-p-perfectly. If you don't live near a T Joe's I recommend using a softer salted caramel that will melt nicely and keep a soft texture even after the cookies have completely cooled. You'll want to roll the soft caramel into a small ball and pop them in the freezer while the butter is cooling. This helps ensure no caramel will escape the cookies during the baking process.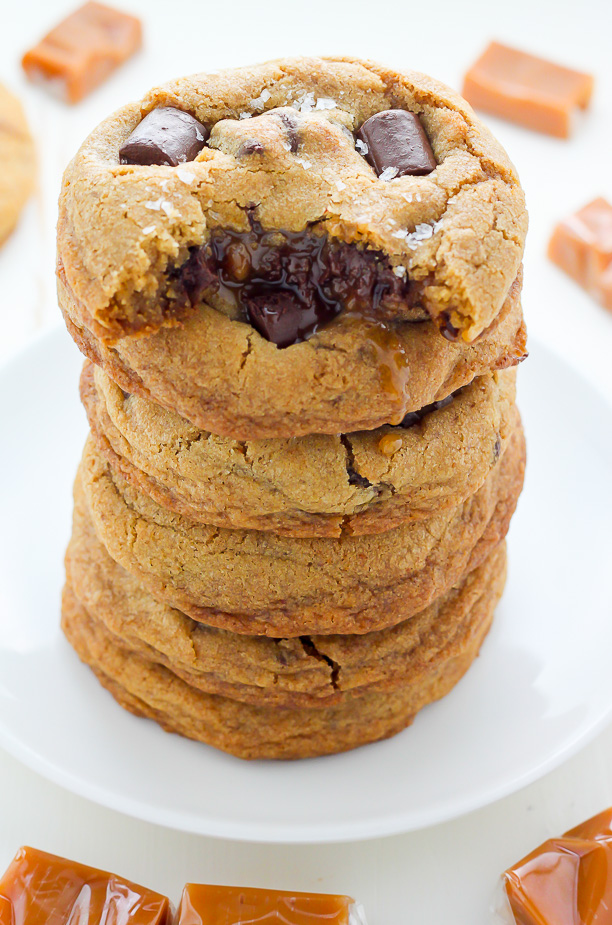 Roll a small ball of dough, press caramel ball lightly in the center (you don't want to dig it down too deep)…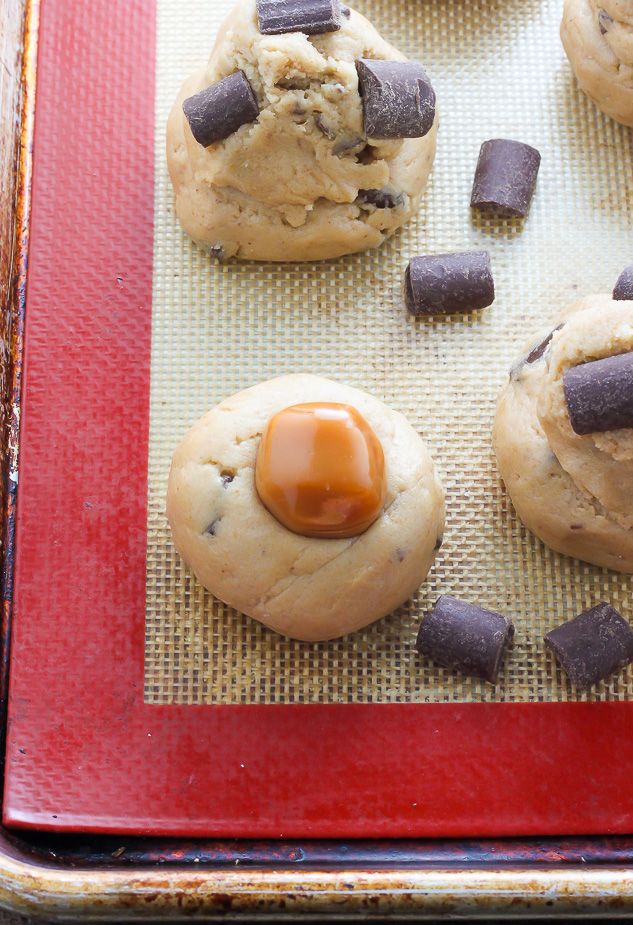 and top with more cookie dough.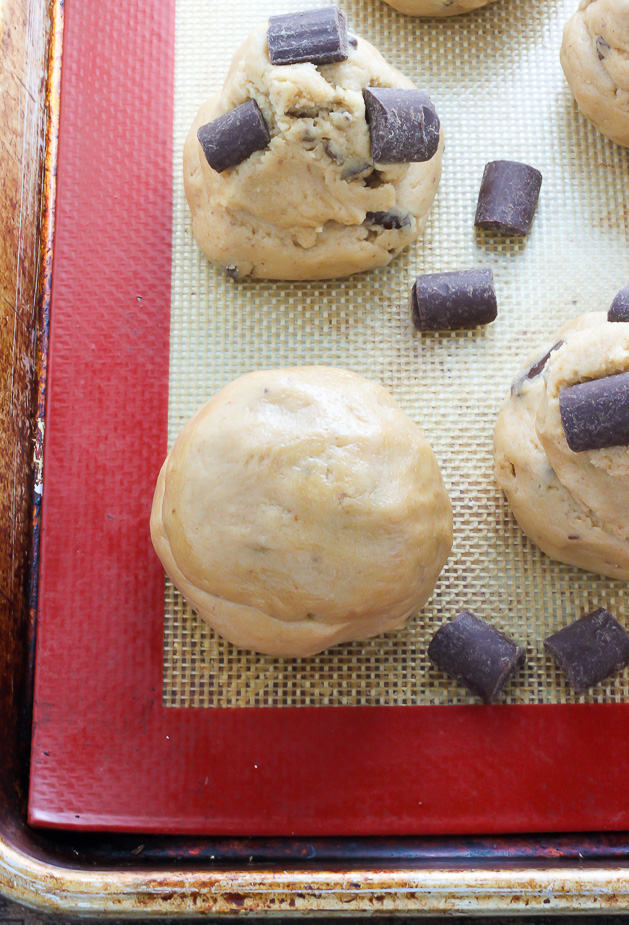 Placing a few extra chocolate chunks on top results in an exceptionally aesthetically pleasing batch ♡♡♡ Glossy chocolate is magic like that.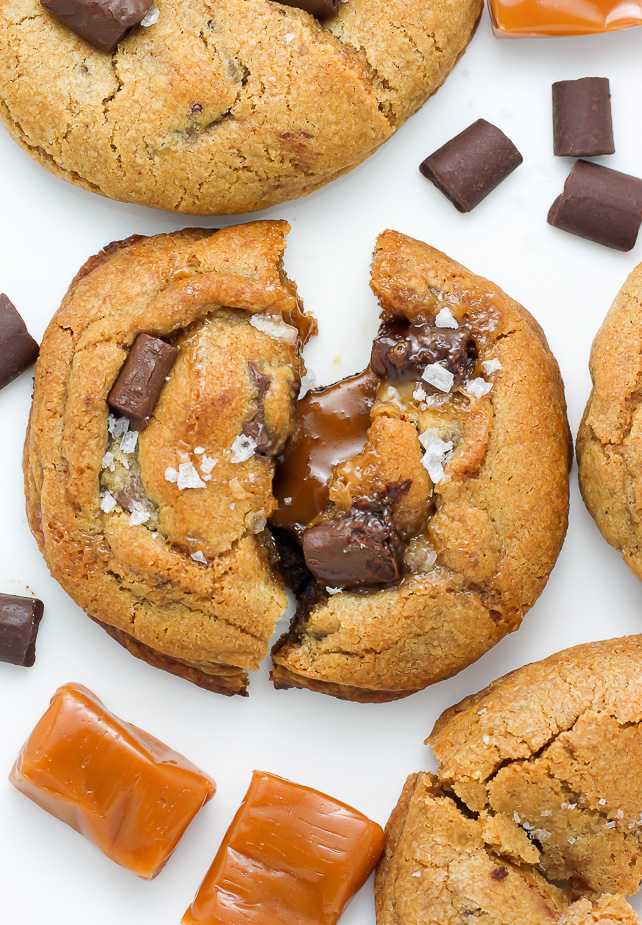 That caramel on top? Oh you know, that's just me going overboard. I made a batch of my six-minute small batch salted caramel sauce and drizzled it over each cookie right before serving.
Hey. I never claimed to be a paragon of self-control 😉


I know I rambled a lot about the steps in this recipe – don't let it scare you off! I promise these cookies are easy and totally do-able. Got a question I didn't cover? Go on and leave it in the comment box below; we're in this together.
Salted Caramel Stuffed Chocolate Chunk Cookies
Thick and chewy Chocolate Chunk Cookies stuffed with gooey salted caramel.
Ingredients
2 sticks (8 ounces; 16 tablespoons) salted butter
20 semi-soft salted caramel candies, unwrapped (see post for notes)
2 1/2 cups all-purpose flour (be sure not to pack your flour here)
1 teaspoon baking soda (check the expiration date)
1/4 teaspoon salt (kosher or table salt will work)
1 cup + 2 tablespoons dark brown sugar, packed
1/2 cup granulated sugar
2 teaspoons vanilla extract
2 large eggs, at room temperature
2 1/2 cups semi-sweet chocolate chunks (or chocolate chips)
Instructions
Place 1 stick of butter (8 tablespoons) into a small saucepan over medium-high heat; cook for about 3 minutes - stirring almost constantly - or until the butter has browned and taken on a slightly nutty aroma. Remove from heat and stir in the remaining stick of butter; whisk until completely smooth. Place the bowl in the refrigerator or freezer and bring the butter back to room temperature, about 30 minutes. *You'll know the butter is at room temperature when you press a finger into the top and it makes a slight indentation.

Unwrap caramels and roll each one into a small ball; place in the freezer while the butter cools.

Once the butter is at room temperature...

Preheat oven the to 375 degrees (F). Line 2 large baking sheets with parchment paper; set aside. In a medium-sized bowl whisk together the flour, baking soda, an salt; set aside.

Combine the brown butter, sugars, and vanilla in the bowl of a stand mixer fitted with the paddle attachment or in a large bowl using a handheld electric mixer. Beat on medium-high speed until light and fluffy; about 2 minutes. Reduce the speed to medium and add in the eggs, one at a time, beating well after each addition. Let the mixture rest for 5 minutes. Gently fold in the flour mixture with a rubber spatula, stirring only until the flour disappears. Fold in the chocolate chunks and stir gently to combine.

Scoop out a two tablespoon round of dough, roll it into a ball, and place on prepared baking sheet. Gently press the frozen caramel into the center, then top with another 2 tablespoon sized round of dough, lightly pinching the edges closed to seal the caramel completely; repeat with all cookie dough.

Place baking sheets in preheated oven (preferably one at a time, keeping the other in the fridge for a few minutes) and bake for 11-14 minutes, or until golden at the edges but still slightly soft in the middle. Let cookies cool for 5 minutes on the sheet before transferring to a wire wrack to cool completely.
You may also enjoy:
Salted Caramel Chocolate Pecan Brown Butter Blondies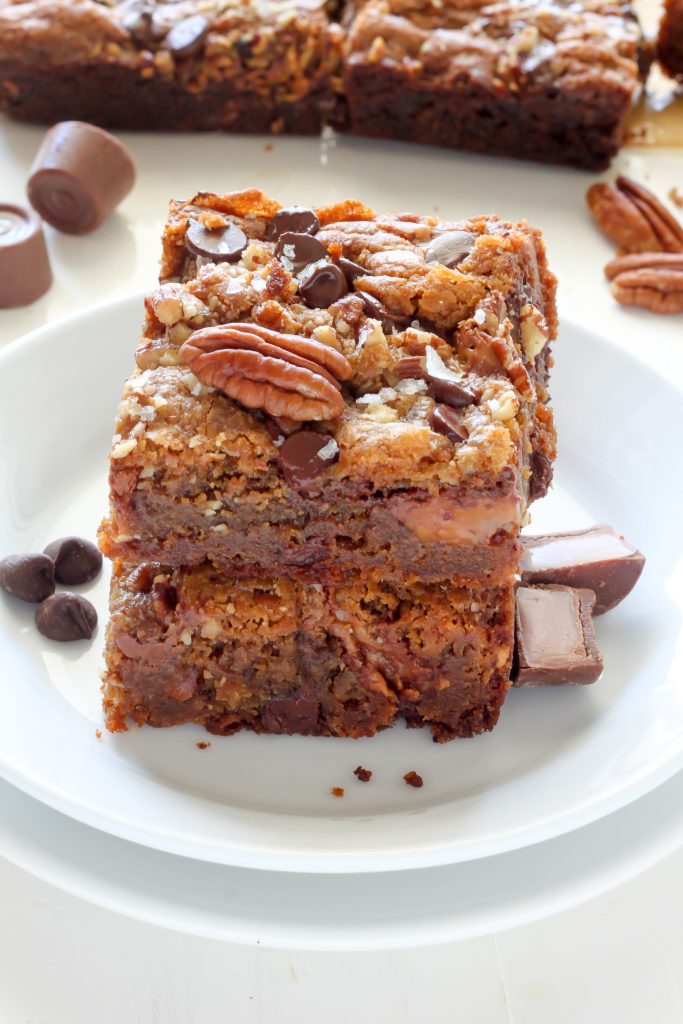 Brown Butter White Chocolate Macadamia Nut Cookies