Rich, creamy, and caffeinated, these 5-Ingredient Espresso Chocolate Truffles are a coffee lovers dream come true! They make a great gift for chocolate lovers!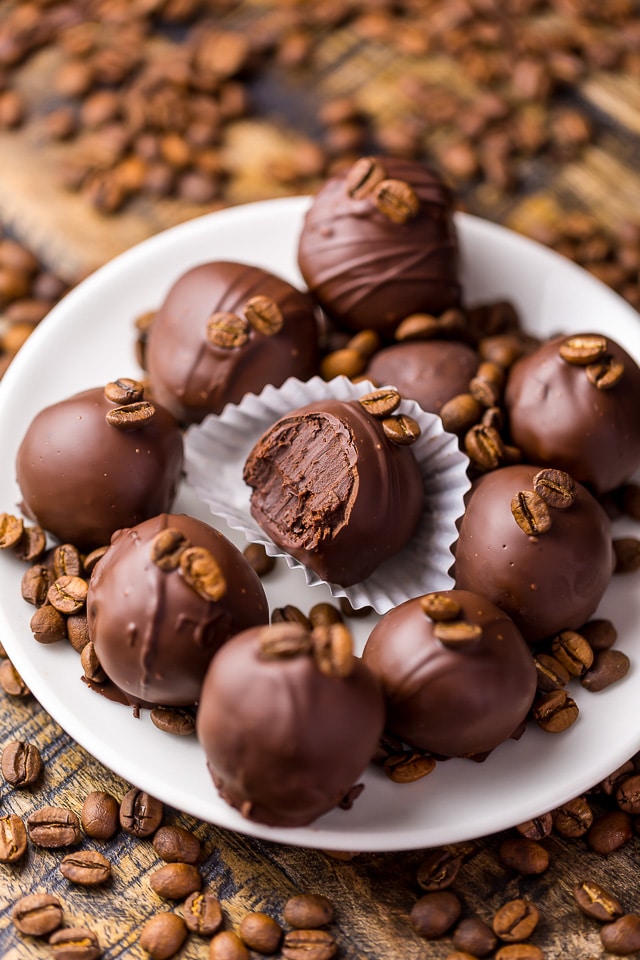 Best Coffee Truffles
Yesterday was kind of a hot mess over here. I tested 3 new recipes and literally all 3 flopped! My lemon pie turned out like lemon scrambled eggs (gag), my cinnamon buns were dense and way too dark, and the final fail was so disastrous I'm not even ready to talk about it. Frustrating? Yes. But it's also just part of the job. And at the end of the day… my job is pretty darn great! Fails and all.
So I picked my head up, washed like 3 hours of dishes, and moved on. And I'm sure glad I did, because I moved onto making these super simple, sinfully decadent Chocolate Espresso Truffles. And you guys… they are just dreamy ↓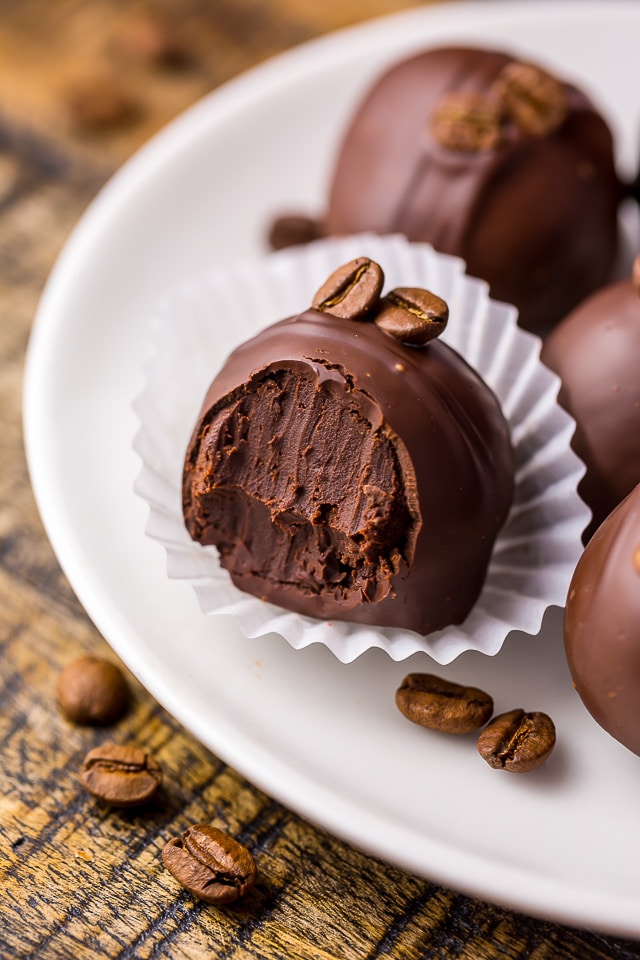 To me, these truffles are proof that simple recipes can still be truly exceptional! All you need is a handful of quality ingredients, a good method, and a little patience, and voilà, you have chocolate coffee truffles that rival the ones you'd see for sale in the window of a fancy candy shop.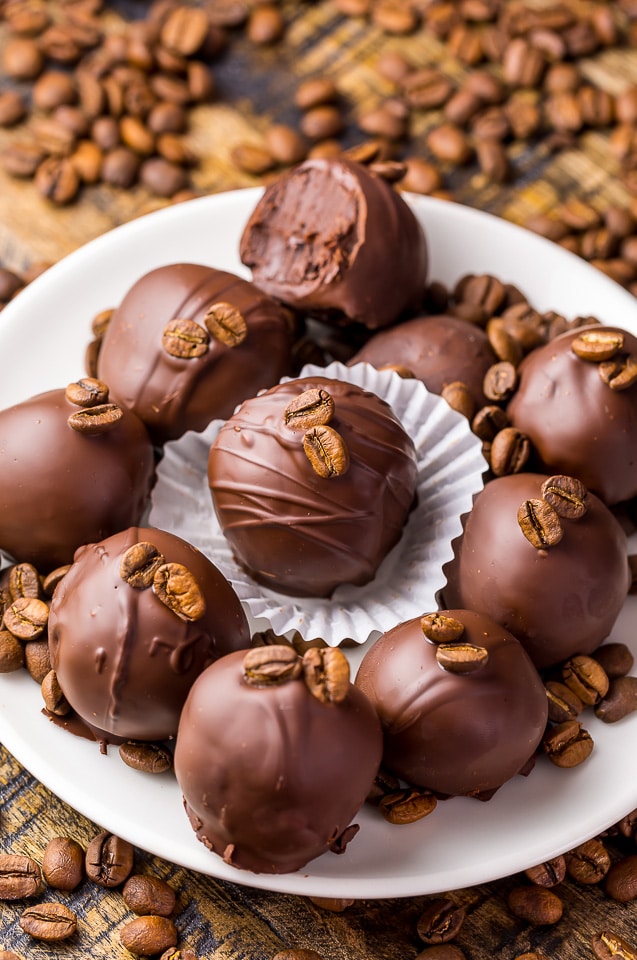 How to make Homemade Coffee Truffles
Tips and Tricks for Recipe Success:
Coffee and chocolate are flavor soulmates. They blend effortlessly, compliment each other, don't overwhelm…. you get it. They just work. And because they are the dominant flavors in this recipe, I highly suggest using the best quality you can find.
Do not skip the espresso powder! I used King Arthur Espresso Powder and loved it! One jar will last you a LONG time! And once you have it, you can make other espresso recipes like this No-Bake Espresso Chocolate Cheesecake!
Use good chocolate! As usual, I used Lindt 70% Chocolate Bars and loved the results. But because I know buying the amount of chocolate called for in this recipe can be pricey, I wanted to included a couple budget friendly options: Trader Joe's Dark Chocolate Pound Plus Bar and Baker's semi-sweet chocolate bars are both affordable, quality options!
You may use semi-sweet chocolate or dark chocolate in this recipe, but I do not suggest using milk chocolate.
Chocolate chips should never be used in place of the chopped chocolate.
How to shape Chocolate Truffles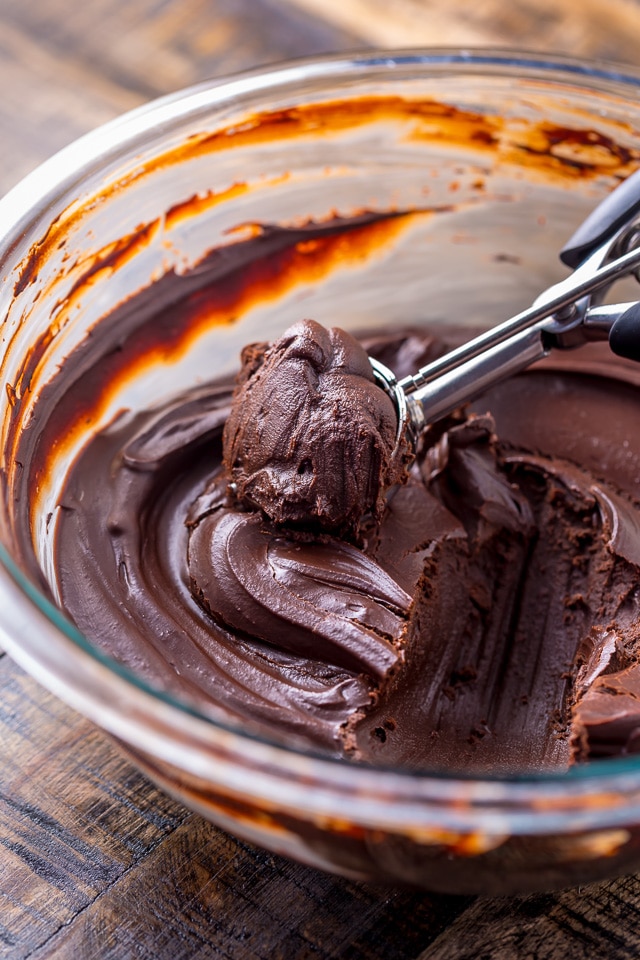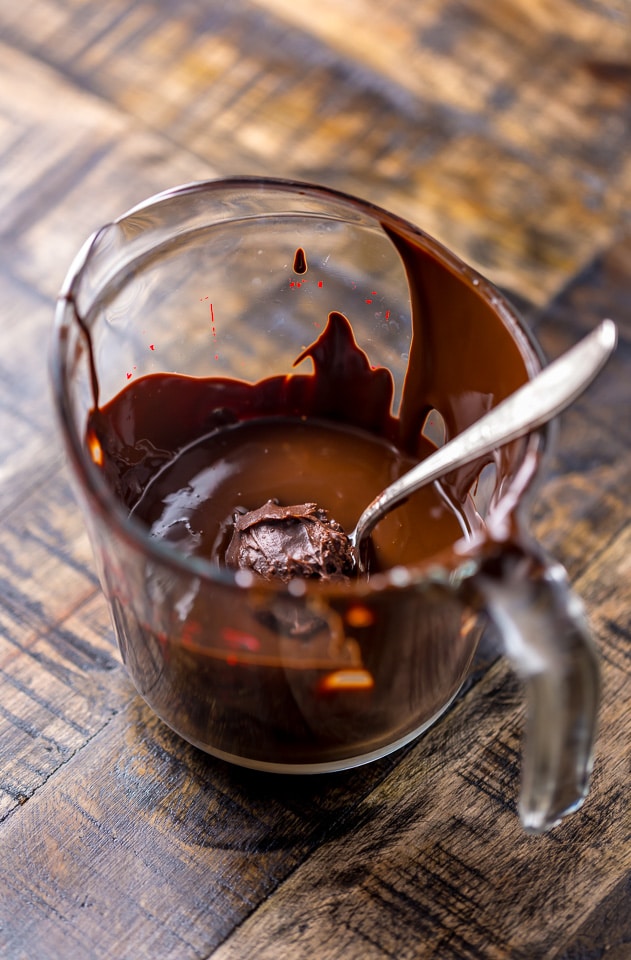 The easiest way to create uniform looking truffles is by using a small cookie scoop. And because your hands will get messy during the rolling process, I suggest keeping a damp rag or paper towel nearby.
And finally, let's discuss the chocolate coating. Which is shiny and snappy because we temper the chocolate. You will need a candy thermometer for this! If you don't own one, don't bother trying to temper. Instead, you can simply melt the chocolate in a double boiler (or even in the microwave). They won't be as professional looking, but they'll still look good and taste delicious. And that's what really counts, right?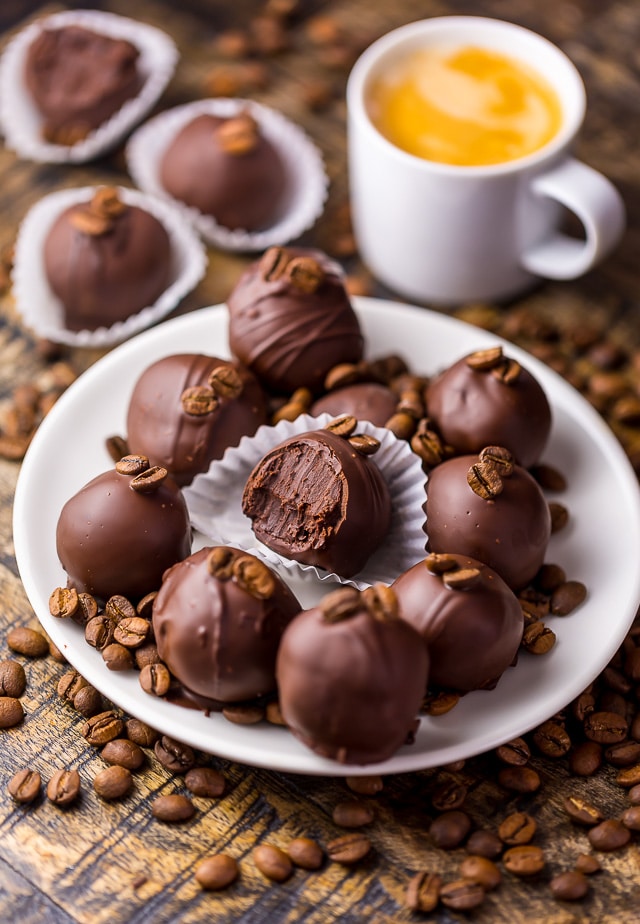 Don't be fooled by their fancy appearance; these Espresso Truffles couldn't be easier. You got this, my friend!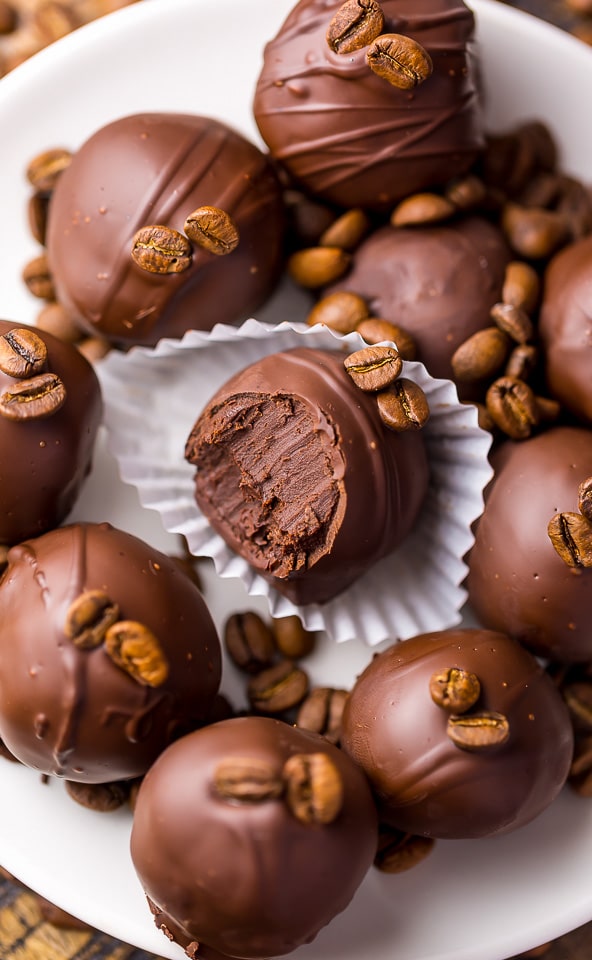 More Chocolate Truffles Recipes:
If you try this recipe for 5-Ingredient Espresso Chocolate Truffles, let me know! Leave a comment below and don't forget to snap a pic and tag it #bakerbynature on instagram! Seeing your kitchen creations makes my day.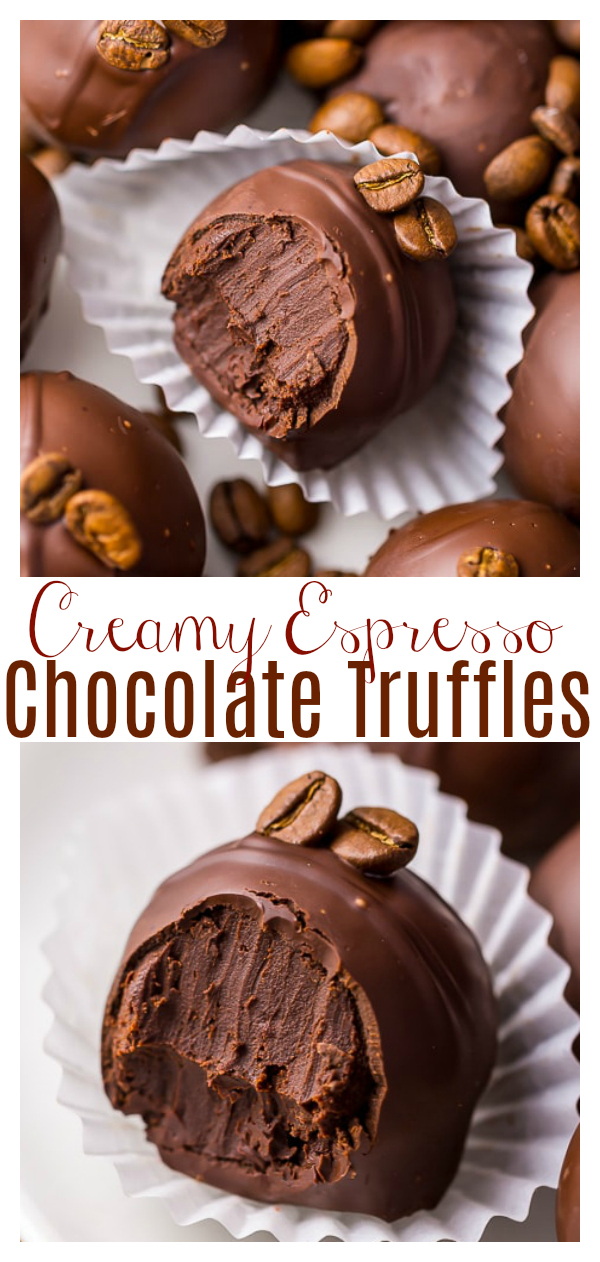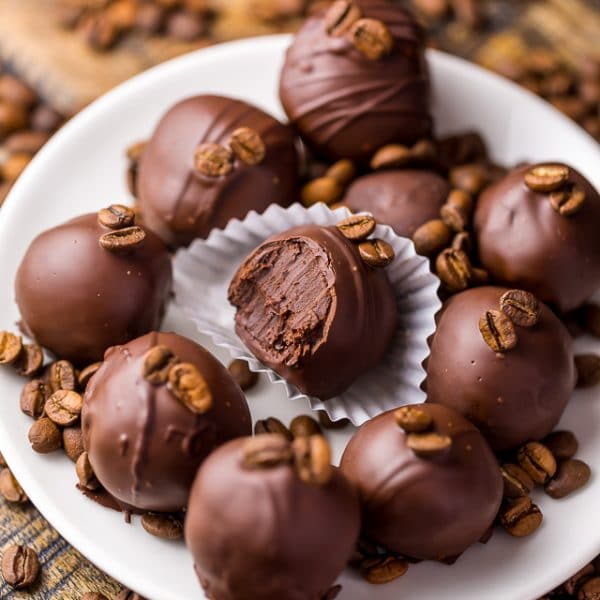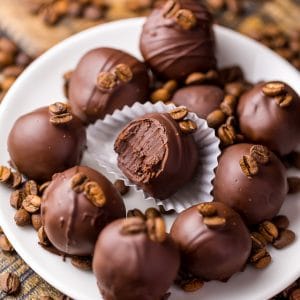 5-Ingredient Espresso Chocolate Truffles
Rich, creamy, and caffeinated, these 5-Ingredient Espresso Chocolate Truffles are a coffee lovers dream come true!
Ingredients
For the Espresso Chocolate Truffles:
2 and 2/3 cups (454g/16 ounces) semi-sweet chocolate, finely chopped
1 cup (227g/8 ounces) heavy cream
2 teaspoons espresso powder
6 Tablespoons unsalted butter, cut into small cubes and at room temperature
For the Chocolate Coating:
2 and 2/3 cups (454g/16 ounces) semi-sweet chocolate, finely chopped
72 espresso beans or coffee beans
Instructions
For the Espresso Chocolate Truffles:
Place chopped chocolate in a  medium-sized heatproof bowl and set aside.

In a small saucepan over medium heat, bring the cream to a boil. Once it begins to boil, remove cream from heat and whisk in the espresso powder.

Pour the cream over the chopped chocolate and allow the mixture to sit, untouched, for two minutes, then whisk smooth. Stir in the butter and vigorously whisk until smooth and shiny.

Cool to room temperature, then tightly cove the bowl with plastic wrap and refrigerate for 2 hours, or until firm enough to scoop.

Before you begin rolling your truffles, make sure you have enough room in your refrigerator for both baking sheets; the truffles must chill again before being dipped in the chocolate coating.

Line two large baking sheets with parchment paper and set them aside.

Scoop out about 3 teaspoons of the truffle filling and quickly roll it between your hands to form a ball. Transfer to the prepared baking sheet, and repeat with all truffles. Refrigerate the rolled truffles for at least 20 minutes before dipping in the chocolate.

In the meantime, you can temper your chocolate.
For the Chocolate Coating:
Fill a medium pot one-third full with water and bring it to a low simmer over medium heat. Place a heatproof bowl that will fit on top of the pan snugly, but will not touch the simmering water, on top of the pan. Reduce the heat to low and place two-thirds of the chocolate into the bowl. Place a candy thermometer into the chocolate and let it melt, stirring frequently with a silicon spatula. *Do not let the temperature of the chocolate exceed 120°F.

Once the chocolate has fully melted, remove the bowl from heat, but keep the pot of simmering water on the burner. Wipe the bottom of the bowl to remove any condensation.

Stir in the remaining chocolate, a little bit at a time, allowing what you've added to completely melt before adding more.

Set aside and allow the chocolate to cool to 82°F. Once the chocolate has reached 82°F, place it back over the simmering water and reheat to a temperature between 88°F and 91°F. Remove the bowl from heat once you have reached the correct temperature. The chocolate should be smooth and glossy, with no streaks.

Using a fork or candy dipper, dip each truffle in the chocolate, allowing excess chocolate to drip back into the bowl before transferring it back to the parchment paper line baked sheet. Top each truffle with two espresso beans.

Set aside and allow the chocolate to set before serving, about 1 hour.

Store in an airtight container, at room temperature, for up to 1 week.