Rich and Creamy Grand Marnier Truffles are made with just 8 simple ingredients. Spiked with orange-flavored liqueur, they make a delicious gift to give during the holiday season! A must try for anyone who loves the combination of orange and chocolate.
Grand Marnier Truffle Recipe
I love making chocolate truffles at home. It feels so indulgent, ya know? And let's be honest, a little fancy, too. Especially if you can get your hands on some really quality dark chocolate! I find good chocolate truly makes all the difference when it comes to making creamy truffles.
How to make Grand Marnier Chocolate Truffles
Today I'm super excited to share with you these simple Grand Marnier laced chocolate truffles. They're pretty, decadent, and make great gifts for the chocolate lovers in your life. A good thing to keep in mind now that the holidays are a comin'!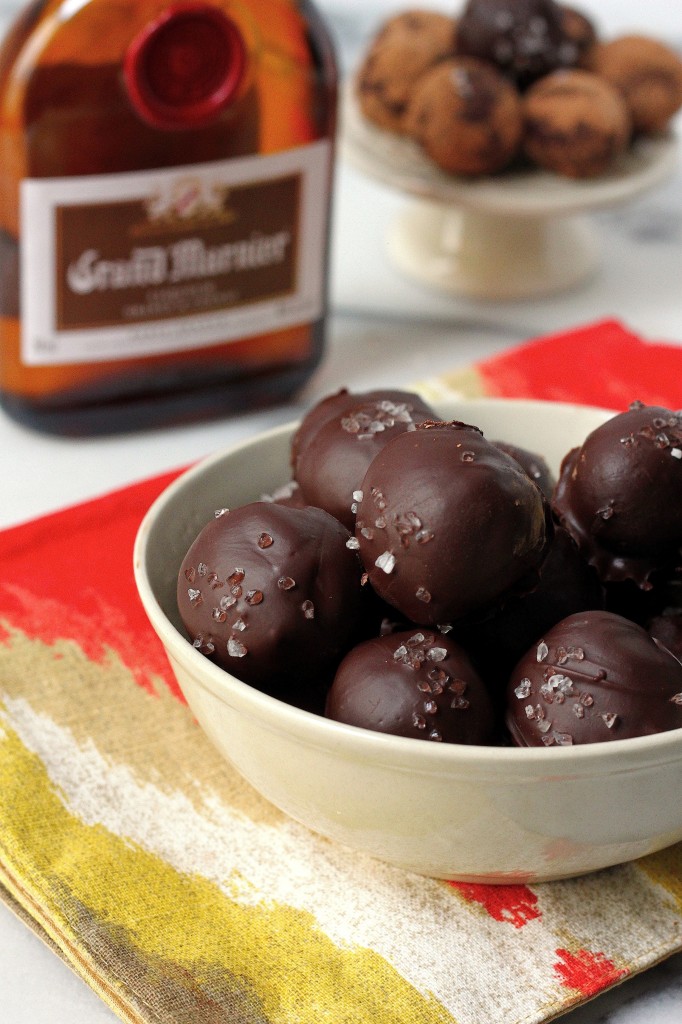 These truffles are SUPER rich, not too sweet, and topped with just a kiss of flaky sea salt. I love the way sea salt rounds out sweetness! And it looks pretty sprinkled on top of these dark little rounds of decadence.
More Grand Marnier Recipes:
I hope you guys will give them a try, even (or especially) if they're just a gift to yourself! xo
Grand Marnier Truffles
Rich and Creamy Grand Marnier Truffles are made with just 8 simple ingredients. 
Ingredients
12 ounces dark chocolate, chopped
2/3 cup heavy cream
5 tablespoons unsalted butter
1/4 cup Grand Marnier
1/2 cup cocoa powder
5 ounces semi-sweet chocolate, chopped
1 teaspoon vegetable or coconut oil
2 teaspoons flaky sea salt
Instructions
Chop the dark chocolate into very tiny pieces and place in a large heat proof bowl.

Heat the heavy cream and butter in a small saucepan over medium heat until gently simmering.

Remove from the heat and pour the mixture over the chopped chocolate ; stir well to combine, whisking until chocolate is completely melted.

Gently stir in the grand marnier.

Pour the mixture into a small glass baking dish and set in the refrigerator for at least 2 hours.

Using a melon baller, scoop small chocolate balls onto a parchment paper lined sheet pan lined and return to the pan back in the refrigerator for another 45 minutes.

Place the cocoa powder on a large clean plate; set aside.

While the chocolate is setting, combine the 5 ounces of semi-sweet chocolate and the oil into a microwave-safe mixing bowl, and microwave for 15 seconds.

Stir, and continue to heat on 15 second increments until the chocolate is completely melted and can be whisked smooth.

Remove the truffles from the refrigerator, roll each one in the cocoa powder, and shape into balls by rolling between the palms of your hands. Add more cocoa powder if they get too sticky.

Place truffles, 1 at time, on a small spoon or scoop and roll around in the melted chocolate until coated. Repeat until all truffles are coated.

Place coated truffles back on the parchment paper lined baking sheet, and sprinkle with sea salt.

Allow truffles to set in a cool dry place for at least 1 hour before serving, or store in an airtight container in the refrigerator. If storing in the refrigerator, bring to room temperature before serving.