Baked in a muffin pan, these Mini Espresso Cheesecakes are bite-sized and perfect for sharing! Featuring a crunchy cookie crust, coffee flavored cheesecake filling, and gooey chocolate espresso topping… they're always a crowd-pleaser! And much easier than baking a regular size cheesecake.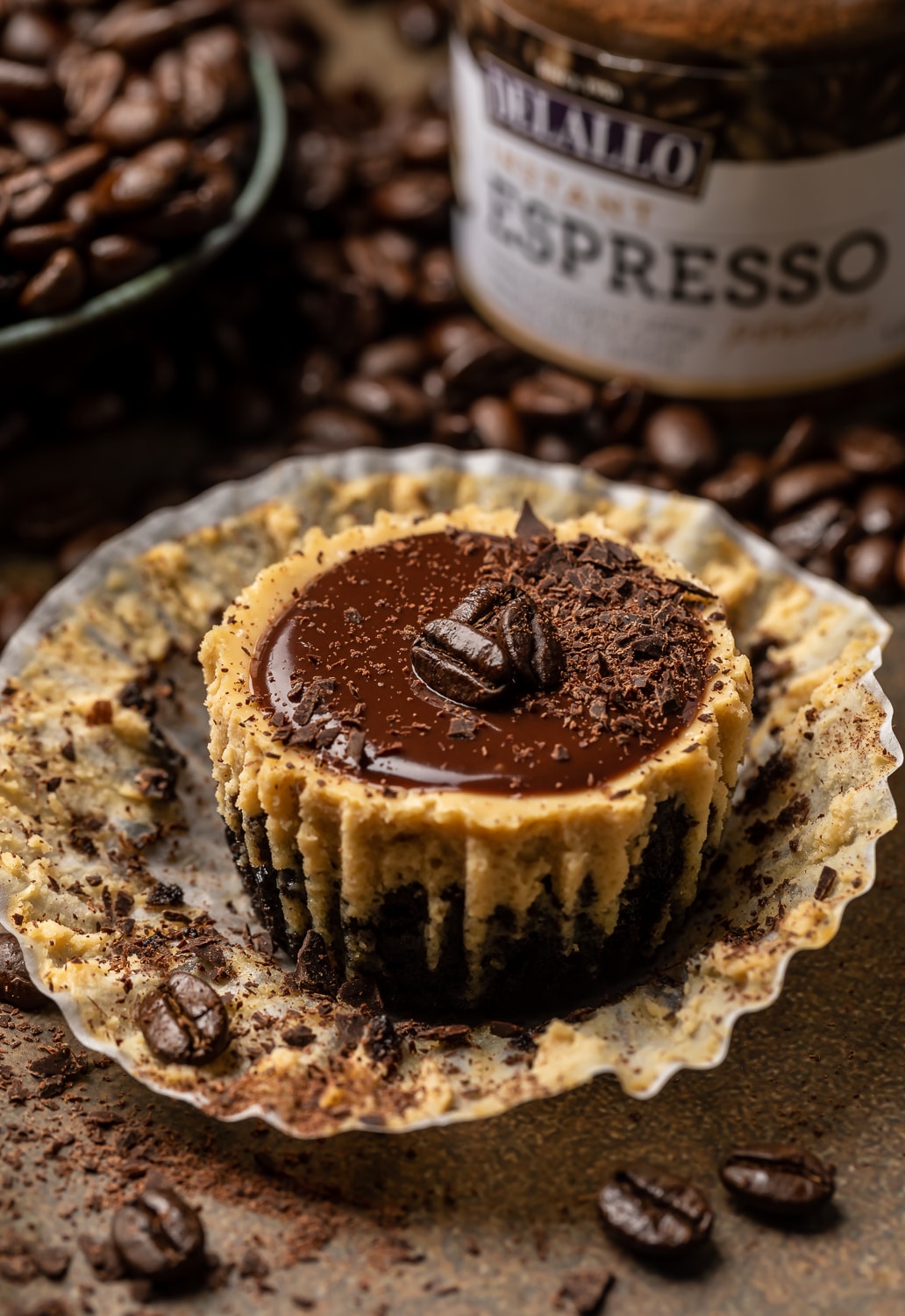 Espresso Mini Cheesecakes
This recipe combines 3 of my all-time favorite things: coffee, cheesecake, and chocolate.
But between you and me, this recipe is really all about the coffee! Because the star ingredient – the one makes each component of this recipe just SING with flavor – is ESPRESSO POWDER! And not just any espresso powder…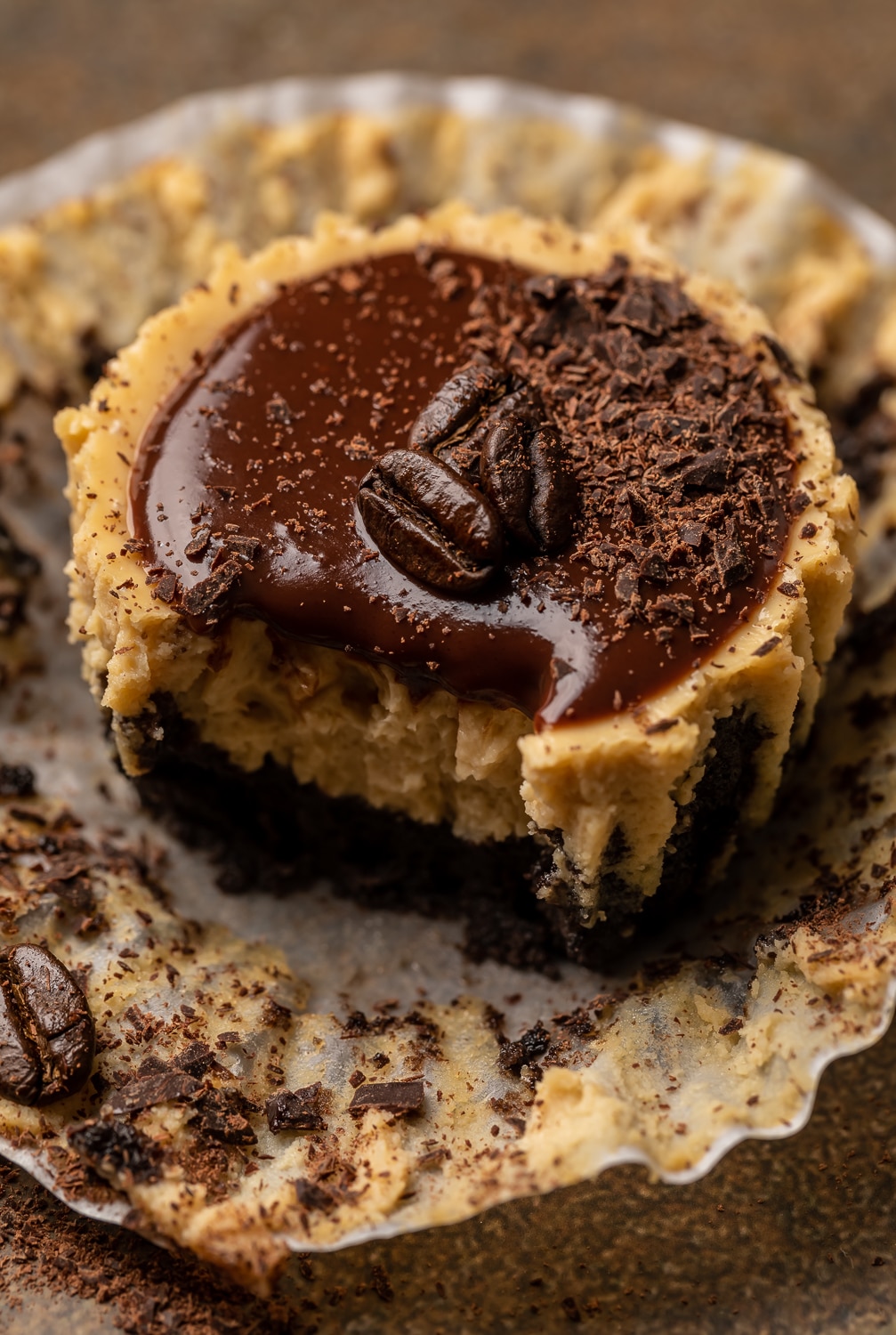 But the one and only DeLallo Espresso Powder! Aka the only espresso powder you'll ever find in my pantry.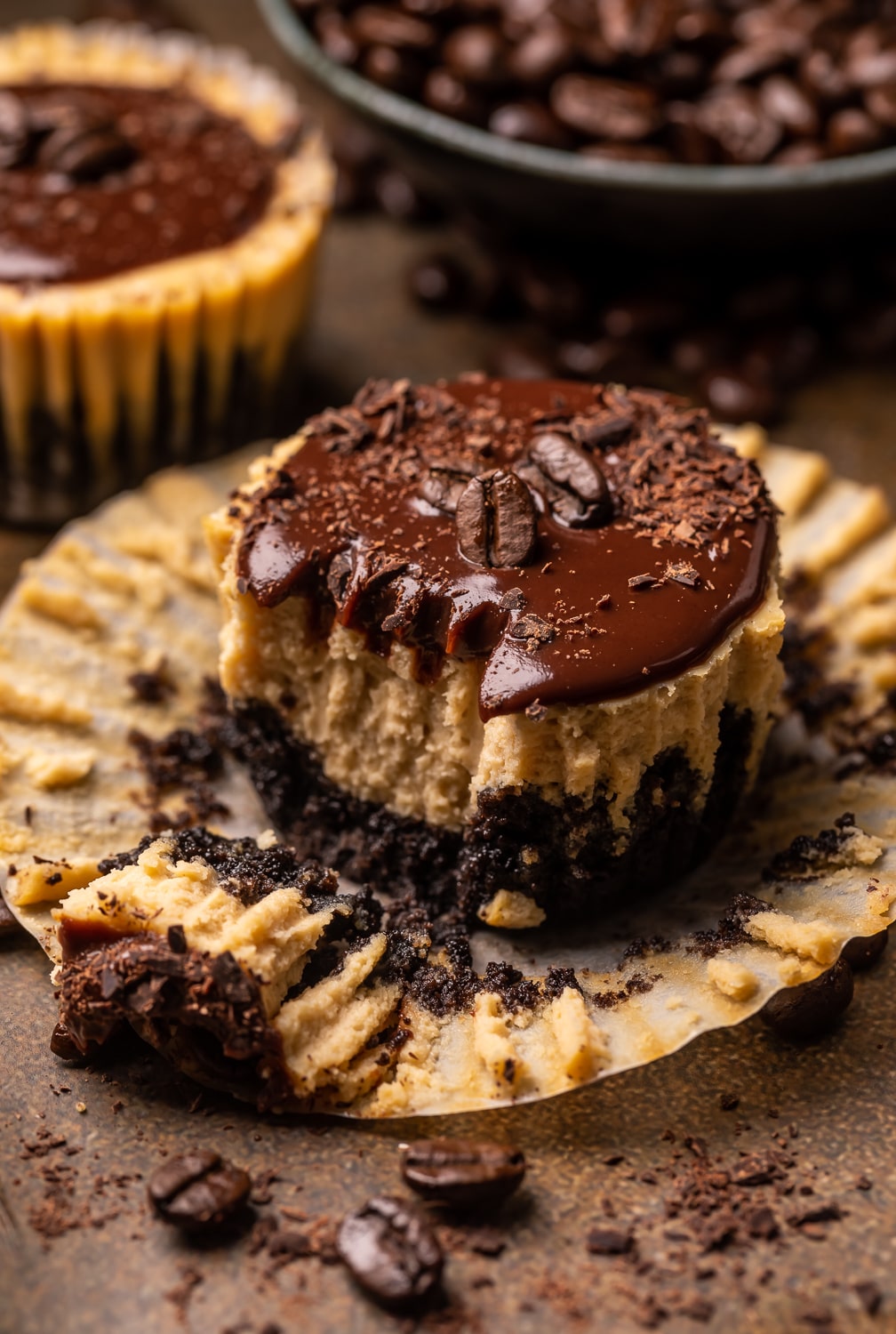 I'm so thrilled to be partnering with them on this post. And even more thrilled for you to try their instant coffee espresso powder, if you haven't already. Its flavor is rich, dark, and sure to enhance any recipe calling for it. You can even add a dash to chocolate chip cookies for a fun coffee twist on the classic.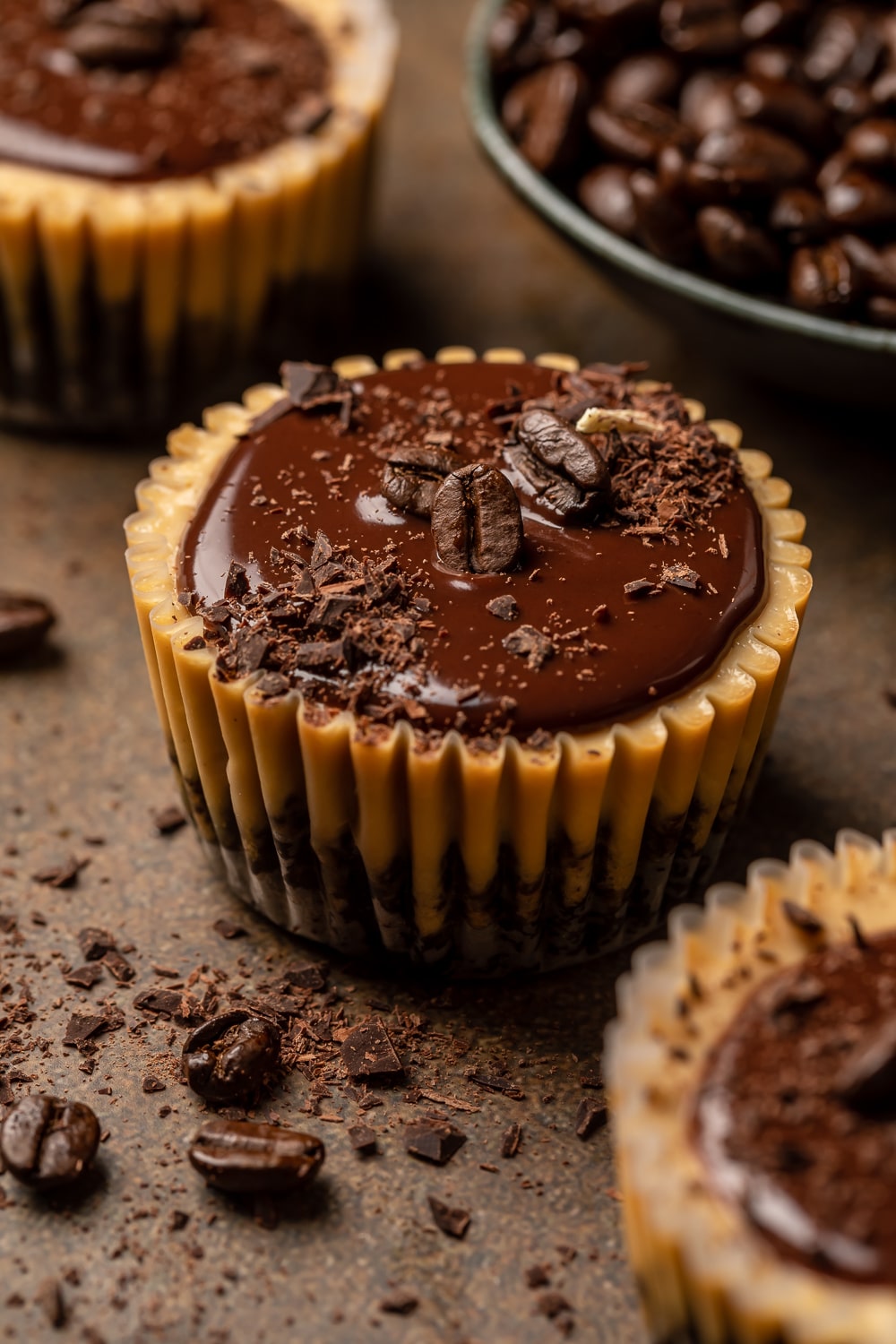 What you'll Need:
Espresso Powder: You'll use this in the crust, cheesecake filling, and chocolate ganache topping! Don't worry, it doesn't make the cheesecakes overly potent with coffee flavor. Instead, it enhances the chocolate flavor in the crust and ganache, and creates an espresso mocha cheesecake filling. It's divine! 
Oreo cookies: Crushed into fine crumbs. You can use a food processor or high-powdered blender to do this. Be sure to use regular Oreo cookies, not double stuffed or any other variety. 
Melted Butter: For best results, use unsalted butter. But in a pinch, salted butter will work.
Cream Cheese: You'll want to use the brick-style cream cheese. Make sure it's full-fat and at room temperature before use! If the cream cheese is too cold, it'll clump up and could even damage your food processor. 
Sour Cream: If you can't find this ingredient, full-fat plain Greek yogurt will work.
Granulated Sugar: Our sweetener. Do not decrease the amounts called for or your cheesecake will taste bitter.
Vanilla Extract: Be sure to use real pure vanilla, and not imitation or artificial extract.
Egg: You'll need an egg and an egg yolk. You may discard your egg white or save it for another recipe.
Heavy cream: Aka whipping cream. This ingredient should not be substituted!
Coffee liqueur: This gives our mini cheesecakes an espresso martini vibe. But if you don't consume alcohol, feel free to omit.
Muffin Tin: You'll need a regular standard size muffin tin for this recipe. You probably could make mini or jumbo sized mini cheesecakes, but the serving size and baking time would definitely vary. 
Muffin Tin Liners: You must line your muffin tin with paper liners, otherwise it'll be very messy and almost impossible to remove the cheesecakes from the muffin tin. 
Electric Hand Mixer: Or food processor, stand mixer, or heavy-duty blender to make the batter. Unfortunately, you cannot make the cheesecake crust and filling without one of this appliances, so make sure you have one on hand!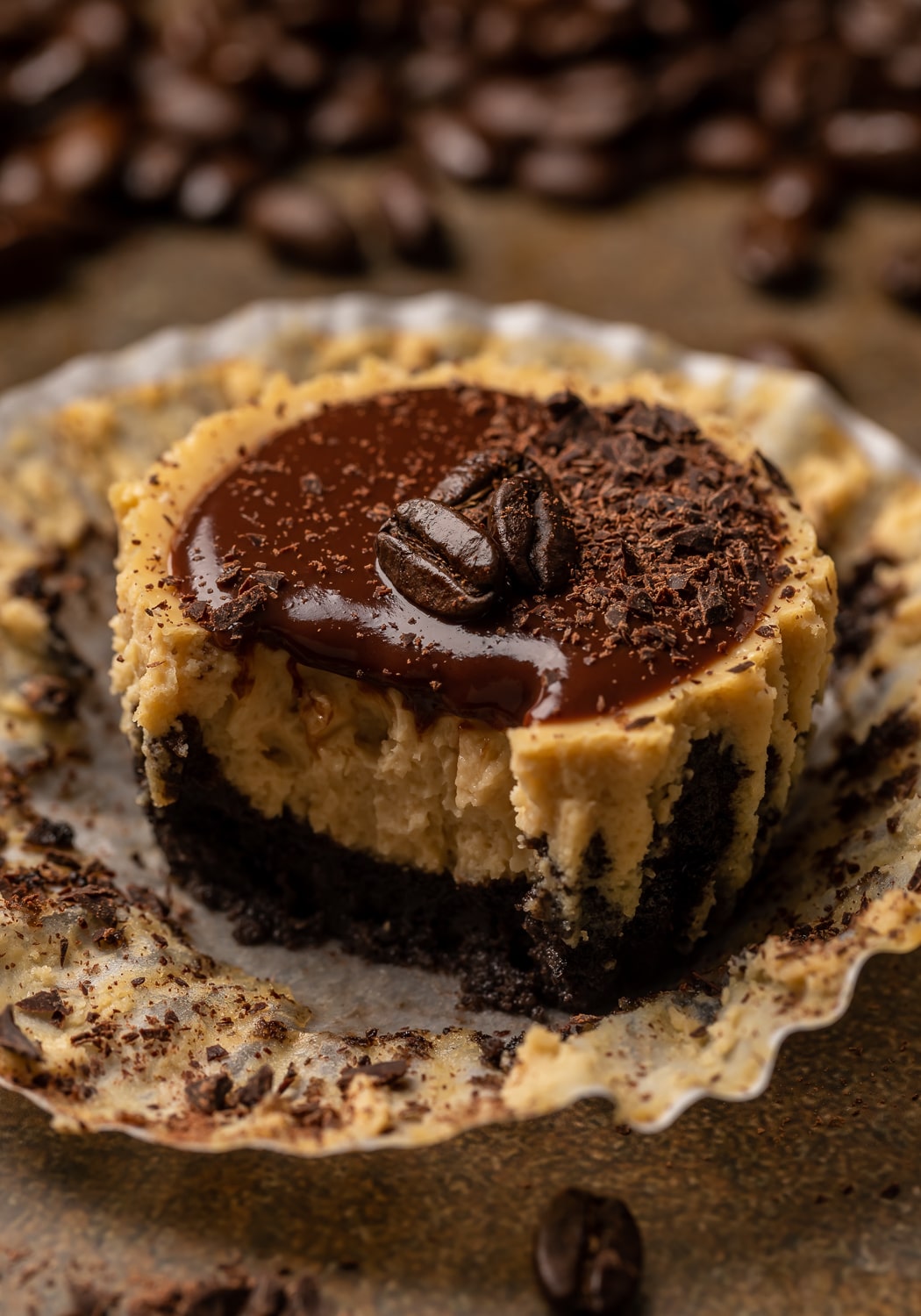 Cheesecake Tips and Tricks:
Bake the Oreo cookie crust first. This step can be tempting to skip, but it helps avoid a soggy bottom! And don't forget to reduce the oven temperature once the crust is done baking.
Spray the liners with nonstick baking spray. Consider this your insurance policy to the mini cheesecakes easily coming out of the pan and wrappers.
Be sure to use all room temperature ingredients. Cold ingredients don't bond!
Once you add the eggs to the batter, mix only on low speed! Over mixing will allow too much air into the batter, which will cause the cheesecakes to puff up in the oven, then deflate once they're removed from heat.
If you're not a chocolate ganache fan, feel free to use a whipped topping instead. You can make homemade whipped cream by beating heavy cream and a little confectioners' sugar in a large bowl until stiff peaks form. Super easy!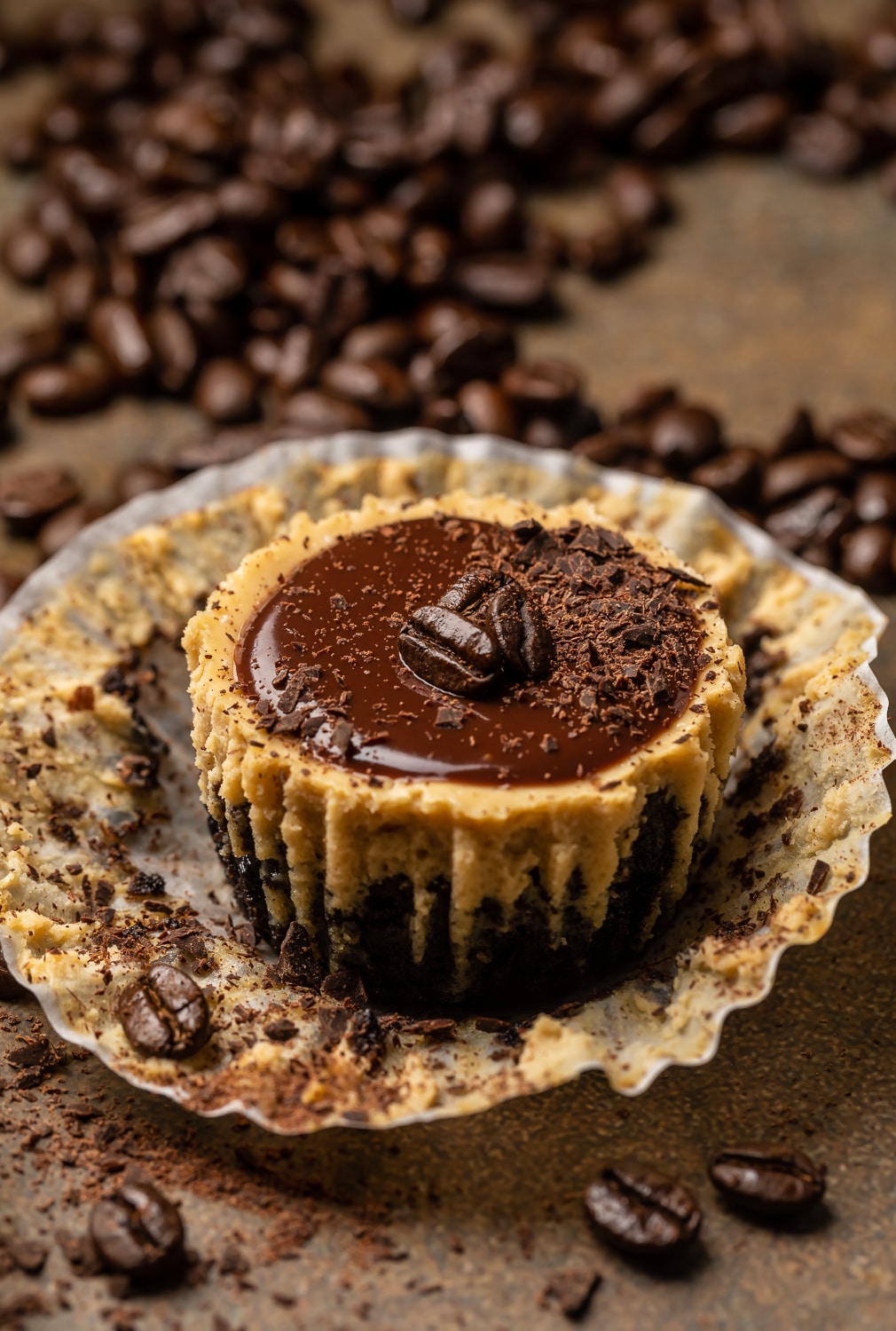 Although this is a brand new cheesecake recipe, they're already a family favorite in our house! We had my husbands family over for dinner last week and they literally flew off the dessert tray. Even my 11 year old niece loved these mini coffee cheesecakes!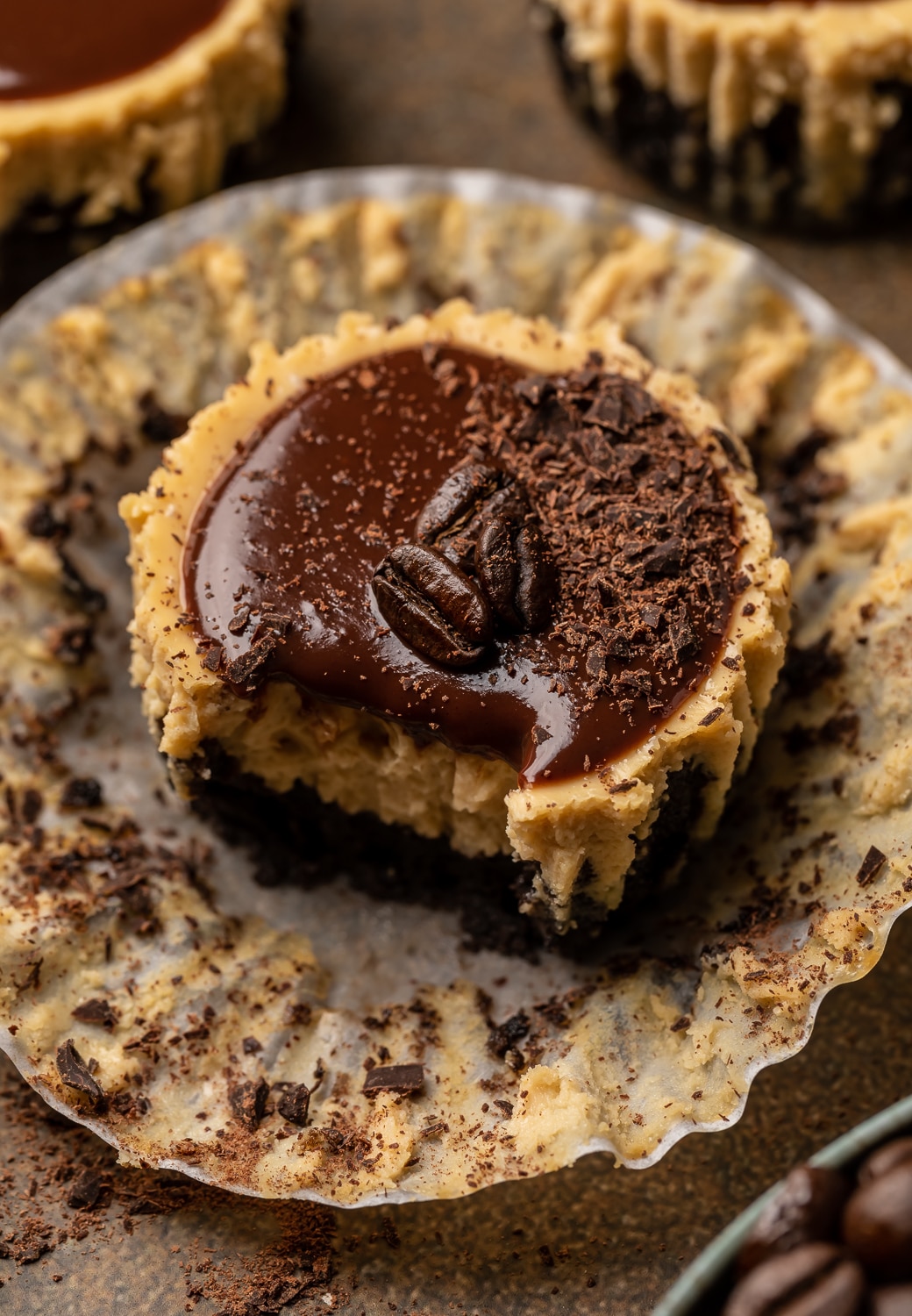 The ones that were topped with extra shaved chocolate and espresso beans were definitely a crowd favorite, so I can't recommend taking those extra steps enough! A little garnish goes a long way!
More Espresso Recipes: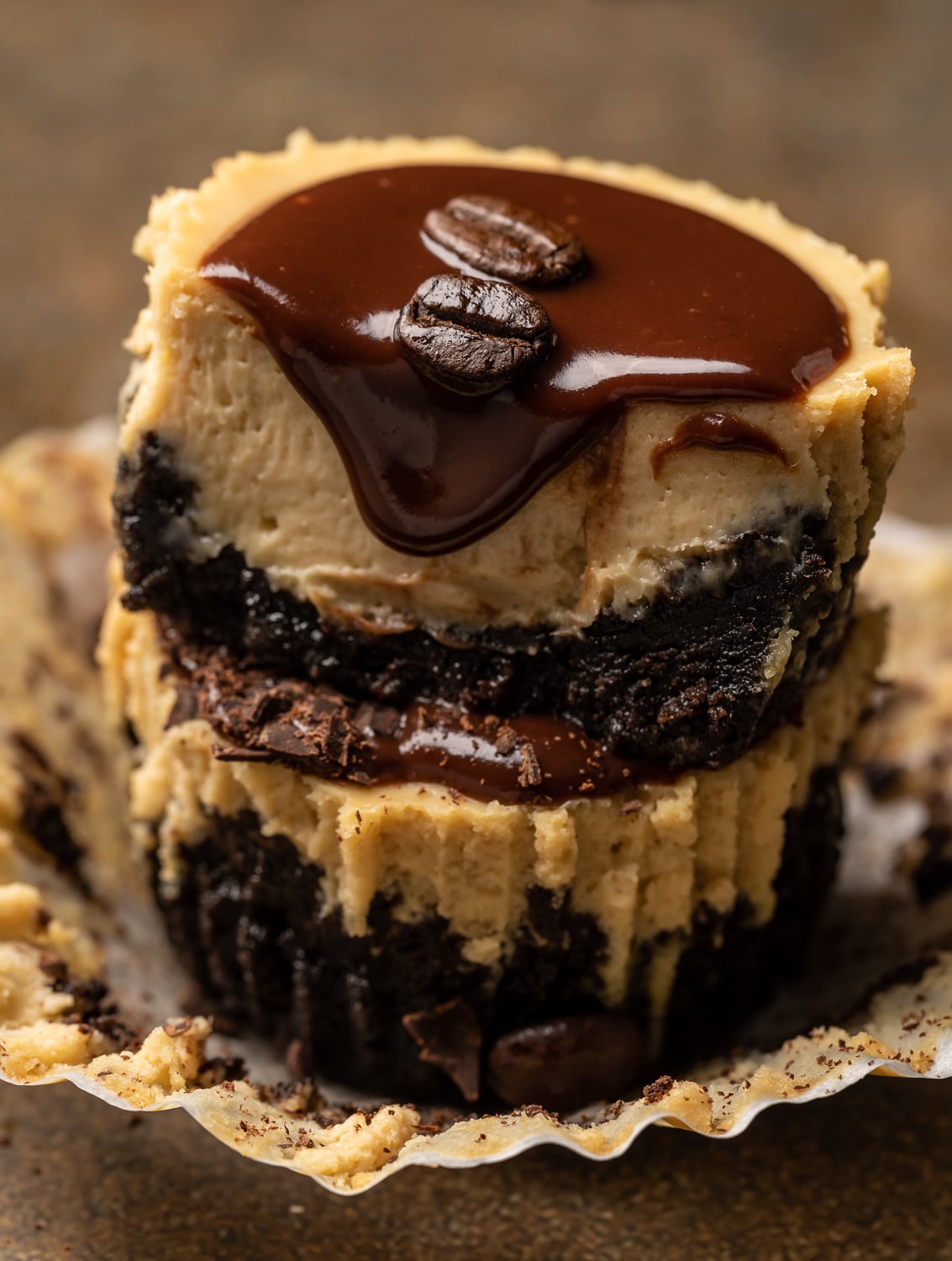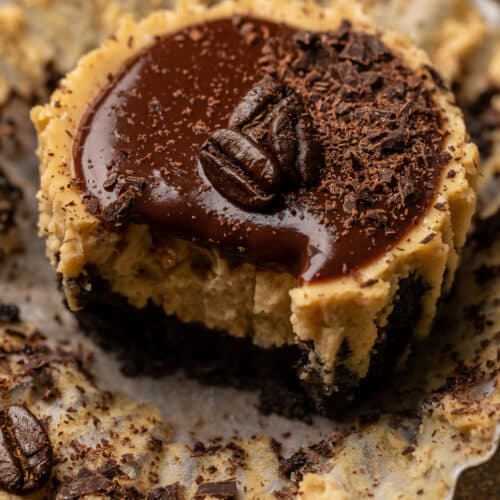 Mini Espresso Cheesecakes
Baked in a muffin pan, these Mini Espresso Cheesecakes are bite-sized and perfect for sharing! Featuring a crunchy cookie crust, coffee flavored cheesecake filling, and gooey chocolate espresso topping... they're always a crowd-pleaser!
Ingredients
For the Crust:
20 regular sized Oreo cookies
1/2 teaspoon DeLallo espresso powder
1/4 cup (57g) unsalted butter melted
For the Cheesecake:
12 ounces (340g) full-fat cream cheese very soft
1/3 cup (76g) sour cream room temperature
1/2 cup (99g) granulated sugar
1 teaspoon vanilla extract
1 large egg room temperature
1 large egg yolk room temperature
1/4 cup (57ml) heavy cream room temperature
1 and 1/2 Tablespoons (21ml) Kahlua liqueur or similar coffee liqueur optional
1 and 1/2 teaspoons DeLallo espresso powder
For the Ganache:
6 ounces semi-sweet chocolate finely chopped
1/2 cup (113ml) heavy cream
1/2 teaspoon DeLallo espresso powder
espresso beans for garnish, optional
shaved chocolate for garnish, optional
Instructions
For the Crust:
Preheat oven to 325 degrees (F). Line a 12-mold cupcake pan with paper liners. Spray liners lightly with non-stick baking spray and set aside until needed.

Place the Oreo cookies in the body of a small food processor - or blender - and pulse until the cookies are very fine crumbs.

In a large bowl, combine the cookie crumbs with the espresso powder and melted butter and stir well to combine.

Divide the mixture evenly between the cupcake liners and press it firmly into the bottom - and slightly up the sides - of each mold.

Bake crusts in preheated oven for 5 minutes. Remove from the oven and place the tins on a wire rack to cool while you make the filling. Reduce oven to 300°F.
For the Cheesecake:
In the bowl of a food processor, or in a large bowl using an electric hand held mixer, beat the softened cream cheese and sour cream until very smooth.

Add in the sugar and vanilla and beat smooth, scraping down the sides and bottom of bowl as needed. 

On low speed, add in the egg and egg yolk and beat until juts combined. Do not over mix.

Turn the mixer off and, using a rubber spatula, gently stir in the cream, Kahlua, and espresso powder, mixing until evenly combined.

Divide the filling evenly among cups, pouring it on top of the prepared crust layer. The molds will be very full.

Bake in preheated oven for 16 minutes, then turn off the oven and leave the door closed for another 10 minutes.

Remove the pan from the oven and place the pan on a wire rack to cool completely. Once cool to the touch, place the pan in the fridge to chill for at least 2 hours.

Once the cheesecakes are completely cool, you can remove them from the pan. Store in the refrigerator, in an airtight container, until needed. Cheesecakes will keep for 5 days.
For the Ganache:
Place the chopped chocolate in a small heatproof bowl. Set aside.

Place the heavy cream in a small saucepan and bring to a simmer over medium-heat As soon as the cream reaches a full simmer, remove from heat and pour over the chopped chocolate.

Allow the mixture to sit for 1 minute, then add in the espresso powder and vigorously whisk until completely smooth and shiny. Allow ganache to cool for 5 minutes before use.

Top each cooled mini cheesecake with a tablespoon of chocolate ganache and decorate with espresso beans and shaved chocolate, if desired.

Serve at once, or place in the fridge until needed.