Peanut butter lover's go crazy over these 5-Ingredient Flourless Peanut Butter Blossoms! Soft, chewy, and stuffed with a chocolate hershey kiss. They're the perfect Christmas cookie!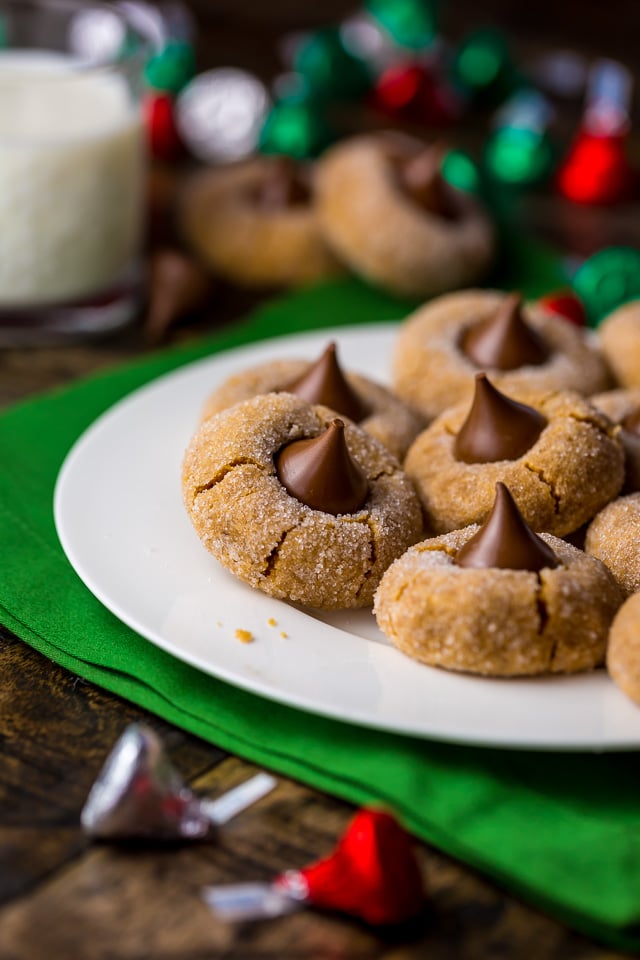 Flourless Peanut Butter Blossoms
To combat the chilly bite beginning to linger in the air, I've been thinking a little "outside" the box. I – successfully – attempted to remedy the lingering chill last week by popping a pan of cinnamon buns in the oven. That worked for a few days. The initial baking process warmed the front rooms, and the constant reheating – there really is nothing quite like a HOT cinnamon bun – kept us cozy and full. But alas, we woke yesterday to find an empty cinnamon roll tray (apparently this place also came with a little dessert monster who gobbles trays of goodies in the middle of the night and doesn't put the pan in the sink because SURELY my better half wouldn't do something like that…) and a cold kitchen that needed some love. Obviously this meant it was time for me to get baking again.
This time I decided to go easy on myself and a make a recipe that couldn't be simpler. Peanut butter blossoms! Not only do they reign supreme as king in the cookie realm, but this recipe in particular includes a sugary coating and a chocolate finish. Did I mention these babies need no chill time, include only 5 basic ingredients, and take a mere 10 minutes in the oven? I think you may just fall in love with these peanut butter beauties!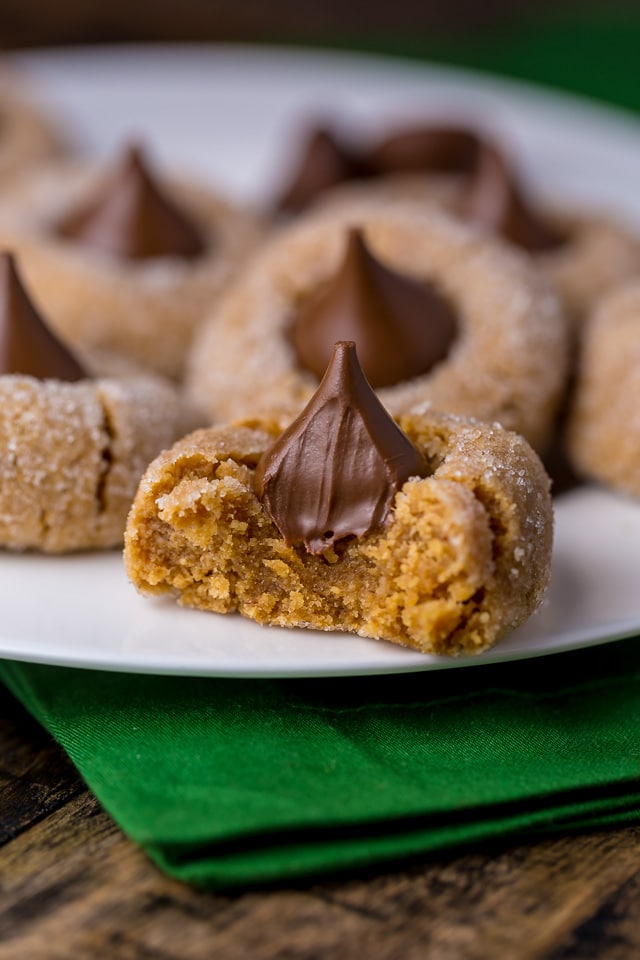 Peanut Butter Blossoms
Also. You can choose to top your cookies with a chocolate kiss or a peanut butter cup. So ya know… hooray for options! My mama sometimes makes these and adds chopped chocolate chunks/chips, and that's pretty good, too.
A few humble words of advice to help you towards your baking success:
1) Please do not over bake these cookies! They only need 10 minutes, and although they exit the oven quite soft, they cool on the tray, and really firm up in the process.
2) I always find it helpful to unwrap whatever chocolate you're using while the cookies are baking, so that you have them ready to-go the second the cookies come out of the oven. This way you're not fumbling with foil wrappers as your cookies are cooling. You want the chocolate to hit the hot cookie center asap 😉
3) This recipe makes about one dozen cookies, but doubles effortlessly. So don't be shy to double up if you're feeding a crowd. Just be sure to really mix the dough before scooping. This dough does not contain flour, so don't be afraid to get your hands in there and really mix!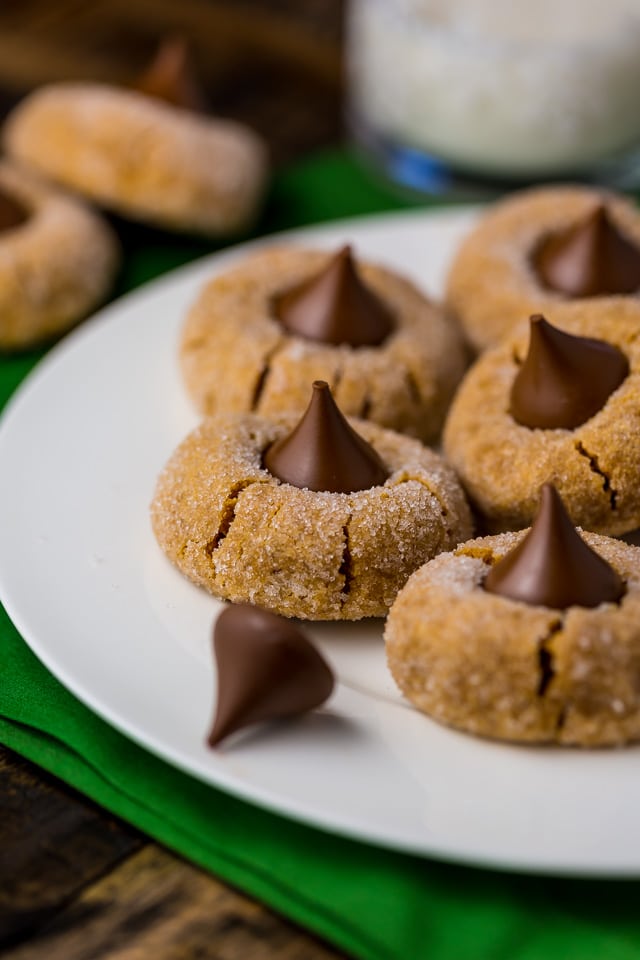 These cookies are sure to bring a wave of comfort into your home! So go get baking 😉 You can thank me later! xoxo
More Peanut Butter Recipes: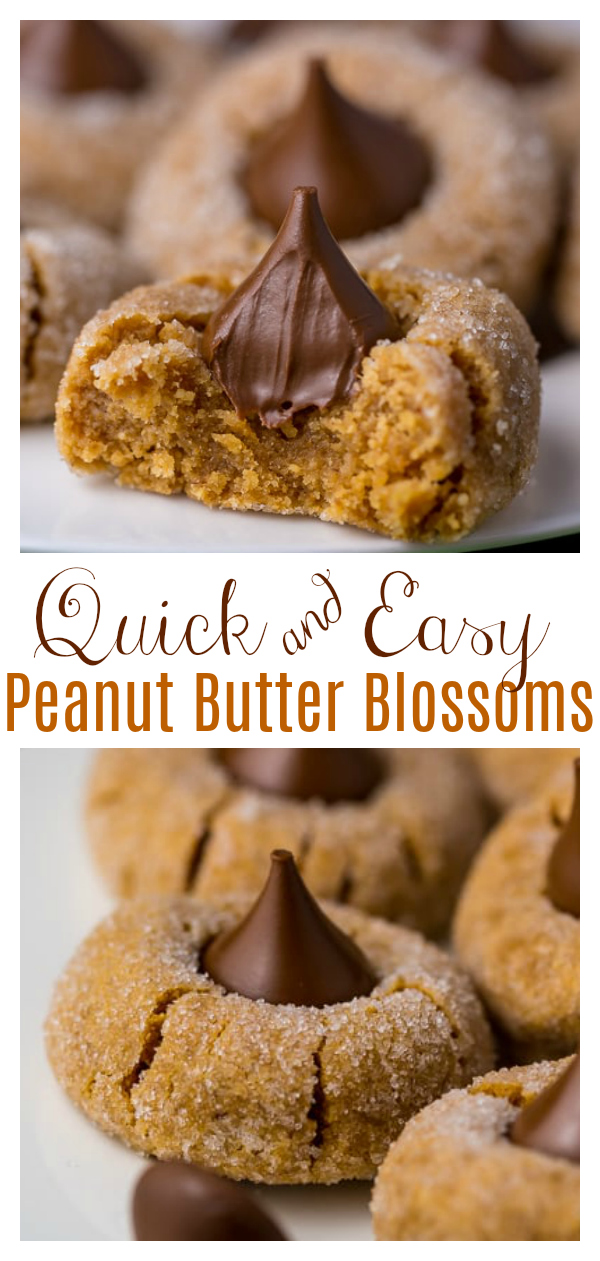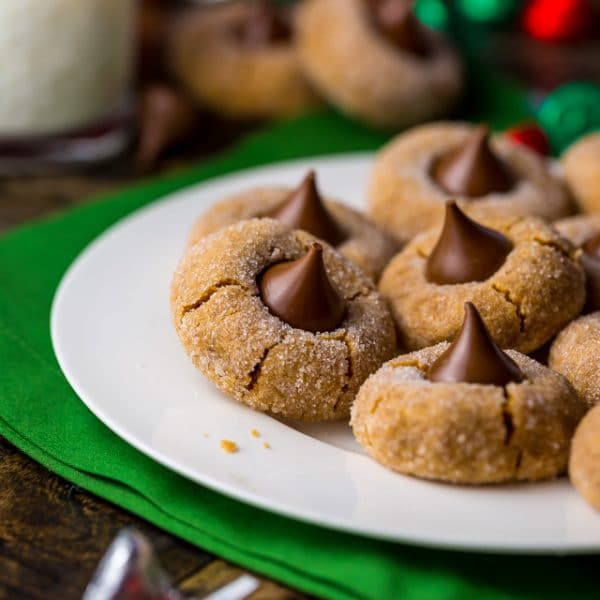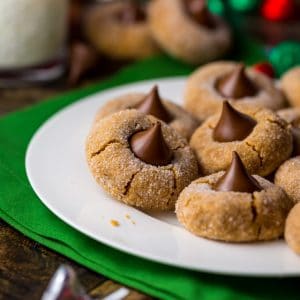 5-Ingredient Flourless Peanut Butter Blossoms
Ingredients
1 cup creamy peanut butter
1/2 cup granulated sugar + 2 tablespoons; divided
1 large egg, at room temperature
1/2 teaspoon salt
12 chocolate kisses or peanut butter cups
Instructions
Preheat oven to 350 degrees (F). Line a large baking sheet with parchment paper; set aside.

In a large bowl combine the peanut butter, 1/2 cup sugar, egg, and salt. Mix well until thoroughly combined.

Using an ice cream scoop or 1 tablespoon measuring spoon, scoop out rounds of dough, roll them in a ball, then roll them in the remaining 2 tablespoons of sugar.

Place balls of dough on prepared cookie sheet, leaving an inch of space in between each cookie.

Place pan in preheated oven and then reduce heat to 325 degrees (F). Bake for 10 minutes. Remove pan from oven, press desired candy choice in the center of each cookie, then allow the cookies to cool on the pan for 10 minutes before carefully transferring them to a cooling rack to cool completely.