These are the BEST Soft Batch Chocolate Chunk Peanut Butter Cookies! Made with brown sugar, creamy peanut butter, and high-quality chocolate, these cookies are sure to become a family favorite!!! A must try for peanut butter lovers!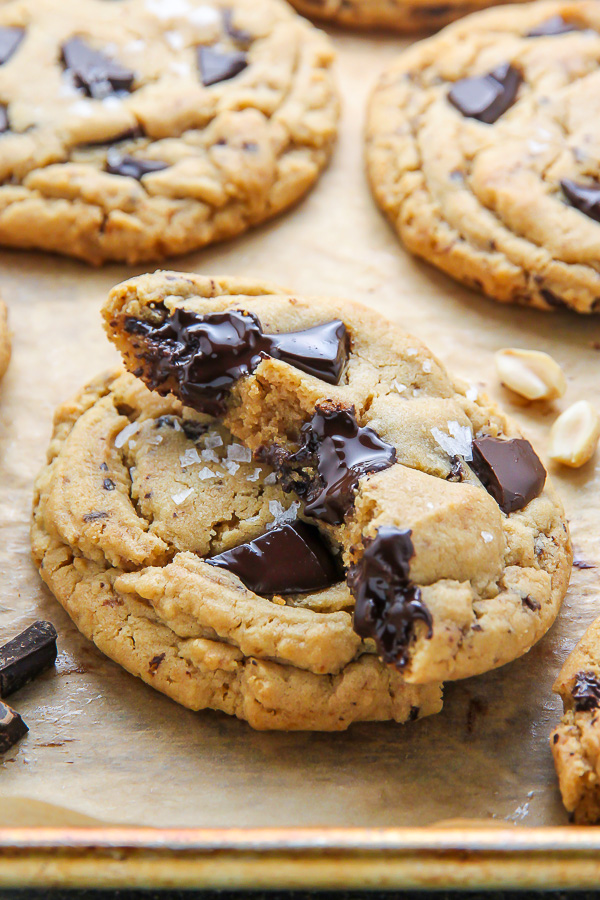 Soft Batch Peanut Butter Chocolate Chunk Cookies
Hello hello! I'm sharing this post with you a little late in the day, but I'm SO excited to show you these soft batch peanut butter cookies that I just couldn't wait another minute longer.
I've been working on perfecting this cookie recipe for a few months now. I wanted needed them to be:

MY RECENT VIDEOS
ultra thick
crispy at the edges
exploding with peanut butter flavor
not cloyingly sweet
made in one bowl
loaded with gooey chocolate chunks
easy
and AMAZING
After endless fails, I finally found our winner. They're everything you could want in a peanut butter cookie and more!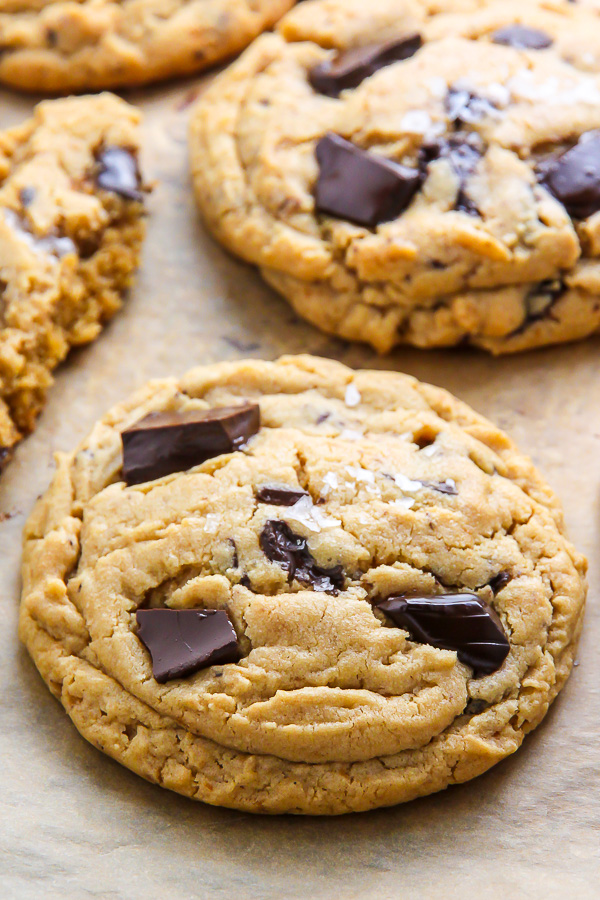 Nothing quite hits the spot like a warm from the oven peanut butter cookie oozing with melted chocolate chunks, especially when it's chased with a warm cup of coffee. So let's get down to all the need-to-know details. Just hold on one second. Gotta take this bite ↓↓↓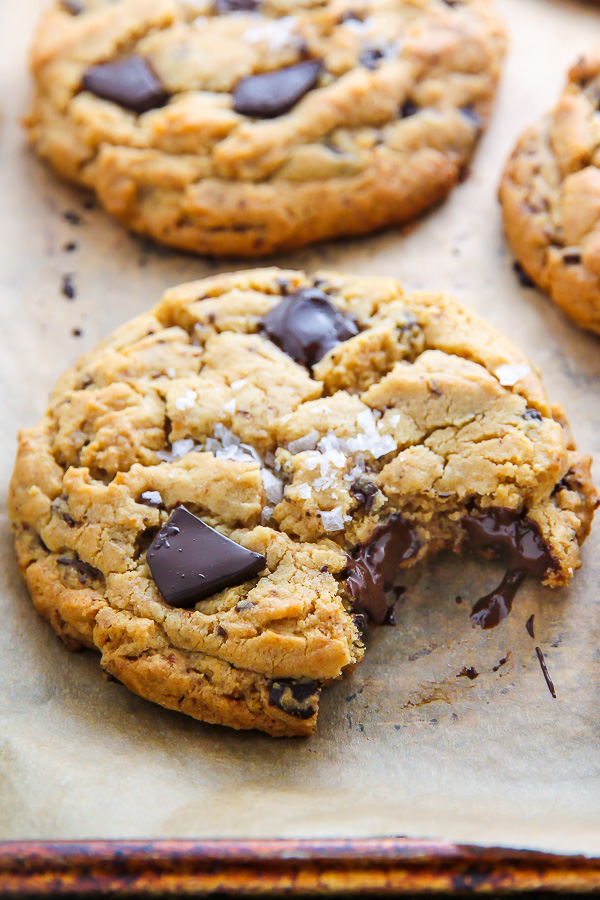 Oh baby. They literally melt in your mouth…
But I digress. Focus, focus! Today's recipe was inspired by a recent – and much needed – pantry clean out. After discovering a surplus of peanut butter (why do I have 9 unopened jars?!), making peanut butter cookies with a no-brainer. I also happened to have a ton of chocolate bars, so I decided to chop them up and make these cookies into a delicious chocolate + peanut butter situation.
For these peanut butter chocolate cookies you'll need butter, vanilla, peanut butter, light brown sugar, granulated sugar, eggs, all-purpose flour, baking powder, baking soda, salt, and chocolate chunks.
A few things you need to know about assembly:
The butter must be at room temperature before creaming. Then you will cream the butter with the peanut butter and vanilla. Make sure you beat these ingredients until they're nice and fluffy; about 2 minutes. I know that may seem like a long time, but trust me, this step is important.
Make sure your eggs are at room temperature, and add them in one at a time. Allow each egg to fully incorporate before adding the next one in.
When you add the dry ingredients into the mixing bowl, lightly toss them together on top of the wet mixture before fully incorporating them into the batter. And as always, be sure not to over mix.
Although I used dark chocolate in these cookies, you can use milk chocolate, semi-sweet chocolate, or even a combination of both.
I like to top each cookie with a few extra chocolate chunks before baking. Too much chocolate…? NEVER. I used Extra Dark Chocolate
for these cookies, but like I said earlier, you can use milk chocolate or semi-sweet chocolate if you prefer.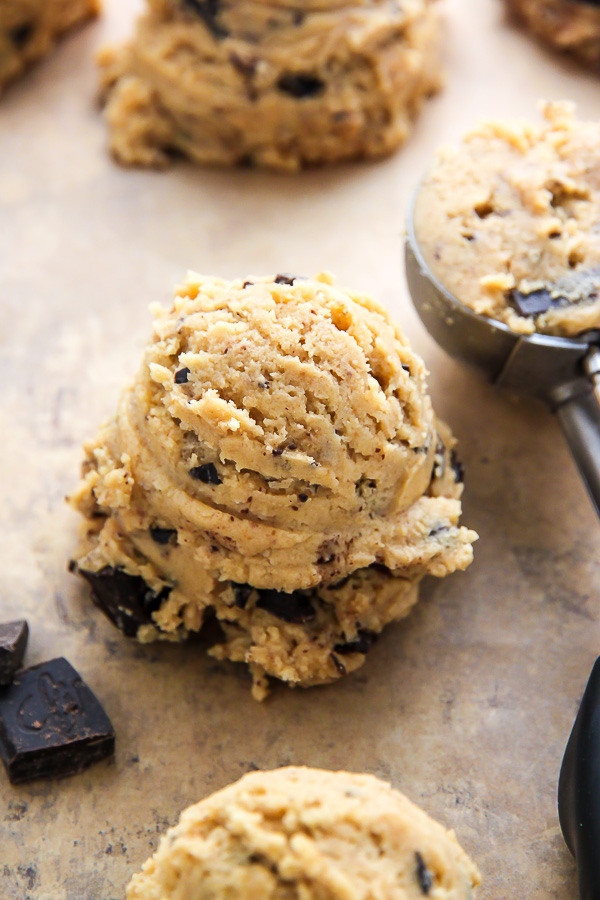 The finishing touch is a sprinkle of flaky sea salt. Totally optional but sooooo good. The sea salt adds a wonderful crunch and really helps balance out the flavor. If you like salty/sweet treats, you'll definitely want to include it. I use Maldon Sea Salt Flakes.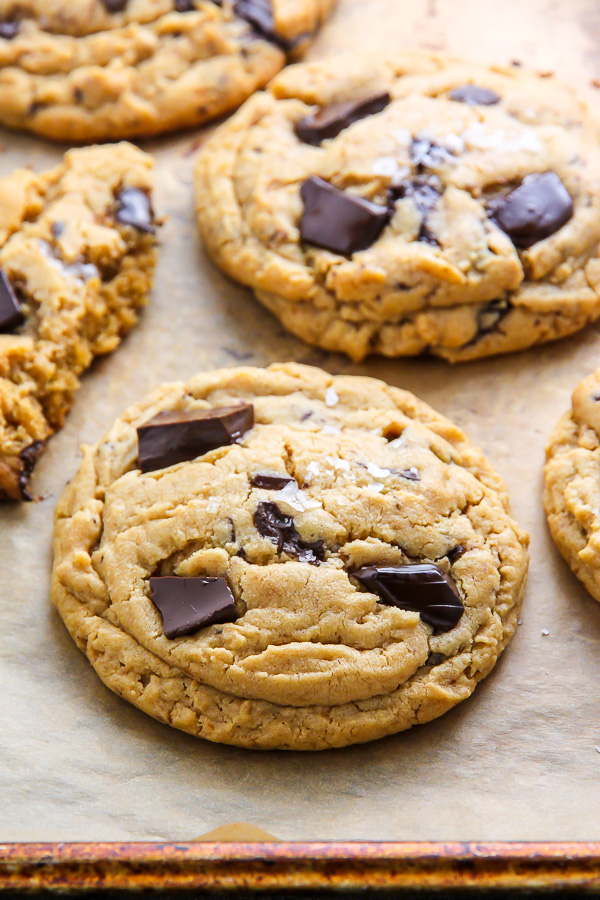 Enjoy, chocolate peanut butter lovers!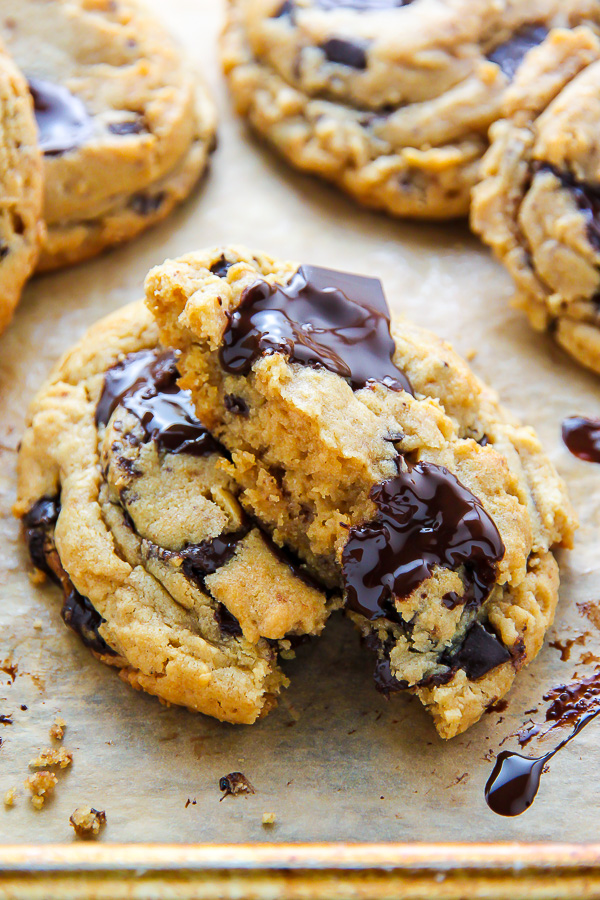 More Peanut Butter Recipes:
If you try this recipe for peanut butter choc chunk cookies, let me know! Leave a comment below and don't forget to snap a pic and tag it #bakerbynature on Instagram! Seeing your kitchen creations makes my day. ♥
Soft Batch Chocolate Chunk Peanut Butter Cookies
Yield 2 dozen cookies
Ultra thick soft batch peanut butter cookies loaded with chocolate chunks! Perfect with a cup of coffee or a cold glass of milk. These are the best peanut butter choc chunk cookies!
Ingredients
1 cup unsalted butter, at room temperature
1 cup creamy peanut butter, at room temperature
2 teaspoons pure vanilla extract
1 and 1/2 cups light brown sugar, packed
1/2 cup granulated sugar
2 large eggs, at room temperature
2 and 1/2 cups all-purpose flour (bleached or unbleached will work fine)
1 teaspoon baking soda
1 and 1/2 teaspoons baking powder
1/4 teaspoon salt (kosher or table salt)
8 ounces chocolate, chopped into chunks (see post for reference)
1 teaspoon flaky sea salt (see post for reference)
Instructions
In the bowl of a stand mixer fitted with the paddle attachment or in a large bowl using a handheld electric mixer, beat the butter until smooth and creamy. Add in the peanut butter and vanilla and beat until smooth; about 2 minutes. Add in both sugars and beat until light and fluffy, scraping down the sides as needed, about 2 minutes. Add in the eggs, one at a time, beating well after each addition. Turn mixer off. Add in the flour, baking soda, baking powder, and salt. Whisk the ingredients together lightly before turning the mixer back on low and mixing in the dry ingredients until just combined. Be sure not to over mix here. Turn mixer off and use a spatula to fold in the chocolate chunks. Cover the bowl and place it in the fridge for 30 minutes, or up to 2 days. If you refrigerate the cookie dough for more than 30 minutes, you will need to bring it back to room temperature before baking.
When ready to bake:
Preheat oven to 350 degrees (F). Line a large baking sheet with parchment paper. Scoop two tablespoon sized mounds of dough onto the prepared cookie sheet, leaving a few inches between each cookies for spreading. Bake for 12-14 minutes, or until the edges are golden and the centers have set. Cool cookies on the baking sheet for 5 minutes before transferring them to a cooling rack.
Notes
The total time above includes chill time.
Courses Dessert
Cuisine Cookies
Nutrition Facts
Serving Size 1-2 cookies
Amount Per Serving
% Daily Value
* Percent Daily Values are based on a 2,000 calorie diet. Your daily values may be higher or lower depending on your calorie needs.