Fact: I absolutely love playing around in the kitchen! Sometimes my crazy cooking experiments don't work out the way I plan… But other times… THEY DO. I obviously love it when that happens. It makes all the dirty dish disasters worth it 😉
I whipped up these thick and chewy cookies and cream cookies last week and WHOA did they deliver. These soft, chewy, 5-ingredient Oreo cheesecake cookies turned out exactly the way I had hoped. They're all cookie (think crispy edges and chewy center), but taste as smooth and creamy as cheesecake. They're totally addicting! 
Question: Are you a fan of kitchen experiments? Or do you prefer to stick straight to the recipe?

MY RECENT VIDEOS
Ok. So back to the cookies! This recipe is a total gem. Cookies that taste like cheesecake?! I mean, yes-yes-yes all the way home! The fact that they're a breeze to bake up and only require 5 ingredients only makes the deal sweeter 🙂 I am a huge fan of 5 ingredient recipes! Sometimes minimalism is best.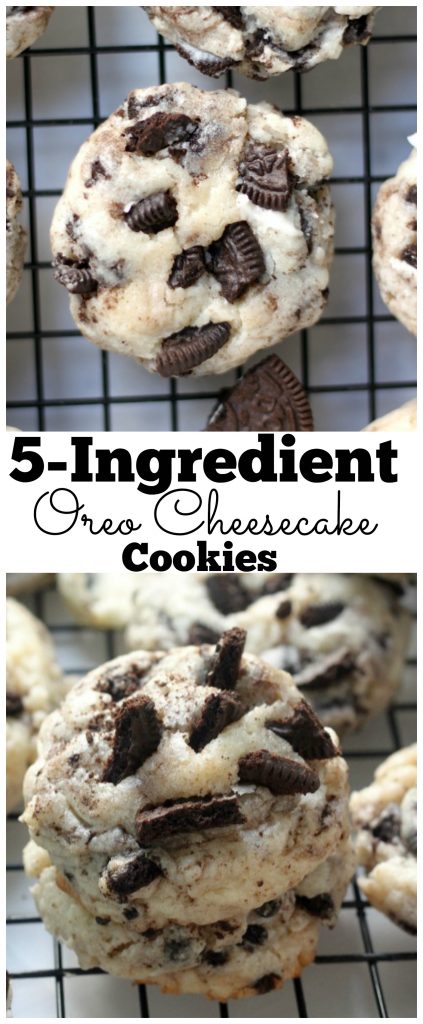 These cookies do need to cool completely before being removed from the tray, so be sure to have your patience hat ready 😉 It's so hard not to eat them all straight from the oven – I know! But I promise you these babies are worth the wait. Also, these cookies stay fresh for up to 4 days! Not that they'll last that long… I suggest doubling or even tripling this recipe if you're serving a crowd. I made a quadruple batch for nieces slumber party last week (14 boy CRAZY, funny, very load teenage girls – oy) and they devoured every last one… and then requested we make another few batches together. Of course I caved and said yes. 15 girls in a kitchen —> fun and bonkers all at once.
Go bake up a batch now and you'll see why these 5-ingredient oreo cheesecake cookies are such a winner 😉 xoxo
5 Ingredient Oreo Cheesecake Cookies
Ingredients
4 ounces cream cheese, softened
8 tablespoons salted butter, at room temperature
3/4 cup sugar
1 cup + 2 tablespoons all-purpose flour
10 Oreo cookies, broken into pieces
Instructions
In the body of a stand mixer fitted with a paddle attachment, beat cream cheese and butter until light and fluffy, scraping down the sides as needed.
Add the sugar and beat well.
Add in flour, a small bit at a time, beating in on low speed, just until incorporated. Fold in oreos until evenly distributed.
Cover bowl with plastic wrap and place in the refrigerator for at least 45 minutes, and up to 2 hours.
30 minutes prior to baking, preheat oven to 350 degrees (F).
Line a large baking sheet with parchment paper.
Using a cookie scoop, scoop out 2 tablespoon sized balls of dough, roll them into rounds, and place them on the cookie sheet. Lightly press down on each cookie.
Place pan in the oven to bake for 10-11 minutes, or until *just golden at the edges. They will still be very soft when you remove them from the oven - that's a good thing!
Cool on the baking sheet for 10 full minutes, then very carefully transfer to a cooling rack to cool completely. Enjoy 🙂
If you're an Oreo lover, this Triple Layer Chocolate Oreo Cake is definitely what you should bake next!