Thick and chewy Almond Amaretto Chocolate Chunk Cookies! These are so flavorful and one of the BEST cookie recipes we've ever made. If you love almonds and chocolate, you have to try them!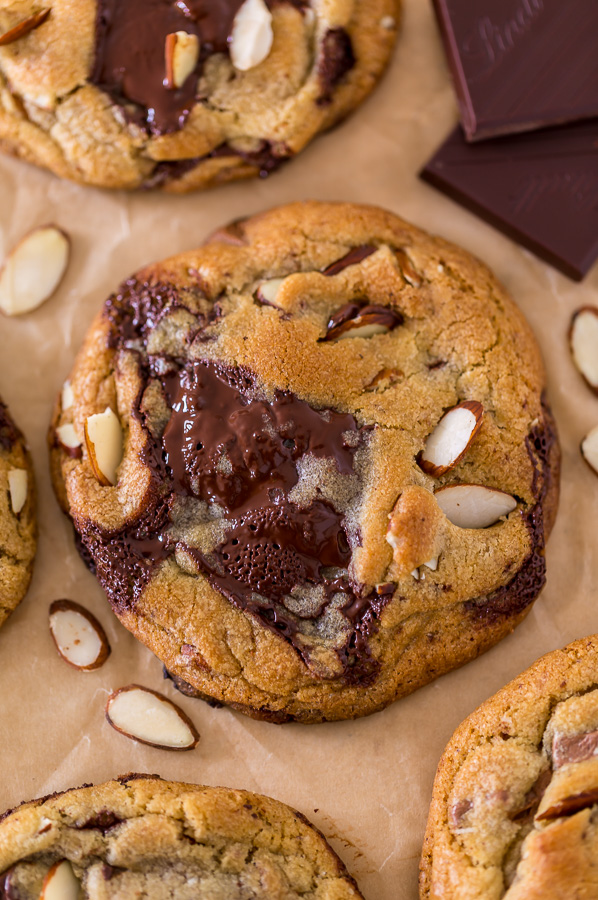 Almond Amaretto Cookies
The only thing better than chocolate chunk cookies? Chocolate chunk cookies that are LOADED with crunchy almonds and spiked with amaretto liqueur!!!
I actually made these almond amaretto cookies right before Christmas and never got the chance to share them with you! I thought about saving them until Christmas cookie season rolled around again… but what would just be cruel! Anyway, in my line of work, every season is cookie season 😉 So without further ado, let's dive into this brand new boozy cookie recipe!
Almond Chocolate Chunk Cookies
Today's new cookie recipe is actually adapted from my "internet famous" brown butter bourbon pecan chocolate chunk cookies. The main changes I made were swapping out the bourbon for amaretto and using sliced almonds instead of pecans. But I also added almond extract to the batter. And increased the amount of amaretto so the flavor would really shine. But other than that, the recipes are quite similar. Don't they look fab?!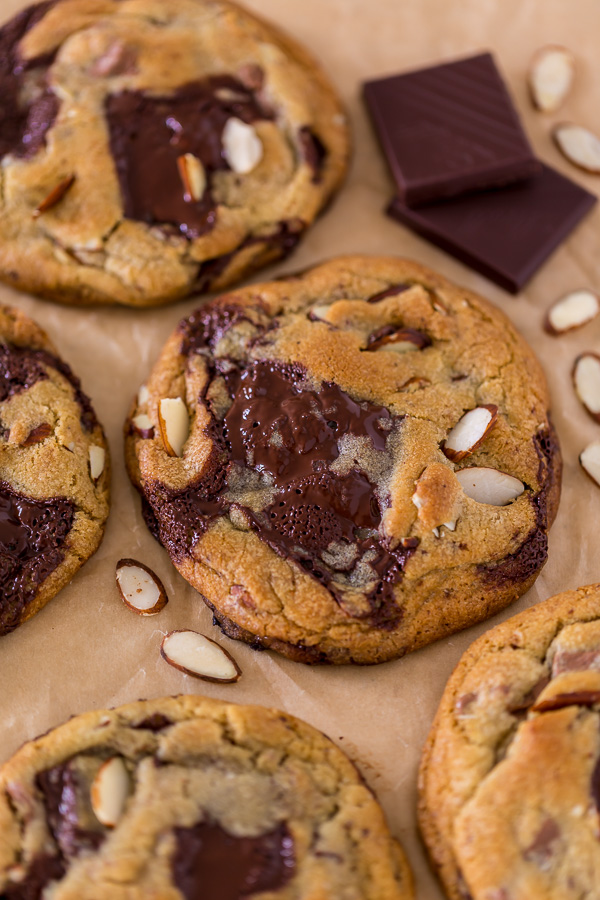 Tips and Tricks for Recipe Success
What Ingredients do I need to make Almond Amaretto Chocolate Chunk Cookies?
butter: unsalted or salted will work! but if you're using salted, reduce the salt called for in the dry ingredients by 1/4 teaspoon.
sugar: you'll use a combination of brown sugar and granulated sugar. light brown sugar or dark brown sugar may be used.
eggs: two large ones, at room temperature!
almond extract: this adds a lovely almond flavor and really compliments the amaretto.
amaretto liqueur: use any brand you like!
flour: all-purpose!
salt: to balance out the flavors.
baking soda: helps leaven the cookie dough, which in turn gives us soft and chewy cookies.
slivered almonds: enhances the almond flavor and adds crunch!
and finally, chocolate chunks! you know i'm a lindt lover, so i their 70% chocolate bars. but use your favorite brand! and yes, you can even use chocolate chips, instead.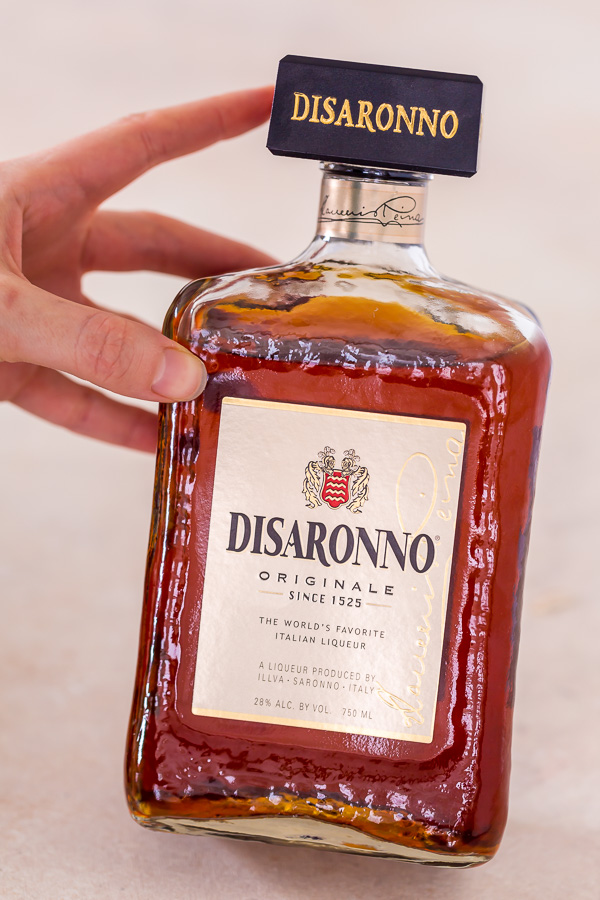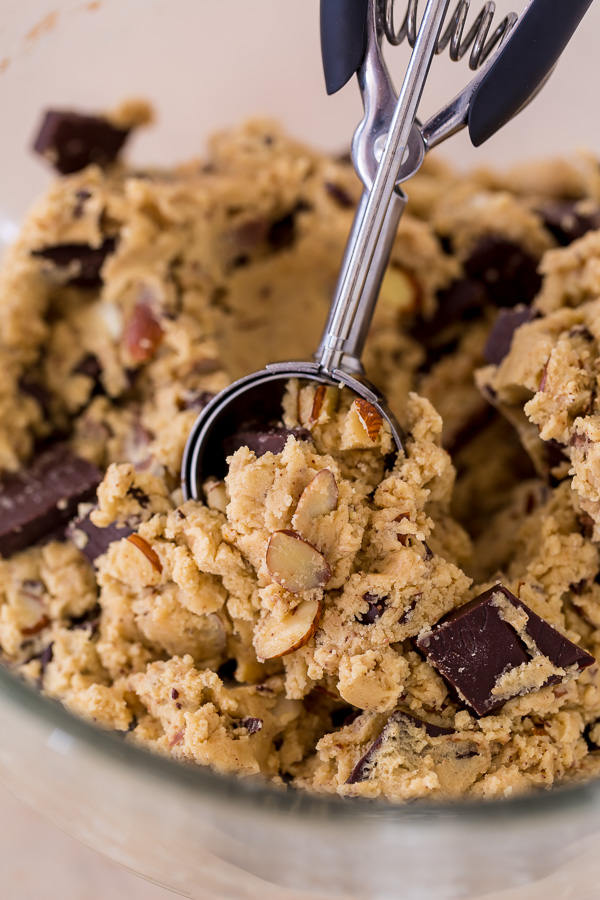 How do you bake Chocolate Chunk Amaretto Cookies?
It's super duper easy! That said, you will need a few things:
Ok, so if you're an old pro at baking cookies, these next few items are probably a no-brainer! But if you're a newbie, listen up: you need at least one baking sheet, a cooling rack, and either a silpat baking mat or parchment paper. This 3-piece baking set has them all!
You'll also need a stand mixer or electric hand mixer for this recipe! Unfortunately, the cookie dough cannot be made without some kind of electric mixer, as the butter and sugar MUST be beaten at a high speed.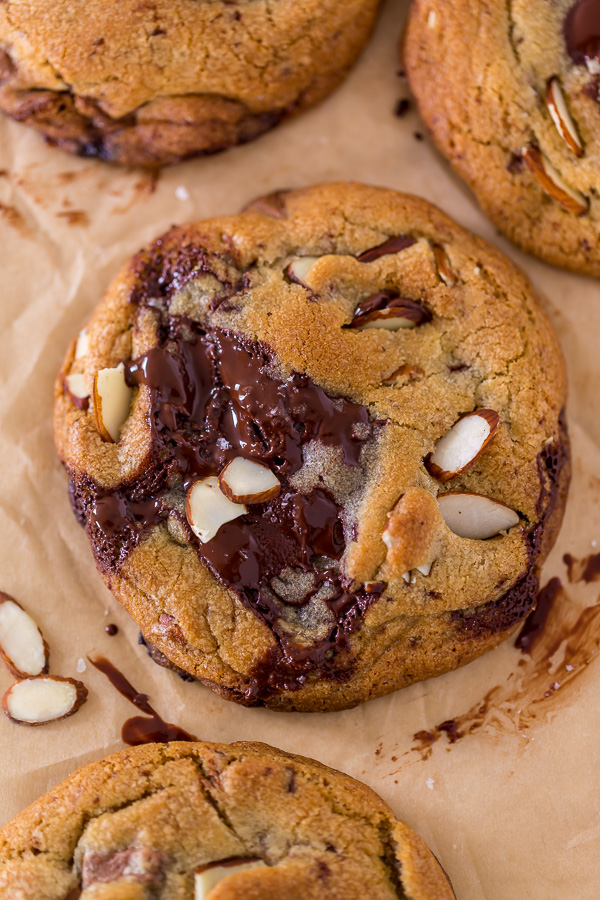 Now you know what ingredients and items you need to bake these cookies, let's jump into the method:
the first step in browning the butter! this simple step adds SO much flavor to this recipe. but it does require a little patience, as the butter must come back to room temperature before being used in the cookie recipe. this takes a few hours, but i promise, it's worth the wait!!!
once your butter has come back to room temperature, you'll simply beat the butter with both sugars until light and fluffy. then you'll add in your eggs and beat on low until just combined. then in goes the almond extract and amaretto. next you'll add the flour mixture. and finally, you will toss in the slivered almonds and chocolate chunks! and that's it! your cookie dough is ready!
at this point you may scoop and bake, or refrigerate for a few hours. the benefit of chilling the dough is the cookies will bake up EXTRA thick. but they're delicious either way!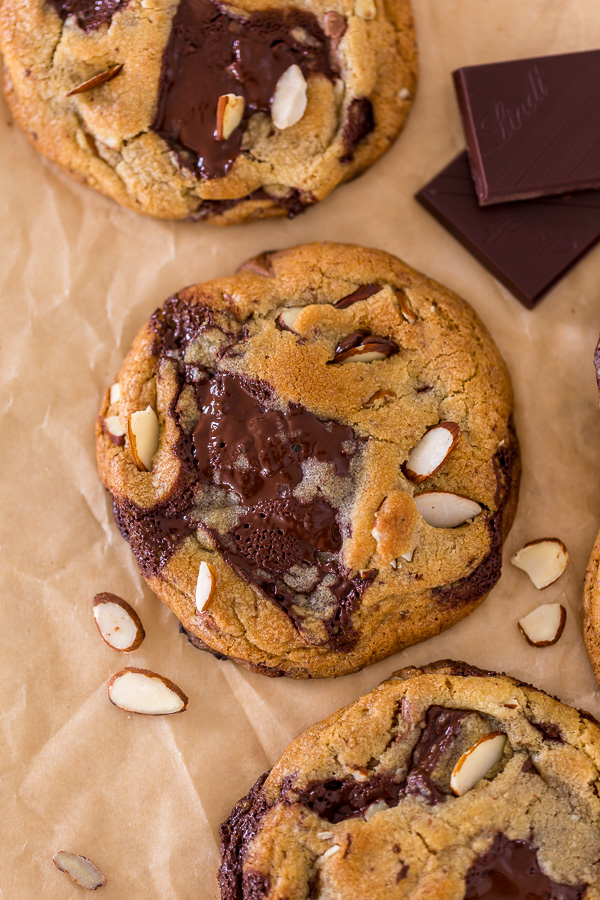 For more Cookie Recipes, Check Out: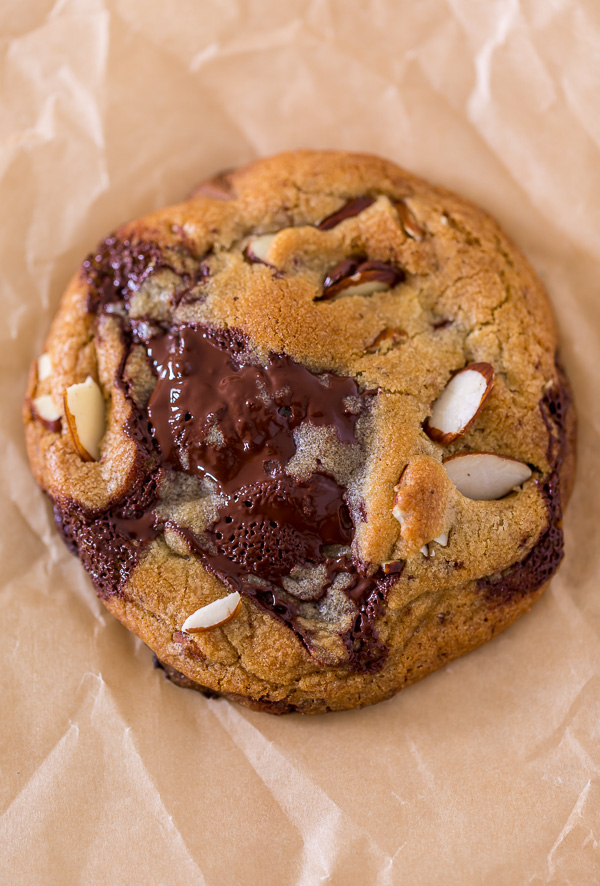 AND IF YOU TRY THIS RECIPE FOR ALMOND AMARETTO CHOCOLATE CHUNK COOKIES, LET ME KNOW! LEAVE A COMMENT BELOW AND DON'T FORGET TO SNAP A PIC AND TAG IT #BAKERBYNATURE  ON INSTAGRAM! SEEING YOUR KITCHEN CREATIONS MAKES OUR DAY.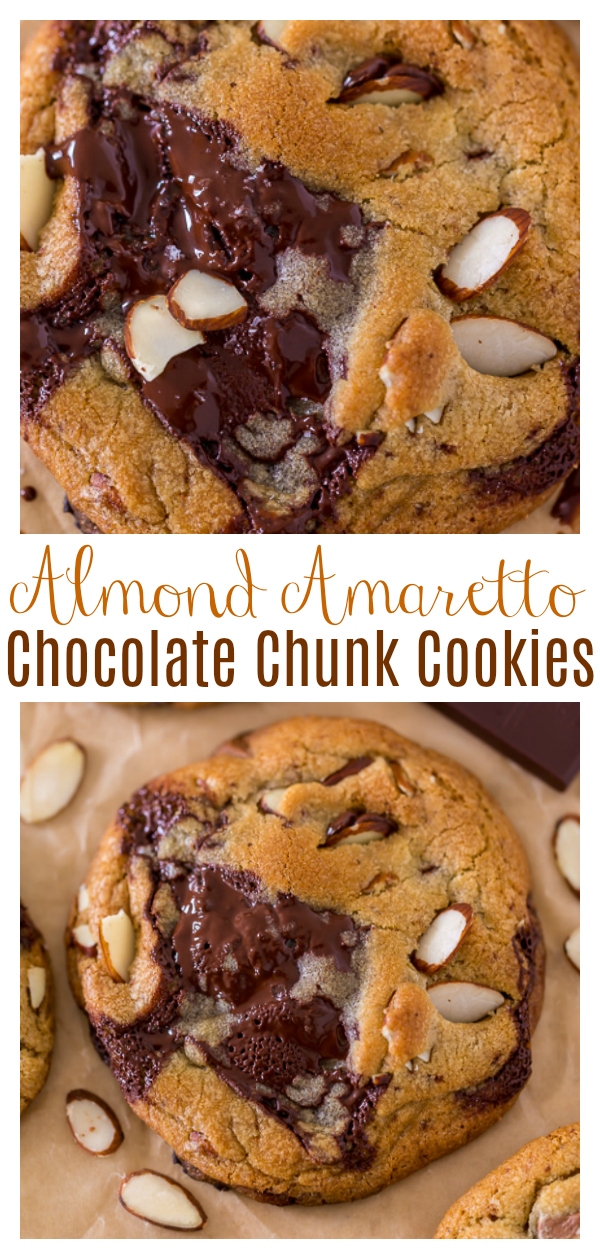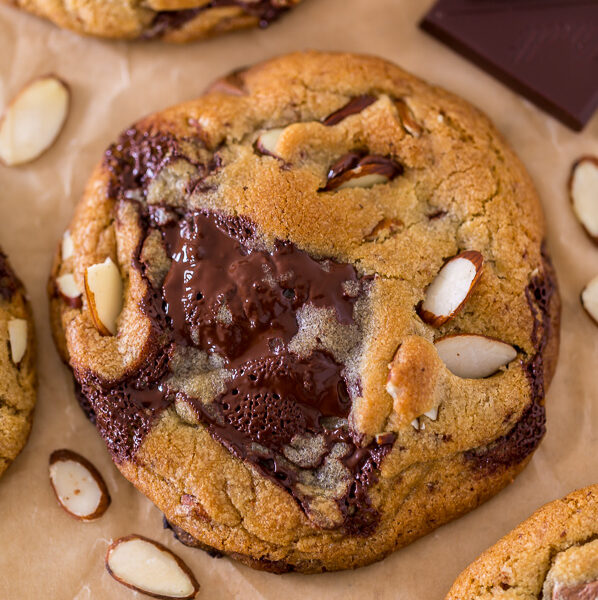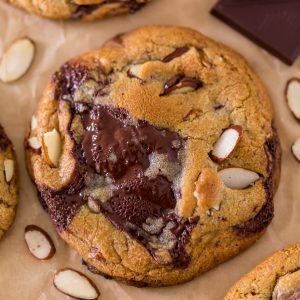 Almond Amaretto Chocolate Chunk Cookies
Thick and chewy Almond Amaretto Chocolate Chunk Cookies! These are so flavorful and one of the BEST cookie recipes we've ever made. If you love almonds and chocolate, you have to try them!
Ingredients
2 sticks (8 ounces) unsalted butter, melted until browned
2 and 1/3 cups all-purpose flour (don't pack the flour into the measuring cup!)
1 teaspoon salt
1 teaspoon baking soda
1 cup dark brown sugar, packed
1/2 cup granulated sugar
1/2 teaspoon almond extract
3 Tablespoons amaretto
2 large eggs, at room temperature
12 ounces semi-sweet OR dark chocolate, roughly chopped into chunks
4 ounces sliced almonds
Instructions
For the Brown Butter:
Place the butter in a small saucepan over medium-high heat and cook for about 3 minutes – stirring almost constantly – until the butter has browned. Pour the brown butter into a heatproof bowl, being sure to scrape all of the "toasted" bits into the bowl as well. Place the bowl in the refrigerator for 2 hours, or until the butter is at room temperature. You'll know the butter is at room temperature when you press a finger into the top and it makes a slight indentation. It should not be liquid at all.

Once the butter is at room temperature, you're ready to get baking!
For the Almond Amaretto Cookies:
Preheat oven to 375 degrees (F). Line two large baking sheets with parchment paper; set aside until needed. 

In a large bowl combine flour, salt, and baking soda; whisk well to combine then set aside until needed.

In a large bowl using a handheld electric mixer, or in the bowl of a stand mixer fitted with the paddle attachment, combine browned butter and both sugars and beat on medium-speed until light and fluffy; about 2 minutes. Add in the almond extract and amaretto and beat until combined. Add in the eggs, one at a time, beating for 15 seconds after each addition. Turn mixer off. Using a wooden spoon or sturdy rubber spatula, gently fold in the flour mixture, stirring only until the flour begins to disappear. Fold in the chocolate chunks and sliced almonds. 

For extra thick cookies, chill the dough for at least 2 hours (and up to 3 days) before baking. Or bake right away for regular cookies (they'll be thinner but still delicious!!!). 

Roll 3 tablespoon sized scoops of dough between your palms to form a ball (they should be big; almost a 1/4 cup), then place on prepared sheets (make sure to leave enough room in between each cookie for inevitable spreading). Continue this process until all the dough has been rolled. 

Place baking sheets in preheated oven, one at a time, and bake for 9 to 10 minutes, or until golden at the edges but still soft in the middle. Repeat with all cookie dough. Let cookies cool for 10 minutes on the baking sheet before transferring to a wire rack to cool completely.