Cookies that taste like banana bread AND are healthy enough for breakfast! You're welcome 😉
Breakfast Cookies
Happy Monday! We have so much catching up to do. How was your holiday? What did you bake? Did you get any good presents this year? We are finally home sweet home, which after a month of traveling, is truly the best gift of all. If you need me I'll be making banana pancakes and binging on Netflix in my new fuzzy pink robe. #homebody
Right now I'm sharing with you a recipe perfect for curving post-holiday cravings. I don't know about you, but after a few days of cheesecake for dessert and sticky buns for breakfast, I find myself yearning for sugary treats a little more than usual. And by more than usual… I mean yesterday I fished out a full-sized Snickers bar from my stocking and ate it for breakfast. Obviously something had to be done.
Enter this recipe! Banana Bread BREAKFAST COOKIES! They're sweet, satisfying, and so healthy you can scarf down one (or three) for breakfast without an ounce of guilt.
Today's recipe is the second breakfast cookie I'm sharing here on my blog – and I have a strong feeling it won't be the last. It all started with these loaded Cranberry Oatmeal Breakfast Cookies. They've only been on the blog a few months and they're already a fan favorite! With their chewy texture and sweet taste, it's really no surprise. And today? Things get even better because now we have breakfast cookies that taste like banana bread!!!
Cookies for breakfast… let's start a revolution!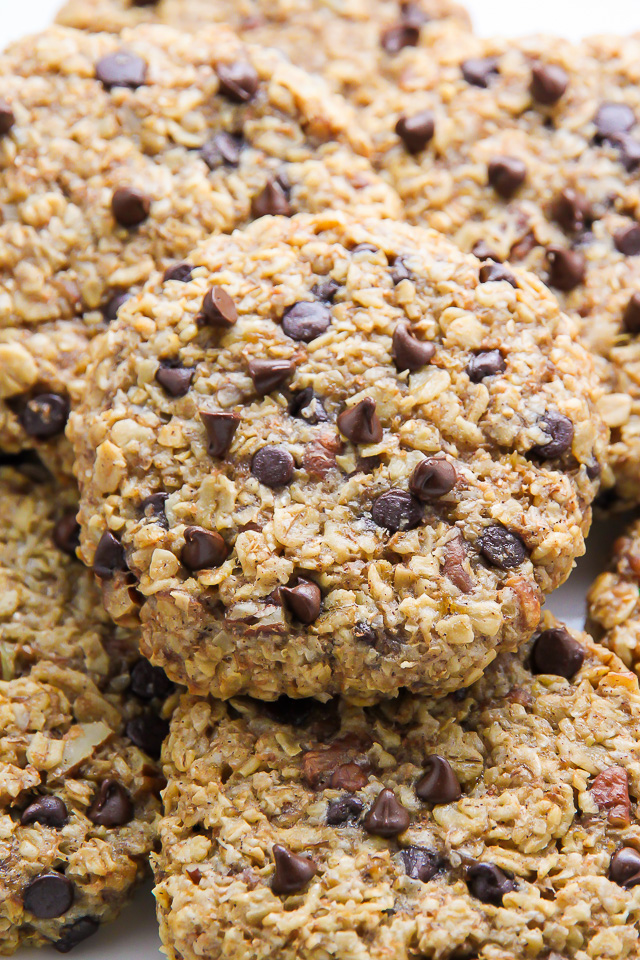 The KEY to good banana bread (and in this case, banana bread cookies) is very ripe bananas.
Ripe bananas add both moisture and sweetness to the cookies. I recommend buying your bananas a few days in advance so they can get soft, brown, and downright ugly. If you use "good" bananas for this recipe, the results will likely be a huge letdown.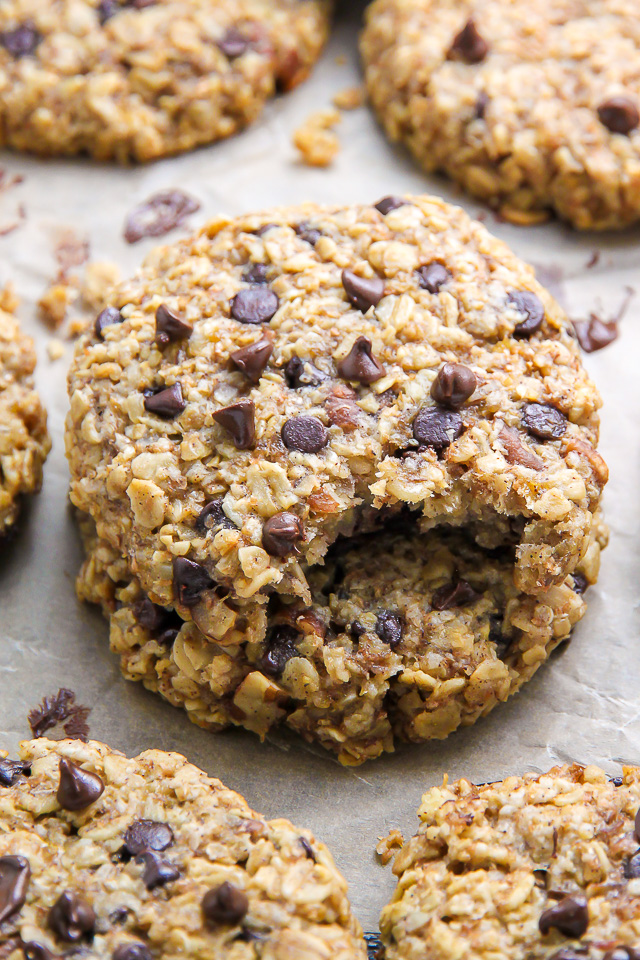 Alright. So let's bake some banana bread breakfast cookies, already! For this recipe you'll need: honey, coconut oil, eggs, vanilla extract, banana puree (remember, RIPE bananas), old fashioned oats, instant oats, wheat germ, walnuts, cinnamon, nutmeg, salt, and mini chocolate chips. I know that may sound like a lot of stuff, but you probably have most of the ingredients already in your kitchen.
The "cookie dough" will appear a little wet at first, but don't fret! Once the dough has chilled (it needs 90 minutes in the fridge), it will be workable.
The hardest part? Letting the cookies cool. These banana bread breakfast cookies need to cool completely on the cookie tray… so put on your patience cap when you pull them out of the oven. Trust me – they're worth the wait!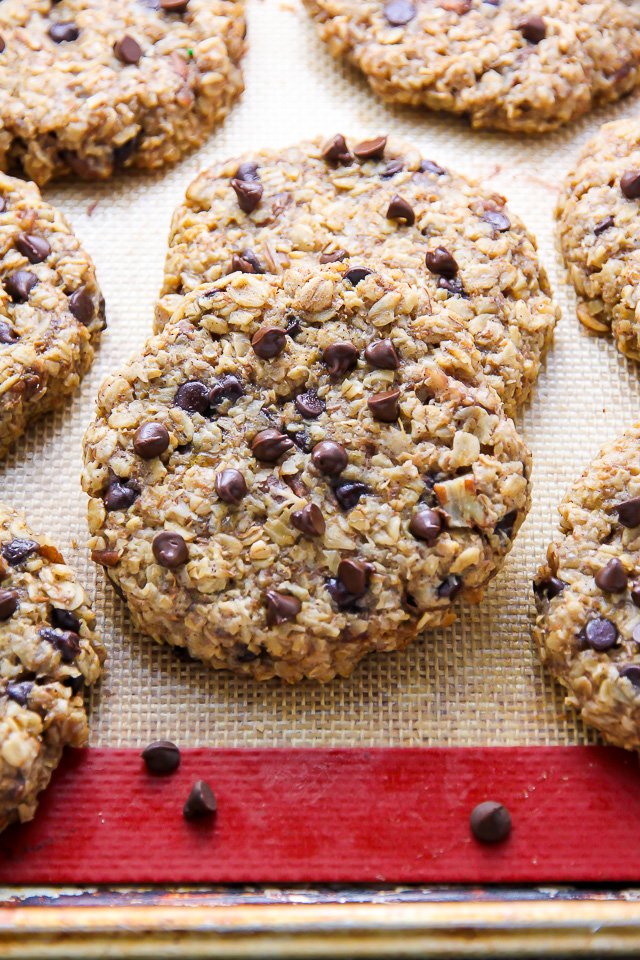 Banana bread in cookie form. For breakfast. Do it 😉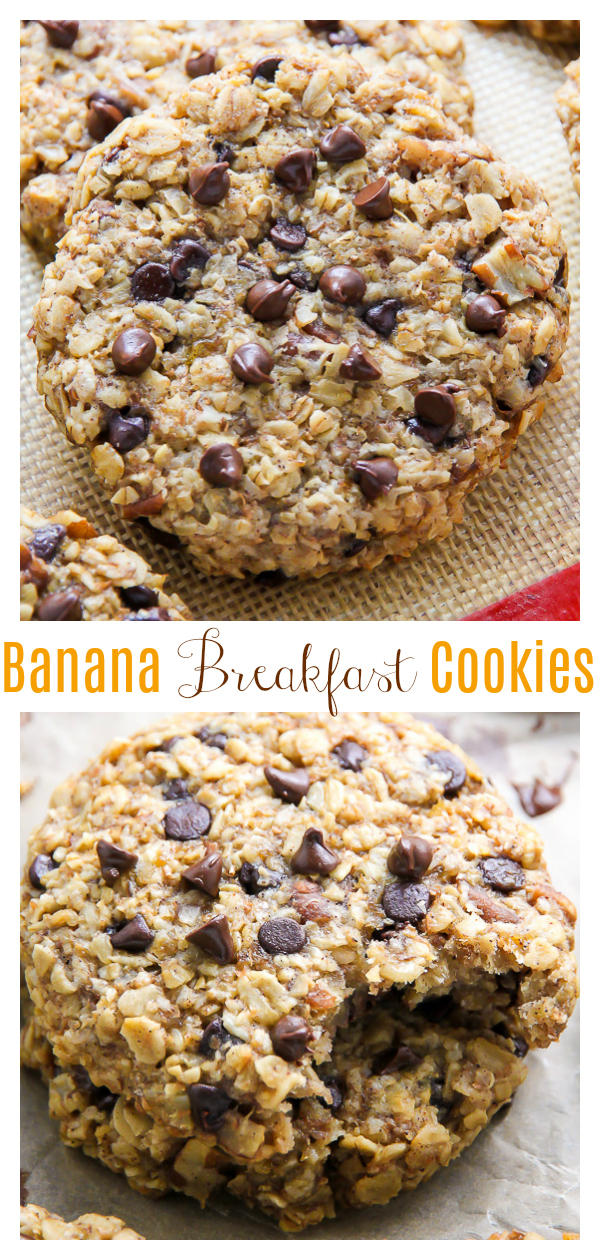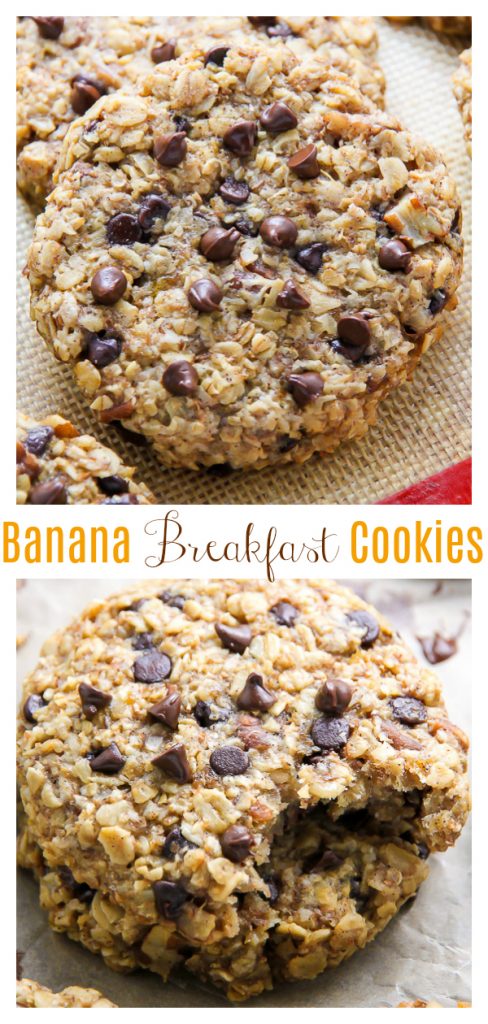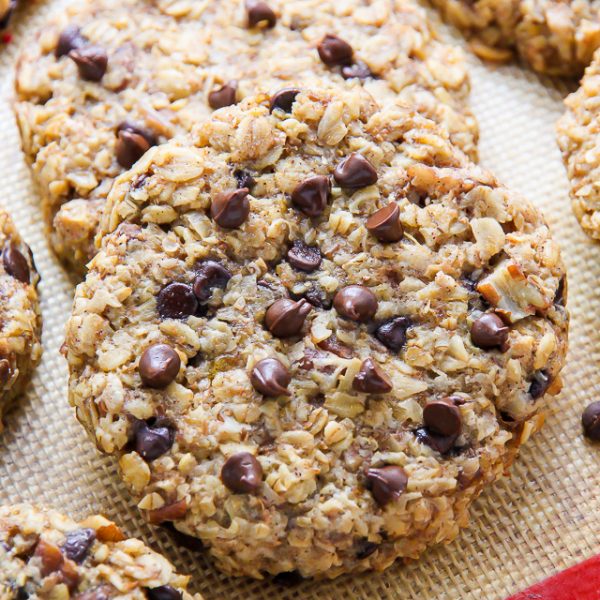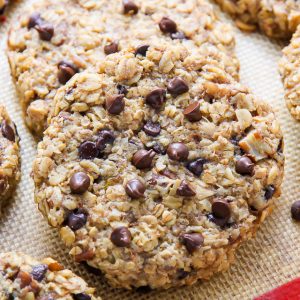 Banana Bread Breakfast Cookies
Healthy banana bread breakfast cookies loaded with mini-chocolate chips and walnuts!
Ingredients
4 tablespoons honey
3 and 1/2 tablespoons coconut oil, melted
2 large eggs, beaten
3/4 teaspoon vanilla extract
1/2 cup banana puree (see post for more on this)
3/4 cup old fashioned oats
1 and 1/4 cups instant oats
1/4 cup toasted wheat germ
1/2 cup walnuts, chopped
3/4 teaspoon cinnamon
1/4 teaspoon nutmeg
1/3 cup mini-chocolate chips, plus more for sprinkling (optional)
1/4 teaspoon salt
Instructions
Line a large baking sheet with parchment paper; set aside.

In a large bowl combine the honey and melted coconut oil and whisk smooth. Add in eggs, one at a time, beating smooth after addition. Whisk in vanilla and banana puree. All at once add in both oats, wheat germ, walnuts, cinnamon, nutmeg, mini-chocolate chips, and salt; gently fold the dry ingredients into the wet ingredients just until evenly combined. Cover the bowl and chill for 1 hour and 30 minutes.
When you're ready to bake:
Preheat oven to 325 (F). Scoop 3 tablespoon sized potions of the mixture into your palm and roll it into a large ball. Press the cookie down onto the prepared sheet and using your palm flatten the cookie down to 1/4 inch (the cookies do not spread at all while baking); repeat with all cookie dough. Bake for 18 minutes. Sprinkle a few mini-chocolate chips on the top of each cookie right when they come out of the oven, if desired. Allow cookies to cool completely on the baking sheet before serving or transferring.
Notes
Banana puree is made by mashing up very ripe bananas.
You may also enjoy:
Maple Pecan Banana Muffins (Vegan)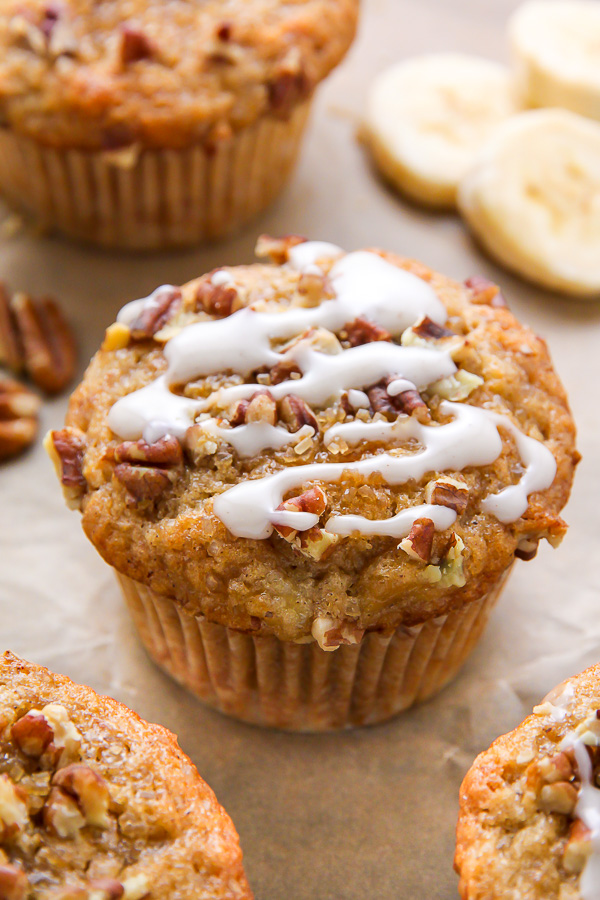 Greek Yogurt Strawberry Banana Bread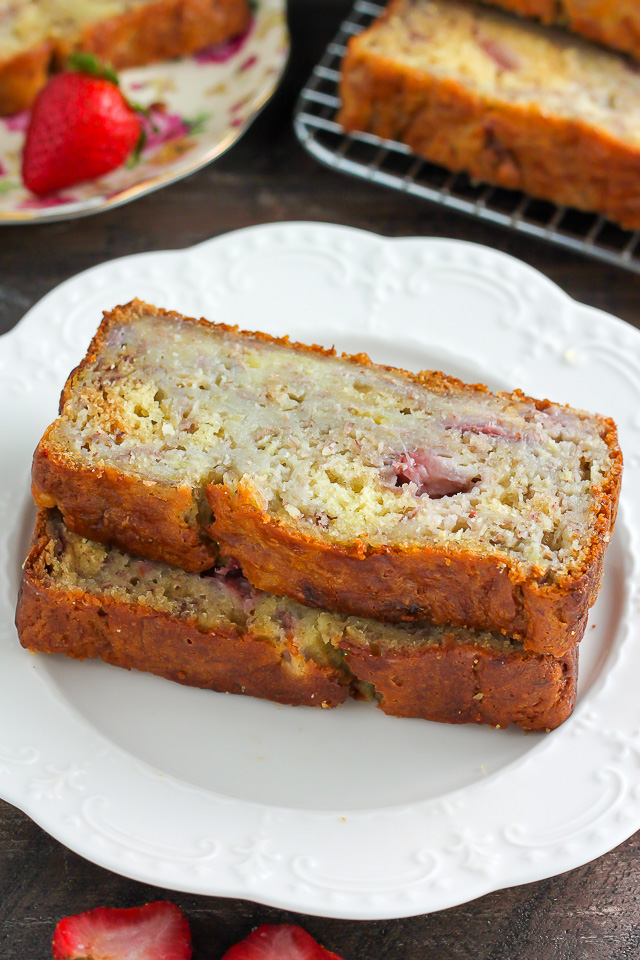 Healthy Bakery Style Chocolate Chip Muffins