A healthy cranberry oatmeal cookie that actually tastes like a REAL cookie! Get ready to fall in love.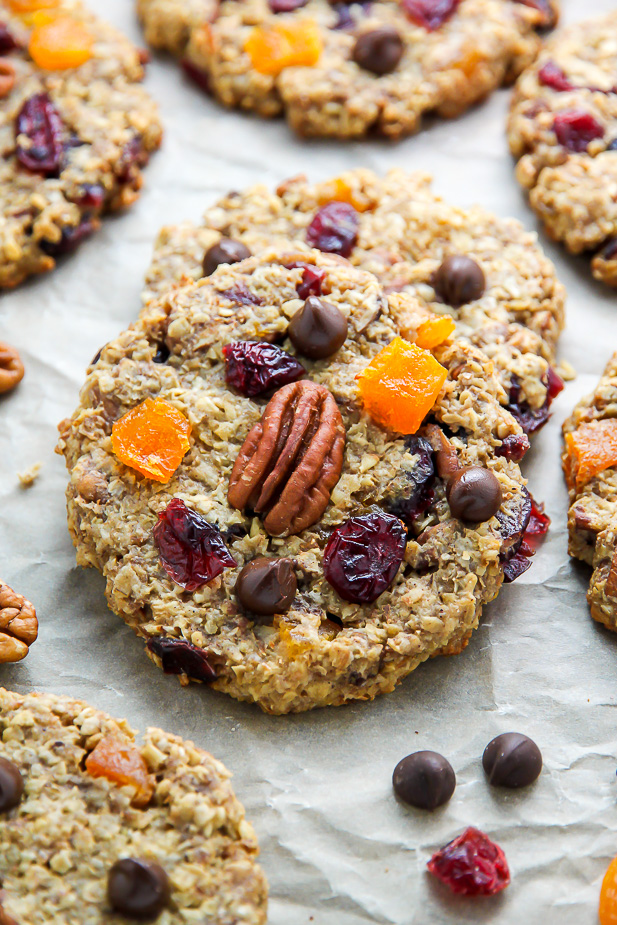 Cookies are one of those desserts I cannot resist. Back when we were living in Brooklyn (which feels so long ago now!) and I was still working a day job, I had the habit of popping into our neighborhood coffee shop on my way in to grab a giant latte and a freshly baked cookie.
Cookies and caffeine can get you through a lot… but that's another story for another day.
These days I still enjoy a cookie with my morning coffee, but now I bake them myself, and I get to share them with you. Have I told you how very much I love my job?! ♥♥♥
These healthy cranberry cookies are bursting with cozy Fall flavors. The base of this cookie is a simple combination of oats, wheat germ (t-e-x-t-u-r-e!), salt, cinnamon, ginger, cloves, and nutmeg – no flour here! Our liquid ingredients are eggs, honey, unsweetened apple sauce, coconut oil, and vanilla extract. And our mix-ins include dried cranberries, pecans, and apricots. Each cookie is also topped with 3 semi-sweet chocolate chips.
These cookies have so much awesome going on you'll have a hard time believing they're actually good for you. But they are!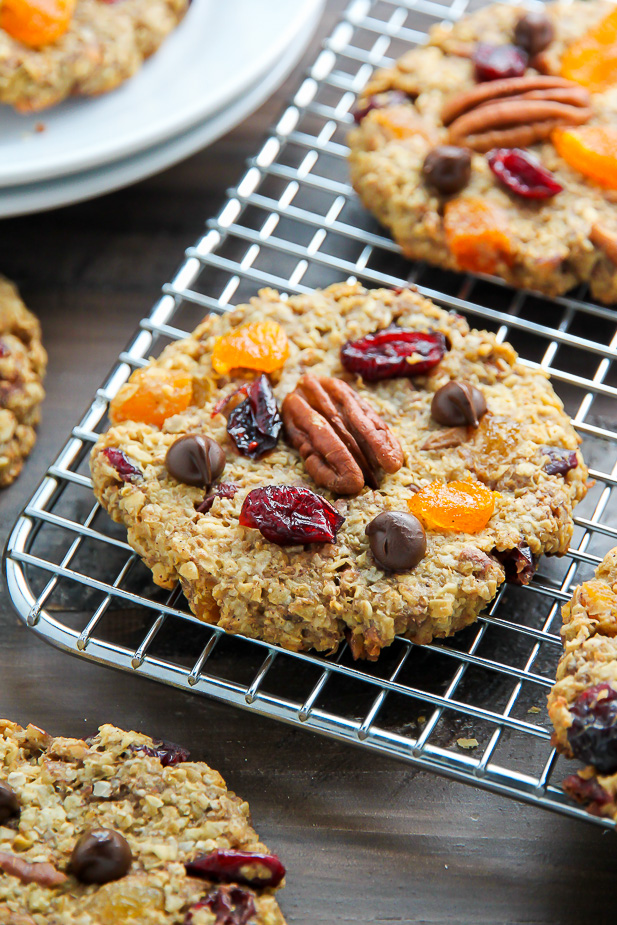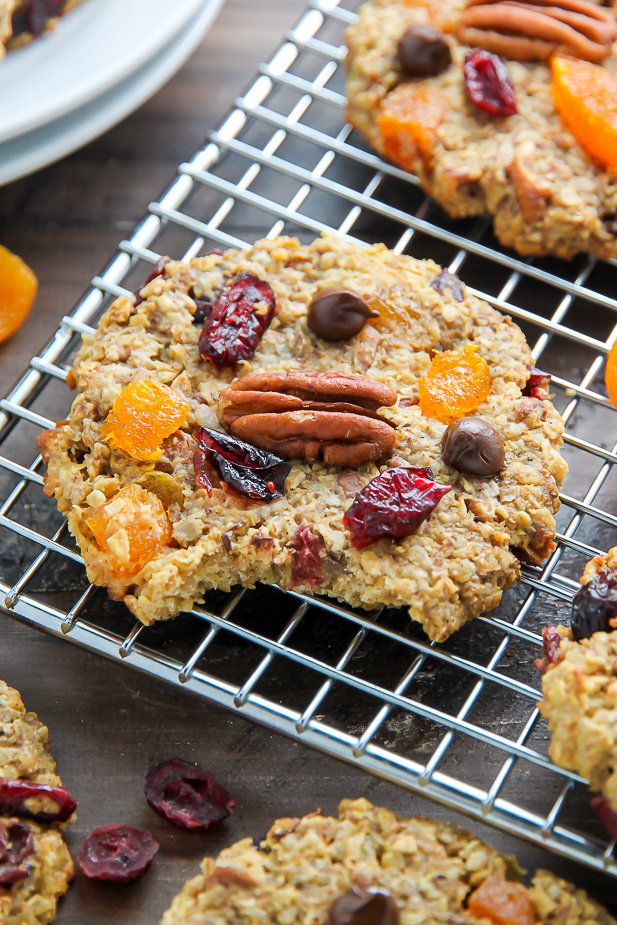 A few notes on ingredients and substitutions:
If you're not a pecan fan, go ahead and use walnuts or almonds! I've made these cookies with both and it works, I just personally love the cranberry pecan combination best.
If you're allergic to coconut oil you may use melted butter in its place (I've tried it and it does work). However some may deem these cookies less "healthy" is butter is subbed in. Your call 😉
If you're new to baking with coconut oil, this is the coconut oil I use in all of my baking – it's the best!
Use a brand of dried fruit you know you enjoy. The cranberries and apricots really shine through in these cookies, so quality is important.
For a more indulgent cookie, add chocolate chips to the cookie dough! Add up to 1/4 cup if you'd like.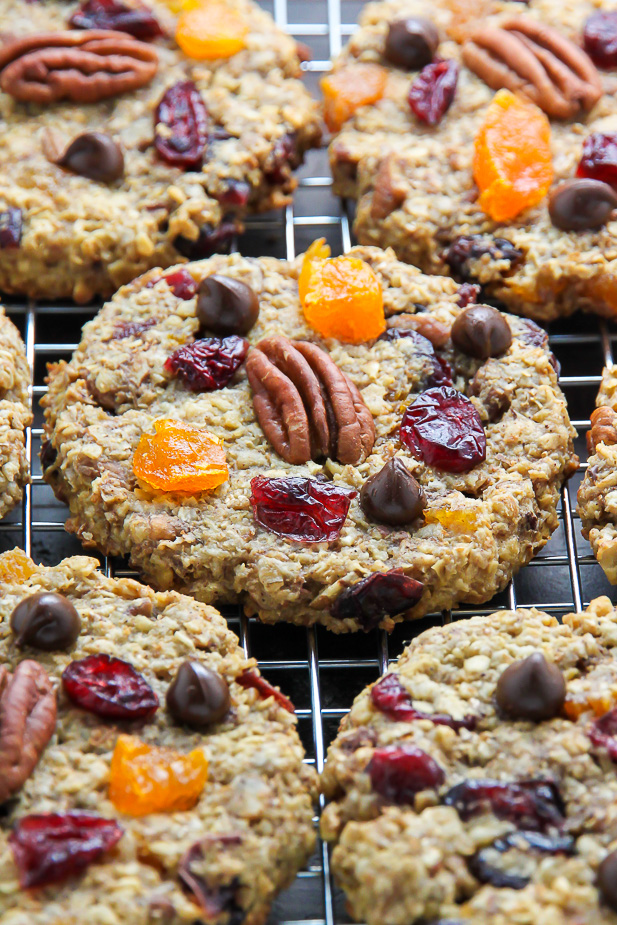 These cookies are:
Equal parts soft and chewy
Loaded with oats, crannies, apricots, and crunchy pecans
Topped with a few sweet chocolate chips
Made with honey instead of sugar
Perfect for breakfast, snack, or dessert
Healthy
Hearty
Sure to satisfy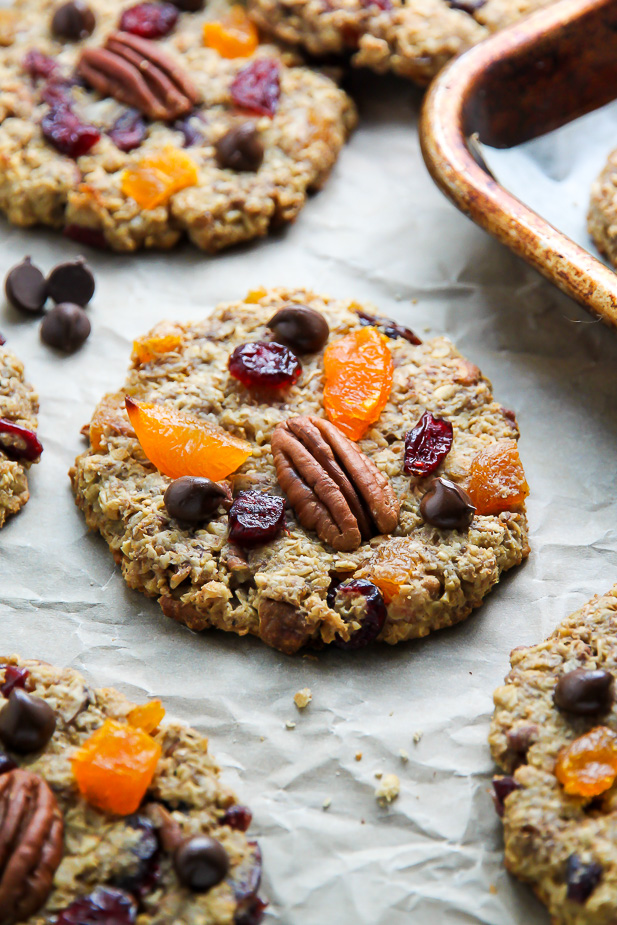 These cookies need to be made! In your kitchen. SOON. End of story 😉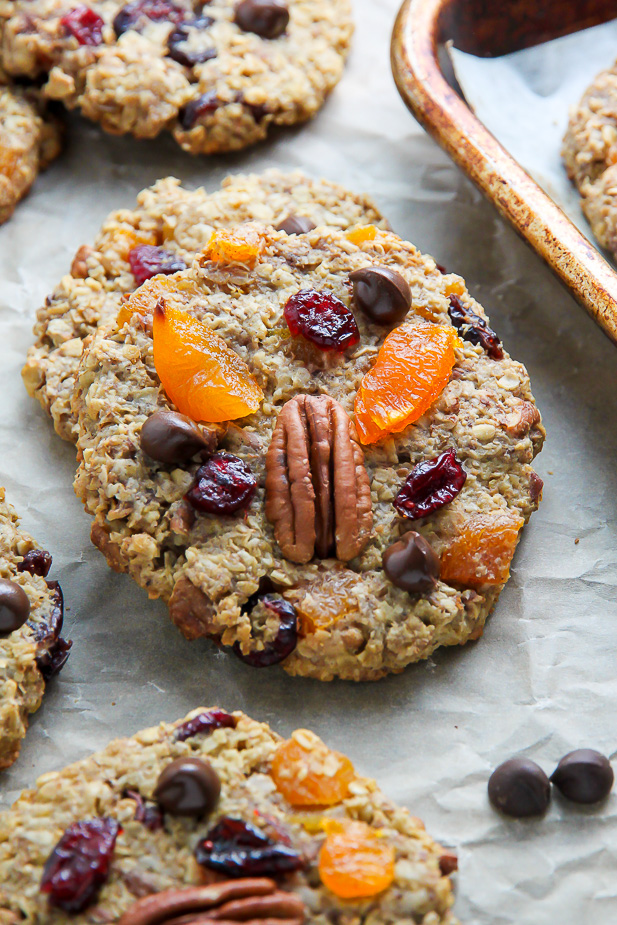 I hope your Sunday is going strong! See you tomorrow with something sinfully decadent.
Healthy Cranberry Oatmeal Cookies
Healthy Cranberry Apricot Oatmeal Cookies are loaded with chewy apricots, crunchy pecans, and sweet chocolate chips.
Ingredients
4 1/2 tablespoons honey
3 tablespoons coconut oil, melted
2 large eggs, beaten
3/4 teaspoon vanilla extract
1/2 cup unsweetened applesauce
1/2 cup old fashioned oats
1 and 1/2 cups instant oats
1/4 cup wheat germ
3/4 cup dried cranberries
1/4 cup pecans, chopped
1/4 cup dried apricots, chopped
3/4 teaspoon cinnamon
1/8 teaspoon cloves
1/8 teaspoon ginger
1/8 teaspoon nutmeg
1/4 teaspoon salt
36 semi-sweet chocolate chips (I press 3 on top of each cookie)
Instructions
Line a large baking sheet with parchment paper; set aside.

In a large bowl combine the honey and melted coconut oil and whisk smooth. Add in eggs, one at a time, beating smooth after addition. Whisk in vanilla and apple sauce. All at once add in both oats, wheat germ, dried cranberries, pecans, apricots, cinnamon, cloves, ginger, nutmeg, and salt; gently fold the dry ingredients into the wet ingredients just until evenly combined. Cover the bowl and chill for 1 hour and 30 minutes.
When you're ready to bake:
Preheat oven to 325 (F). Scoop a 3 tablespoon sized potions of the mixture into your palm and roll it into a large ball. Press the cookie down onto the prepared sheet and using your palm flatten the cookie down to 1/4 inch (the cookies do not spread at all while baking); repeat with all cookie dough. Bake for 18 minutes. Press 3 chocolate chips down on the top of each cookie right when they come out of the oven. Allow cookies to cool completely on the baking sheet before serving or transferring