Supremely moist Banana Cake with Cinnamon Cream Cheese Frosting! YUM.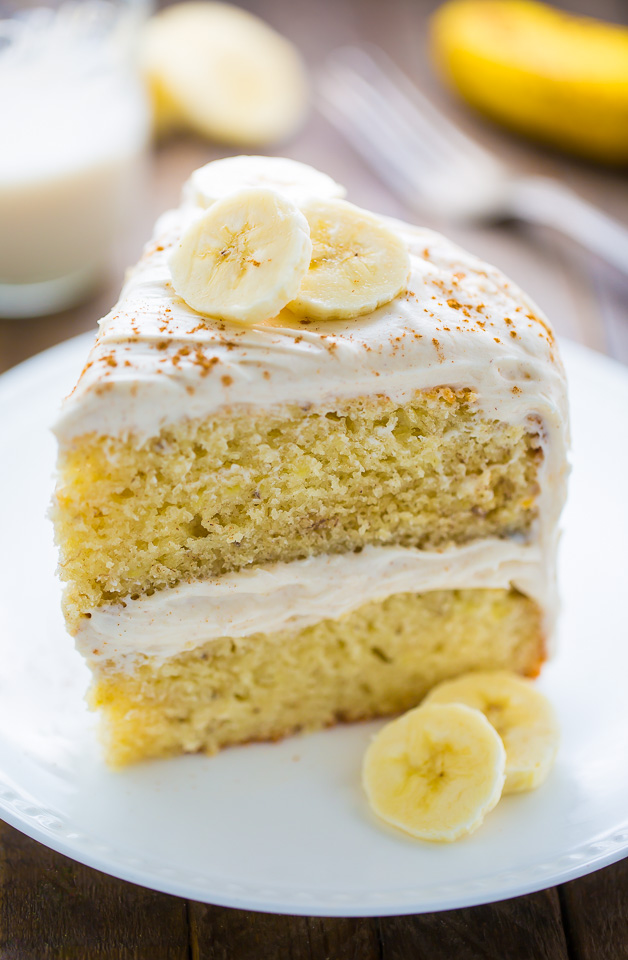 I'm one of those people who hates bananas (this video says it all) but somehow loves banana desserts. I bake banana bread at least once a month, eat banana cookies for breakfast, and couldn't survive without my 3pm banana cream pie smoothie fix.
But my favorite banana dessert? CAKE. More specifically, banana cake with cinnamon cream cheese frosting. Each bite is sweet, moist, and exploding with real banana flavor. And don't even get me started on the cinnamon cream cheese frosting… it's the kind of delicious that could quickly turn into a danger zone! Just ask my waistline.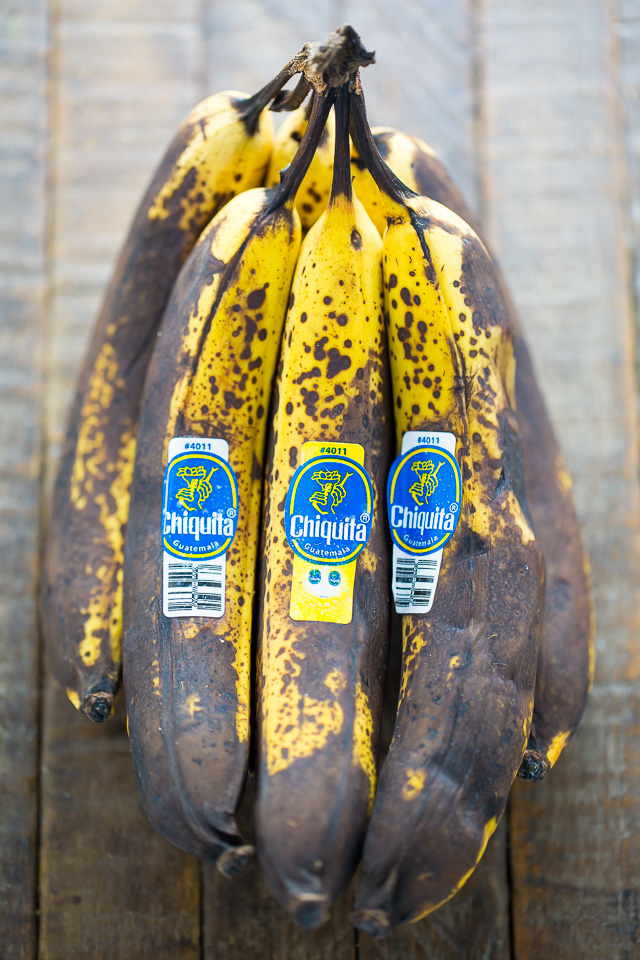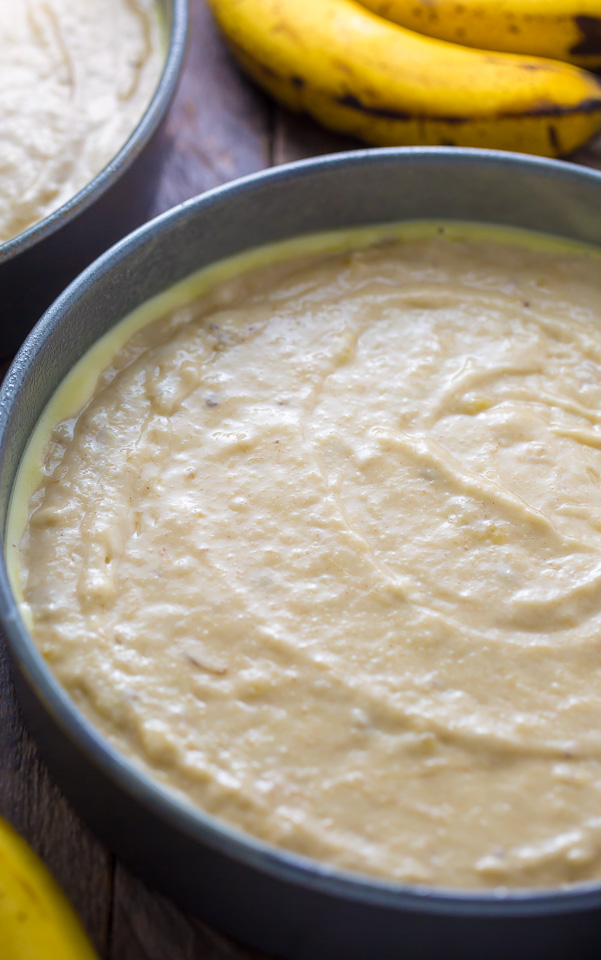 Tips and Tricks for Recipe Success:
Make sure your bananas are extremely ripe! The cake draws moisture, flavor, and sweetness from the ripe bananas, so the blacker the better.
This banana cake with cinnamon cream cheese frosting requires cake flour. You can find cake flour in most grocery stores, you can order it online, or you can make your own. To make homemade cake flour, simply combine 3/4 cup plus 2 tablespoons of all-purpose flour with 2 tablespoons of cornstarch for every cup of cake flour called for. You'll want to stir well to really combine the two ingredients together before adding it to the recipe.
I use whole milk (full fat) in this recipe and strongly suggest you do the same. This cake gets a lot of its moisture from the fat in the milk, so using a fat-free or reduced fat replacement will most likely result in a drier, less moist cake.
Make sure your butter is the right temperature before you begin beating it. It needs to be at room temperature, which means it should be soft enough that when lightly pressed with your finger it leaves an indentation in the stick of butter. I usually leave my butter out on the counter for an hour or so to bring it to temperature, but if you're short on time, you can cut the cold sticks of butter into into small cubes, which will help speed along the thawing process. Just leave them at room temperature until they're soft to the touch.
Your eggs and milk should also be at room temperature. Cold ingredients don't incorporate evenly or bond, which can result in a dense cake.
Here's a trick for the eggs: to bring cold eggs to  room temperature, simply place them in a bowl of warm water for 15 minutes. Just be sure you don't use hot water!
To ensure you reach the proper frosting consistency you'll want to make sure your butter and cream cheese are very soft before beginning. I suggest setting them out on the counter for at least an hour before unwrapping them and getting busy; they may soften faster or slower depending on the temperature of your house. You'll know your they're soft enough when you can press your finger into the top and a deep indentation is effortlessly made. Cold butter and cream cheese as well as melted butter and cream cheese should never be used when making this frosting; it will not work.
You'll need an electric handheld mixer or a standmixer to make the frosting.
Next time you find yourself with a surplus of ripe bananas, do yourself a favor and turn them into a Banana Cake with Cinnamon Cream Cheese Frosting! I promise you won't regret it 😉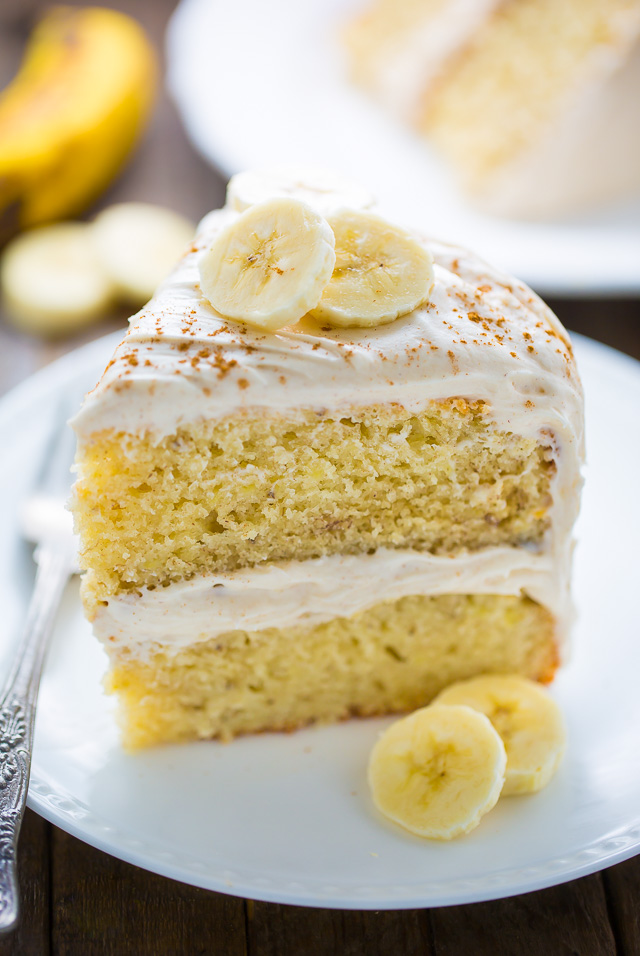 If you try this recipe, let me know what you think! Leave a comment below, and don't forget to snap a pic and tag it #bakerbynature on instagram! Seeing your creations makes my day.

Banana Cake with Cinnamon Cream Cheese Frosting
Supremely moist Banana Cake with Cinnamon Cream Cheese Frosting.
Ingredients
For the Banana Cake:
1 1/2 cups VERY RIPE bananas, mashed (about 4 large bananas)
3 cups cake flour (see post for homemade alternative)
2 teaspoons baking powder
1 teaspoon baking soda
3/4 teaspoon ground cinnamon
1/4 teaspoon ground nutmeg
1 teaspoon salt
2 sticks butter, at room temperature
2 teaspoons vanilla extract
2 cups granulated sugar
4 large eggs, at room temperature
1 and 1/2 cups whole milk
For the Cinnamon Cream Cheese Frosting:
12 ounces full-fat cream cheese, VERY soft
1/2 cup (1 stick) unsalted butter, VERY soft
1 tablespoon vanilla pure extract
1 teaspoon ground cinnamon
1/4 teaspoon salt
4 cups confectioners' sugar, sifted
Instructions
For the Banana Cake:
Preheat oven to 350 degrees (F). Grease and flour two 9" round cake pans, set aside.

Mash bananas well and place them in a small bowl; set aside.

In a large bowl add the cake flour, baking powder, baking soda, cinnamon, nutmeg, and salt; whisk well to combine then set aside.

In a large bowl using a handheld electric mixer, or using a stand mixer fitted with the paddle attachment, beat butter, vanilla, and sugar until light and fluffy; about 4 minutes (don't skimp on time here!). Add in the eggs, one at a time, beating well after each addition, and scraping down the sides of the bowl as needed.

On low speed, beat in the flour mixture alternately with the milk. Fold in banana puree.

Divide batter evenly among the prepared pans and bake in preheated oven for 30 to 35 minutes, or until a cake tester inserted in center comes out clean. Allow the cakes to cool in the pans for 10 minutes before gently running a knife around the edges to loosen any stuck bits, then turning them out onto a cooling rack to cool completely.

While the cakes cool, you can make the frosting.
For the Cinnamon Cream Cheese Frosting:
In the bowl of a stand-mixer fitted with the paddle attachment, or in a large bowl using an electric handheld mixer, beat the cream cheese, butter, vanilla, cinnamon, and salt on medium-high speed until completely smooth; about 2 minutes. Reduce the speed to low and gradually add the sifted confectioners' sugar. Once all of the sugar has been added beat on high-speed for 1-2 minutes.

When the cakes have completely cooled, place one round on a cake stand or large plate; spread the top and sides evenly with frosting, then gently place the other cake round on top of the frosted one and press down very lightly to seal them together. Continue frosting the cake, using a thin spatula, offset spatula, or whatever you have that works best, until the top and sides of the cake are evenly frosted. Place the cake in the fridge for 20 minutes before slicing.
Notes
The frosted cake will stay fresh, covered and stored in the refrigerator, for 3 days. Simply take it out of the fridge an hour or two before serving so it can come to room temperature.