This is The BEST Boozy Banana Cream Pie Ever! Featuring a graham cracker crust, bourbon caramel, boozy banana filling, and whipped cream. It's so indulgent and always a hit at parties and potlucks!
Banana Bourbon Pie
With a brown butter crust, salted bourbon caramel, and boozy banana cream custard, this is the best boozy banana cream pie ever! Plus, and pretty pie is a winner in my book 😉 You can even add a dash of bourbon to the whipped cream topping if you want to go boozy all way. This is a treat you totally deserve 😉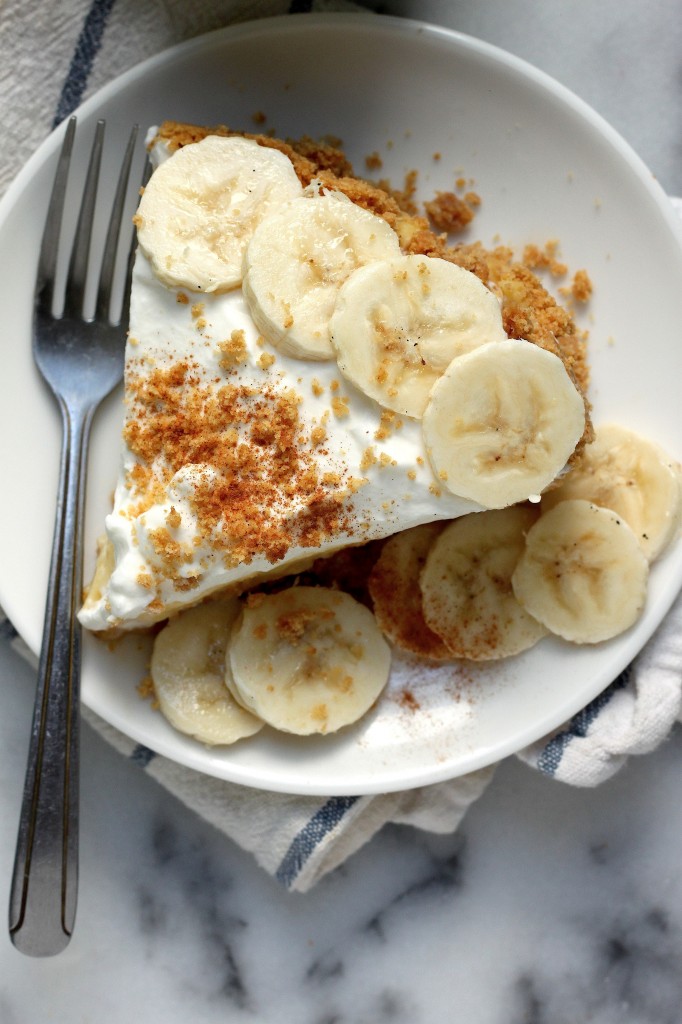 Let me introduce you to my new favorite pie. I know… I say that a lot. But for real this time! I am so in love with this banana cream treat. And I know once you make it you'll be smitten for life, too.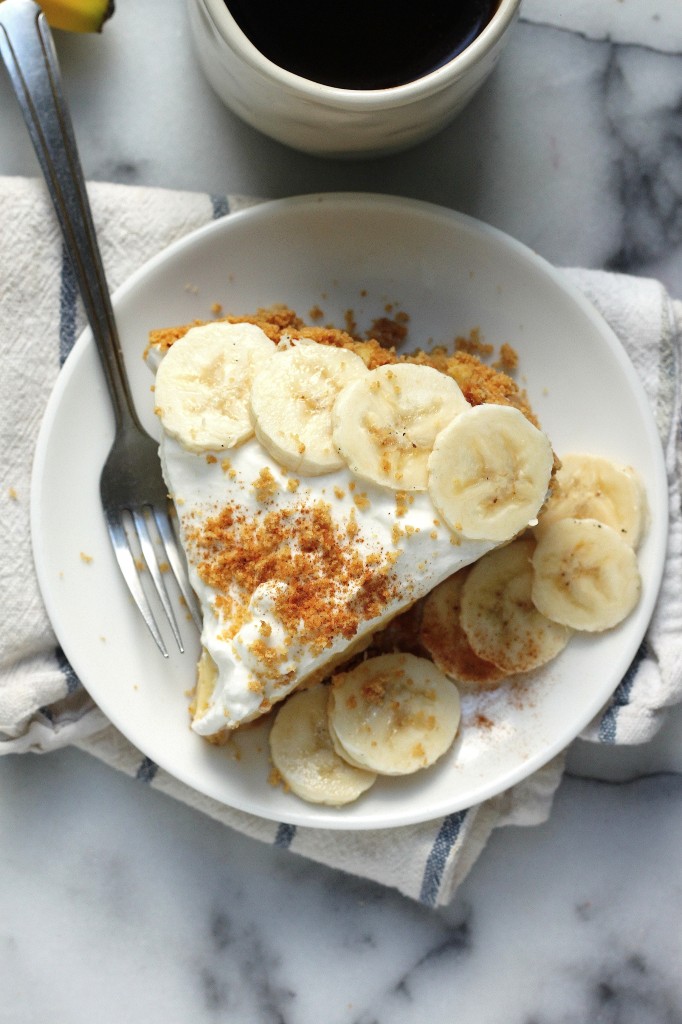 You may have noticed by now I'm a huge fan of adding booze to desserts. I consider myself a fanatic about it, actually. A proud fanatic! That being said, y'all can skip the booze (…) in this recipe if it's not your bag. Just be sure to sub in banana extract when you're making the banana cream. It needs that flava flava.
Safe for kids to Eat
Also, if you're wondering about the potency of the alcohol – it does cook out. You'll just have a nice after flavor from it. And yes, it's OK for kids to eat… but if you're like me you'll choose to label it "adults only". More pie for us!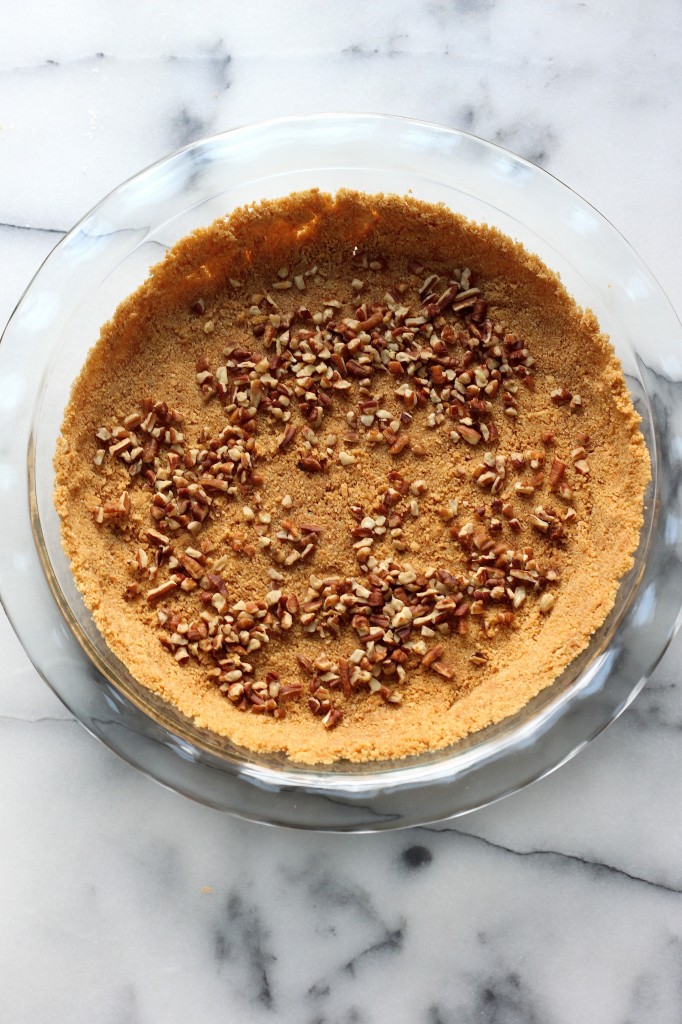 Brown Butter Graham Cracker Crust
The crust of this pie comes together quickly, and packs a wonderful flavor thanks to the ultimate baking babe: brown butter. Oh how I love brown butter! I know you will too 🙂
It also gets a hearty handful of pecans! They add a real nice crunch.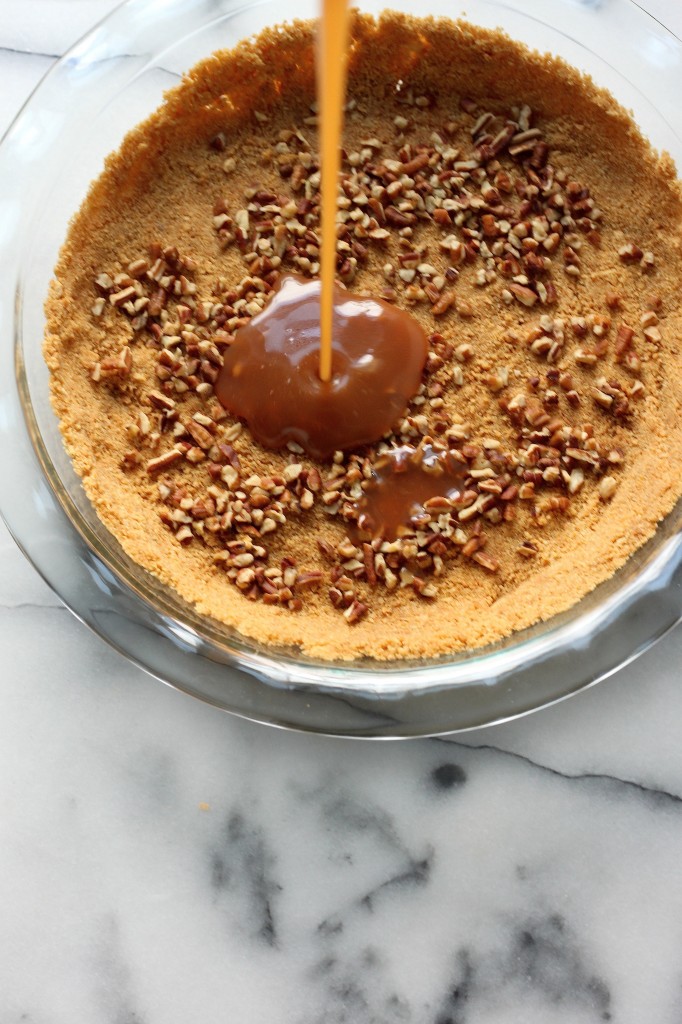 Bourbon Caramel Banana Cream Pie
Drizzle and drip… GAH.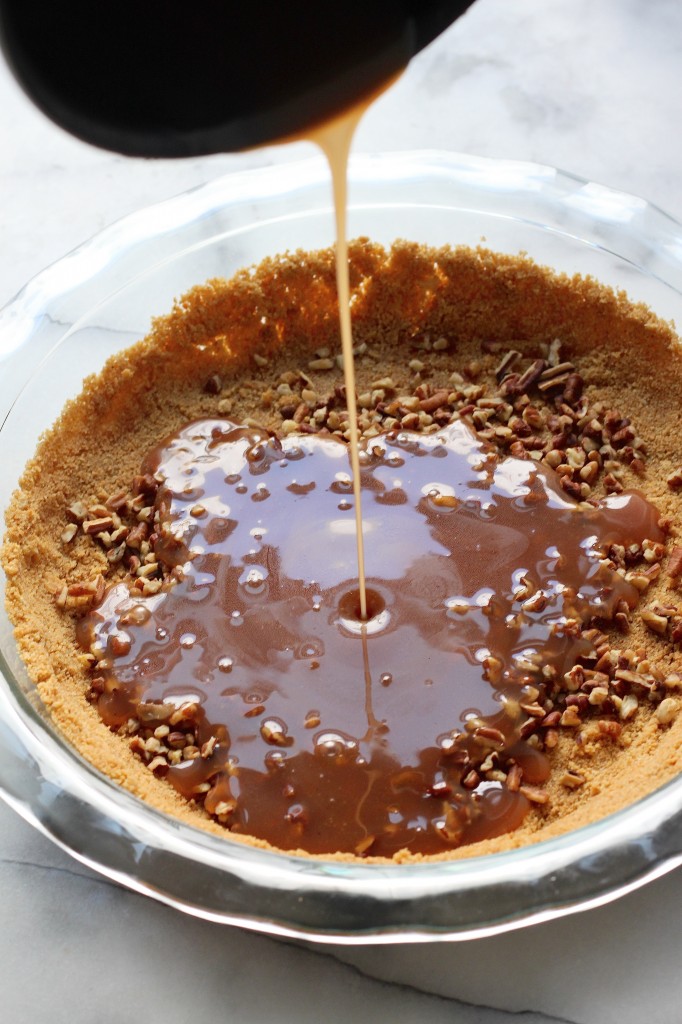 The caramel is easier to make than you might think! And comes together on your stove top. A generous glug of bourbon and a fat pinch of sea salt make it bold and dreamy. You will be tempted to stop here and eat it with a spoon. Or on ice cream. Push though! The pie is worth it.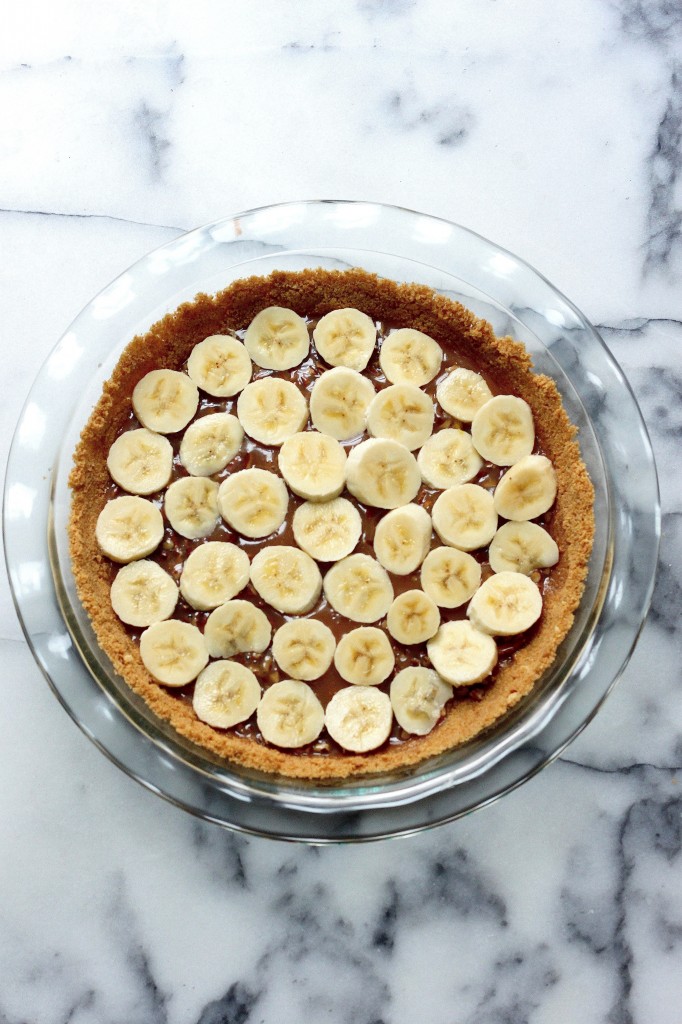 This Pie Requires Chilling
Once your crust and caramel have sufficiently cooled, you'll fill it with your luscious banana cream. That'll need to chill out for a little while too. This pie takes some patience!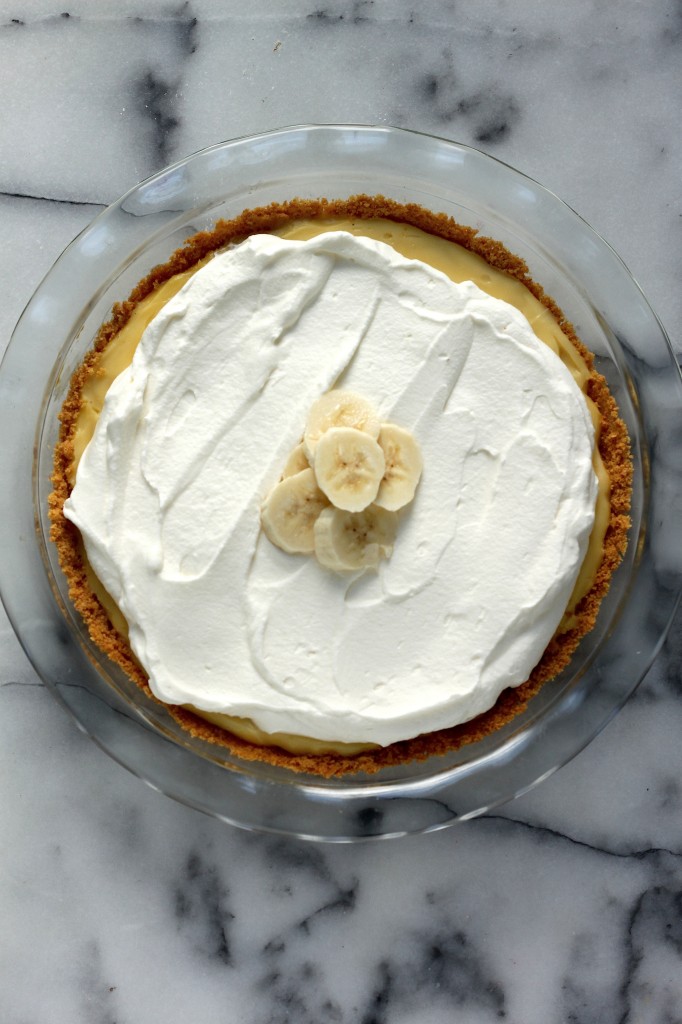 The great thing about this pie – besides the obvious – is it can be made ahead of time. The only thing you'll need to make before serving is the whipped cream, which comes together in minutes. I highly recommend making this right before you plan to serve for best results.
More Banana Recipes:
More Pie Recipes:
Top each slice with additional banana slices, pecans, or even a dash of cinnamon! Just be sure you've let the pie chill long enough before slicing in. It needs a few hours to firm up, or it'll be a delicious mess.
Patience, patience, patience! Your reward will be silky, perfect boozy PIE.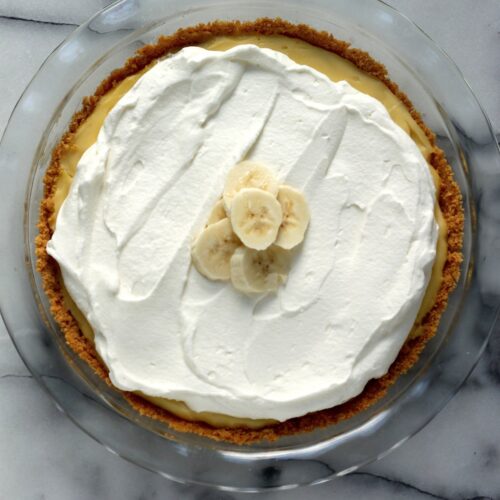 The Best Boozy Banana Cream Pie
Ingredients
For the Crust:
2 cups graham crackers, pulsed into crumbs
1/3 cup sugar
1/4 teaspoon salt
7 tablespoons butter, melted until just browned
3/4 cup toasted pecans, chopped
For the Bourbon Salted Caramel:
3 tablespoons water
1/2 cup brown sugar
1/2 cup heavy whipping cream
1/2 teaspoon flaky sea salt
2 tablespoons bourbon whiskey
1 teaspoon vanilla extract
2 tablespoons unsalted butter
For the Banana Cream Custard:
1/2 cup granulated sugar
2 1/2 tablespoons corn starch
1/4 teaspoon salt
3 large egg yolks, at room temperature; lightly beaten
3/4 cup whole milk
1/2 cup evaporated milk
2 tablespoons unsalted butter
2 tablespoons banana liqueur (or 1 tablespoon banana extract)
1 teaspoon vanilla extract
2 large banans, sliced
For the Whipped Cream:
1 cup heavy whipping cream
2 tablespoons confectioner's sugar
1 teaspoon vanilla extract
1/2 tablespoon bourbon (optional)
Sliced bananas and pecans for topping (optional)
Instructions
For the Crust:
Preheat oven to 350 degrees (F).

In the body of a blender or food processor combine graham crackers, salt, and sugar. Pulse until the crackers have been completely smashed to crumbs. Add browned butter; stir well to combine. Press down into a 9-inch pie plate.

Place pie crust in oven and bake for 10 minutes, or until lightly golden.

Carefully remove pie crust from oven and place on a wire rack to cool. Once cool, sprinkle pecans evenly over the crust shell.
For the Bourbon Salted Caramel:
Pour cream into a small microwaveable ramekin; set aside.

In a small heavy pan combine the water and sugar. Bring mixture to boil over high heat, stirring constantly. At this point heat your cream on low in the microwave for 45 seconds, or until it's just simmering. *You can do this on the stove, but I find it easier to do it in the mic!

Once mixture has come to a boil, reduce heat to medium-high and boil for 6-8 minutes constantly stirring until the sugar has become deep, golden bronze color.

Remove pan from heat and stir in half of the warmed cream, stirring well to combine. Place pan back on the heat and add the reaming cream. Add salt and bourbon, stirring well to combine.

Allow mixture to come back to a boil over medium-high heat and cook for another 3 minutes, whisking constantly. Remove pan from heat, stir in butter, and cool for 15 minutes.

Pour caramel sauce over the pecans into the pie shell and place pie plate in the refrigerator to chill for at least 45 minutes.
For the Banana Cream Custard:
In a medium-sized sauce pan whisk together the sugar, corn starch, salt, egg yolks, and milks; beat well until smooth. Cook mixture over medium heat - stirring very frequently - until mixture thickens; 6-8 minutes. Remove pan from heat and whisk in butter, banana liqueur, and vanilla. Set aside to cool for 10 minutes, stirring frequently so skin doesn't form.

Remove pie crust from refrigerator. Layer sliced bananas over the caramel, completely covering it in a single layer. Pour custard over bananas. Cover the surface of the custard with saran wrap, and place in the refrigerator to cool for at least 4 hours.

When ready to serve, make the whipped cream!
For the Whipped Cream:
Beat the heavy cream, sugar, vanilla, and bourbon (if using) together until light and fluffy peaks form. Spread whipped cream over the top of the pie, and top with pecans and banana slices. Serve at once!