This Sicilian Tomato Pie can be served hot or cold! The crust is thick and chewy and the sauce is sweet and tang. Perfect for Summer parties!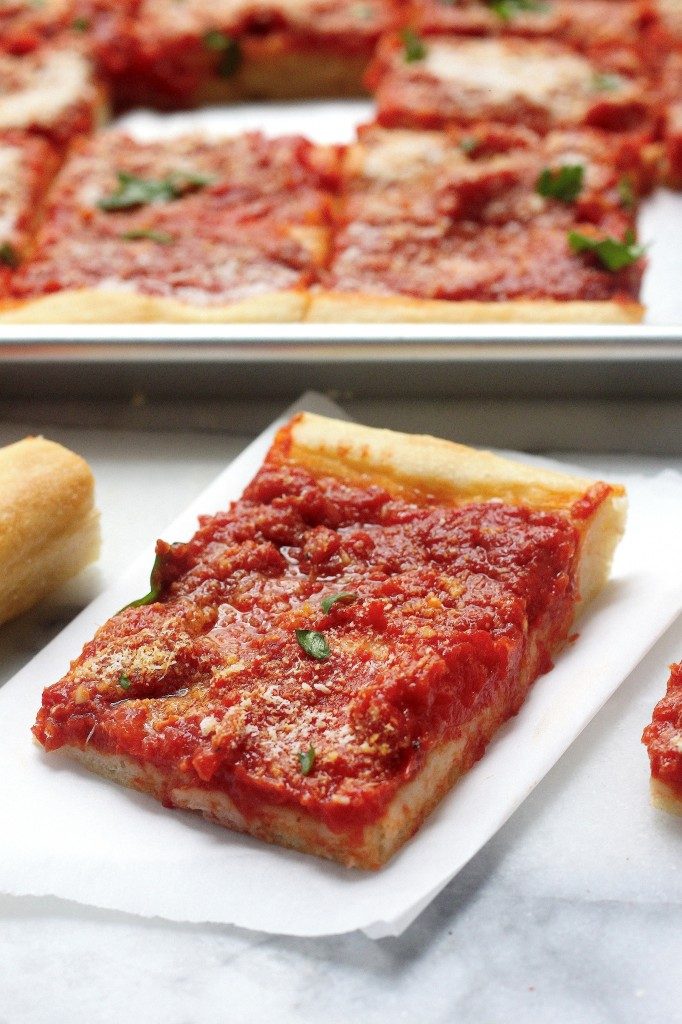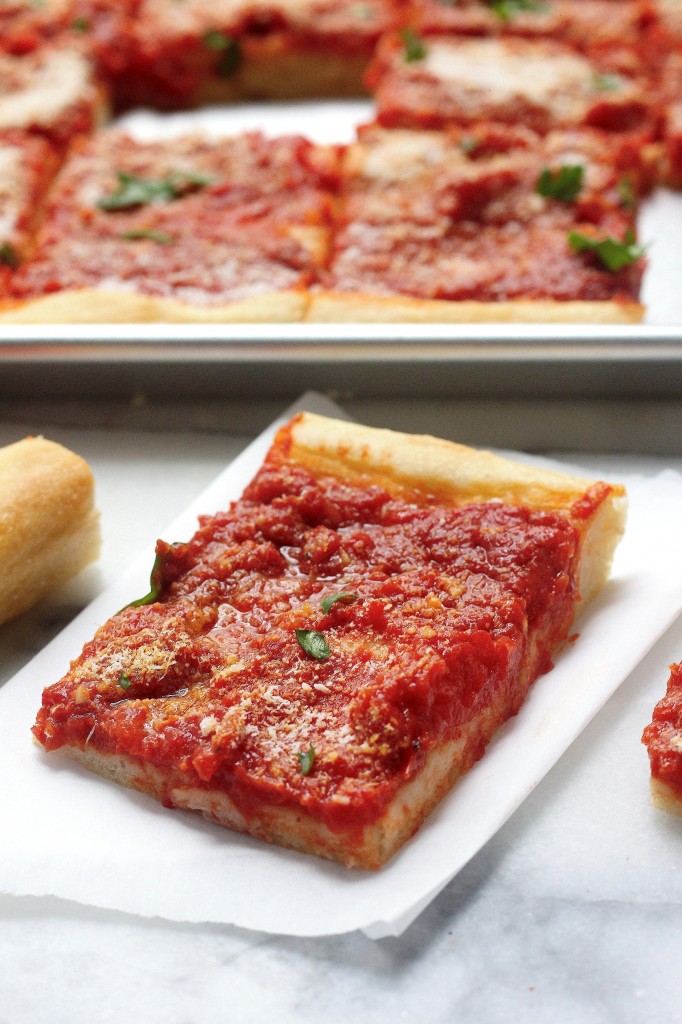 Tomato Pie Pizza
Tomato Pie!!!!!! I'm so excited to share this with you guys! I adore tomato pie, and it's one of those foods I could eat almost everyday. Growing up, any pool party, family BBQ, or game day (Go, Phils!) always had one thing in common: Cold Tomato Pie! It's simply Summer tradition.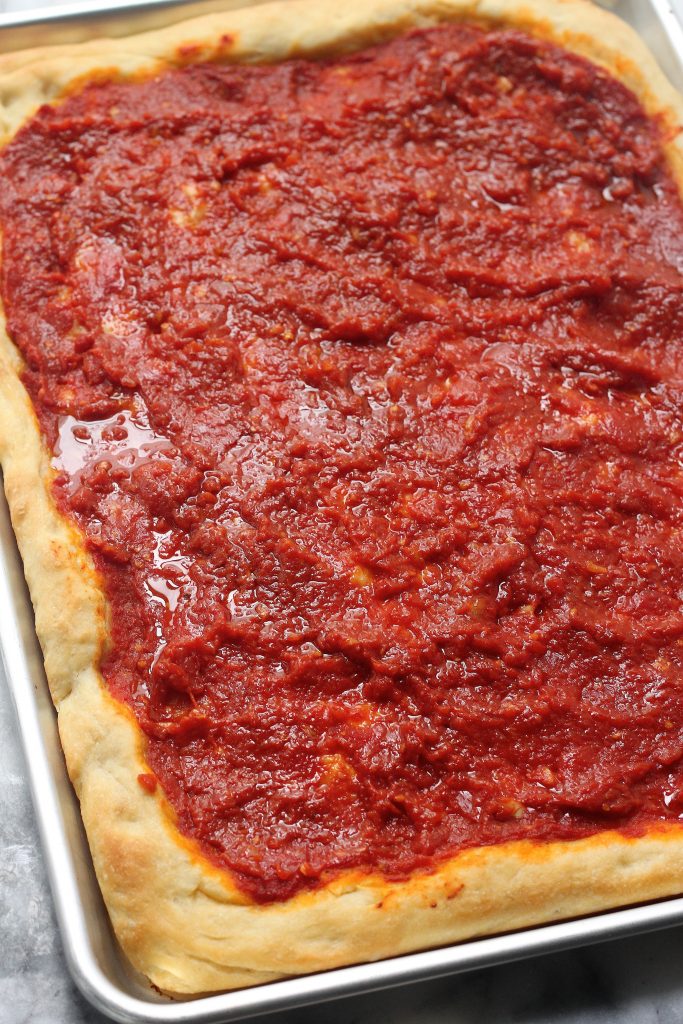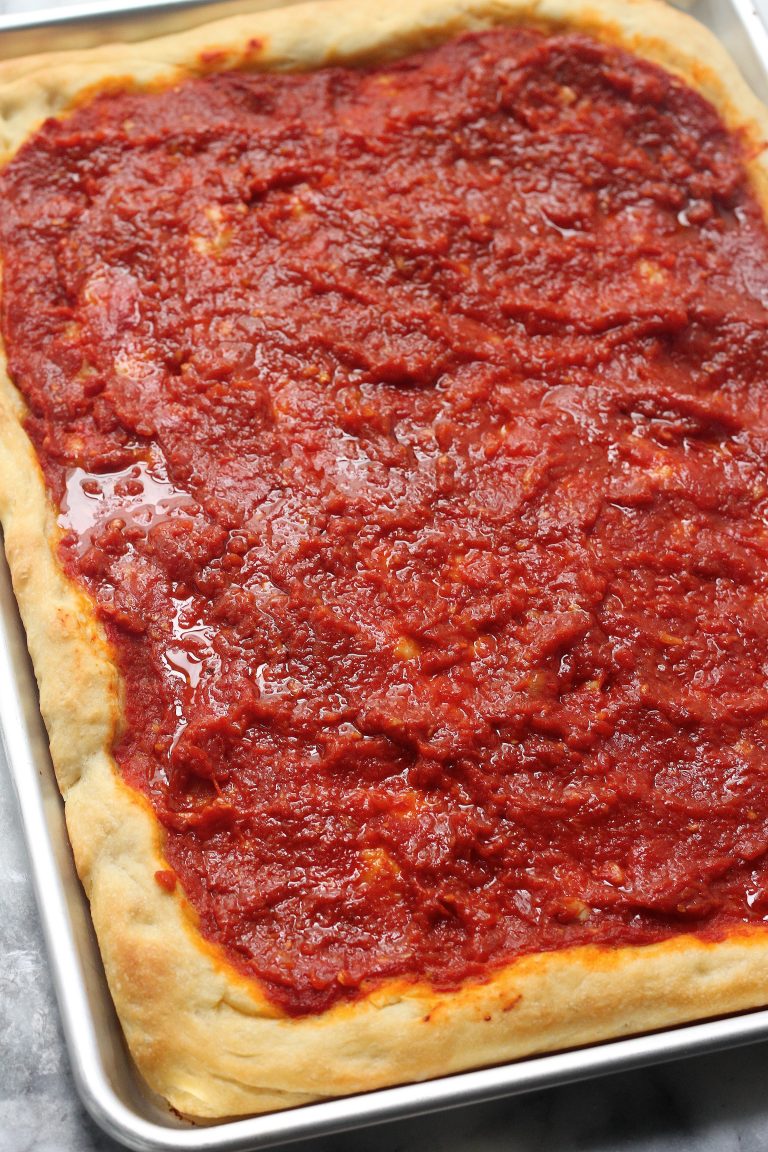 Italian Tomato Pie
So, what is tomato pie you may ask? Ummm… It's  only my childhood Summers in a slice! Ok, ok. You deserve a better explanation than that! Tomato pie is basically a cold sicilian pizza, with no cheese (except a sprinkle of grated locatelli). It has a thick, chewy, utterly delicious crust and a thick layer of sweet, tangy sauce. It's usually served cold, but equally delicious warm or at room temperature.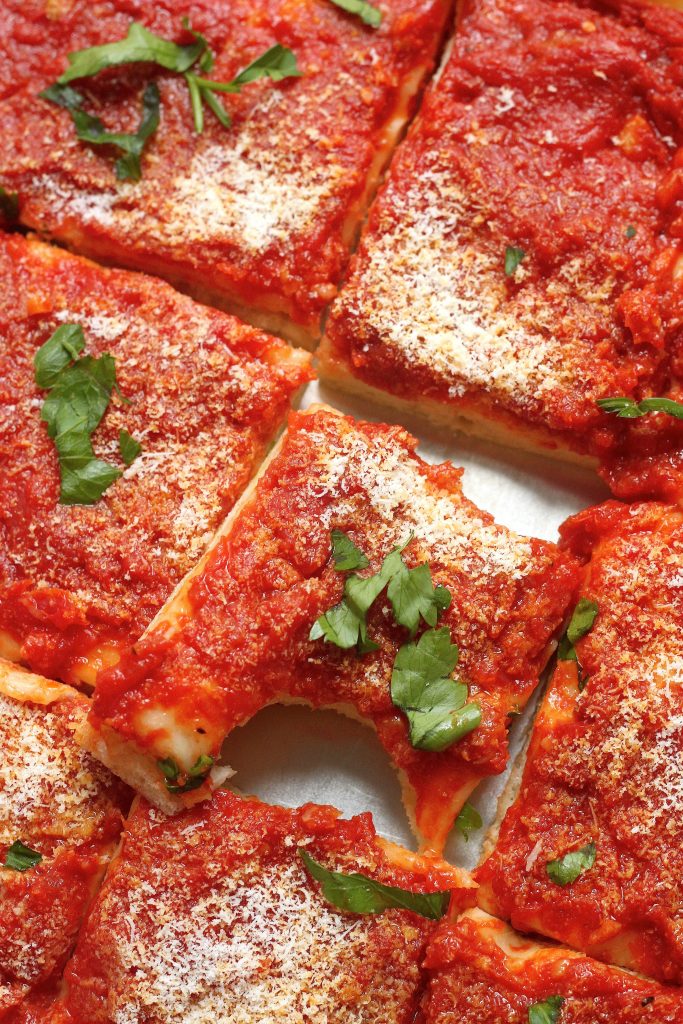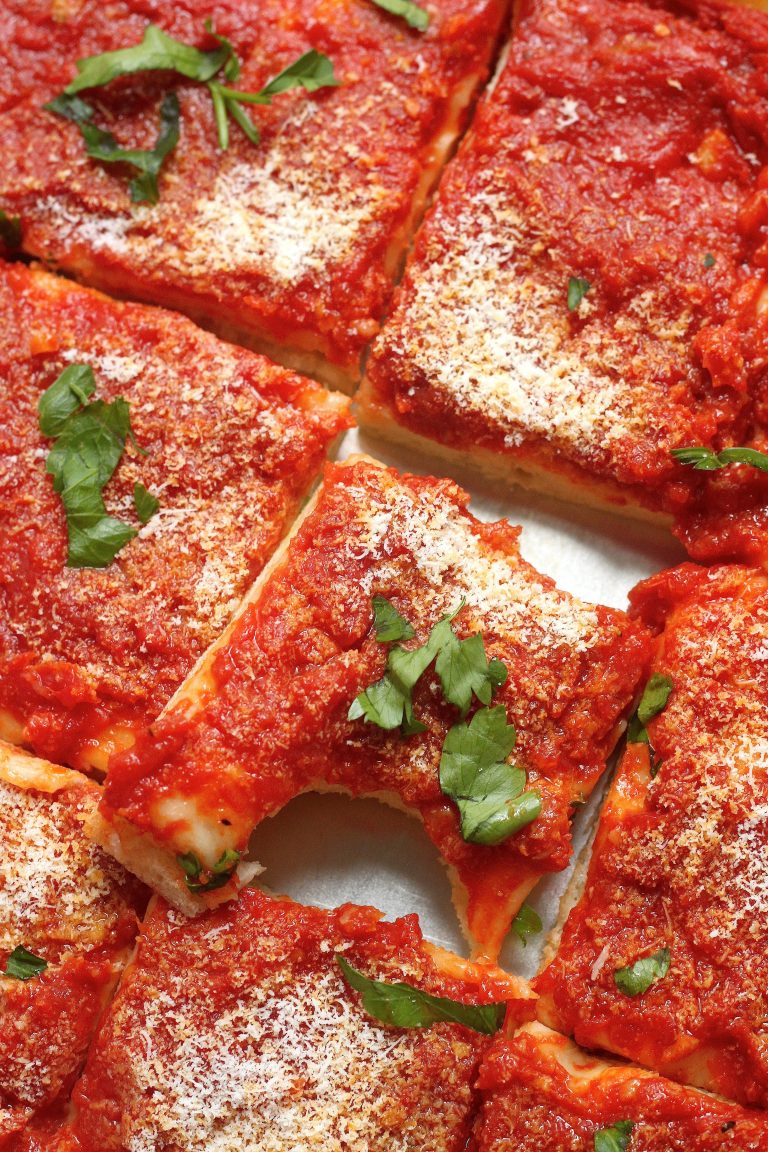 It's absolutely amazing, you guys! It wasn't until I moved away from home that I realized tomato pie was a local gem; a hidden treasure all our own. I also didn't realize how much I would miss it!
Obviously I missed it a lot, because for the last week I finally broke out the yeast and got to creating my very own version. It only took 5 (yes, I'm serious!) attempts before I found a pie that made my mouth sing to high heavens and fall back in time to my Summer days in Pennsylvania. I seriously ate the whole pie in 3 days, and I didn't even share with the guy! Bad girlfriend…? Nah! I'll just make another one.
Trust me when I say, you need a slice! xo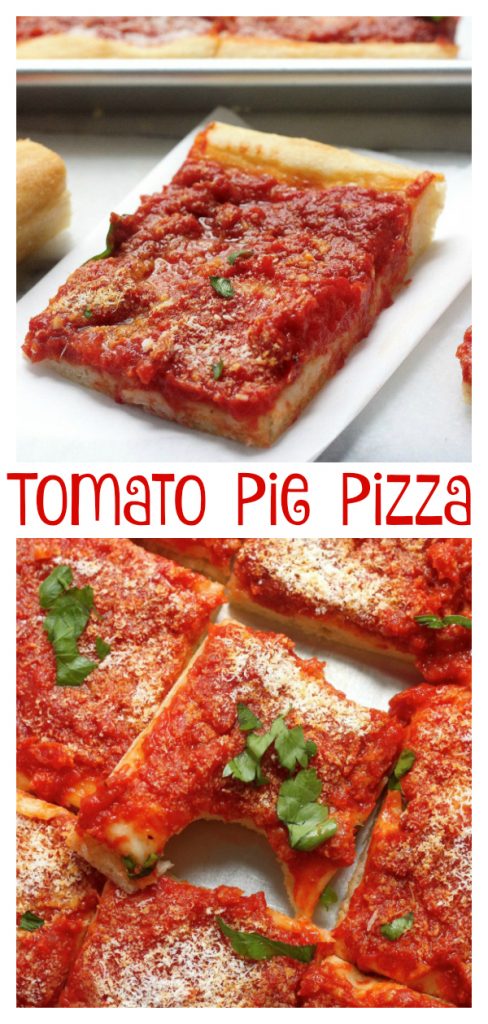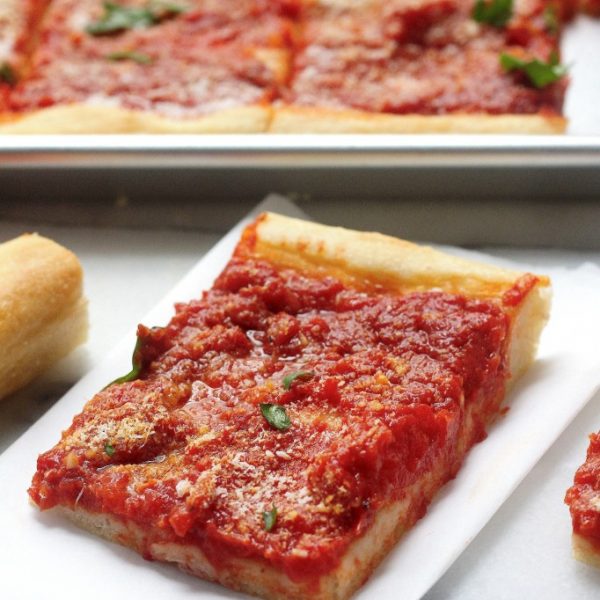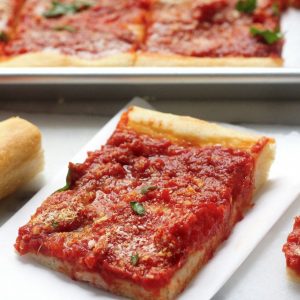 Tomato Pie
Tomato Pie is a classic Sicilian Pizza Recipe that's delicious served warm or cold! Perfect for parties!
Ingredients
FOR THE CRUST:
2 packets active dry yeast
1 and 1/2 cups water, very warm (about 110 degrees)
2 tablespoons sugar
3 and 1/2 cups all-purpose flour, plus more if needed
2 teaspoons kosher salt
1/4 cup olive oil
Extra olive oil for greasing pan
Grated Locatelli for sprinkling
FOR THE SAUCE
6 roma tomatoes, cut in half
3 tablespoons olive oil
15 ounces tomato puree
2 tablespoons tomato paste
3 cloves garlic, finely minced
1 tablespoons sugar
1 tablespoon balsamic vinegar
1 teaspoon dried basil
1/4 teaspoon dried oregano
Salt and pepper to taste
Instructions
For the Crust:
In the bowl of a standing mixer fitted with a dough hook, combine the yeast with the warm water. Stir to dissolve and let stand until it looks foamy, about 5 minutes. Stir in sugar, salt, and olive oil. Turn the mixer on low, and slowly add the flour to the bowl. When the dough starts to come together, increase the speed to medium. Stop the machine periodically to scrape the dough off the hook. Mix until the dough is smooth, glossy, and elastic - about 10 minutes. Form the dough into a ball and place in a well oiled bowl. Cover with plastic wrap and let rise in a warm place until doubled in size, about an hour

When you're ready to bake! Preheat oven to 500 degrees (F). Line a large baking sheet with parchment paper and coat with olive oil. Place the dough on the baking sheet, and using your fingertips, press dough out toward edges of pan until it's a large rectangle. Using a fork or small pointed knife, poke the top of the dough, popping any large bubbles. Cover pan with plastic and let dough rest for another 30 minutes.

Place baking sheet on your baking stone (or just the oven wrack) and lower oven temperature to 425 degrees. Bake for 15 minutes. Remove pie from ove, top with tomato sauce, rotate pan, and bake for another 10 minutes. Let cool for 5 minutes before removing the tomato pie from the pan and placing on a cooling rack to finish cooling. Top with some grated cheese and serve warm or cold. I love it both ways!
For the Sauce:
Preheat oven to 350 degrees (F). Slice the tomatoes in half, sprinkle with salt and pepper, drizzle with olive oil, and roast in oven for 45 minutes

While your tomatoes are roasting, combine the rest of your ingredients in a large saucepan and simmer for about 30 minutes (or until your tomatoes are done roasting. Once your tomatoes are out of the oven, give them a quick whirl in the blender, pulsing until it's a chunky consistency. Add roasted tomatoes to saucepan and continue to simmer until most of the water has evaporated and the sauce is very thick. Set aside until needed for pie.