Ultra soft Old-fashioned banana bars topped with homemade cream cheese frosting and finished off with fresh banana slices. Everyone loves this easy banana bar recipe!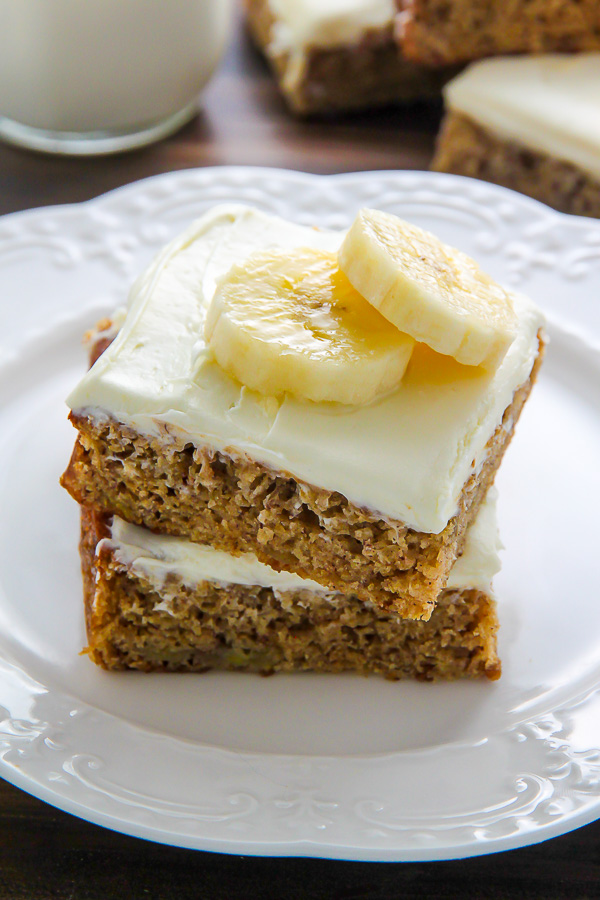 Banana Bars with Cream Cheese Frosting
I have a ton of banana recipes on my website already, and yet somehow, I've never shared with you my famous banana bars! This recipe is actually straight out of my Nana's playbook (she is a pro when it comes to old-fashioned desserts), and one you're going to want to hold onto with both hands.
FACT: Even banana haters (like my weirdo brothers) go crazy over these bars!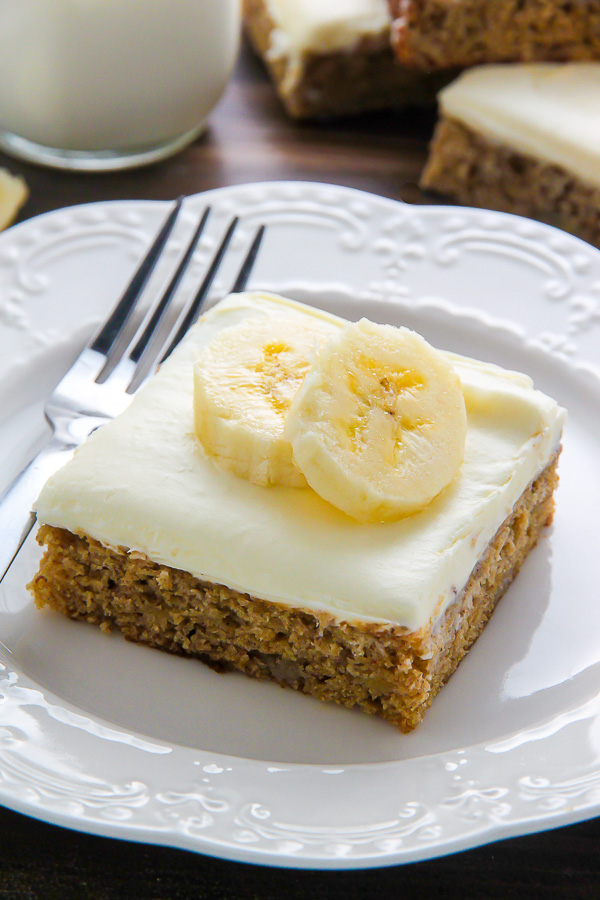 To make these SUPER SIMPLE old-fashioned banana bars you're going to need:
light brown sugar
granulated sugar,
very ripe mashed bananas
vanilla extract
canola oil (or melted coconut oil)
eggs
flour
baking powder & baking soda
cinnamon
nutmeg
and salt.
The best part? These bars come together in ONE bowl. You'll simply combine the wet ingredients first, then add in the dry ingredients, and then mix everything together. Being careful not to over mix, of course.
You'll spread the batter into a 9×13 inch baking pan, and spread it smooth using a spatula. The batter will be on the thinner side, and it will look like a very thin layer, but don't worry – the batter really puffs up a good bit while it bakes. You'll bake the bars for about 20 minutes, or until a toothpick inserted in the center comes out clean. I recommend starting to check them at 18 minutes. When the bars are done baking, you'll want to place the pan on a cooling rack and cool them completely INSIDE the pan. It is really important you cool the bars 100% before frosting them. If you'd like to speed this process up (like me… cuz what is patience?!), simply pop the pan in the fridge for 25-30 minutes. That should do the trick.
While the banana bars are cooling, you can make your cream cheese frosting.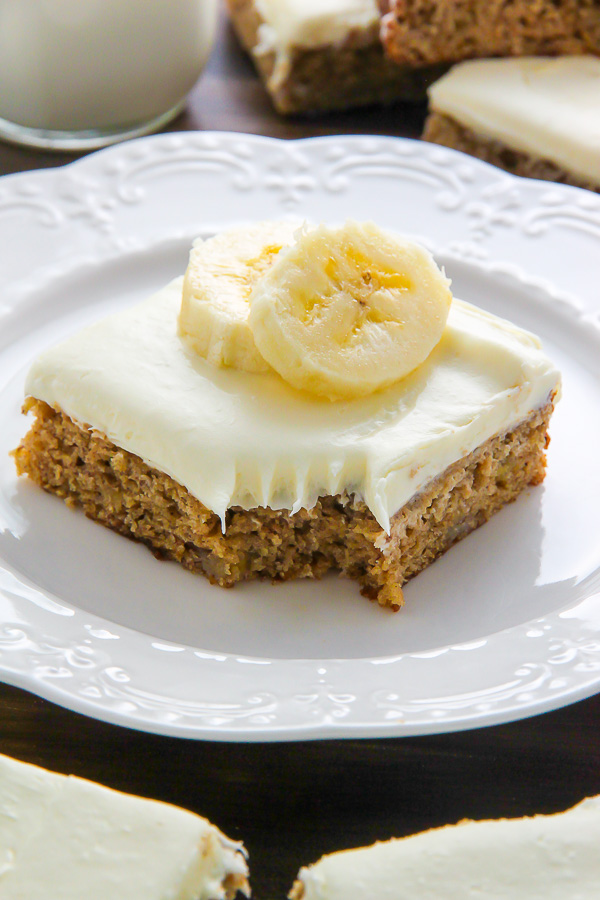 This luscious cream cheese frosting is beyond easy to make!
You're going to need:
full-fat cream cheese
unsalted butter
vanilla extract
and confectioners' sugar
The most important thing here is to make sure your cream cheese and butter are verrrrry soft. So be sure to set them out on the counter an hour or so before you plan on making the frosting. I also like to sift my confectioners' sugar so it's lump and bump free. Silky smooth frosting, please and thank you!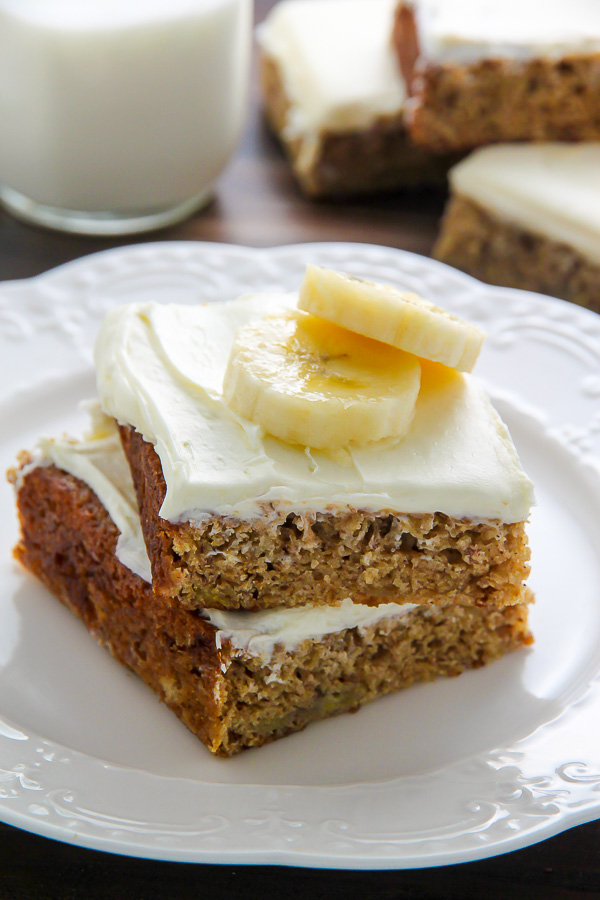 Top each bar with a fresh banana slice because… pretty! You know I'm a sucker for pretty presentation 😉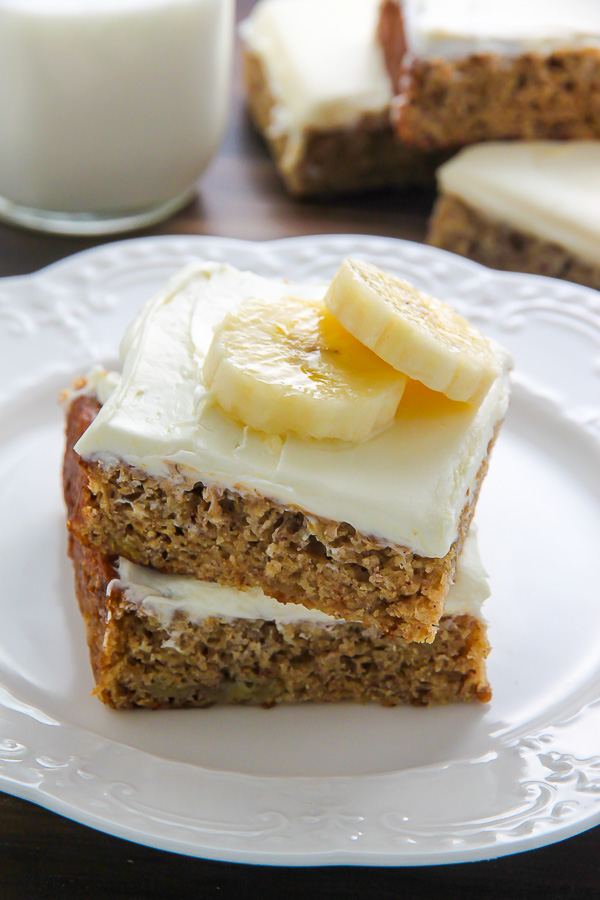 The next time you have a few ripe bananas, skip the banana bread and try these banana bars, instead! I promise your won't regret it 😉
If you try this recipe, let me know what you think! Leave a comment below, and don't forget to snap a pic and tag it #bakerbynature on instagram! Seeing your creations makes my day.

More Bars Recipes: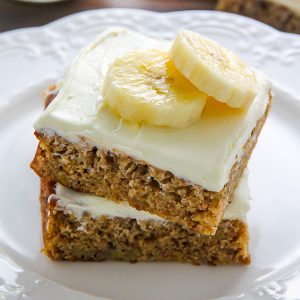 Old-Fashioned Banana Bars with Cream Cheese Frosting
Supremely moist Old-Fashioned Banana Bars topped with sweet cream cheese frosting! Perfect for breakfast or dessert.
Ingredients
For the old-fashioned banana bars:
1/2 cup light brown sugar, packed
1/2 cup granulated sugar
1 cup very ripe mashed banana
1 teaspoon pure vanilla extract
1/3 cup canola oil (or melted coconut oil)
2 large eggs, at room temperature
1 cup all-purpose flour
1 teaspoon baking powder
1 ⁄2 teaspoon baking soda
3/4 teaspoon cinnamon
1/4 teaspoon ground nutmeg
1 ⁄4 teaspoon salt
For the cream cheese frosting:
8 ounces full-fat cream cheese, VERY soft
2 tablespoons unsalted butter, VERY soft
2 teaspoons pure vanilla extract
2 cups confectioners' sugar, sifted
Instructions
For the old-fashioned banana bars:
Preheat oven to 350 degrees (F). Line a 9x13 inch pan with parchment paper, allowing two of the sides to overlap; spray parchment paper lightly with non-stick spray and set aside.

In a large bowl add the light brown sugar, granulated sugar, ripe mashed bananas, vanilla, oil, and eggs; beat well with a whisk to combine. Stir in the flour, baking powder, baking soda, cinnamon, nutmeg, and salt; stir until just combined. Pour batter into prepared pan, spreading smooth and into an even layer using a rubber spatula. Bake bars for 20-22 minutes, or until toothpick inserted in center comes out clean or with just a few moist crumbs attached. Place the baking pan on a cooling wrack and cool the bars completely in the pan. Once bars are completely cooled, use the overlapping sides of the parchment paper as handles to carefully life them out of the pan. Gently spread on the cream cheese frosting, and cut into squares. Serve at once, or store in the fridge, uncut, for up to 2 days.
For the cream cheese frosting:
While the cake is cooling, make your frosting!

In the bowl of a stand-mixer fitted with the paddle attachment, or in a large bowl using an electric handheld mixer, beat the cream cheese, butter, and vanilla on medium-high speed until completely smooth; about 2 minutes. Reduce the speed to low and gradually add the sifted confectioners' sugar. Once all of the sugar has been added beat on high-speed for 1-2 minutes. Once the banana bars have completely cooled, gently spread the frosting over the bars, and decorate with banana slices, if desired. Then slice and serve! Store these bars in the fridge, covered, for up to 2 days. Not that I think they'll last that long 😉