Ooookie dokie. Another day, another tall stack of pancakes!
This recipe – properly titled best ever (ever ever ever) – is truly one of my favorite healthy breakfast recipes – of all time! They are just so… I mean, gosh golly! Look that them!!! I could list a million reasons they're the best…
But I think it's much better to show you with some more photos, and list the real selling points 😉
Selling point #1: Don't you just want to smoosh your face into that stack?!? 
Selling Point #2: You want to devour that bite.
Mmmm… so many dark chocolate chips!
Question: Can you even tell this sweet stack is made with mashed bananas, greek yogurt, oats, and whole wheat? I know, those chocolate chunks are probably throwing you off. But look niiiiiiice and hard. I double doggy dare you to find an imperfection in the babies!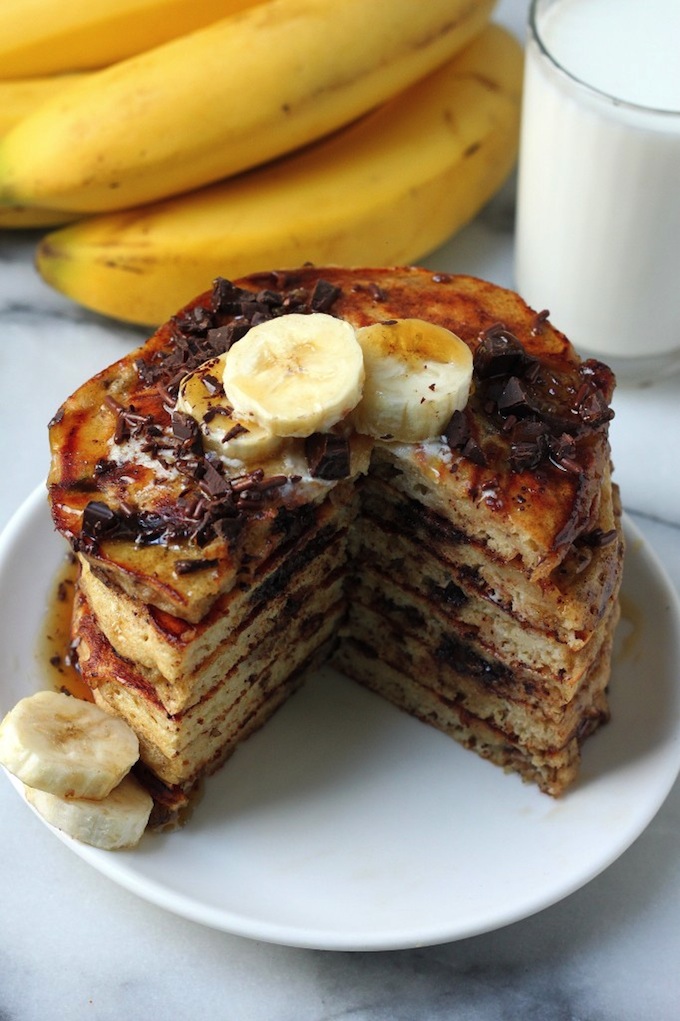 I didn't think so 😉 These light, fluffy, banana pancakes are flawless! I chose to stuff ours with dark chocolate chunks because we like our breakfast to taste like dessert… but you can leave them out, or use less if you want to make these even healthier. Just promise you'll try them, ok?! xoxo
Also, the batter can be made a day ahead and stored in the fridge! This news should be a total life win if you're anything like me 😉 Make ahead pancakes?! Don't mind if I do… like everyday!
Best Ever Banana Oat Pancakes
Ingredients
*Makes about 12 pancakes
3 large eggs, separated
1/2 cup full-fat Greek yogurt
1/2 cup ripe mashed bananas
3 tablespoons almond milk (you can use regular whole milk if that's what you have)
2 tablespoons dark brown sugar
1/2 teaspoon salt
1 teaspoon vanilla extract
2 teaspoons baking powder
1/2 cup oat flour
1/2 cup whole wheat flour
1/2 cup chocolate chunks, if using
4 tablespoons butter, for the pan
Maple syrup, for serving
Instructions
In a large bowl whisk together the egg yolks, yogurt, bananas, milk, sugar, salt, vanilla, and baking powder.

Add flours to the wet milk mixture, and stir just to combine; do not over mix! The batter will be thick, so don't worry if there's a lot of clumps left.

Add egg whites to a large bowl or the body of a stand mixer. Beat using a handheld mixer or the whisk attachment until the whites begin to form soft peaks.

With a rubber spatula fold egg whites into flour/yogurt mixture, stirring until fully incorporated.

Melt 1 tablespoon of butter in a large skillet over medium heat. Fold in chocolate if using.

Ladle 1/3 cup scoops of the batter into the skillet, only cooking a few at a time so they don't blend together.

Cook pancakes until the edges begin to brown and the top of the batter bubbles, then flip and cook for another 1-2 minutes. Repeat for all pancake batter.

Top pancakes with syrup and extra bananas, or anything else your heart desires! Serve at once.