Black and Tan Brownies are rich, flavorful, and perfect for St. Patrick's Day! Featuring Guinness spiked brownies topped with peanut butter ale frosting, they're always a crowd pleaser! And serve a ton!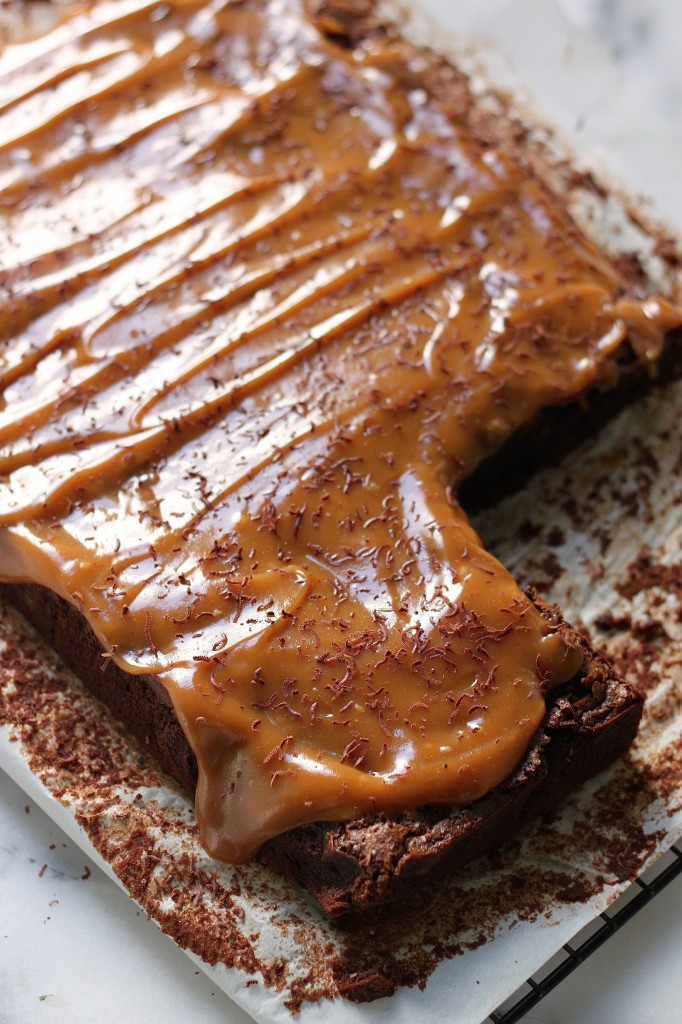 Guinness Brownies 
This is one of those desserts that is almost as fun to make as it is to eat! The base for these brownies is a gooey, rich Guinness spiked brownie, and the topping is a simple but AMAZING peanut butter ale frosting that will blow your mind. Even the (very stubborn) peanut butter haters in my life had love for these brownies! And that's saying a lot 😉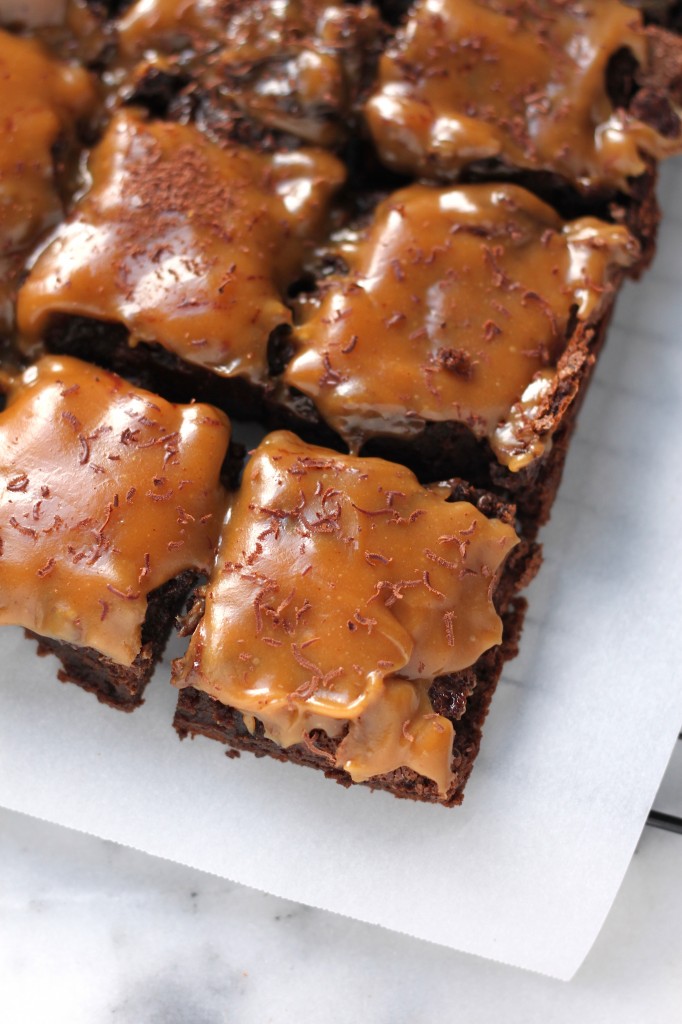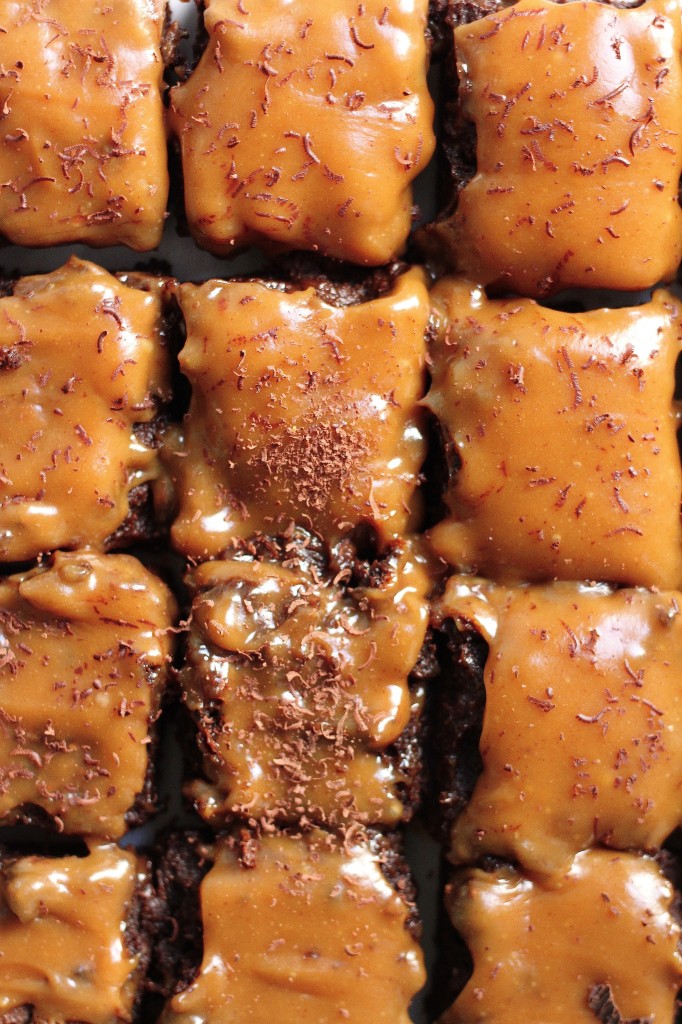 These extra indulgent brownies come together in a cinch, but you do need to wait till they're COMPLETELY cooled to start on the icing stage, so make sure you give yourself enough time. I only say this with caps and enthusiasm because I know I have a habit of doing things right down to the wire and then freaking out when I run out of time… but that's just me 😉 I bet you got the whole time management thing down.
The base of these brownies consists of the usual suspects (flour, cocoa powder, salt and sugar) as well as some new exciting friends like white chocolate, dark chocolate, and BEER. If you've never baked with beer before, don't fret! It really just adds a light and lovely malt flavor to these brownies, and increases the richness of the chocolate. I love baking with beer, and I really really think you will too!
Now. Onto my new obsession – peanut butter ale frosting! Also known as the "tan" part in this recipe. It's a simple combination of peanut butter chips and ale (I used Sierra Nevada), but it's 100% the best thing I've ever drenched brownies in. Seriously – I cannot stress enough just how awesome it is!
Oh! I almost forgot. The beer is cooked in both the brownie base as well as the frosting, so don't worry about these getting you buzzed or being unsafe for kids. The beer really just adds fun flavor to both parts without overpowering it, making it a great dessert for anyone who loves a good brownie 😉 And who doesn't love a good brownie?!
Happy Sunday, folks. See you tomorrow. xoxo.
More Brownie Recipes:
Black and Tan Brownies
Ingredients
1 1/4 cups all-purpose flour
1 teaspoon salt
1/2 cup cocoa powder
7 ounces dark chocolate, chopped
3.5 ounces white chocolate, chopped
4 ounces (1 stick) unsalted butter, cut into small pieces
1 cup white granulated sugar
3/4 cup brown sugar
4 large eggs, at room temperature
2 teaspoons vanilla extract
1 cup Guinness Beer
For the Ale Frosting:
1 (10 oz) bag peanut butter chips (I used Reese's brand)
1/3 cup Ale (I used Sierra Nevada)
Instructions
Preheat the oven to 350 degrees (F). Butter the sides and bottom of a 9×13-inch baking pan and line with parchment paper.

In a medium bowl, whisk together the flour, salt, and cocoa powder; set aside.

Place the chocolates and butter in a large bowl and set it over a saucepan of simmering water, stirring occasionally, until the chocolate and butter are completely melted and smooth.

Turn off the heat. Keeping the bowl over the water add the sugars and whisk until completely combined, then remove the bowl from the pan.

Add the eggs to the chocolate mixture one at a time, whisking each until completely combined. Add the vanilla and stir until combined. Stir in the beer. *Do not overbeat the batter at this stage or your brownies will be cakey.

Sprinkle the flour mixture over the chocolate mixture. Using a rubber spatula, fold the flour mixture into the chocolate until just a wee bit of the flour mixture is still visible.

Pour the batter into the prepared pan and smooth the top. Bake in the center of the oven for 30 minutes, rotating the pan halfway through the baking time. Let the brownies cool COMPLETELY, then lift them out of the pan using the parchment paper.

Carefully pour frosting over top the brownies and gently spread until they're completely covered. Cut into squares and serve.
For the frosting:
In a double boiler or microwavable bowl melt peanut butter chips and ale together over low heat, whisking until completely smooth. If you use your microwave for this, heat it in 20 second increments, whisking the mixture in between heats. Allow mixture to cool for 10 minutes before spreading on brownies.