Cravings brownies? Skip the boxed mix and try one of these 20 homemade brownie recipes instead! From classic brownies with crackly tops to brownie cookies, brownie pie, and skillet brownies topped with vanilla ice cream, there's a recipe for every brownie craving!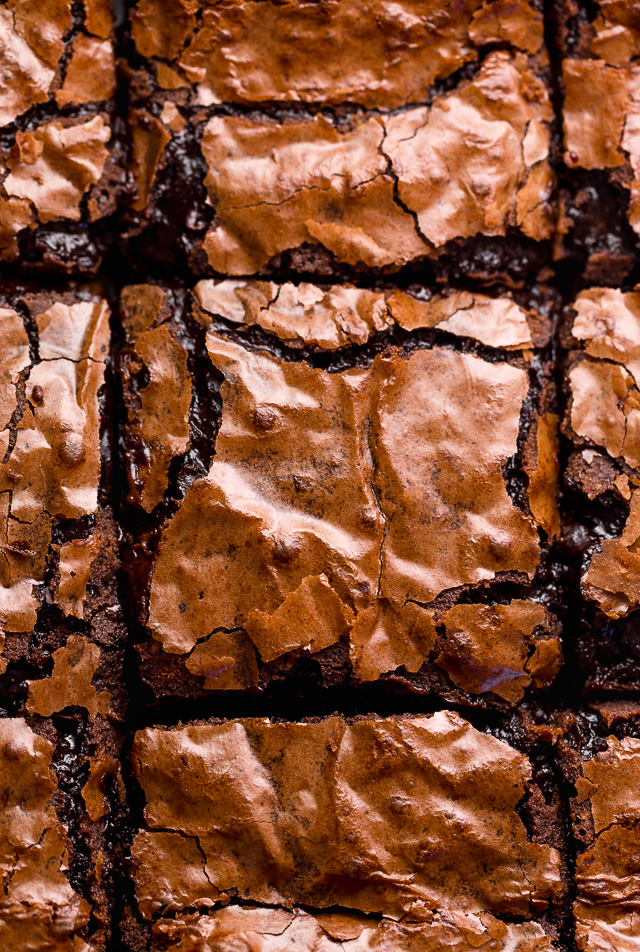 Best Brownie Recipes
Are you ready be the best brownie baker in the neighborhood? Look no further than this ultimate brownie roundup! Here you'll find the best tried-and-true brownie recipes, plus: plenty of pro-tips from a professional baker! Ditch the boxed brownie mix for good… I promise once you try these recipes, you'll never want to go back!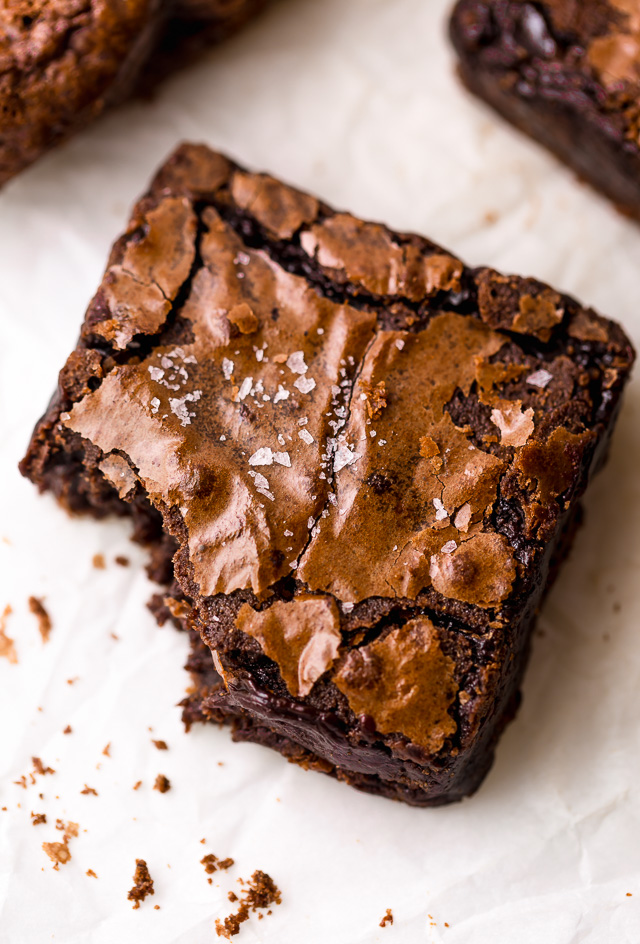 There are thousands of brownie recipes on the web claiming to be the best… but these brownies actually live up to their title! These are THE best!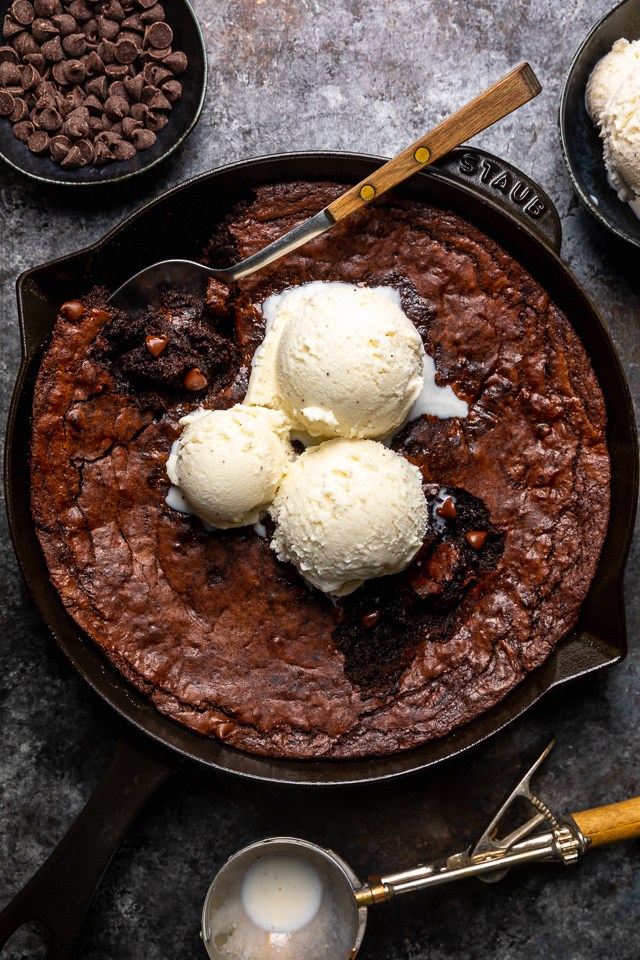 Not a fan of waiting for brownies to cool? Skillet brownies are for you! Add a cup of mini marshmallows and some crushed up graham crackers for s'mores brownies… or drizzle some salted caramel sauce on top for caramel brownies.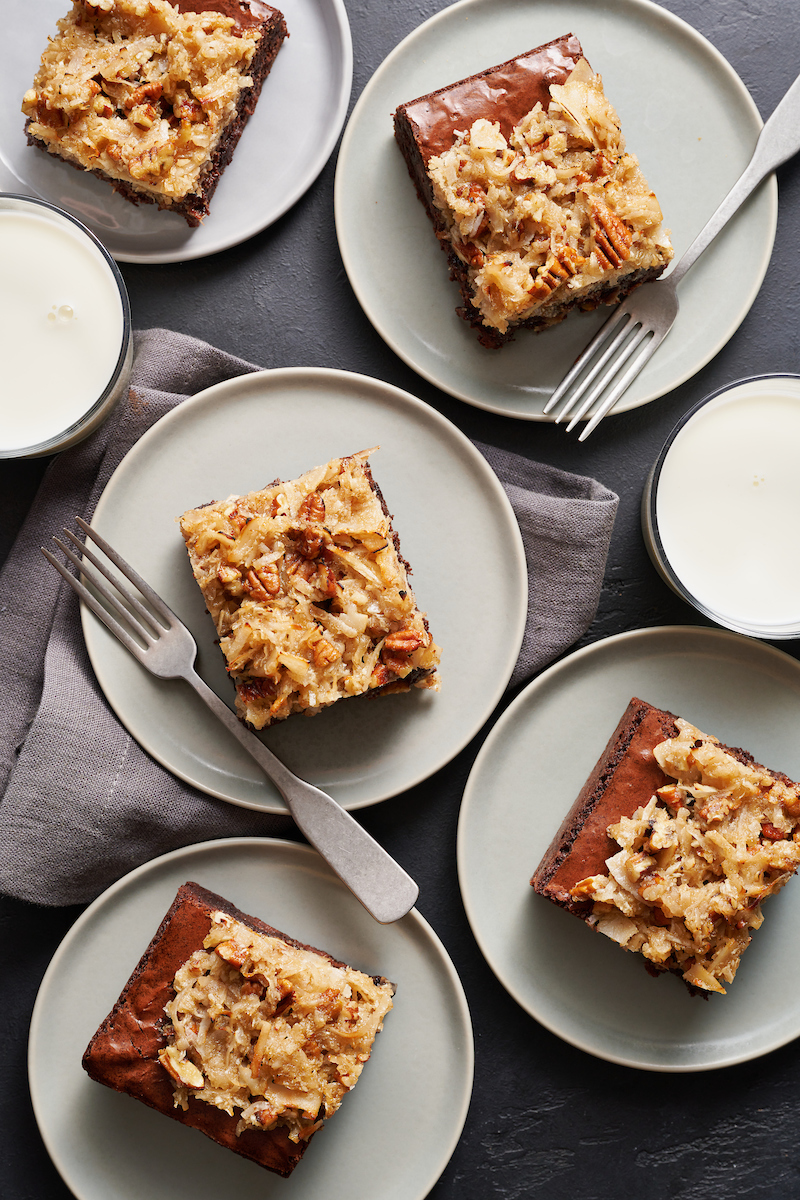 If you like German Chocolate Cake, you will love German chocolate brownies! Always a huge hit at bake-sales and potlucks.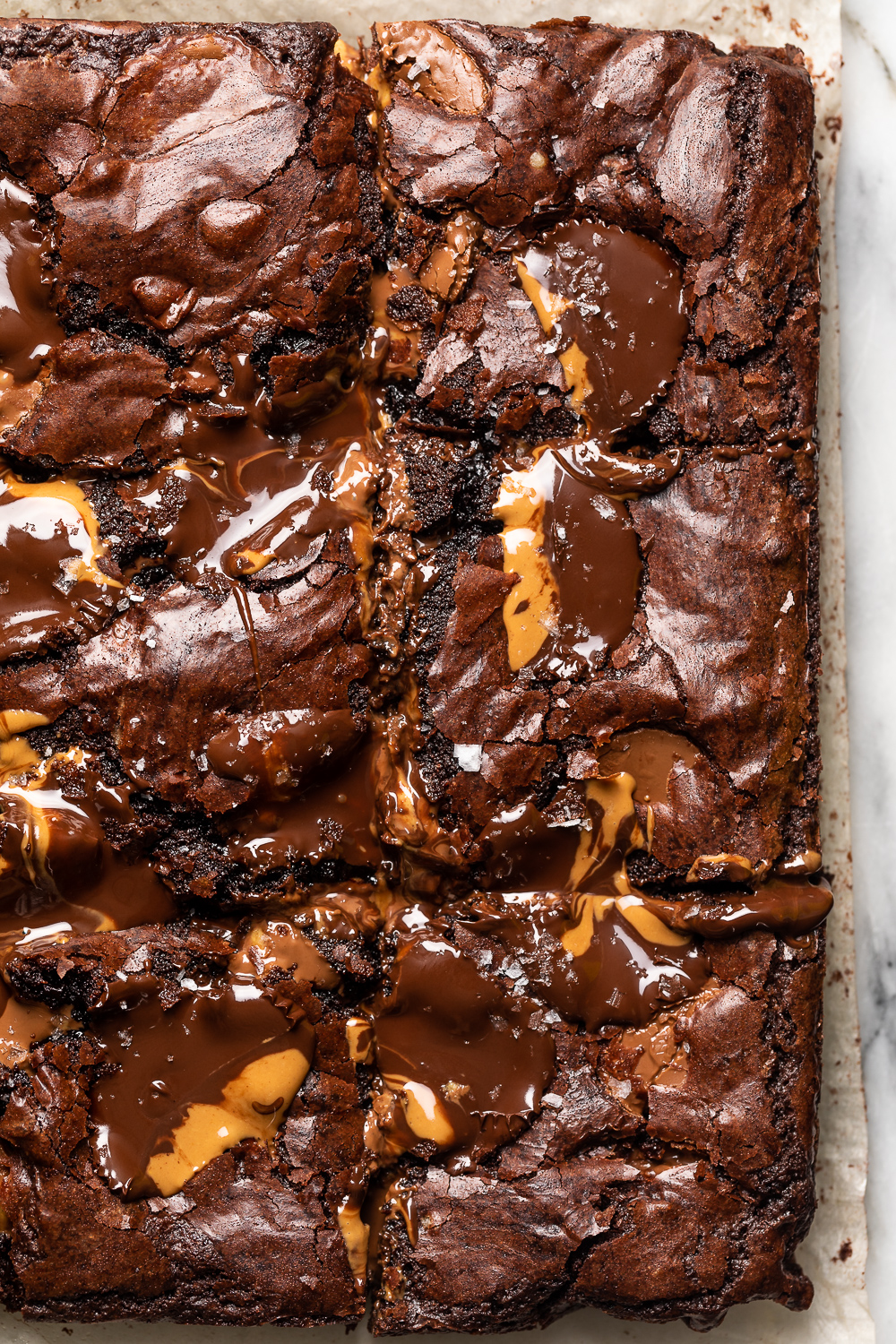 Add a cup of peanut butter chips for even more peanut butter flavor!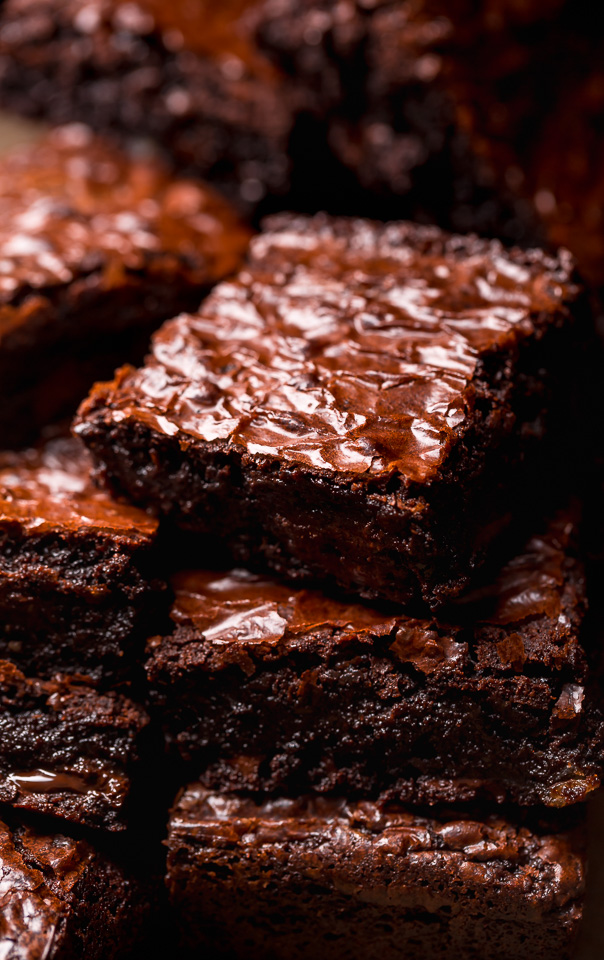 Calling all coffee lovers! These brownies are spiked with instant espresso powder, which intensifies the chocolate flavor and adds subtle coffee undertones. These are the perfect "adult-only" brownie.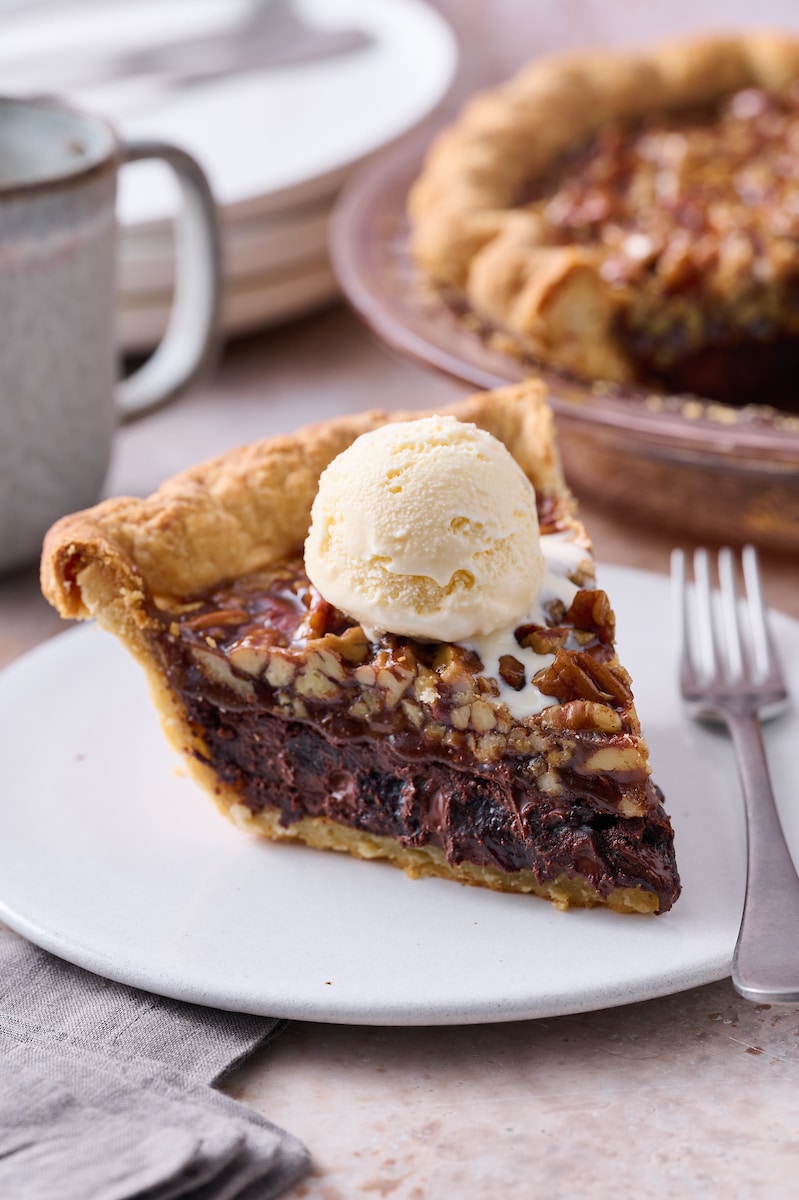 You read that right: BROWNIE PIE! Topped with gooey pecan filling, this is perfect for special occasions like Thanksgiving or Christmas. Topping this with vanilla ice cream is always a good idea!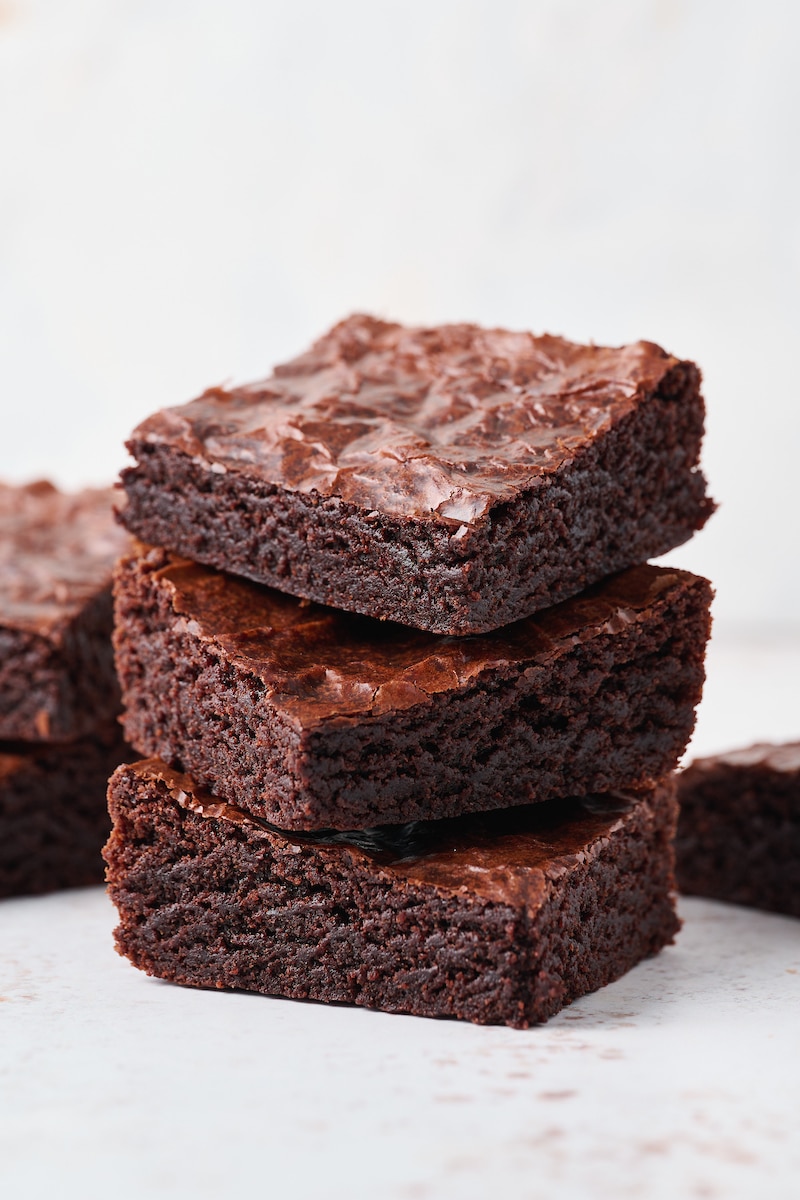 Craving brownies but not in the mood to have a giant tray of the leftovers hanging around? This is the recipe for you! Makes exactly 6 squares.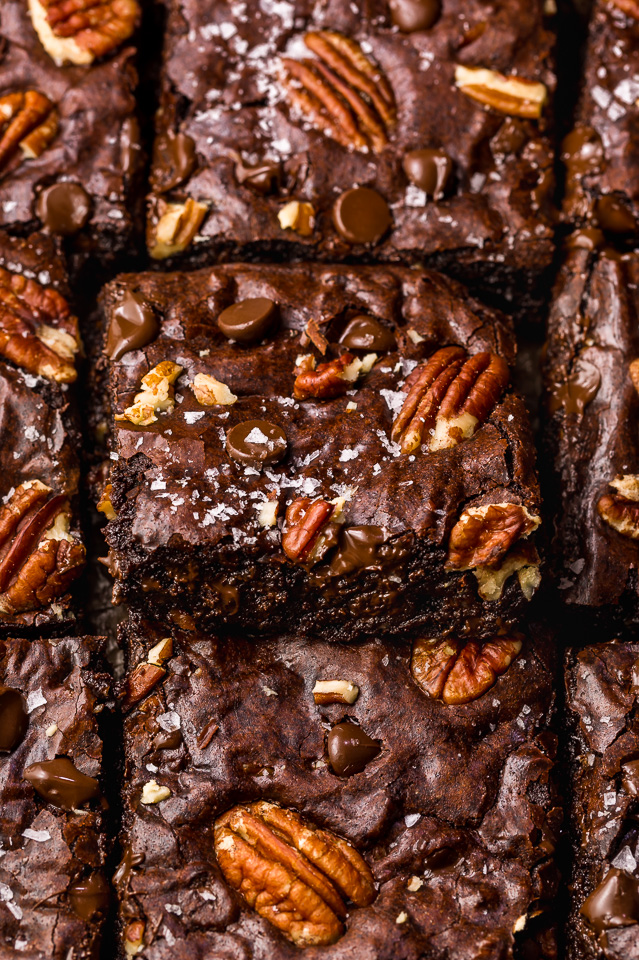 Hmm… what in the world could make brownies better? How about BOURBON + PECANS? These are loved by all, but especially by the men in my family. A great Father's Day gift!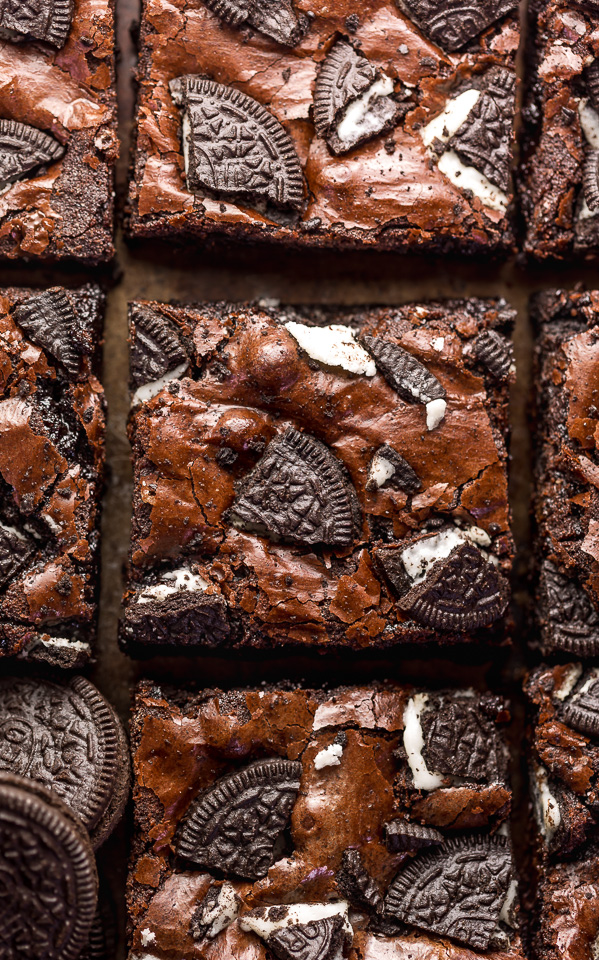 Use seasonal Oreos to celebrate the time of year! Orange Oreos for Halloween, Pink Oreos for Valentine's Day, Red and Green Oreos for Christmas… I think you get the point!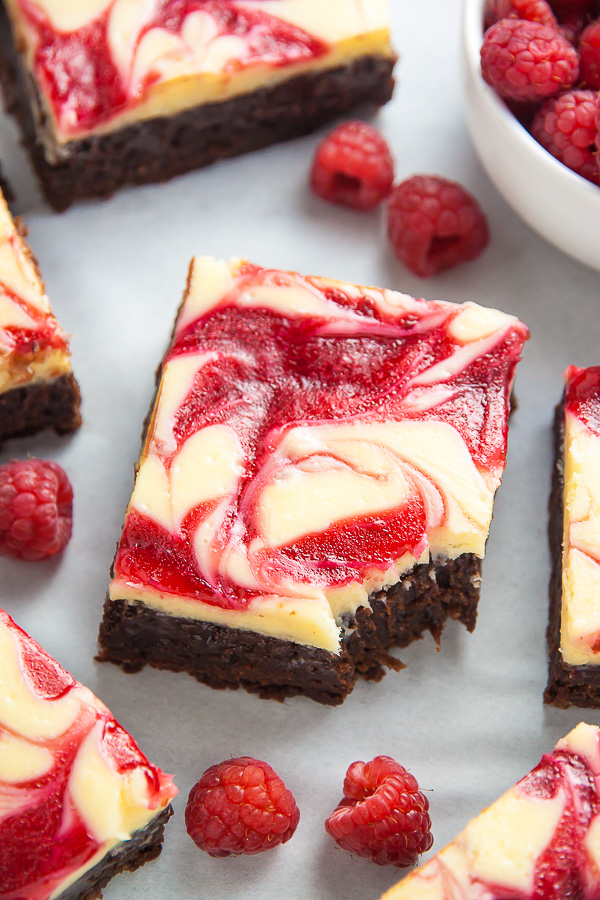 Classic crackly tops are pretty… but these swirled white chocolate raspberry cheesecake brownies are even prettier!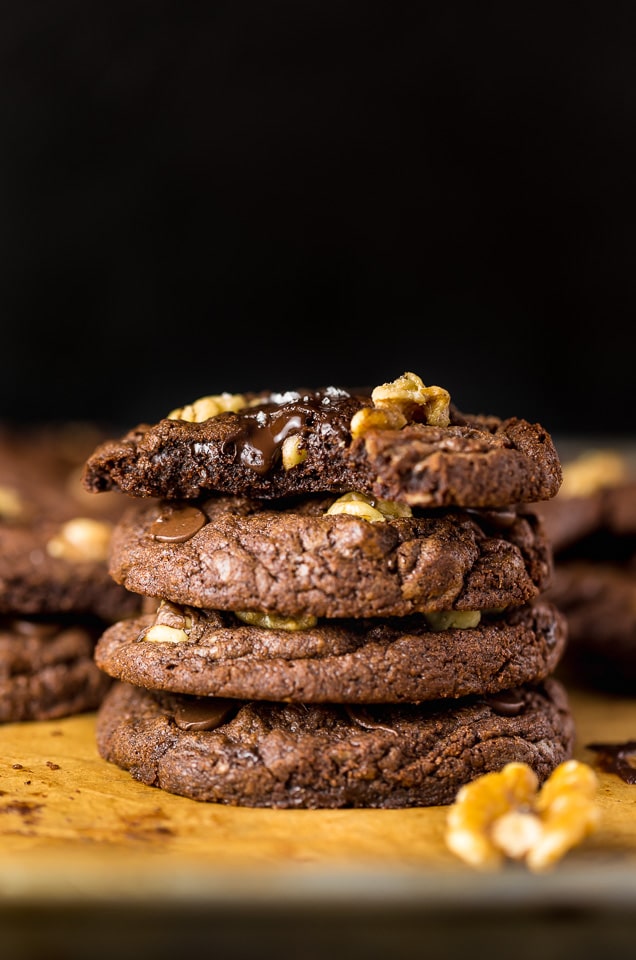 Brownies in cookie form? Need I say more? Feel free to leave the nuts out of this one if desired!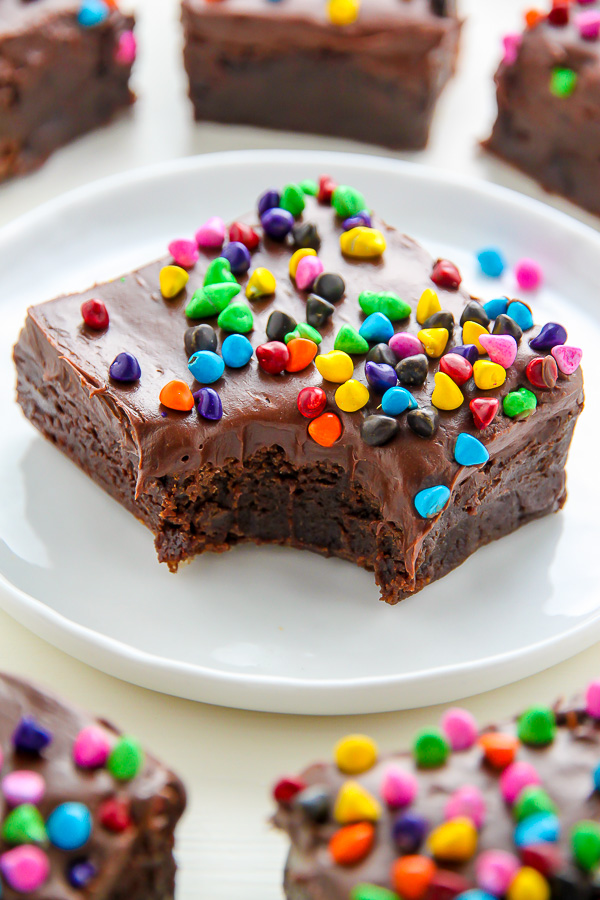 Remember those little Debbie cosmic brownies? These are just like those… but better because they're 100% homemade!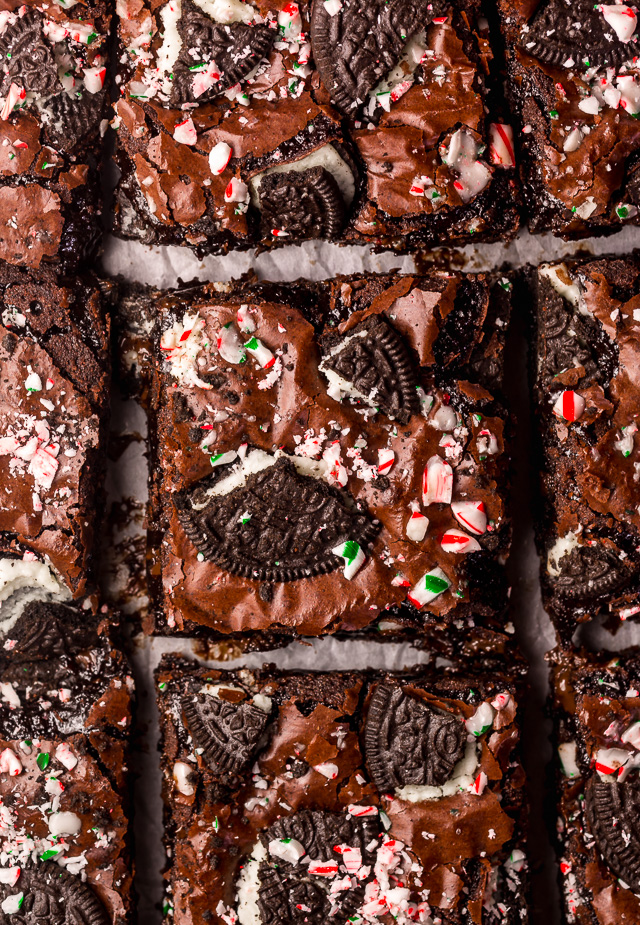 If you're a fan of peppermint mocha lattes, you'll love these brownies! These make a great addition to holiday cookie boxes, too.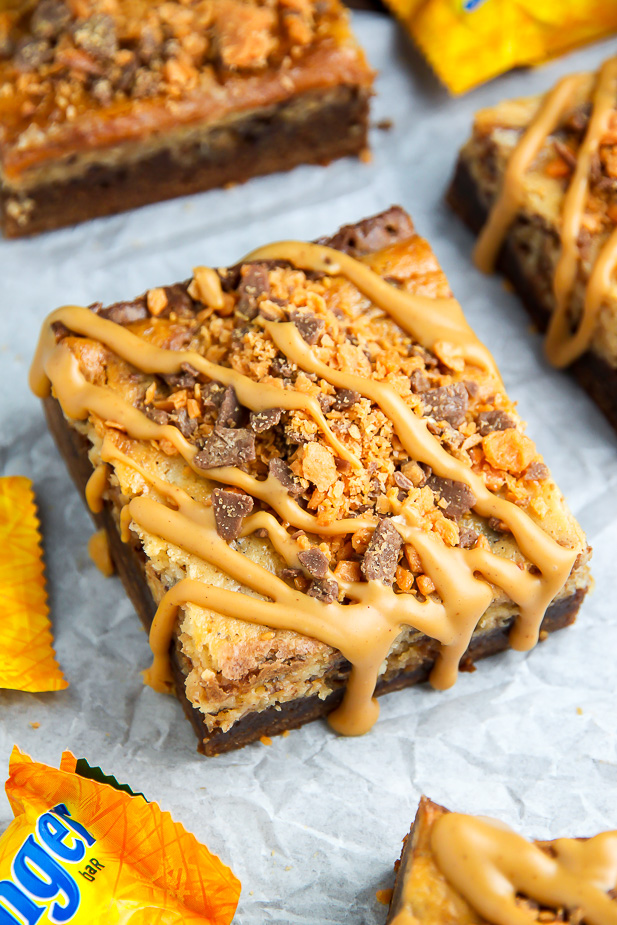 Butterfiner + Cheesecake + Brownies = heaven on earth!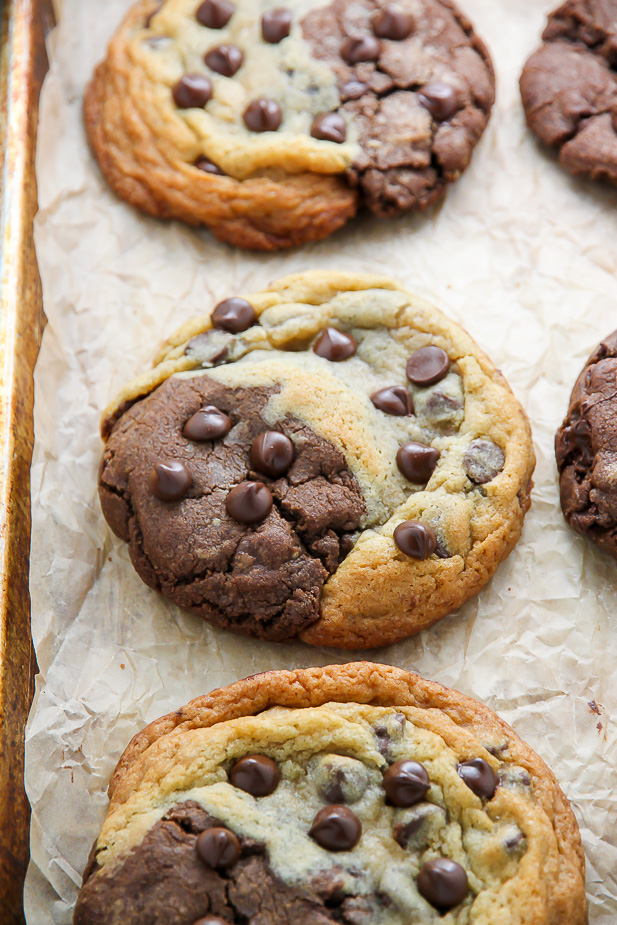 For those days you can't decide if you want to bake cookies or brownies!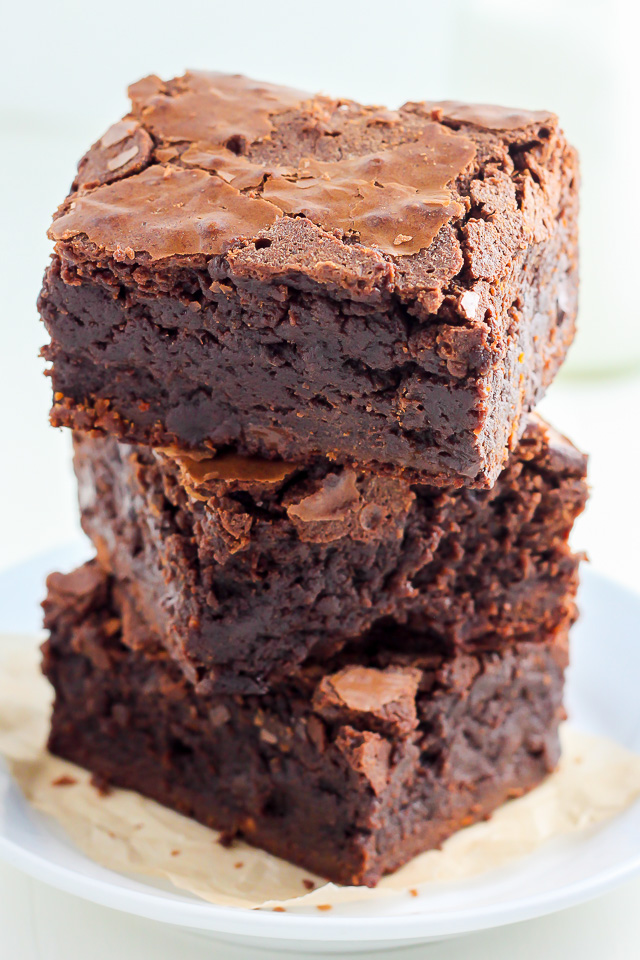 Aka Oprah's FAVORITE brownies! This recipe is formed the famed Brooklyn bakery, and they 100% live up to the hype. Thick, fudgy, and so delicious.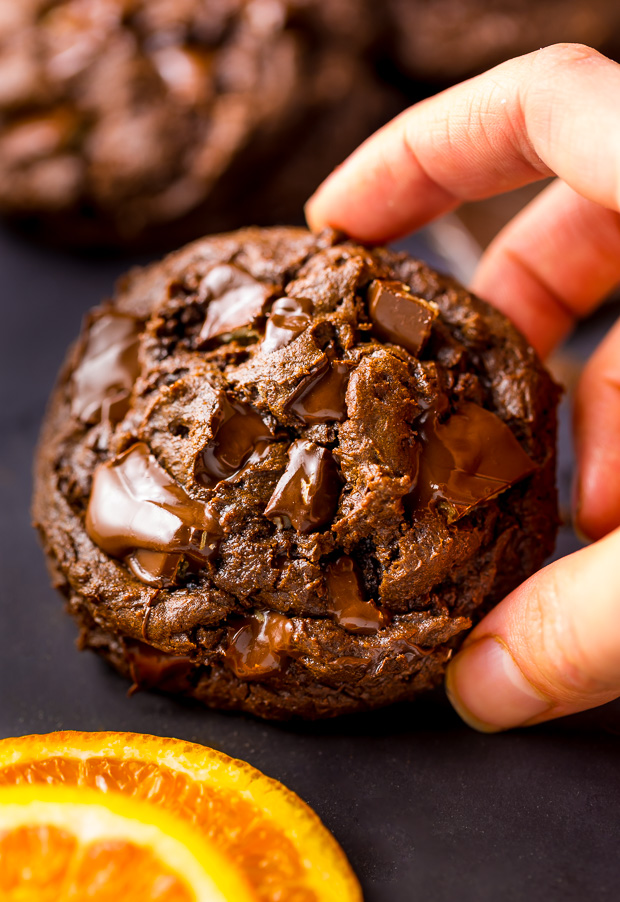 Orange and chocolate are a flavor match made in heaven! These brownie cookies are loaded with gooey melted chocolate, too.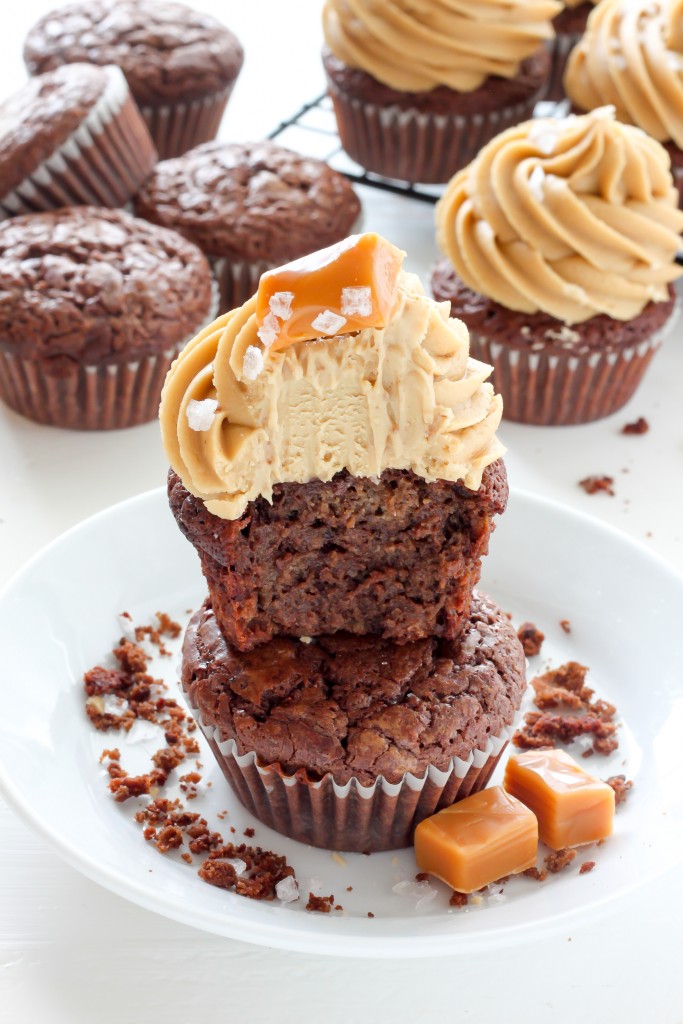 Only thing better than salted caramel brownies? Salted Caramel Brownie Cupcakes! The cupcakes are rich and fudgy and the sweet swirl of salted caramel frosting is heaven on earth. Flaky sea salt on top balances the sweetness!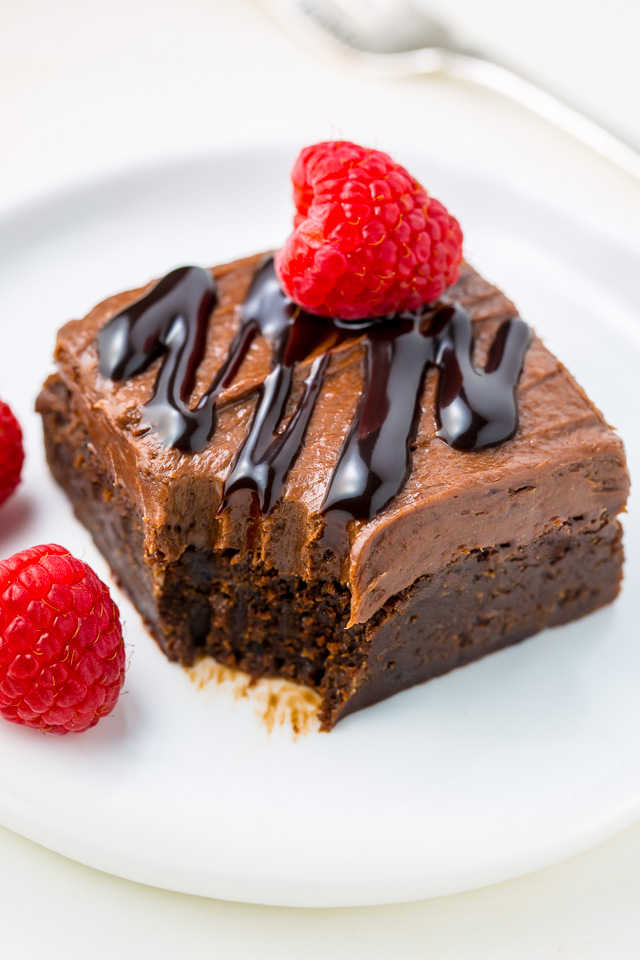 I make these for our church picnic every Summer and they literally fly off the tray! Top with a fresh raspberry for an extra pretty presentation!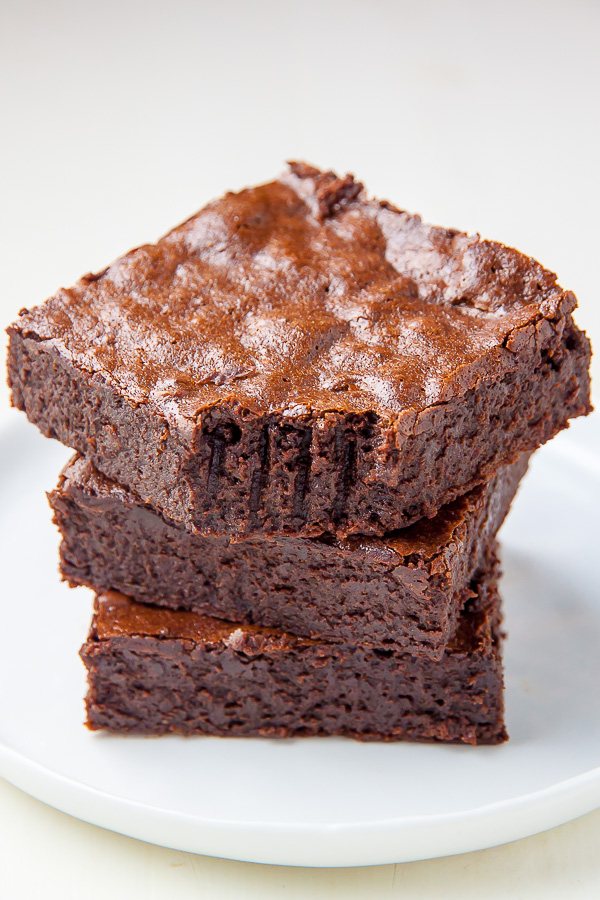 If you're looking for a gluten free brownie recipe that doesn't require all-purpose flour, these are for you!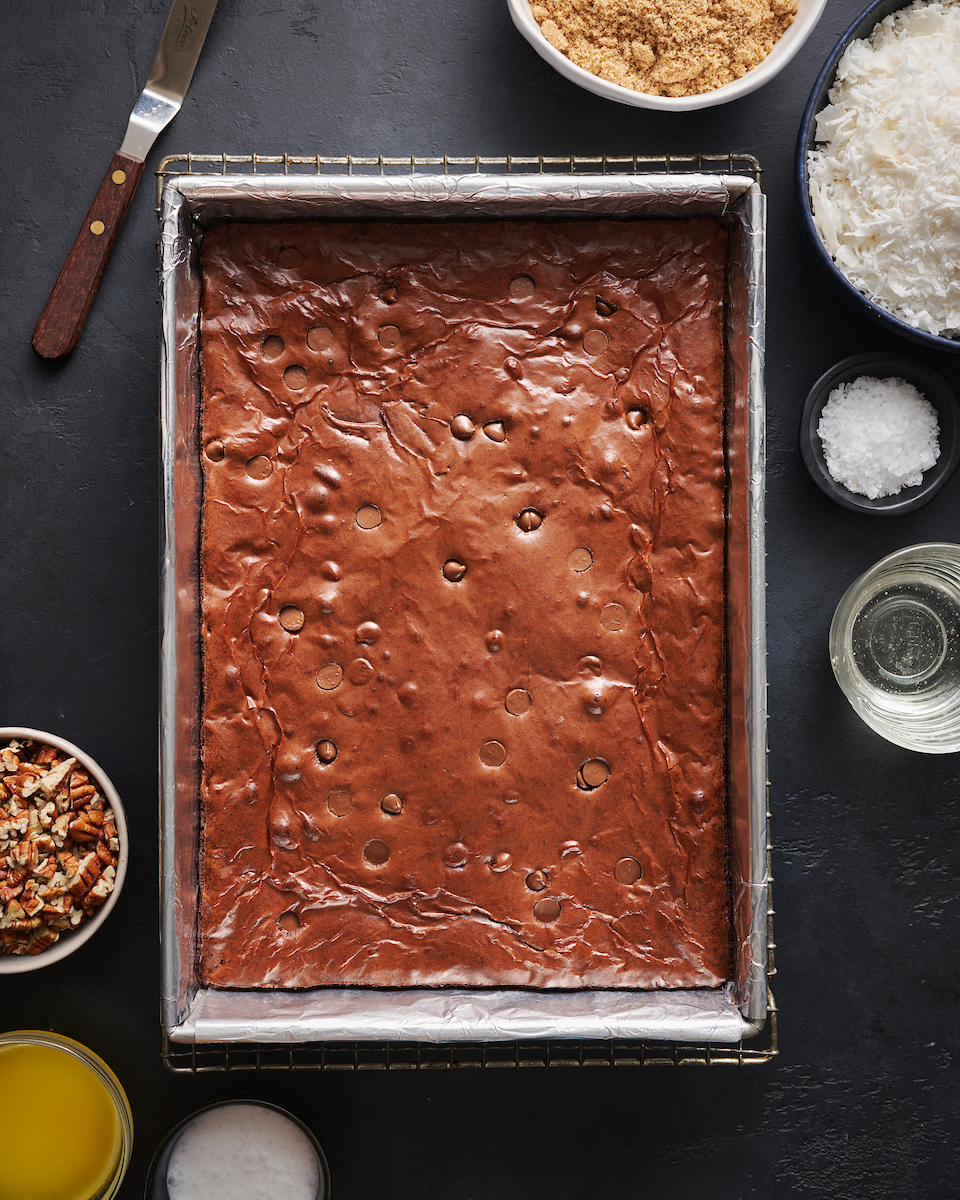 How to Prepare a Pan for Brownies
The best, and easiest way to prepare a baking pan is to line it with parchment paper and then lightly spray the paper with nonstick baking spray. The paper will make removing the brownies from the pan quick and easy. And the nonstick baking spray guarantees your brownies won't get stuck to the pan.
And be sure to use the right kind of baking pan! In my professional opinion, that's a metal or aluminized steel pan. This is my favorite brownie pan ever!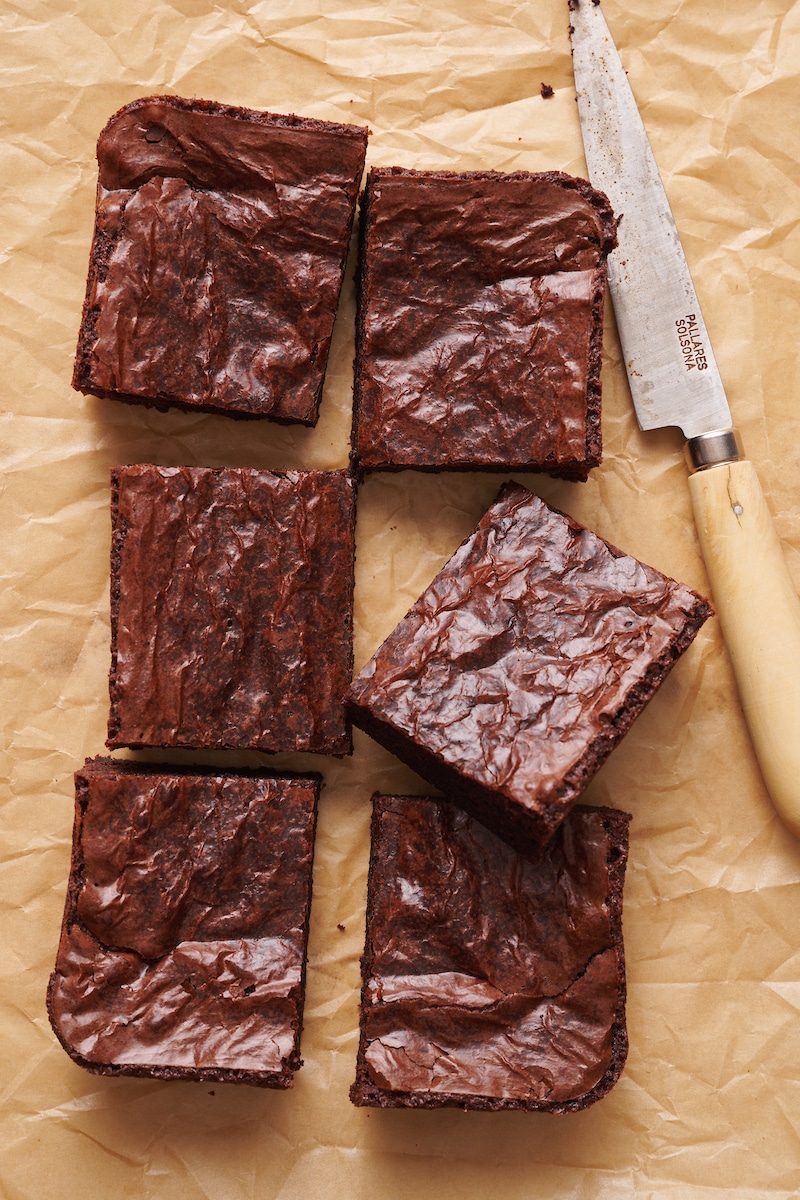 What's the Best Way to cut Brownies?
Here are 3 tips for cutting perfect brownies:
Let them cool! And when I say let them cool, I mean let them cool 100%! This is by far the hardest part because letting brownies cool completely can take about 2 to 3 hours.
Use a large sharp knife! A large chefs knife will allow you to slice through the entire slab of brownies in one swift motion. A smaller knife won't give you the same amount of range, making it hard to evenly cut tidy rows.
Wipe the knife between cuts. Use a warm rag or towel to wipe off the chocolate and crumbs after each slice. This really helps keep each row cut super neat and tidy.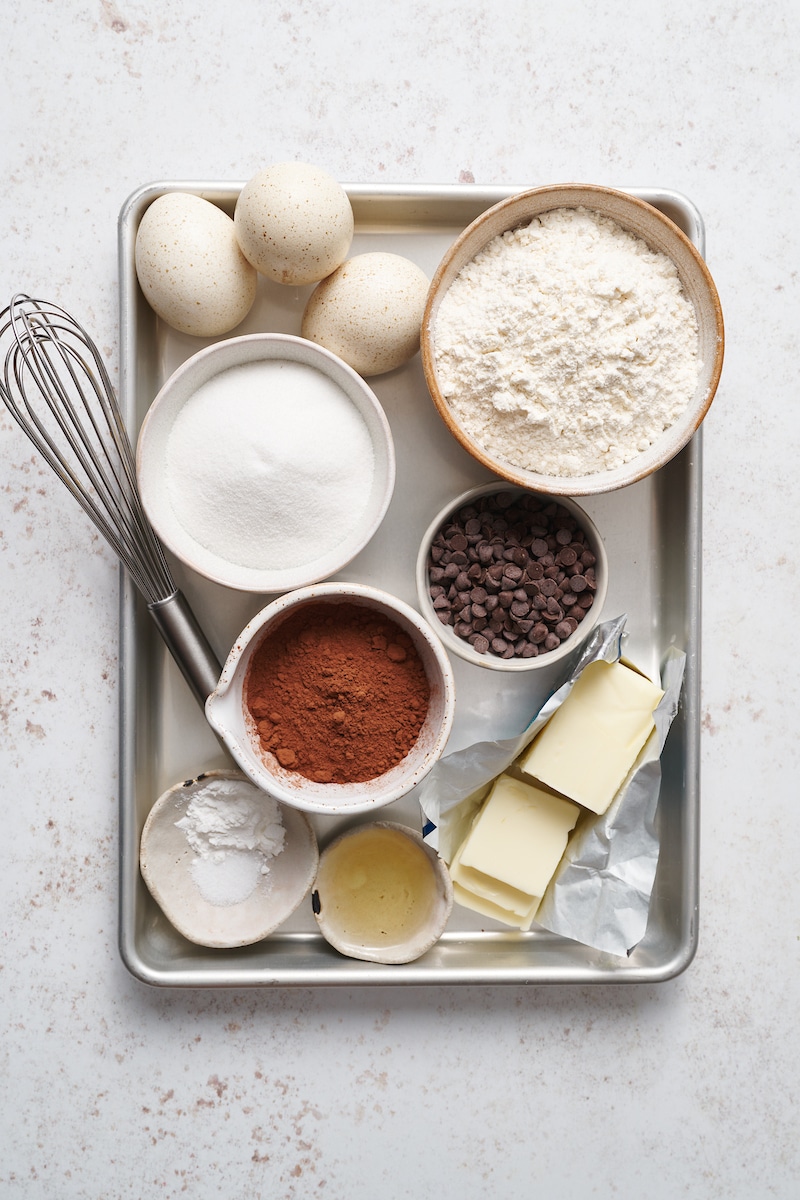 What's the Best Cocoa Powder for Brownies?
One of the dry ingredients almost all brownie recipes call for is cocoa powder! So what's better: unsweetened cocoa powder OR dutch-process cocoa? Answer: It depends on the recipe!
If the recipe doesn't call for any chemical leavening agents (such as baking soda or baking powder) you will likely be fine using either cocoa powder. But if the recipe calls for baking powder or baking soda, it's best to follow the recipe authors recommendation for cocoa.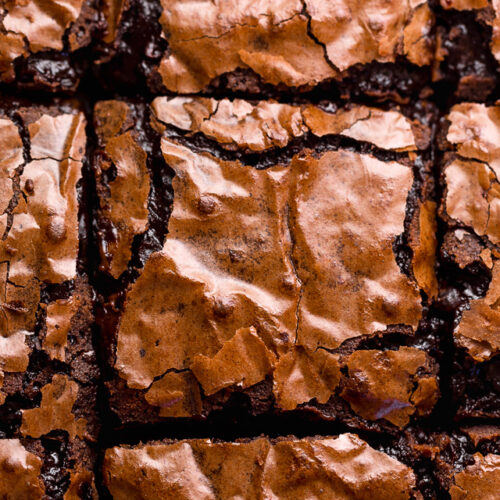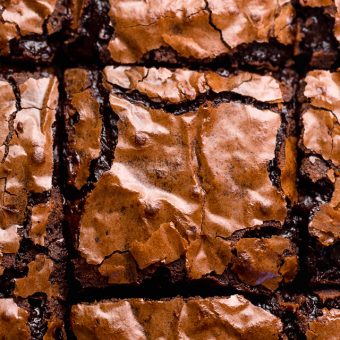 The Best Cocoa Fudge Brownies
Skip the boxed brownie mix and make The BEST Cocoa Fudge Brownies instead! Thick, chewy, fudgy, and so easy! 
Ingredients
1 cup (120 grams) flour
1/2 teaspoon baking powder
1/2 teaspoon salt
1/2 cup (43 grams) unsweetened cocoa powder
2 teaspoons espresso powder (optional but enhances the chocolate flavor)
1 and 1/2 sticks (170 grams) unsalted butter
3 Tablespoons oil (35 grams) (Canola, Vegetable, or Coconut will work)
1 and 1/2 cups (300 grams) granulated sugar, divided
2 large eggs plus 1 egg yolk
3/4 cup (128 grams) chocolate chips
Instructions
Preheat oven to 350 degrees (F) (175 degreed C). Line an 9x9-inch baking pan with parchment paper. Spray lightly with non-stick baking spray and set aside.

In a large bowl, sift together the flour, baking powder, salt, cocoa powder, and espresso powder. Set aside until needed. 

In a medium saucepan, combine the butter, oil, and 1/2 cup of the sugar. Heat over medium heat, stirring frequently, until butter is completely melted. Remove from heat. 

In a large mixing bowl, combine the eggs and remaining sugar. Whisk until well combined, about 30 seconds. 

Slowly, pour the warm butter mixture into the egg mixture, adding it very gradually (a little bit at a time) and whisking constantly until completely combined. 

Add in the dry ingredients and chocolate chips and, using a rubber spatula, slowly stir until just combined. *Do not over mix! Stop staring when you see the last trace of dry ingredients. Over mixing will give you cakey brownies. 

Scrape the batter into the prepared pan and smooth the top. 

Bake for 30 minutes, or until the edges are firm and the top is shiny and slightly cracked. 

Place pan on a cooling rack and cool completely before slicing. 
Notes
For very gooey brownies, you'll want to pull them out closer to 27 minutes. For more structured brownies, let the, bake 30 to 32 minutes. 
Over mixing is the number 1 reason brownies come out cakey.