[adthrive-in-post-video-player video-id="SwLcwCxX" upload-date="2020-07-07T20:35:02.000Z" name="Bourbon Pecan Brownies" description="These Bourbon Pecan Brownies are going to blow your mind! They're thick, insanely chewy, and loaded with crunchy pecans, a pinch of cinnamon, and flavorful bourbon! The ultimate special occasion brownie recipe!" player-type="default" override-embed="default"]
These Bourbon Pecan Brownies are going to blow your mind! They're thick, insanely chewy, and loaded with crunchy pecans, a pinch of cinnamon, and flavorful bourbon! The ultimate special occasion brownie recipe!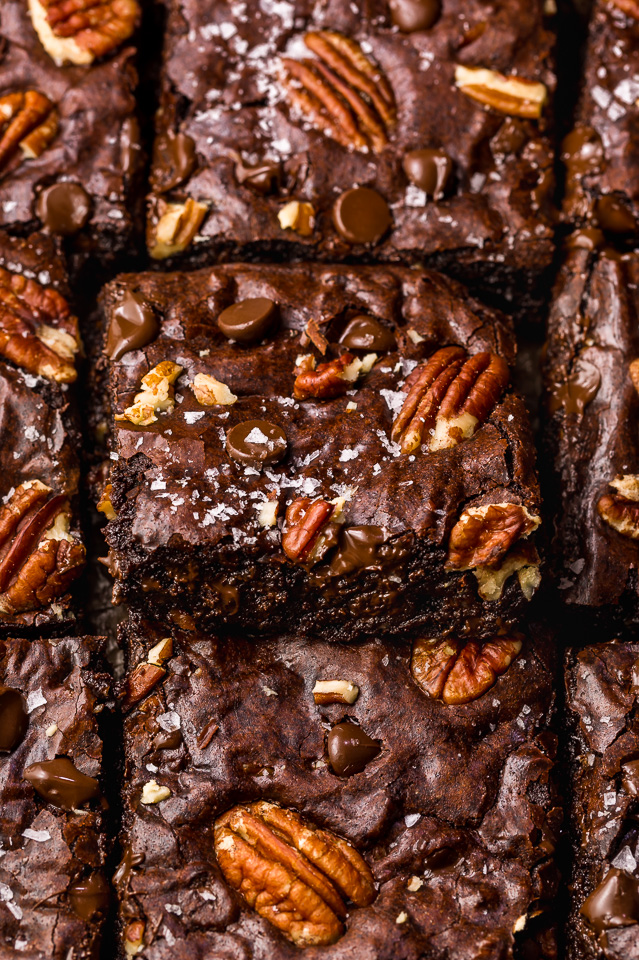 Bourbon Brownies
I love a classic brownie as much as the next person! So most days when a craving strikes, I whip out my recipe for the best cocoa fudge brownies and get baking. But some days… I need something extra decadent!
Something with a little crunch. And a little kick. And a little BOURBON! Basically, something to make day 83 of quarantine life feel a little more bearable and exciting!
And that, my friend, is where these Bourbon Pecan Brownies come in! As you know, I'm a sucker for the combination of bourbon and pecans. They're a flavor match made in heaven! In the past, I've shared bourbon pecan chocolate chunk cookies and bourbon pecan blondies… and now, we have a brownie version! And this is definitely the most sinfully decadent version yet!
Can I leave the bourbon out?
Short answer: no. This recipe was specifically developed to include bourbon and is for my bourbon lovers out there! But I totally understand not everyone consumes alcohol. Don't worry – I have plenty of brownie recipes for you, too! And I suggest baking my Baked Brownies and tossing in a pinch of cinnamon and some toasted pecans. Trust me, you won't regret it!
In terms of what kind of bourbon to use, the world is your oyster! We love Bulleit bourbon, so that's what we went with!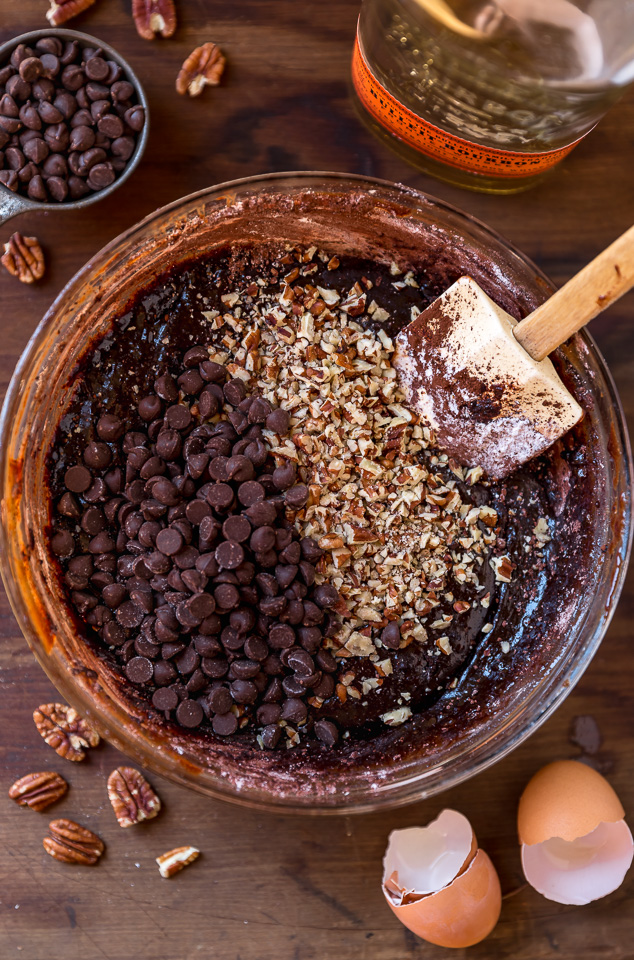 Cocoa Powder AND Chocolate
Unlike a lot of brownie recipes that use chocolate or cocoa powder, this recipes uses BOTH! This ensures an insanely decadent base that's exploding with rich chocolate fudge flavor! Because this recipe doesn't use any chemical leaving agents, you can technically use unsweetened cocoa powder or Dutch-process cocoa powder. But I strongly suggest using Dutch-process if you can. It's going to give you that midnight dark chocolate color and flavor!
For the melted chocolate, I suggest using a quality-chocolate brand you know and trust. I used Lindt 80% Excellence bar, but you can use a slightly less intense dark chocolate. But I don't suggest going below 60% cocoa. This will make the brownies overly sweet! I also don't suggest using chocolate chips for the melted chocolate. They don't melt smoothly and can make your brownie batter seize.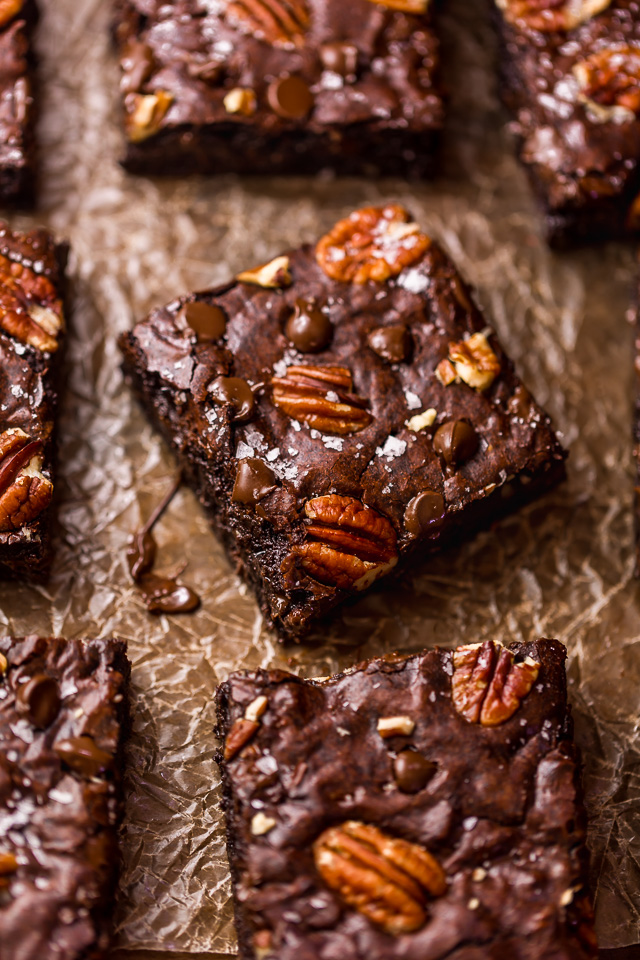 Tips and Tricks
To ensure an even bake, you'll bake these brownies at 325 (F). Which is just slightly lower than the traditional 350 degrees most recipes call for. And because you're using a lower temperature, you'll bake them for a little longer. About 34 minutes. But always remember bake times are just estimates! Every oven runs a little different, so your brownies may be ready a few minutes sooner or later.
Use the right baking pan! I suggest using a reflective metal baking pan, like this one.
If you're using a glass or ceramic baking pan, you'll need to increase the bake time by about 10 minutes.
Don't over mix your batter! This is what causes CAKEY brownies. And no one wants that!!!
Pro tip: stop mixing when you still see the tiniest trace of dry ingredients. Then fold in your chocolate chips. You should only need 3 or 4 stirs to incorporate those final ingredients. It's better to under mix than over mix!
Bake your brownies on the middle rack. I get a lot of questions about this, so just wanted to point out that unless otherwise stated, I always suggest baking on the middle rack.
And maybe most importantly, be sure not to over bake your brownies! They should still be a little jiggly in the center, and a few moist crumbs will come out when a toothpick is inserted.
Place your brownies on a cooling rack and cool completely in the pan! You'll be amazed at how much they firm up as they cool.
If you want a warm & gooey brownie, simply reheat in the microwave for a few seconds and serve right away.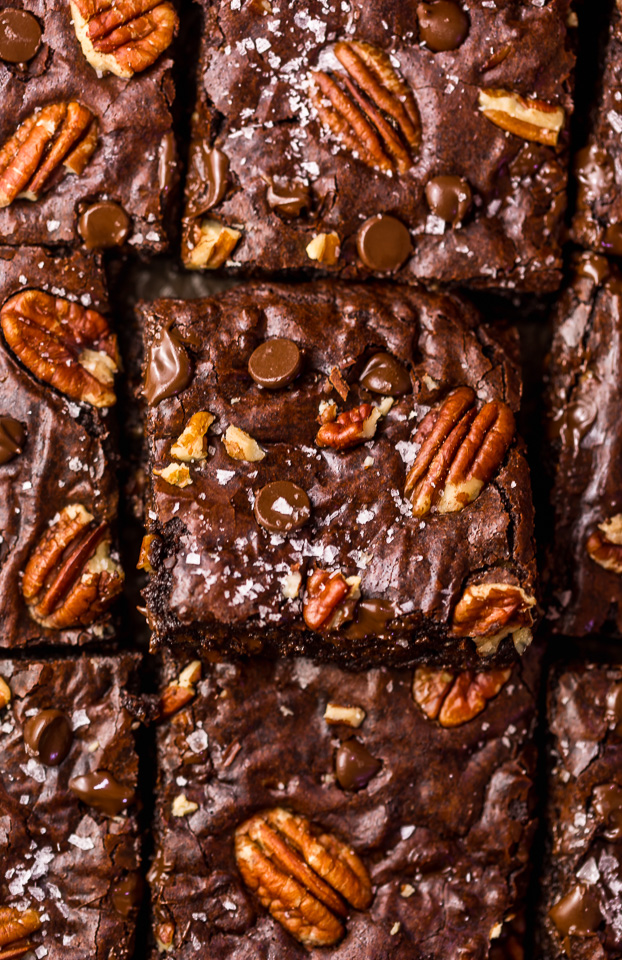 In my opinion, the hardest part of this whole recipe is the COOLING phase! Because I suggest letting the brownies cool completely (in the baking pan), which takes about 2 hours. Can you cut into them before that? Yes… but at your own risk! Because they won't have settled fully, so you might be disappointed in their shape and texture. Waiting 2 hours is tough, but worth it!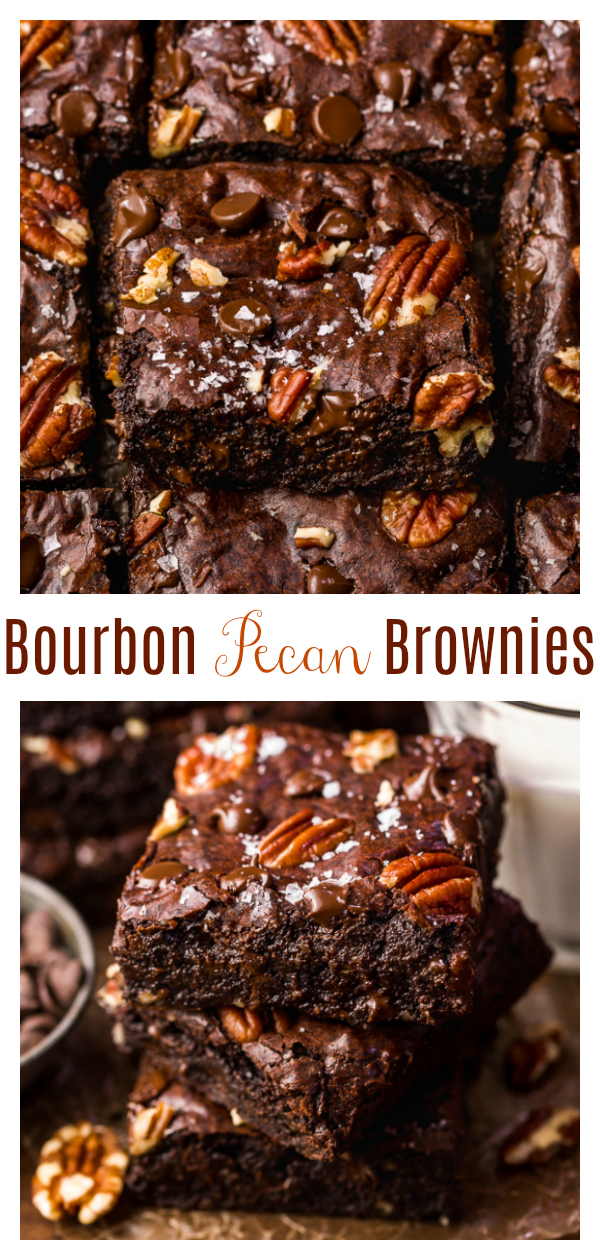 Serving a crowd?
You can totally double this recipe by doubling all of the ingredients and baking in a 9 x 13 pan. But if you do this, you'll want to increase the baking time by a few minutes!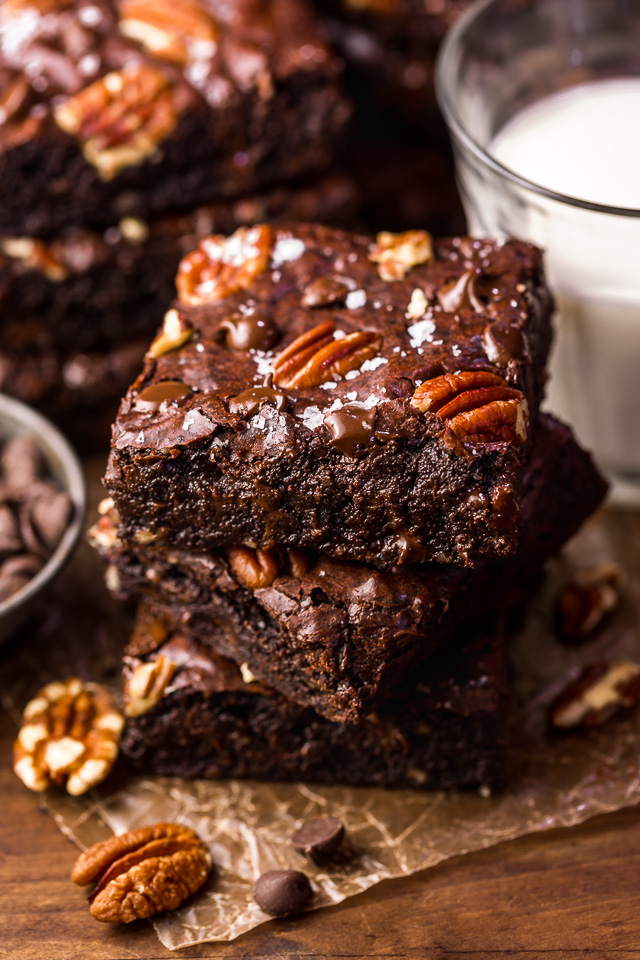 More Brownie Recipes:
If you try this recipe for Pecan Bourbon Brownies, please let me know! Leave a comment below and don't forget to snap a pic and tag it #bakerbynature on instagram! Seeing your kitchen creations makes my day.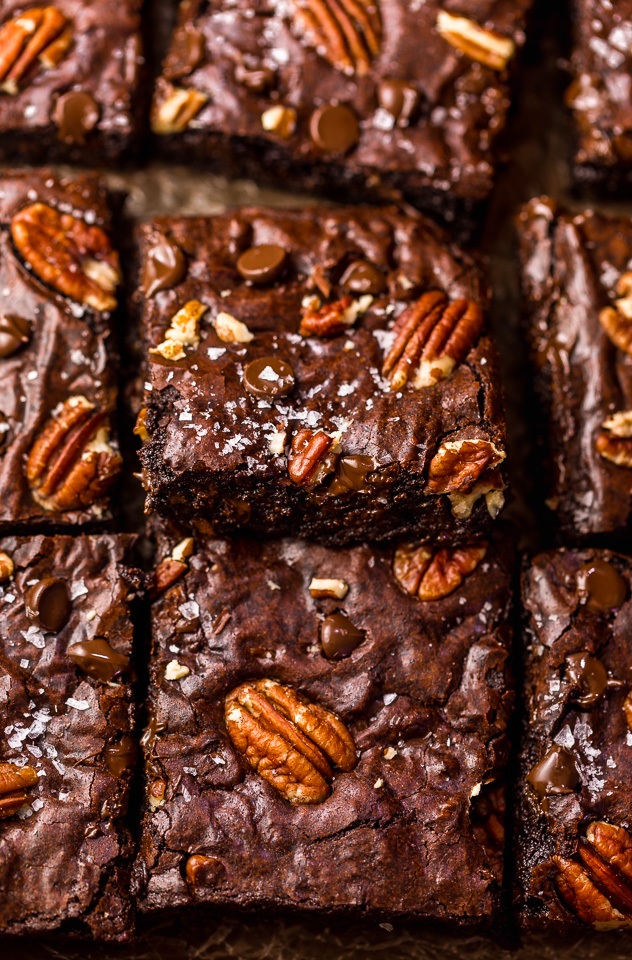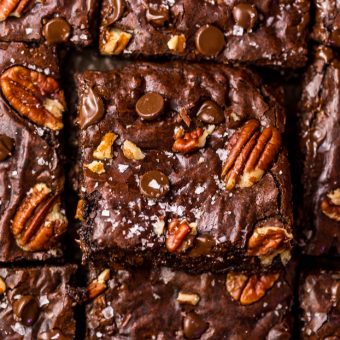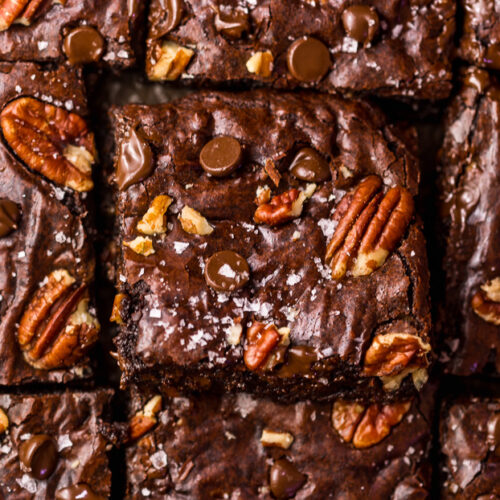 Bourbon Pecan Brownies
These Bourbon Pecan Brownies are going to blow your mind! They're thick, chewy, and loaded with crunchy pecans, a pinch of cinnamon, and a touch of bourbon! The ultimate special occasion brownie recipe! 
Ingredients
1 cup (120 grams) all-purpose flour
1/2 cup (43 grams) unsweetened cocoa powder
1/8 teaspoon ground cinnamon (optional)
1/2 teaspoon salt
3.5 ounces dark chocolate, finely chopped
3/4 cup (170 grams) unsalted butter
2 Tablespoons (25 grams) oil
1 teaspoon vanilla extract
3 Tablespoons (43 grams) bourbon
1 cup (198 grams) granulated sugar
1/2 cup (106 grams) dark brown sugar, packed
2 large eggs, at room temperature
1/2 cup (57 grams) toasted pecans, roughly chopped
3/4 cup (128 grams) semi-sweet chocolate chips
1/4 teaspoon flaky sea salt, optional
Instructions
Preheat oven to 325 degrees (F). Line an 9x9-inch metal baking pan with parchment paper, allowing two of the sides of slightly overlap. Spray with non-stick spray and set aside.

In a medium-sized bowl, whisk together the flour, cocoa powder, cinnamon (if using), and salt, set aside.

In a large, microwave safe bowl, combine the chocolate, butter, and oil. Heat them in the microwave, on low power, in 15 second increments, mixing in between each, until mixture is HOT and butter and chocolate are completely melted. Whisk smooth.

Whisk in the vanilla and bourbon, then whisk in both sugars, beating until well combined. 

Beat in eggs, one at a time, beating well after each addition.  

Fold in the dry ingredients, stirring just until combined. 

Using a rubber spatula, gently fold in the pecans and chocolate chips. 

Scrape the batter into the prepared pan and smooth the top. Sprinkle a few extra pecans on top of of the batter, if desired. 

Bake for 34 to 36 minutes, or until the edges are firm and the top is shiny and slightly cracked. 

Place pan on a cooling rack and cool completely, about 2 hours, before slicing. 

Sprinkle with sea salt, if using, right before serving. 
Notes
For the oil, canola oil, vegetable oil, or melted coconut may be used. 
If you'd like extra chocolate chips on top, press them on top of the baked brownies right when they comes out of the oven.