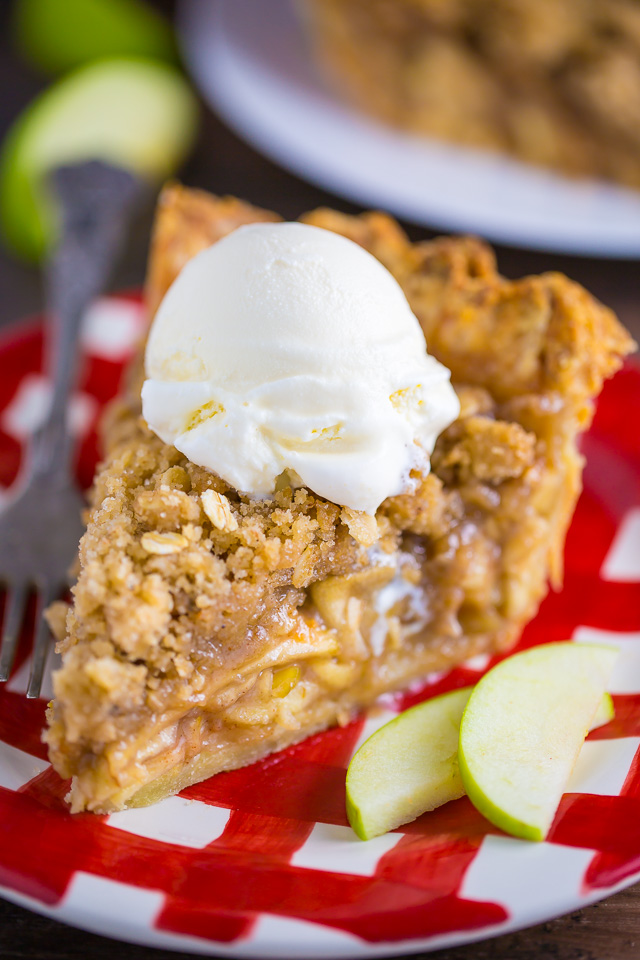 Brown Butter Oatmeal Crumb Apple Pie
Yield 8 slices
Homemade Brown Butter Oatmeal Crumb Apple Pie! A must bake for the holidays! 
Ingredients
For the Crust:
2 and 1/2 cups all-purpose flour
2 tablespoons granulated sugar
1/2 teaspoon salt
1 cup very cold unsalted butter, cut into tiny cubes
1/2 cup ice water (you probably won't use it all)
For the Brown Butter Oatmeal Crumb:
3/4 cup granulated sugar
1/3 cup light brown sugar, packed
1/2 cup all-purpose flour
1/3 cup old-fashioned oats
1/3 cup pecans, roughly chopped
8 tablespoons butter, melted until browned (see post if you need more info on browning butter)
For the Apple Pie Filling:
7 cups granny smith apples, cored, peeled, and sliced (about 8 apples)
1 teaspoon apple cider vinegar
1 teaspoon vanilla extract
1/3 cup light brown sugar, packed
1/4 cup granulated sugar
3 teaspoons ground cinnamon
1/2 teaspoon ground nutmeg
1 and 1/2 tablespoons cornstarch
Instructions
For the Crust:
Mix flour, sugar, and salt in a food processor or blender. Add butter and pulse until a coarse meal forms. Be sure not to pulse too long, the butter should be no smaller than the size of peas. Slowly add in just enough ice water to form moist clumps. Gather the dough into a ball and divide in half (you can use a kitchen scale if you want them to be perfectly even). Form dough into 2 balls and gently flatten into disks. Wrap each disk in plastic and place in the refrigerator to chill for at least one hour. You will only need one dish of dough for this recipe, so you may want to place the other disk in the freezer until needed.
For the Brown Butter Oatmeal Crumb:
In a large bowl combine both sugars, flour, oats, and pecans; mix well to combine then stir in browned butter. Place the crumb topping in the fridge or freezer while you assemble the apple pie filling.
For the Apple Pie Filling:
In a large bowl toss apple slices with apple cider vinegar and vanilla, set aside. In a separate bowl add both sugars, cinnamon, nutmeg, and cornstarch and mix well to combine. Add the dry mixture to the apple mixture and toss to coat.
Assembly:
Preheat oven to 375 degrees (F). Lightly grease a 9" pie plate with non-stick spray OR butter and a little flour; set aside.
Roll out half of the chilled dough on a lightly floured work surface, rolling it to about a 12-inch round. Gently place the dough into the prepared pie dish and trim the edges OR crimp them decoratively.
Sprinkle the bottom of the pie shell with 1 teaspoon of flour (this helps soak up excess moisture) then add the apple filling. Add half of the frozen crumble on top of the apple filling, then place the pie in the oven – on the middle rack – and bake for 30 minutes. Reduce oven temperature to 350 degrees (F), rotate pie, and add the remaining crumble. Bake for another 30 to 35 minutes, or until the crust and crumble are golden. Carefully remove pie from oven and cool it on a wire rack for at least 6 hours before cutting.
Courses Dessert
Cuisine Pie
Amount Per Serving
% Daily Value
Recipe by Baker by Nature at https://bakerbynature.com/brown-butter-oatmeal-crumb-apple-pie/