Last week we spontaneously attended a fun little picnic in the park that called for me making a very last minute dessert. I don't typically thrive on baking with time restrictions – or when we have no groceries because someone hasn't felt like going to the store all week – but lately I've been warming to the idea of taking what you've got and just making it work. These brown butter and toasted coconut krispy treats are a perfect example of something from nothing! And even better than that, they take about 10 minutes to make start to finish…Can you say Hello, loooooover!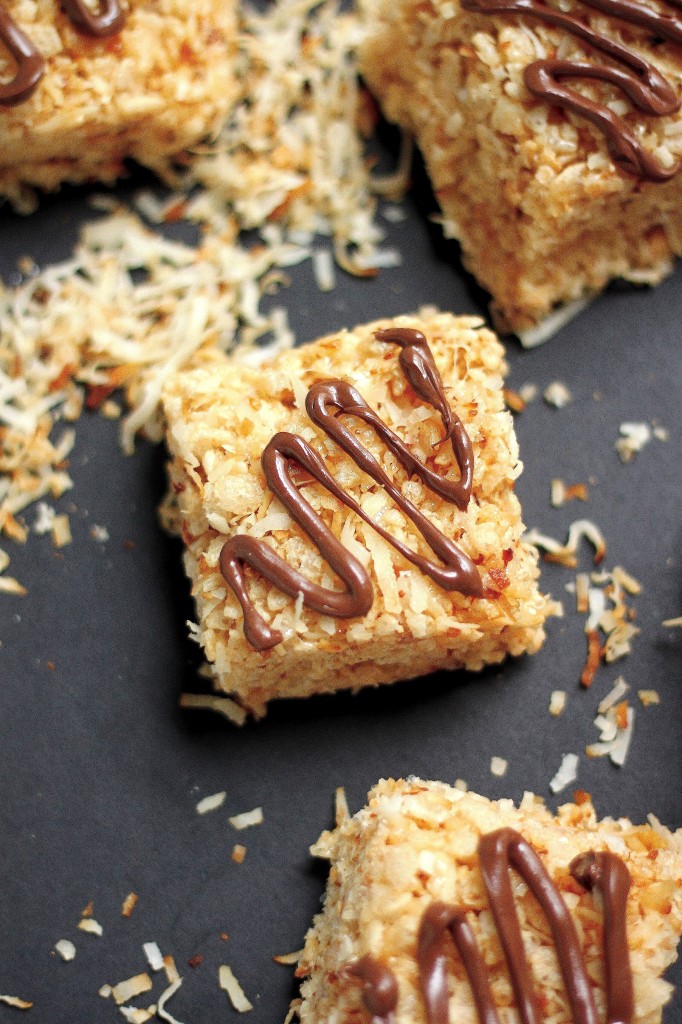 For this dessert you will only need 5 ingredients: puffed cereal (I used good old fashioned rice krispy treats), sweetened shredded coconut (you're going to toast it to crispy, golden perfection), butter (you'll melt it down until it's all brown and gorgeous), marshmallows (I mean, duh right?), and nutella (that's what all that chocolate action is on top – wowzers!). These are very simple in ingredients and in the whole making it// clean up process – perfect for last minute treats! xoxo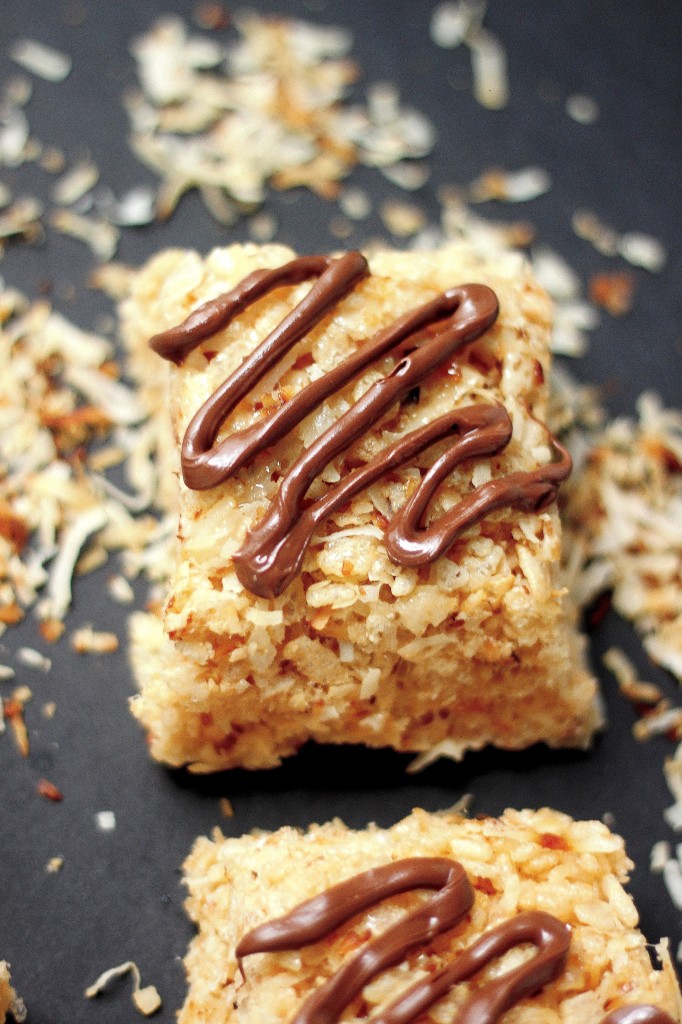 Brown Butter And Toasted Coconut Krispy Treats
Ingredients
1 stick +2 tablespoons salted butter
1 10- ounce bag marshmallows
(1) 7 ounce bag sweetened shredded coconut, toasted
6 cups Rice Krispies cereal
1/4 cup nutella, for drizzling
Instructions
To toast the coconut: Place coconut in a dry skillet over medium-high heat. Stir frequently and cool until lightly golden. Remove from heat at once. *Never walk away when toasting coconut; it burns quickly and easily.

Coat an 8x8 inch square pan with non-stick spray. Line with parchment paper and spray that, too. Set aside.

In a large pan, melt butter over medium-low heat. Let it melt, then foam, then turn golden and start to turn brown; it will smell nutty. Stir butter almost constantly while browning it, scraping up any bits from the bottom as you do. As soon as the butter takes on a nutty brown color, turn the heat off and stir in the marshmallows. The heat from the melted butter will be enough to melt them, whisk quickly and constantly until the marshmallows are smooth.

Remove the pot from the stove and stir in the cereal and coconut. Quickly spread into prepared pan. Press it firmly and evenly into the edges and corners. Let cool then cut into squares. Drizzle each square with a little chocolate nutella. I put the nutella in a ziplock baggie, cut the edge off, then drizzled for a prettier presentation.