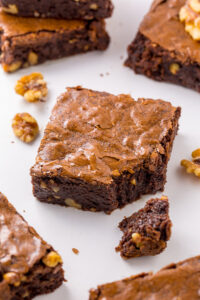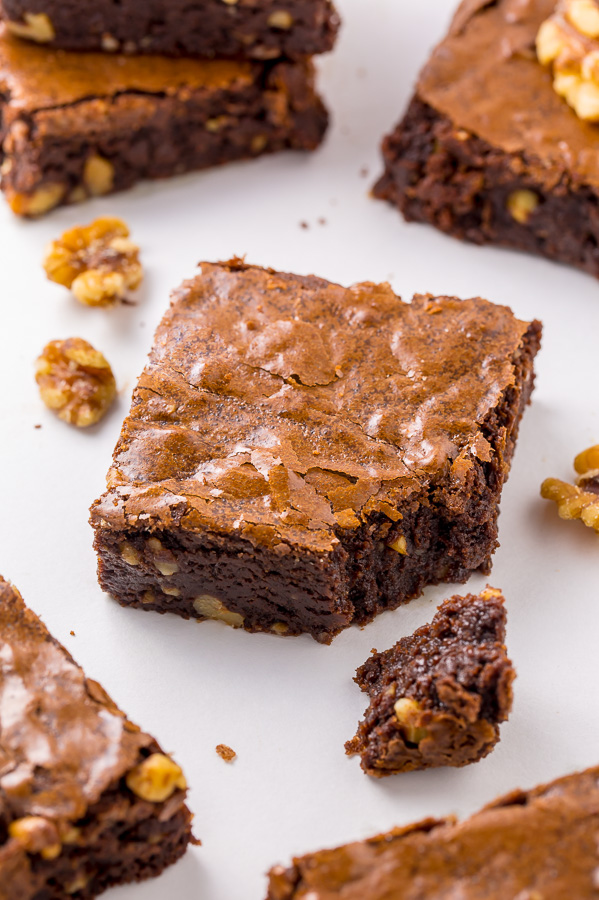 Brown Butter Walnut Brownies
Yield 9x13 Tray
Thick and chewy brown butter walnut brownies! These are incredibly flavorful and so easy to make.
Ingredients
1 and 1/4 cups all-purpose flour (not packed)
1 and 1/2 tabespoons unsweetened cocoa powder
1/2 teaspoon salt
12 ounces semi-sweet OR dark chocolate, finely chopped
1 cup (8 ounces) unsalted butter, melted until browned
1 cup granulated sugar
1 cup light brown sugar, packed
1 tablespoon vanilla extract
5 large eggs, at room temperature
3/4 cup walnuts, roughly chopped
Instructions
Preheat the oven to 350 degrees (F). Line a 9×13 inch baking pan with parchment paper; spray paper and any exposed pan with non-stick baking spray and set aside.
In a medium bowl, combine the flour, cocoa powder, and salt; whisk well and set aside. Place chopped chocolate in a large bowl and set aside.
Melt butter in a medium-sized skillet over medium heat. Continue cooking butter, stirring frequently, until it's a light amber color and smells slightly nutty. Remove from heat at once and pour over the chopped chocolate.
Let the chocolate/butter mixture sit for 2 minutes, then whisk smooth. Add both sugars and vanilla and whisk smooth. Add 3 of eggs to the chocolate mixture and whisk until combined.
Add the remaining eggs and whisk until combined. Do not overbeat the batter at this stage or your brownies will be cakey.
Sprinkle the flour/cocoa powder mixture over the chocolate mixture. Using a rubber spatula (not a whisk), fold the flour mixture into the chocolate until just a bit of the flour mixture is visible. Fold in the walnuts.
Pour the batter into the prepared pan and smooth the top. Bake in the center of the oven for about 28 to 30 minutes, rotating the pan halfway through the baking time, or until a toothpick inserted into the center of the brownies comes out with a few moist crumbs sticking to it. Let the brownies cool completely in the pan (this will take about an hour to an hour and a half), then lift them out of the pan using the parchment paper. Cut into squares and serve. *To speed up the cooling process, you can pop the tray in the fridge.
Store at room temperature, in an airtight container or wrapped tightly with plastic wrap, for up to 3 days.
Notes
Total time includes cooling. Please read post for tips and tricks for recipe success!
Courses Dessert
Cuisine American
Amount Per Serving
% Daily Value
Recipe by Baker by Nature at https://bakerbynature.com/brown-butter-walnut-brownies/