Thick and fudgy Baked Brownies with crackly tops! So good with a scoop of ice cream on top! P.S. these are Oprah's FAVORITE Brownies!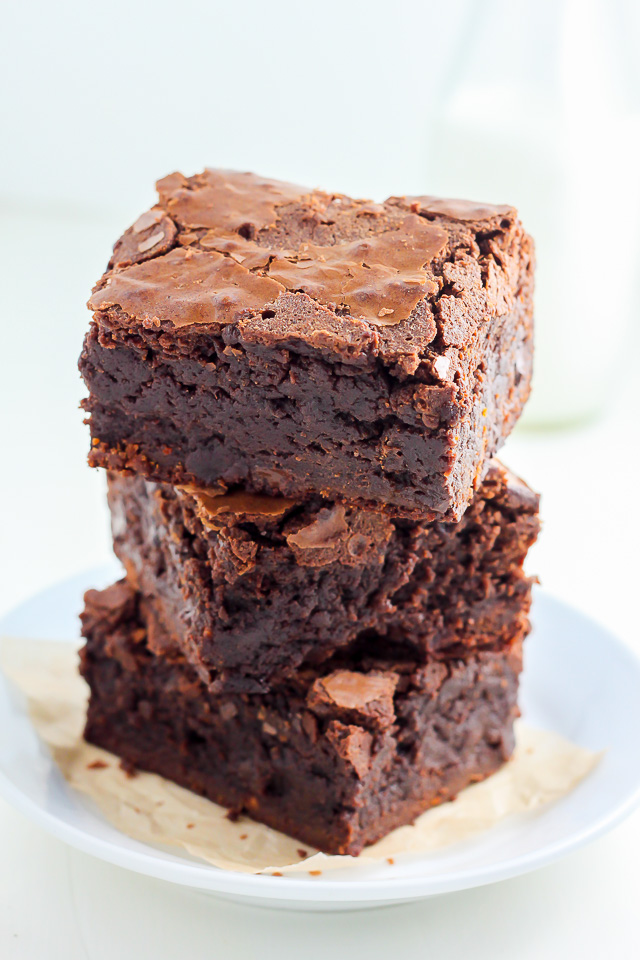 Baked Brownie Recipe
Yoga pants, netflix, and brownies… that's what's up with me today. High five if it's what's up with you too. If not… jump on this! I have a hankering tomorrow will be yoga pants and some variety of cookie, so we might as well get on the same page now 😉  P.S. I'm thinking a cookie involving loads of chocolate… and maybe salted nuts? What do you think?
Since we have 6 days of crappy weather in the forecast, I've decided to call out of life and just bake my ass off. I took the hour I would have spent beautifying and made us some brownies. Baked brownies, you know, from those guys @ Baked Bakery in Brooklyn. They've been all over the media. Oprah listed them one of her "favorite things"… and we all know what happens when Oprah announces she likes something. People go nuts for it. I remember the year she named oatmeal "color of the year". Good luck finding a sweater in that color without putting up a fight! <— I fought. I won. I rocked oatmeal all winter long.
But I digress. Back to Baked! It's a rad little bakery in Brooklyn, NY. It's owned by two hip fellows Matt and Renato; they are culinary geniuses that celebrate American classic desserts beyond the typical cupcake deal. The have tons of fun treats, and 2 cook books out that have me in a doozy. They're also pretty famous for this brownie recipe. And guess what? It lives up to the hype.
The bakery is a fun time, and if you happen to be in NYC, so worth the trip out to Red Hook. You might gain like 3 pounds, but that's what the yoga pants are for.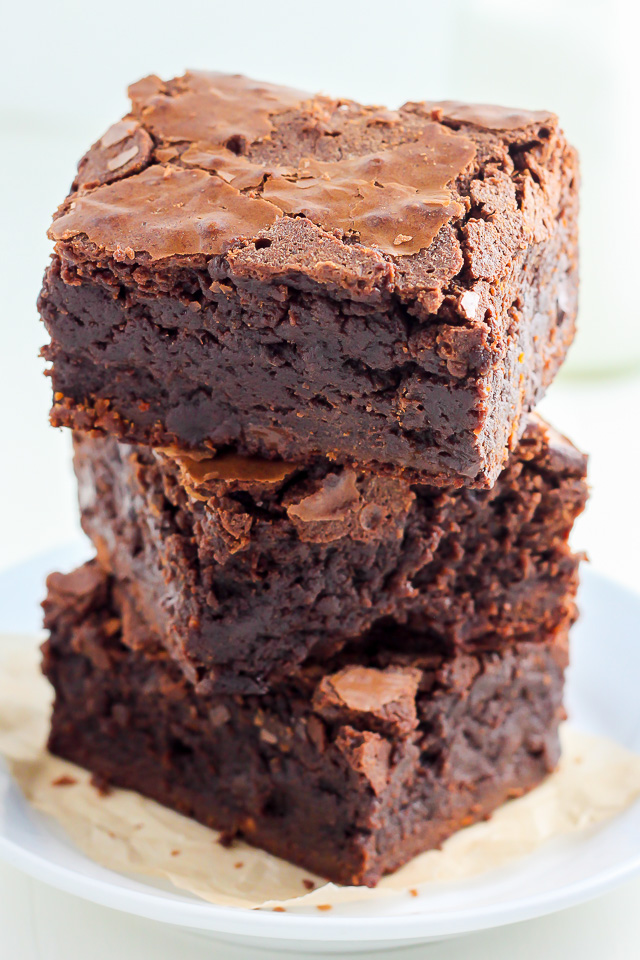 Bless you sweet, stretchy yoga pants. Invest in some stretchy garments and bake yourself some brownies. Happy Wednesday!
More Brownie Recipes:
Baked Brownies
The famous recipe for baked brownies from the baked bakery in Brooklyn! Thick, chewy, irresistible!
Ingredients
1 1/4 cup All-purpose flour
1 teaspoon salt
2 TBSP unsweetened cocoa powder
11 ounces dark chocolate (chopped)
1 cup unsalted butter ( 8 ounces ) cut into 1 inch pieces
1 teaspoon instant espresso powder
1½ cups granulated sugar
½ cup packed light brown sugar
5 eggs, at room temperature
2 teaspoons vanilla extract
Instructions
Preheat the oven to 350 degrees F. Butter the sides and bottom of a 9×13-inch baking pan. Line the pan with parchment paper.
In a medium bowl, whisk the flour, salt, and cocoa powder together.
Put the chocolate, butter and instant espresso powder in a large bowl and set it over a saucepan of simmering water, stirring occasionally, until the chocolate and butter are completely melted and smooth.
Turn off the heat, keeping the bowl over the water and add the sugars. Whisk until completely combined, then remove the bowl from the pan. The mixture should be room temperature.
Add 3 of eggs to the chocolate mixture and whisk until combined. Add the remaining eggs and whisk until combined. Add the vanilla and stir until combined. Do not overbeat the batter at this stage or your brownies will be cakey.
Sprinkle the flour mixture over the chocolate mixture. Using a rubber spatula (not a whisk), fold the flour mixture into the chocolate until just a bit of the flour mixture is visible.
Pour the batter into the prepared pan and smooth the top. Bake in the center of the oven for 30 minutes, rotating the pan halfway through the baking time, until a toothpick inserted into the center of the brownies comes out with a few moist crumbs sticking to it. Let the brownies cool completely, then lift them out of the pan using the parchment paper. Cut into squares and serve.
Store at room temperature in an airtight container or wrap with plastic wrap for up to 3 days.
(Recipe adapted from Baked: New Frontiers in Baking)
Courses Dessert
Cuisine American
Nutrition Facts
Serving Size 1 brownie
Amount Per Serving
% Daily Value
* Percent Daily Values are based on a 2,000 calorie diet. Your daily values may be higher or lower depending on your calorie needs.