Thick and ULTRA fudgy, these Brown Butter Walnut Brownies are a GAME CHANGER!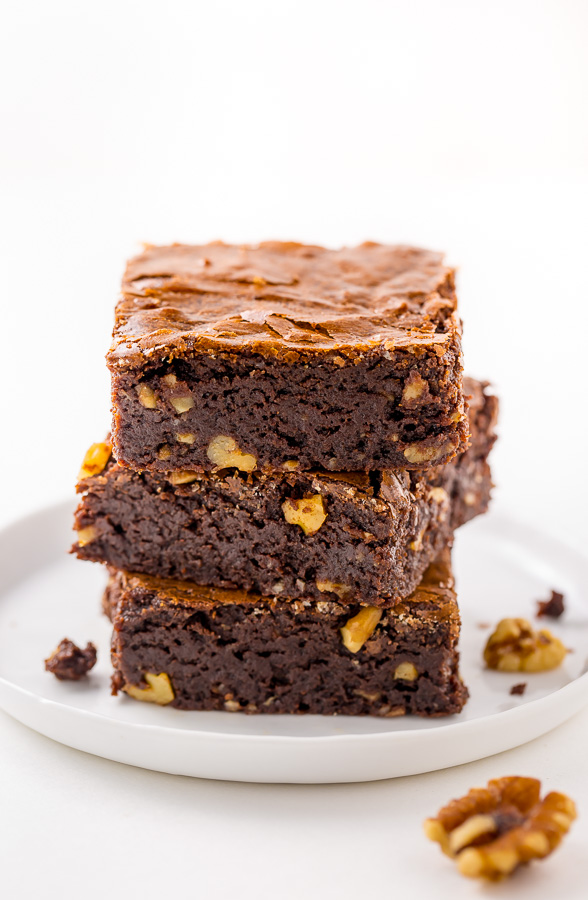 Brown Butter Brownies
We're kicking things off with more chocolate today! What can I say? I love chocolate. And I know you do too!
So, let's not waste another minute! We have Brown Butter Walnut Brownies to discuss and devour. We don't want to keep these beauties waiting ↓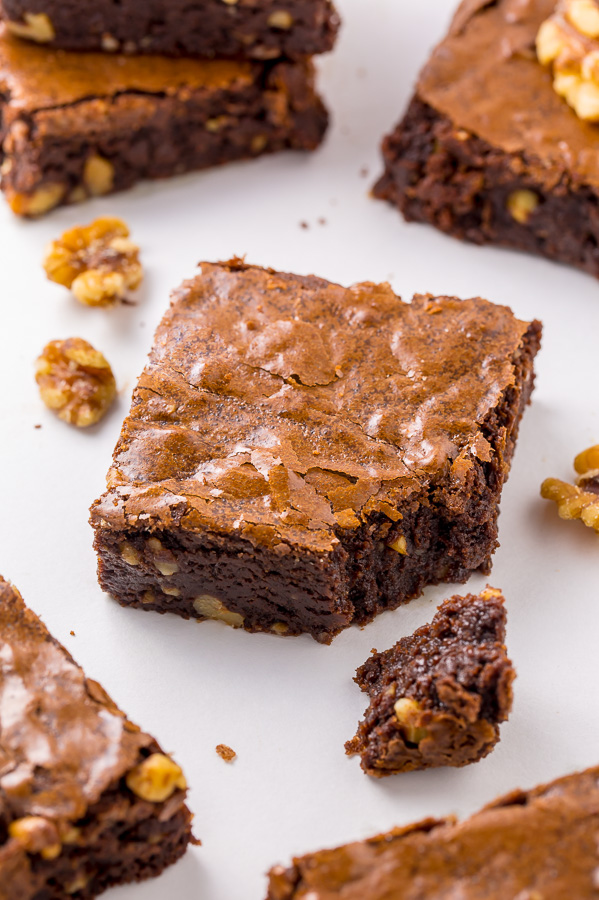 I've mentioned this before, but after I test a recipe in my kitchen a few times, I then like to make the recipe again and serve it to friends and family. It's the ultimate test, in my opinion. To see them sink their teeth into a rich brownie or gooey cookie… to experience the euphoria that sweeps across their face as their taste buds come alive. Or, on certain occasions, to get helpful feedback on what could be better or improved. But I digress! I made these brownies for a baby shower last weekend and they were such a hit they ended up becoming the main topic of conversation. Everyone wanted to know one thing: what was the secret ingredient?!?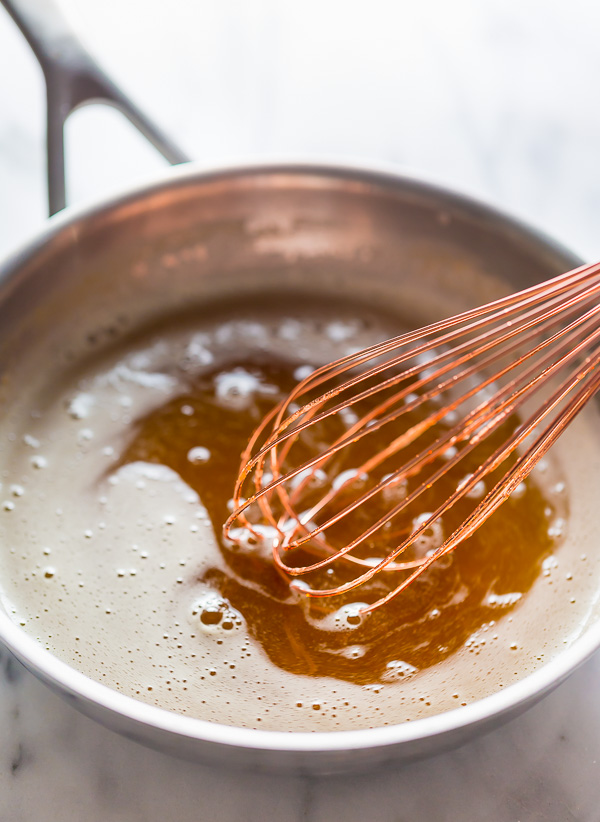 I had to giggle over this. Not because the brownies weren't worthy of the praise; they were and are and always will be. But because whenever I add brown butter to a recipe, it tends to receive the same reaction.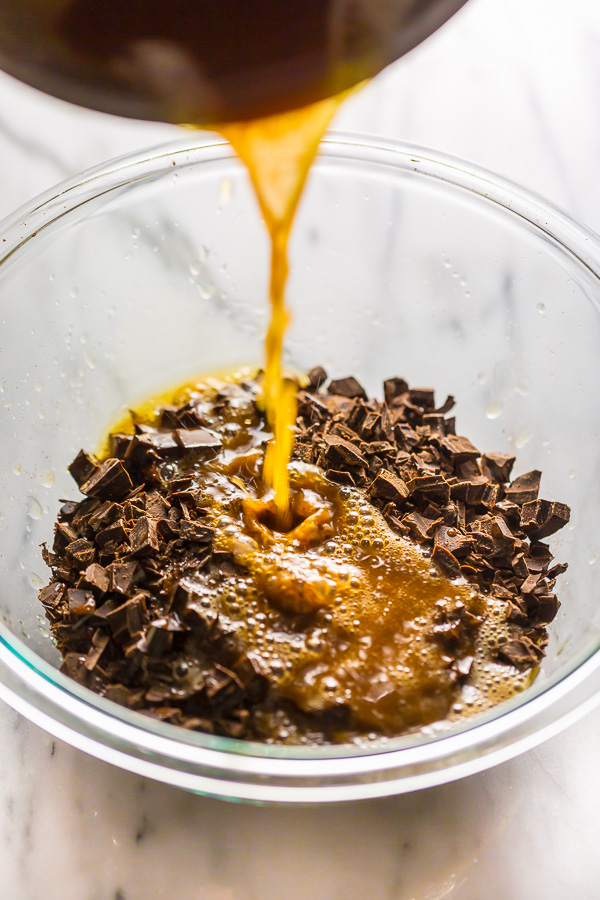 Basically what I'm trying to say is this: brown butter is magic. Put it in your brownies (or cake) and thank me later 😉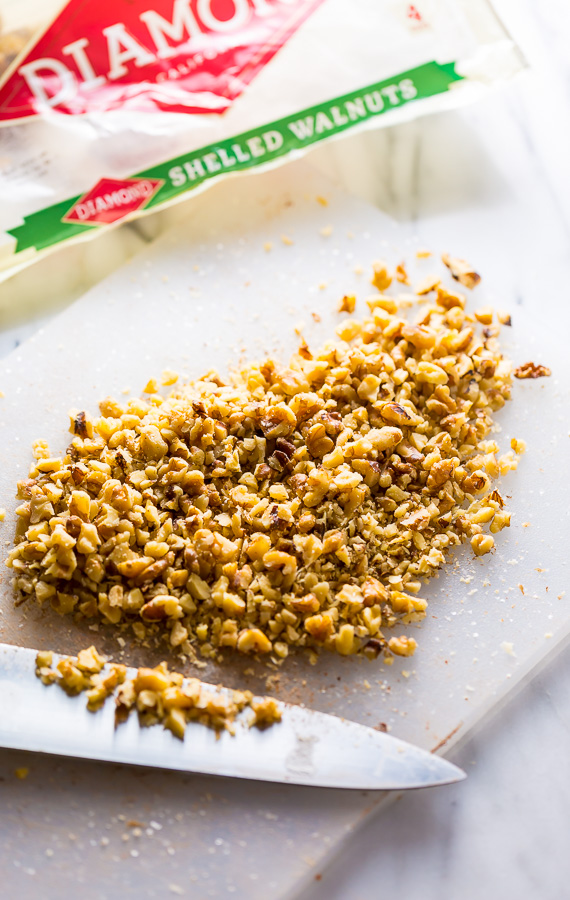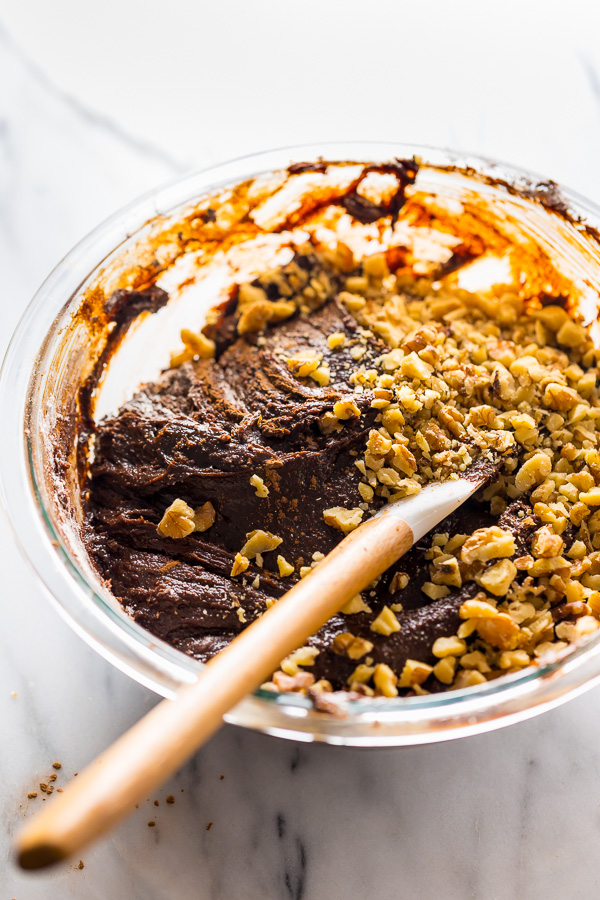 How to make Walnut Brownies
If you're not a fan of walnuts, or you're allergic, feel free to leave them out. But they do add an incredible crunch and their flavor melts wonderfully with the brown butter 😉
And if you've never browned butter before, don't fret! It's easy. You'll need a saute pan, butter, and a touch of patience – that's it! You'll start off melting the butter; once the butter has completely melted, you'll continue to cook the butter, on medium heat (or medium-low if your stove top runs hot), until it's turned a golden brown and smells slightly nutty. Just be sure you stay stove side once the butter has melted; brown butter can turn into burnt butter very fast.
Since there's 12 ounces of chocolate in this recipe, I highly recommend using quality chocolate you know melts well and tastes good. The flavor definitely shines through! You know I love Lindt 70% cocoa bars and they're my go-to for this recipe! And no – I'm not an ambassador for Lindt haha. I just really love their chocolate! Whatever brand you choose, just be sure you're using real chocolate bars, and not chocolate chips. I love chocolate chips – just not for this recipe! They don't melt well and are inferior in taste.
Be sure you don't over bake your brownies! They should not be liquid when you pull them out of the oven, but don't be afraid if they have a little jiggle in the middle. The brownies will firm up as they cool. Over baked brownies will not be fudgy.
Which brings me to my last – and probably the hardest – tip… LET YOUR BROWNIES COOL FOR AT LEAST AN HOUR. Yes, I know the all caps was a little excessive, but I got the point across right? The reason I stress this so much is because the brownies need time to firm up, and slicing into them too soon will leave you will brownie lava… which is not what we want! So give them hour… maybe even an hour and a half, then dig in. I know it's hard, but I promise these brownies are worth the wait. Pro tip: you can speed up the chilling process by popping the brownies in the fridge. I can usually slice them after 45 minutes if I do this 😉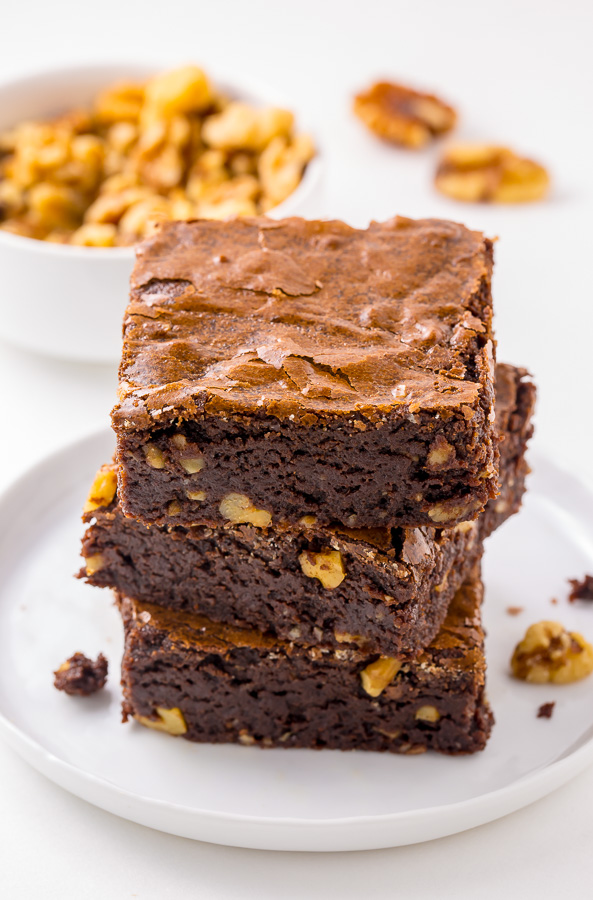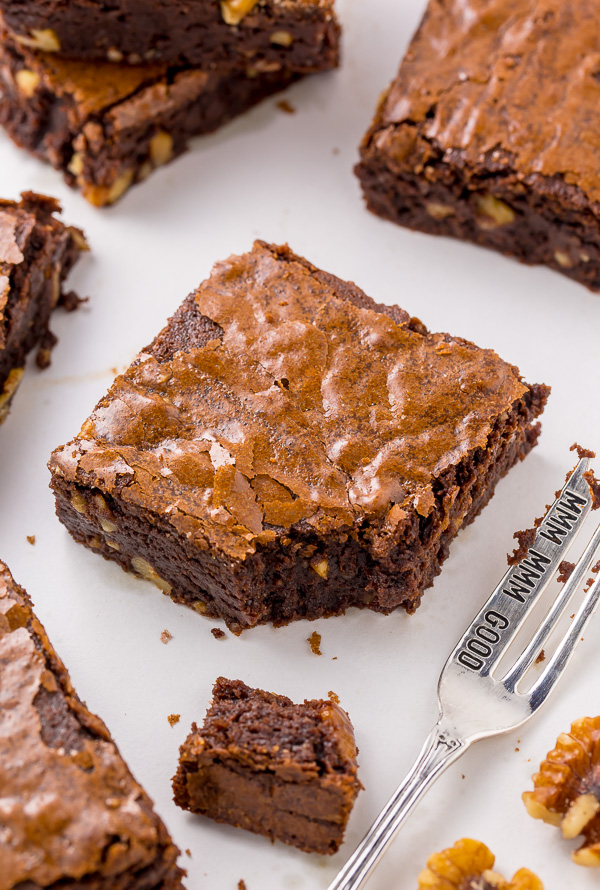 If you try this recipe for Brown Butter Walnut Brownies, let me know what you think! Leave a comment below, and don't forget to snap a pic and tag it #bakerbynature on instagram! Seeing your creations makes my day ♥
More Brownie Recipes:
Brown Butter Walnut Brownies
Thick and chewy brown butter walnut brownies! These are incredibly flavorful and so easy to make.
Ingredients
1 and 1/4 cups all-purpose flour (not packed)
1 and 1/2 tabespoons unsweetened cocoa powder
1/2 teaspoon salt
12 ounces semi-sweet OR dark chocolate, finely chopped
1 cup (8 ounces) unsalted butter, melted until browned
1 cup granulated sugar
1 cup light brown sugar, packed
1 tablespoon vanilla extract
5 large eggs, at room temperature
3/4 cup walnuts, roughly chopped
Instructions
Preheat the oven to 350 degrees (F). Line a 9×13 inch baking pan with parchment paper; spray paper and any exposed pan with non-stick baking spray and set aside.

In a medium bowl, combine the flour, cocoa powder, and salt; whisk well and set aside. Place chopped chocolate in a large bowl and set aside.

Melt butter in a medium-sized skillet over medium heat. Continue cooking butter, stirring frequently, until it's a light amber color and smells slightly nutty. Remove from heat at once and pour over the chopped chocolate.

Let the chocolate/butter mixture sit for 2 minutes, then whisk smooth. Add both sugars and vanilla and whisk smooth. Add 3 of eggs to the chocolate mixture and whisk until combined.

Add the remaining eggs and whisk until combined. Do not overbeat the batter at this stage or your brownies will be cakey.

Sprinkle the flour/cocoa powder mixture over the chocolate mixture. Using a rubber spatula (not a whisk), fold the flour mixture into the chocolate until just a bit of the flour mixture is visible. Fold in the walnuts.

Pour the batter into the prepared pan and smooth the top. Bake in the center of the oven for about 28 to 30 minutes, rotating the pan halfway through the baking time, or until a toothpick inserted into the center of the brownies comes out with a few moist crumbs sticking to it. Let the brownies cool completely in the pan (this will take about an hour to an hour and a half), then lift them out of the pan using the parchment paper. Cut into squares and serve. *To speed up the cooling process, you can pop the tray in the fridge.

Store at room temperature, in an airtight container or wrapped tightly with plastic wrap, for up to 3 days.
Notes
Total time includes cooling. Please read post for tips and tricks for recipe success!