Two layers of brown butter funfetti cake slathered in homemade buttercream frosting! Heaven.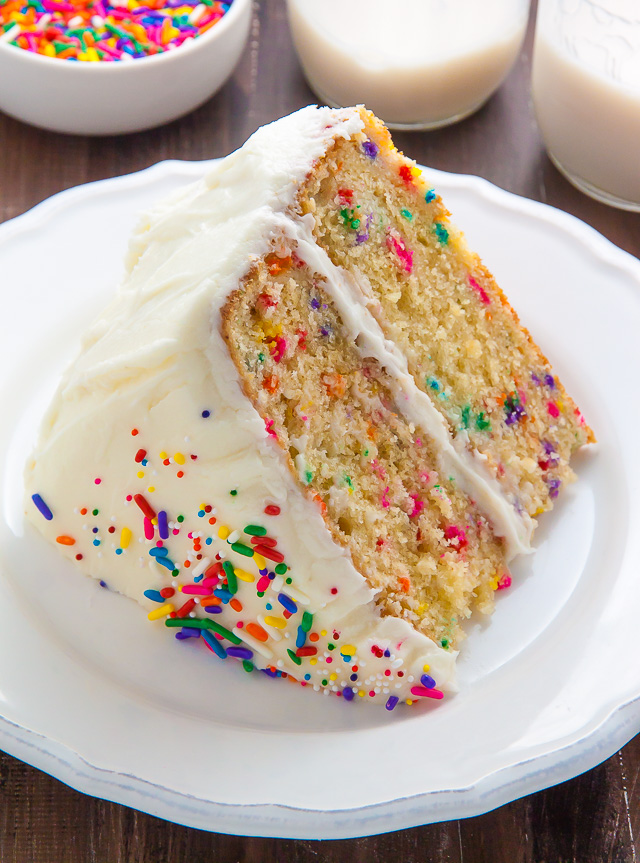 Friday calls for funfetti! With brown butter, 'cause we're fancy like that 😉
Whenever my birthday rolls around I begin to crave funfetti cake something fierce. Growing up my mom made me a themed funfetti cake every year; Beauty and the beast, Trolls (?!), Kermit the frog, Godzilla, and the Power Rangers all made appearances on my B-day cakes. Have I mentioned I was a major nerd growing up? I was. And not much has changed 😉
This year, with my mom over 200 miles away (sheds a tear), I'm baking my own funfetti cake. The theme? Brown butter and bourbon. Look who's all grown up!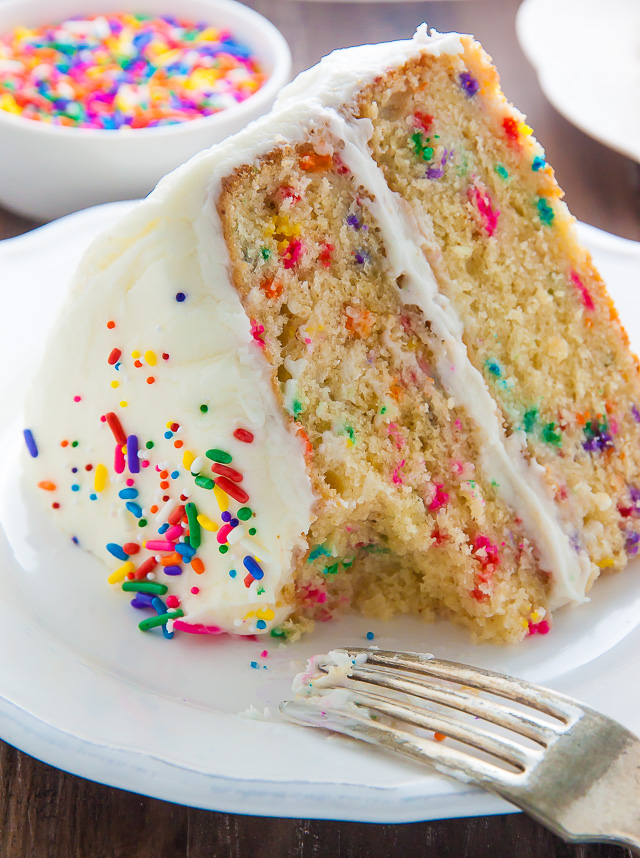 To make this cake you're going to need butter, granulated sugar, brown sugar, vanilla extract, eggs, flour, cornstarch, baking powder, baking soda, salt, sour cream, milk, and rainbow jimmies.
For the frosting you'll need butter, confectioners' sugar, a pinch of salt, heavy cream, and more rainbow jimmies!
Tips and Tricks for Recipe Success:
For this recipe the butter will be browned, then brought back to room temperature by chilling it in the fridge for about an hour. This step can be done up to three days in advance, but you'll have to thaw the butter a little before beating it. The butter should be firm, but soft enough that when lightly pressed with your finger, an indentation holds its shape.
I recommend using confetti quins or rainbow sprinkles in the batter, and then decorating the buttercream with rainbow nonpareils. I do not recommend using nonpareils in the batter as their colors easily bleed into the cupcake batter and result in more of a tie-dyed cupcake.
I do not recommend substituting the full-fat sour cream and whole milk for reduced fat varieties. This cake gets a lot of its moisture from the fat in these ingredients, so using fat-free or reduced fat replacements will result in a drier end result.
This recipe calls for granulated sugar AND brown sugar. I do not recommend substituting all one or the other. The brown sugar adds moisture and flavor, while the granulated sugar assists with the fluffy consistency.
Your eggs, milk, and sour cream should all be at room temperature. Cold ingredients will not incorporate evenly or bond, resulting dense cake. Batters made with cold ingredients don't come together smoothly, so be sure to take the extra step and bring them to room temperature.
To quickly bring cold eggs to room temperature, simply place them in a bowl of warm water for 15 minutes. Just be sure you don't use hot water!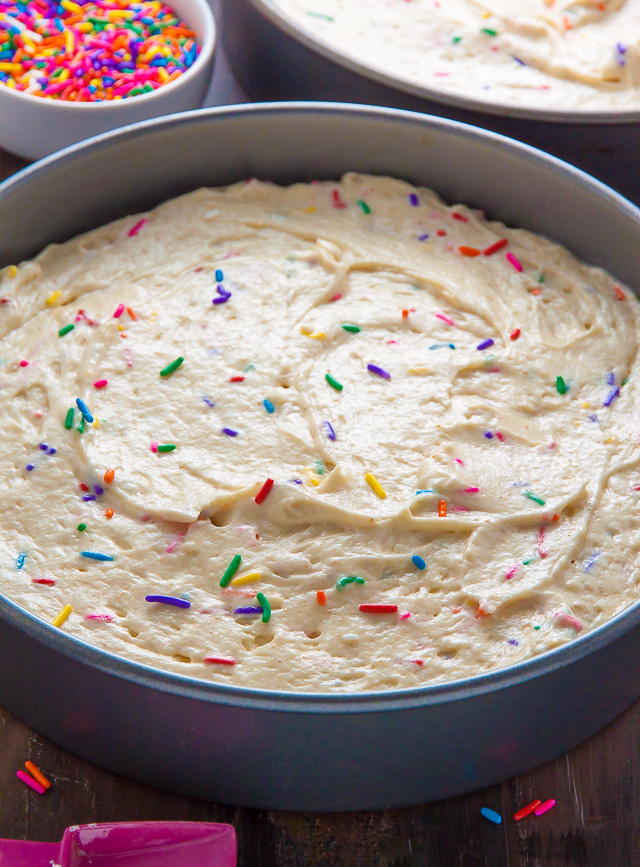 Moving on to the creamy buttercream frosting! I'm dead serious when I say you're going to want to eat this by the spoonful. Butter, sugar, vanilla, and bourbon… who could resist? Two important things:
Your butter should be verrrrrry soft! Softer than room temperature.
The bourbon is optional and can be replaced with vanilla extract or completely left out! If you want a stark white frosting, I suggest leaving both out, as the bourbon and vanilla with tint the frosting slightly.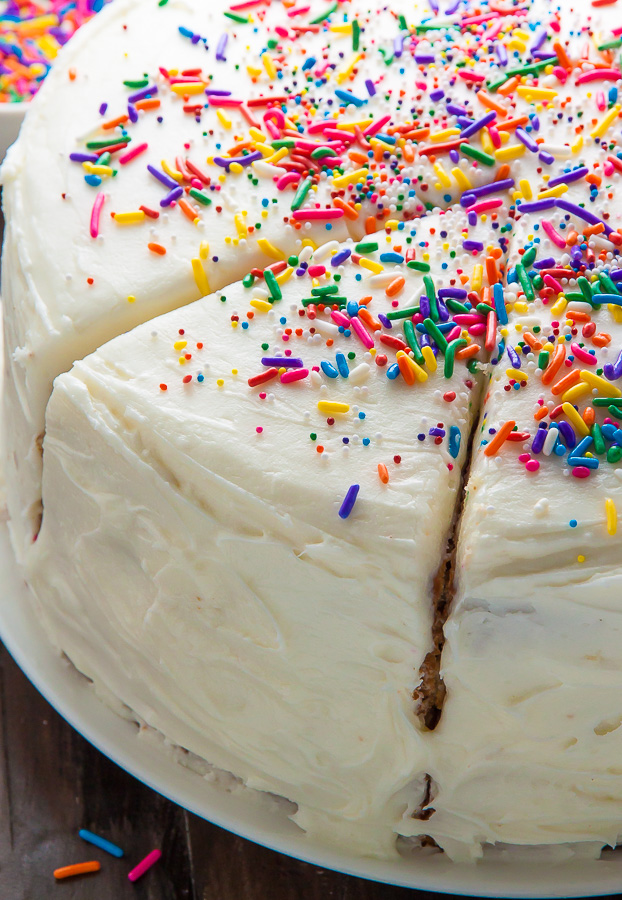 Slather, sprinkle, slice, and serve! Pretty sure this is going to be your new favorite cake.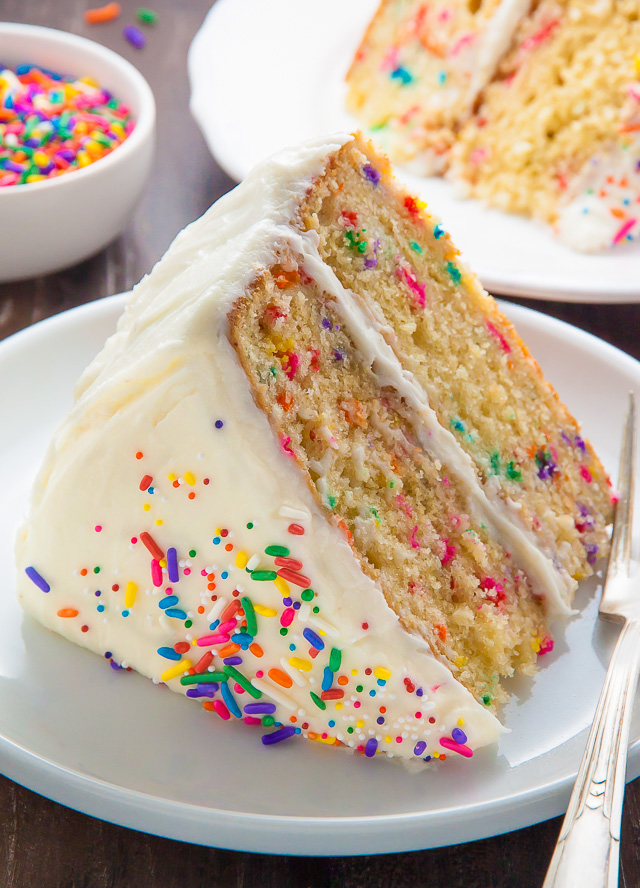 More Funfetti Recipes:
If you try this recipe, let me know! Leave a comment below and don't forget to snap a pic and tag it #bakerbynature on Instagram! Seeing your kitchen creations makes my day. ♥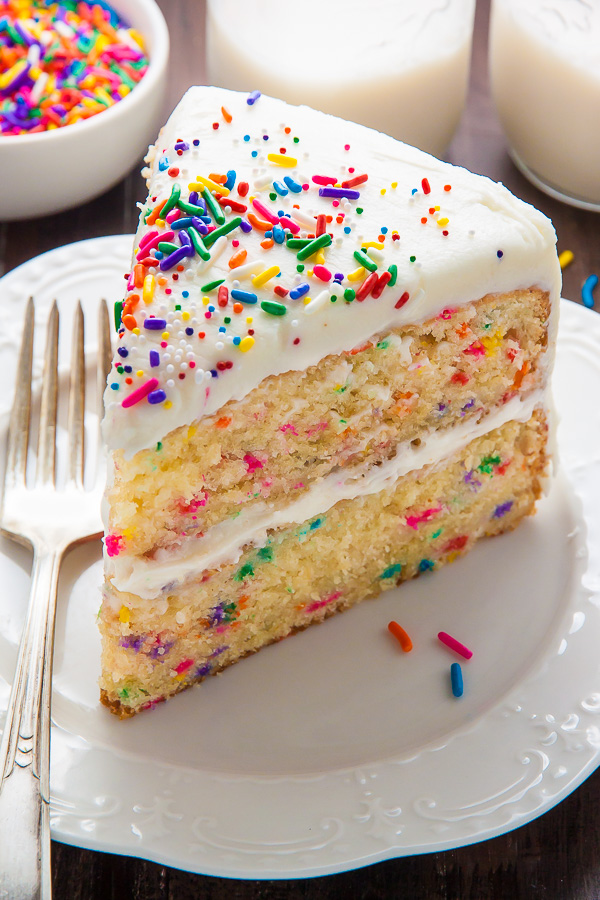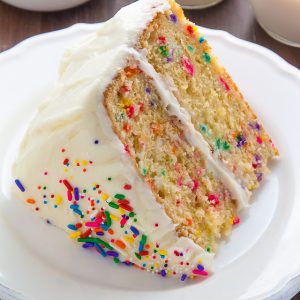 Brown Butter Funfetti Cake
Fluffy and festive, my Brown Butter Funfetti Cake is perfect for parties and celebrations!
Ingredients
For the Brown Butter Funfetti Cake:
1 cup unsalted butter, browned
1 and 1/2 cups granulated sugar
1/4 cup light brown sugar, packed
1 and 1/2 teaspoons vanilla extract
4 large eggs, at room temperature
2 and 1/4 cups all-purpose flour (not packed!)
1/4 cup cornstarch
2 teaspoons baking powder
1/2 teaspoon baking soda
1/2 teaspoon salt
1 and 1/4 cups full-fat sour cream
1/2 cup whole milk
1/2 cup rainbow sprinkles (see post for more info on this)
For the Buttercream Frosting:
1 and 1/2 cups unsalted butter, VERY soft
4 cups confectioners' sugar, sifted
2 tablespoons heavy cream (more if needed)
1/4 teaspoon salt
2 teaspoons bourbon OR vanilla extract (optional; see post for more on this)
Sprinkles, for decorating
Instructions
To brown the butter:
Place the butter in a small sauce pan over medium-high heat and cook for about 3 minutes – stirring almost constantly – until the butter has turned an amber gold/brown and smells slightly nutty. Remove from heat and pour the butter into the mixing bowl you'll be making the cake batter in. Place the bowl in the refrigerator or freezer and bring the butter back to room temperature. You'll know the butter is at room temperature when you press a finger into the top and it makes a slight indentation. It should be solid but soft.

Once the butter is at room temperature, make your cakes.
For the Brown Butter Funfetti Cake:
Preheat oven to 350 degrees (F). Cut out two 9-inch round segments of parchment paper to line your cake pans with. Spray each pan generously - sides and bottom - with nonstick cooking spray, then place the parchment paper cut out in the bottom of the pans and spray again. It's important to make sure every bit of pan and paper are sprayed so your cakes don't get stuck. Set pans aside.

In a large bowl using a handheld electric mixer (or in the bowl of a stand mixer fitted with the paddle attachment), combine the brown butter, both sugars, and vanilla extract; beat on medium speed until light and fluffy, about 5 minutes (don't skimp on time here!). Add in the eggs, one at a time, beating well after each addition, and scraping down the sides of the bowl as needed. Set aside.

In a separate bowl, whisk together the flour, cornstarch, baking powder, baking soda and salt, mixing well to evenly combine the ingredients. Add the dry mixture into the wet ingredients and mix on low speed until everything is just barely combined; about 15 seconds. You should still see some lumps and dry streaks. Turn mixer off. Add in the sour cream and milk and using a rubber spatula, fold the ingredients into the mixture, mixing until everything is incorporated, but being sure not to overmix. Set aside. Add the sprinkles and fold in by hand, using a rubber spatula, until just combined. Again, be sure not to overmix! Overmixing is very easy to do, and will result in a dry, dense cake.

Divide the batter evenly among the prepared pans and bake for 33-35 minutes, or until the tops are firm and slightly golden, and a cake tester (or toothpick) inserted in the center comes out clean, or with a few moist (but not wet) crumbs clinging to it.

Allow the cakes to cool in the pans for 5 minutes before gently running a knife around the edges to loosen any stuck bits, then turning them out onto a cooling rack to cool completely.

While the cakes cool, you can make the frosting.
For the Buttercream Frosting:
In a large bowl using a handheld electric mixer (or a stand mixer fitted with the paddle attachment) beat the butter on medium-speed until light and fluffy, about 3 minutes. Reduce the speed to low, then add in the confectioners' sugar; beat until combined. Add in the heavy cream, salt, and bourbon (if using); increase the speed back to medium and continue beating the frosting until very light and fluffy, about 2-3 minutes. If the frosting seems too thin, add a little more confectioners' sugar, starting with one tablespoon at a time; if the frosting seems to thick, add in a little more heavy cream, starting one tablespoon at a time.

When the cakes have completely cooled, place one round on a cake stand or large plate; spread the top and sides evenly with frosting, then gently place the other cake round on top of the frosted one and press down very lightly to seal them together. Continue frosting the cake, using a thin spatula, offset spatula, or whatever you have that works best, until the top and sides of the cake are evenly frosted. Decorate with rainbow sprinkles.

The frosted cake will stay fresh, when stored in the refrigerator, for 3 days. Simply take it out of the fridge an hour or two before serving so it can come to room temperature. It's also yummy cold, especially with a cup of coffee 😉
Notes
Be sure not to pack your flour when meausring *Be sure to bring all cold ingredients to room temperature *The frosted cake will stay fresh, when stored in the refrigerator, for 3 days. *recipe and photographs updated 4/21/2016