Carrot cake lovers – these are for you! All the greatness of a carrot cake in an easy-to-bake-up batch of blondies. With cream cheese frosting, of course. These Carrot Cake Blondies are definitely a keeper!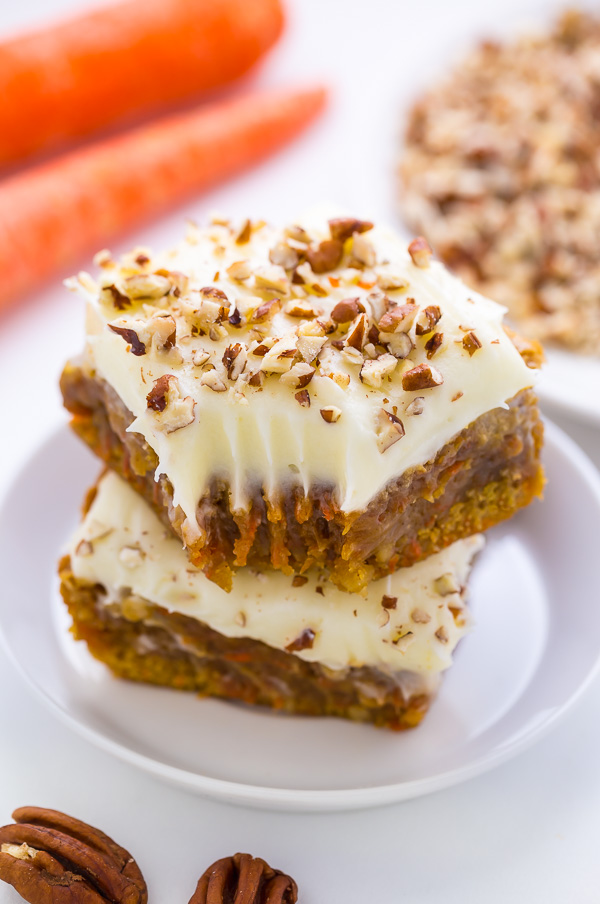 Carrot Cake Blondies Recipe
I simply cannot even think about carrot cake without thinking of my mom. Not because she loves it (but she does like it just fine)… but because for the first 7 years of my life we thought she loved it. We thought it was her favorite. To this day my brother and I have no idea why this is… but sure enough, come every July, there we were – buying her the biggest cake of carrot we could get our mangy little hands on. Oooops!
She was a good sport though. I was around 7 or 8 when she finally broke (the news) and let us know it wouldn't hurt to mix it up a strawberry shortcake or death by chocolate every so often. Waaaaaaaay to be subtle mom. We got the point!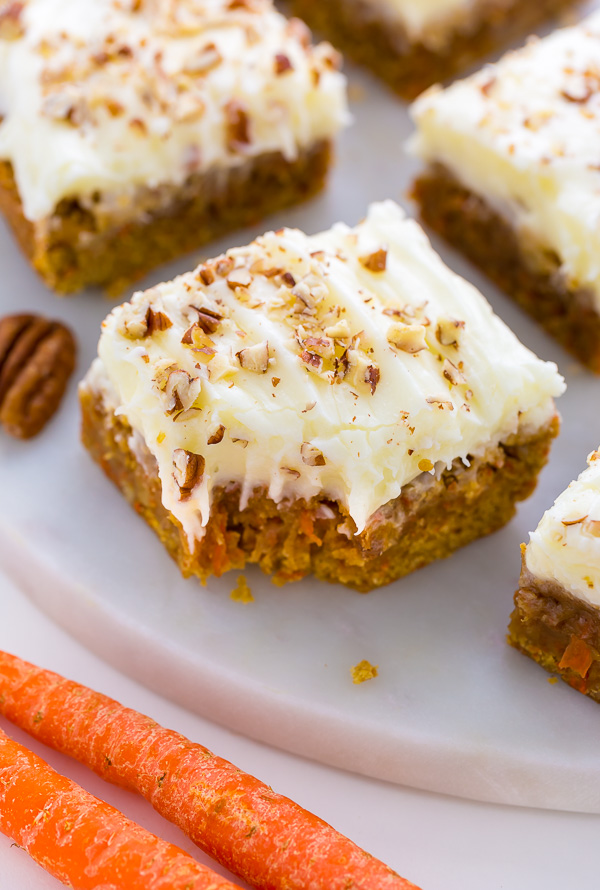 So while I won't be making these for mom, hoo-boy will I be making them for everyone else I know! I'm pretty sure even carrot cake lovers would fall for these sweet little blonde and orange squares. They're soft but chewy, and packed with the charming qualities of both carrot cake and a traditional blondie. They're so ready to be loved. And devoured.
The really great thing about these carrot cake blondies is – besides the whole tasting amazing part – they are sooooo much easier than baking a whole cake. They save you on both time, and money. And I don't know about you – but those two things are always on my "keep close" list.
More Carrot Cake Recipes:
Are you guys up to anything fun this weekend? We're having a dinner party tonight, and I have a ton of cooking/ CLEANING to get to. But it should be a great time. I hope you enjoy these early Spring days 🙂 I'll see you Sunday with some supper. xoxo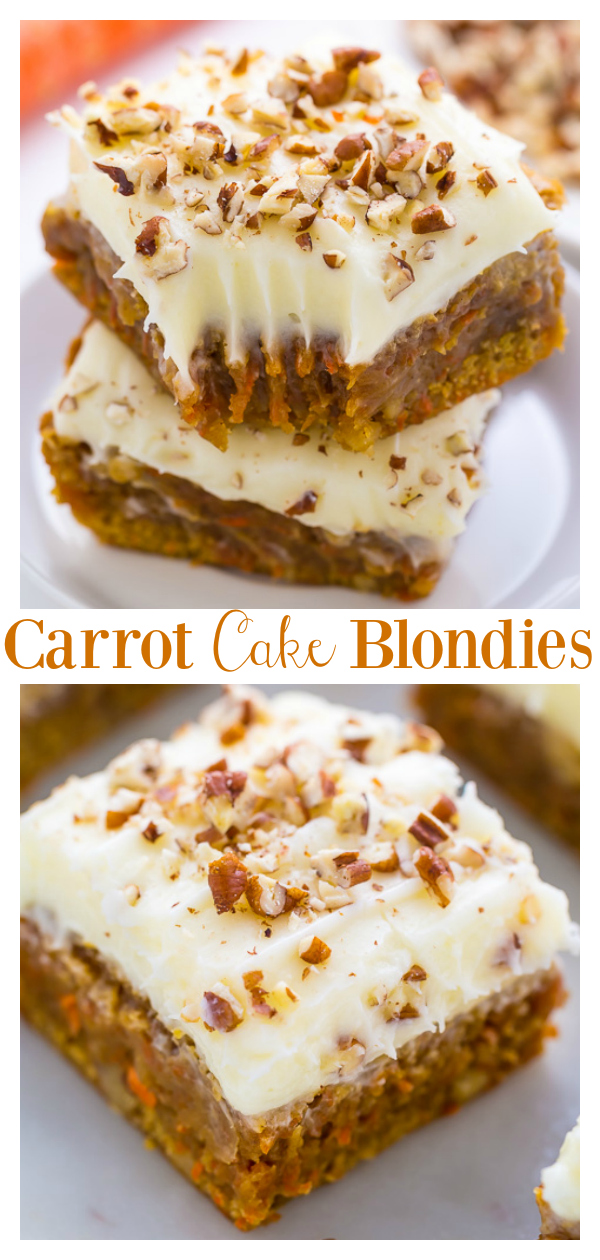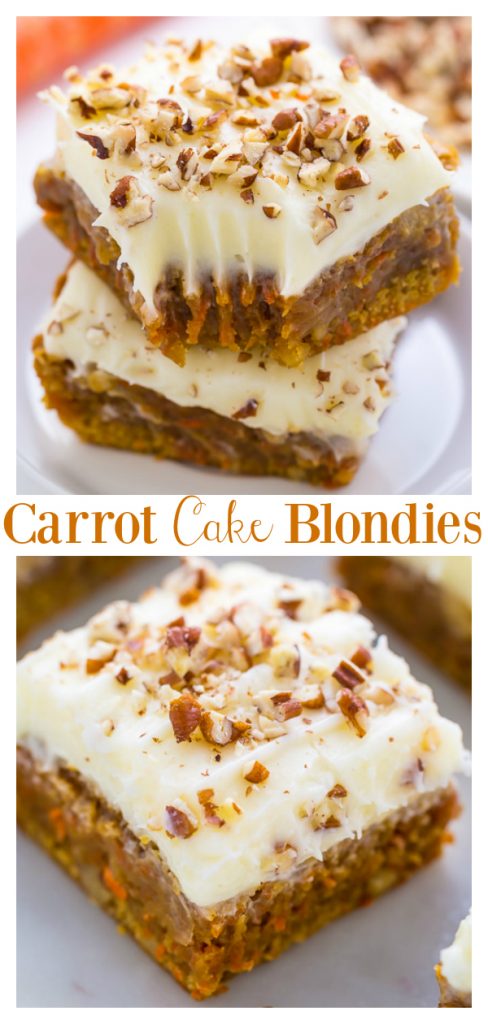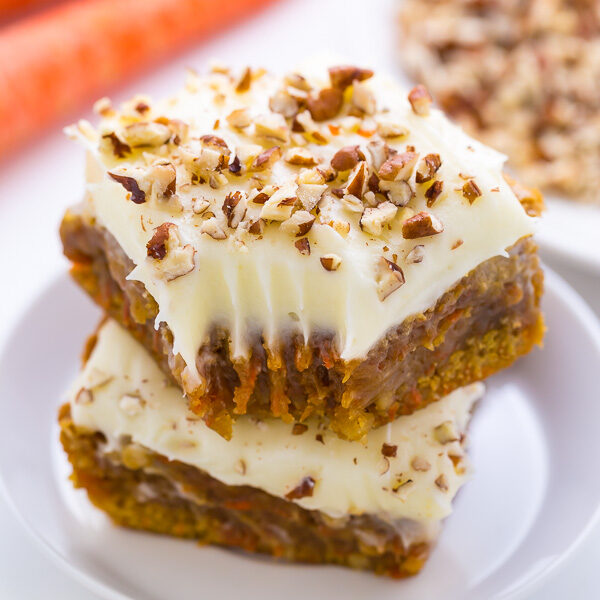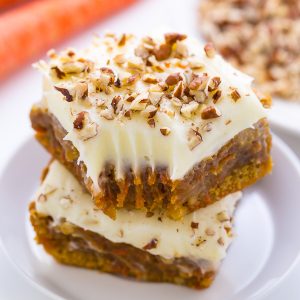 Carrot Cake Blondies
Ingredients
8 ounces unsalted butter, melted
1 and 1/2 cups brown sugar
2 teaspoons vanilla extract
1 large egg + 1 egg yolk, at room temperature
1 cup carrots, finely grated
1 and 1/2 cups plus 2 tablespoons all purpose flour
1/2 teaspoon ground ginger
1/2 teaspoon cinnamon
1/2 teaspoon salt
1/2 cup chopped pecans
For the Cream Cheese Frosting:
4 ounces unsalted butter, VERY soft
8 ounces cream cheese, VERY soft
1 teaspoon vanilla
2 cups confectioners sugar
1/2 cup chopped pecans
Instructions
Preheat oven to 350 degrees (F). Line a 9x9" inch baking pan with parchment paper and lightly spray with non-stick baking spray; set aside.

In a large bowl combine the melted butter, brown sugar, and vanilla; whisk smooth. Beat in the egg and egg yolk, then fold in the carrots. Add in the flour, ginger, cinnamon, and salt and whisk just until combined. Fold in chopped pecans.

Pour batter into prepared pan, smooth the top. Place pan in the oven and bake for 32 to 35 minutes. The edges will be brown and the center should be set. Cool completely (!!!) in pan before removing and frosting. You don't want to rush the cooling!
Make your Frosting:
In the bowl of a stand mixer fitted with the paddle attachment, combine the cream cheese and butter and beat on medium speed until smooth, about 3 minutes. Add in the vanilla and beat smooth. Gradually add in the confectioners sugar, a 1/2 cup at a time, and whisk until smooth.

Frost cooled bars by simply scooping the frosting onto the blondies and smoothing it evenly across the top. Sprinkle with pecans. Cut into small squares and serve!

P.S. You can add toasted coconut or chopped nuts to the top. If I had crystalized ginger I would have added that!