My FAVORITE Carrot Cake recipe is extremely moist, fluffy, and flavorful.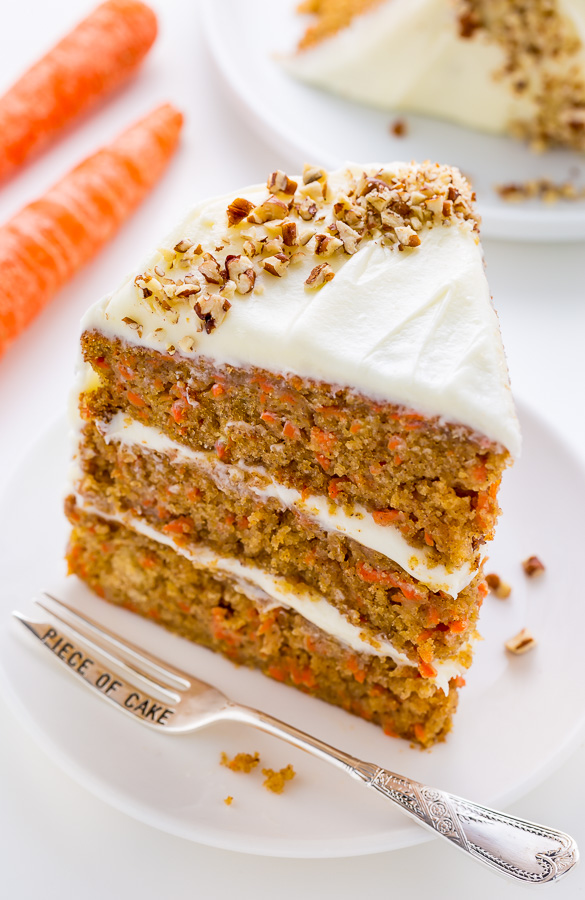 Carrot Cake Recipe
And just like that: it's Spring! How are you celebrating the new season?
I hope your answer involves fresh air, sunshine, and carrot cake! More specifically, my favorite carrot cake. Which is melt-in-your-mouth moist, loaded with fresh carrot flavor, and slathered in rich cream cheese frosting. It's OMG good.
Are you ready to dig in?! ↓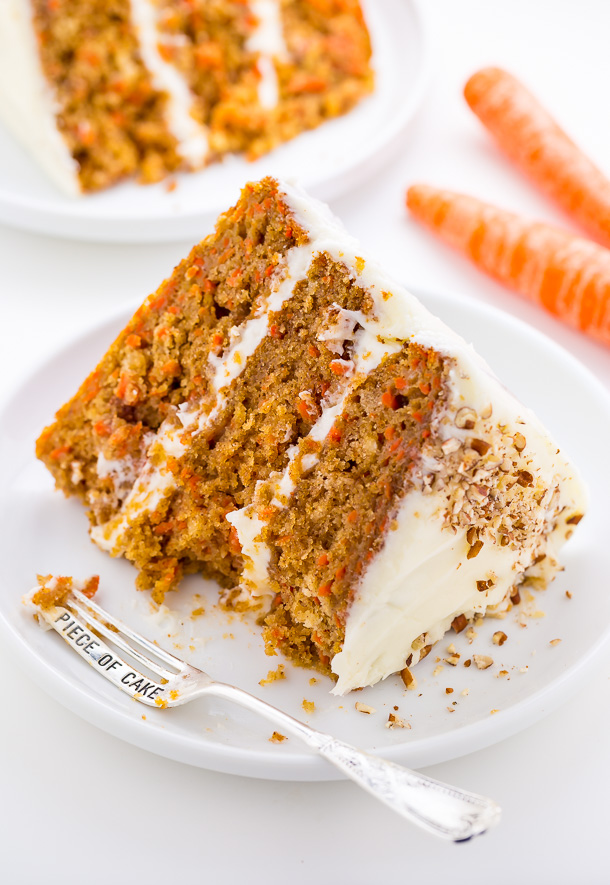 Wanna know something crazy? This carrot cake was a year in the making! Actually, a little over a year. I started testing the recipe right before last Easter, and have been tweaking it like a maniac ever since. I can't tell you how many carrots were grated in the name of recipe perfection, but I can tell you it was worth it. This carrot cake is "the one", and I can't wait for you to try it! Just be warned: you will eat more than one slice. It's inevitable 😉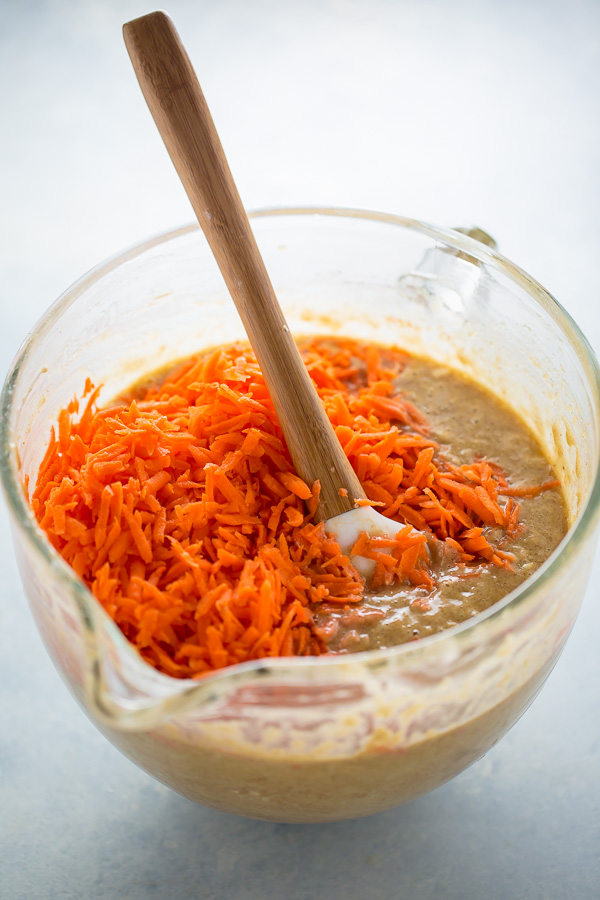 Tips and Tricks for Recipe Success:
This recipe calls for 5 cups of fresh carrots! I know, that's a lot… but trust me here. The large quantity of carrots is what really makes this cake magic. They add flavor, moisture, and sweetness.
You may add up to one cup of chopped nuts or raisins.
Use 100% natural unsweetened applesauce. This ingredient is called for to add moisture, not sweetness.
This recipe calls for canola oil, but you may use an equal amount of vegetable oil or melted coconut oil in its place. I do not recommend substituting oil with melted butter.
For best results, make sure your eggs and sour cream have come to room temperature before you begin baking.
When you measure your flour, be sure you're not packing it into the measuring cup. Packed flour will yield a dense and dry cake.
The cake layers should all be baked in the middle of the middle rack of your oven. If there's not enough room in your oven to bake them all in an even row at once, bake them in two batches.
Be sure to allow the cakes to cool in their pans for 20 minutes! They need this time to firm up.
For the frosting, you'll want to make sure your butter and cream cheese are VERY soft before creaming it.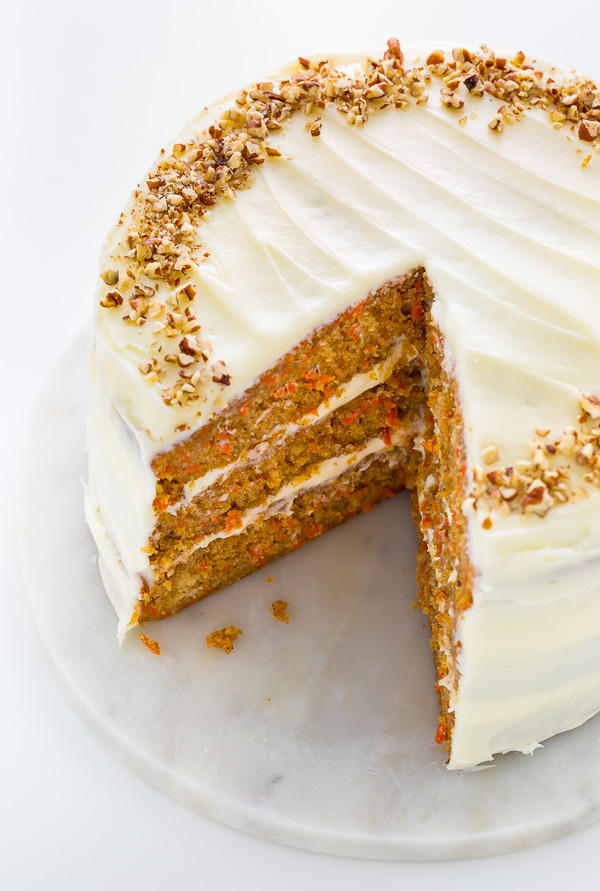 This carrot cake is EXTREMELY moist and will thrive in the fridge for up to 4 days! In fact, I think it tastes even better after a day or two. So feel free to make it ahead of time!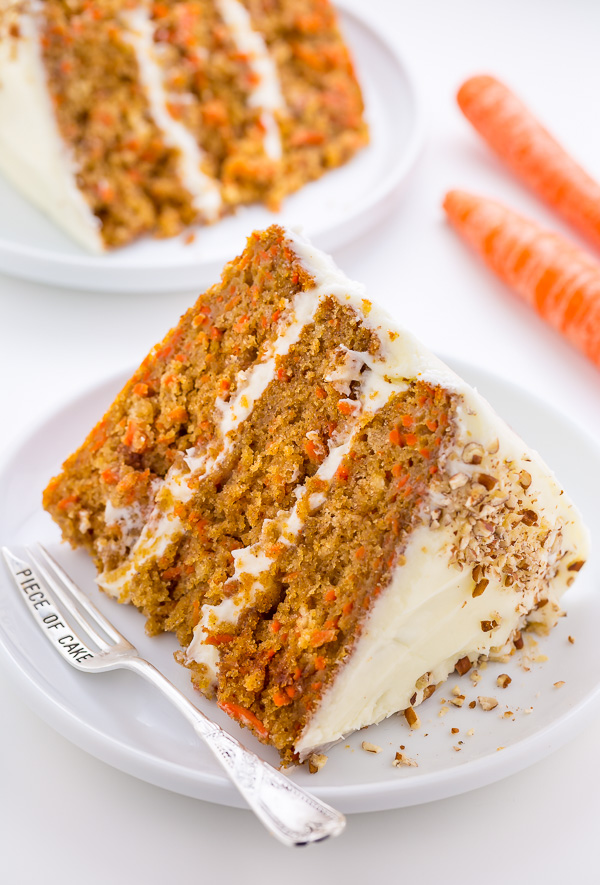 If you try this recipe for My Favorite Carrot Cake, let me know what you think! Leave a comment below, and don't forget to snap a pic and tag it #bakerbynature on instagram! Seeing your creations makes my day ♥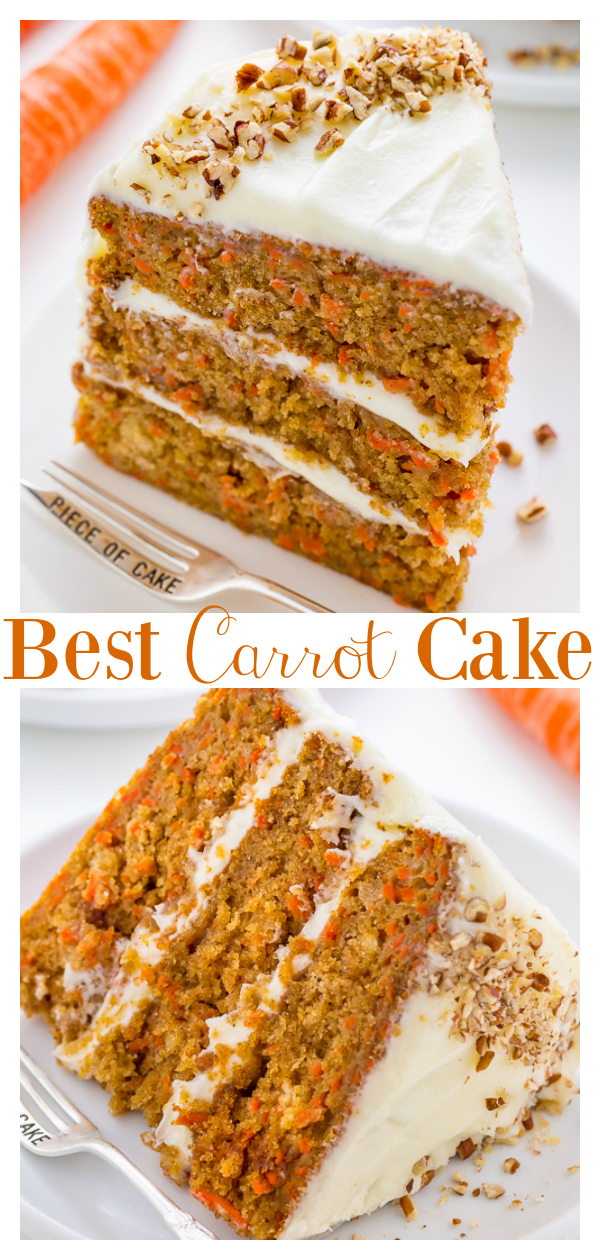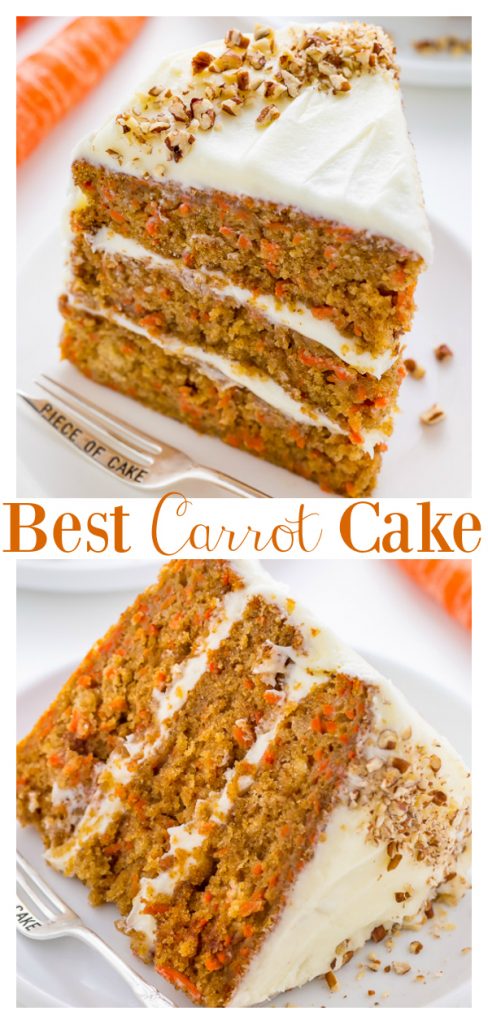 P.S. You can find the cute dessert forks you see in my photos HERE.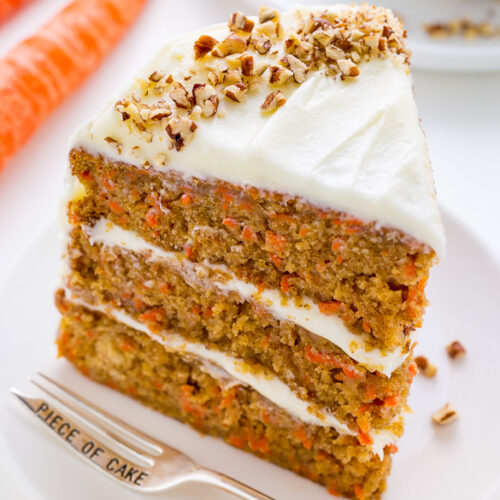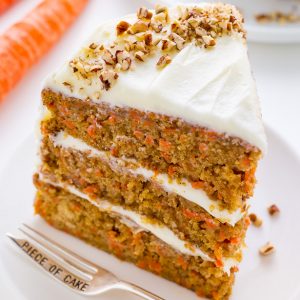 My Favorite Carrot Cake
My FAVORITE Carrot Cake recipe is extremely moist, fluffy, and flavorful.
Ingredients
For the Carrot Cake:
6 large eggs, at room temperature
2 cups granulated sugar
1 cup light brown sugar, packed
1 and 1/2 cups canola oil (or melted coconut oil)
1 and 1/4 cups unsweetened applesauce
3/4 cup sour cream
1 tablespoon vanilla extract
3 and 1/2 teaspoons ground cinnamon
3/4 teaspoon ground cloves
1/2 teaspoon ground ginger
1 teaspoon ground nutmeg
3 and 3/4 cups all-purpose flour
2 and 1/2 teaspoons baking powder
1 teaspoon baking soda
1/2 teaspoon salt
5 cups coarsely grated carrots
For the Cream Cheese Frosting:
16 ounces full-fat cream cheese, VERY soft
8 ounces unsalted butter, VERY soft
1 tablespoon vanilla pure extract
6 cups confectioners' sugar, sifted, more only if needed
Instructions
Preheat oven to 350 degrees (F). Cut out three 9-inch round segments of parchment paper to line your cake pans with. Spray each pan generously - sides and bottom - with nonstick cooking spray, then place the parchment paper cut out in the bottom of the pans and spray again. It's important to make sure every bit of pan and paper are sprayed so your cakes don't get stuck. Set pans aside.

In a large bowl combine the eggs, granulated sugar, light brown sugar, oil, applesauce, sour cream, vanilla, and spices; beat well to combine. Add the flour, baking powder, baking soda, and salt to the wet mixture; stir until just combined. Batter will be on the thicker side but resist the urge to over mix! Add in the carrots and using a rubber spatula gently fold together until incorporated.

Divide the batter evenly among the prepared pans, smoothing the top with a spatula. Bake cakes for 35 to 40 minutes, or until the top is golden brown and set, and a toothpick inserted in the center of the cake comes out clean. Allow the cake to cool for 20 minutes in the pan, then transfer it to a wire rack to cool completely.

While the cake is cooling, make your frosting!
For the Cream Cheese Frosting:
In the bowl of a stand-mixer fitted with the paddle attachment, or in a large bowl using an electric handheld mixer, beat the cream cheese, butter, and vanilla on medium-high speed until completely smooth; about 2 minutes.

Reduce the speed to low and gradually add the sifted confectioners' sugar. Once all of the sugar has been added beat on high-speed for 1-2 minutes.

Once the cakes have completely cooled, place one round on a cake stand or large plate; spread the top and sides evenly with frosting. Gently place the second cake layer on top of the frosted one and press down very lightly to seal them together. Repeat with the final cake layer, then continue frosting the cake, using a thin spatula, offset spatula, or whatever you have that works best, until the top and sides of the cake are evenly frosted.

Decorate with additional nuts, if desired, then slice and serve! Store this cake in the fridge, covered, for up to 3 days. Bring to room temperature before serving.