Insanely moist and flavorful Pumpkin Carrot Cake with Cream Cheese Frosting! Perfect for Easter celebrations! Top with crushed pistachios for an extra pretty presentation!
[adthrive-in-post-video-player video-id="Gp7JuIgg" upload-date="2017-10-24T14:03:54.000Z" name="Pumpkin Carrot Cake" description="Super moist Pumpkin Carrot Cake is slathered in Cream Cheese Frosting!"]
Pumpkin Carrot Cake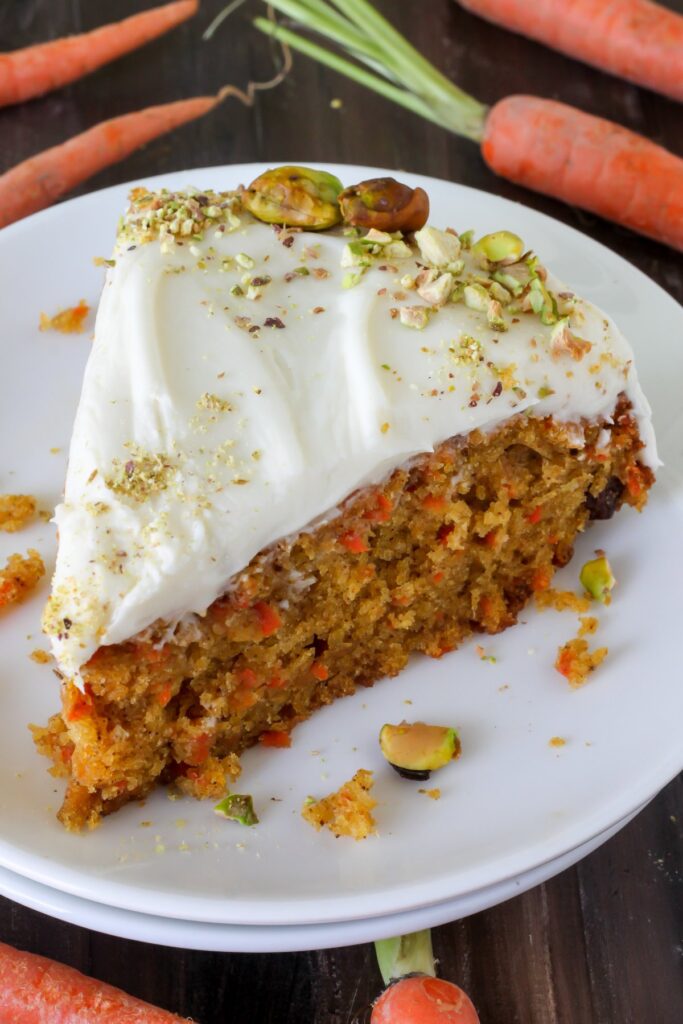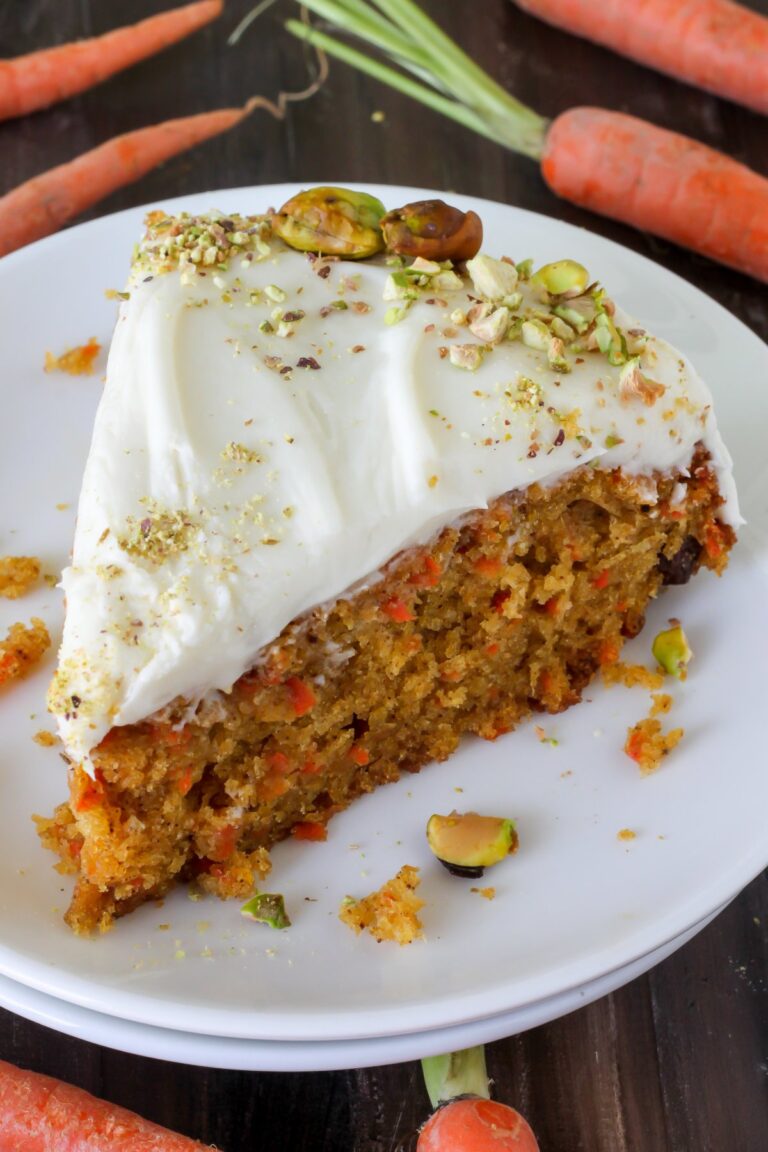 Best Pumpkin Carrot Cake Recipe
Aka the BEST carrot cake in the world!
Happy Friday, my friends! I've got a really stellar recipe (and giveaway!) for you today… but first! Let's talk about the weekend. What have you got planned? We'll be in the city for the weekend, and that means shopping, visiting old haunts, a haircut, and wine. Lots and lots of wine. I always need a little liquid courage before allowing someone to take scissors to my hair.
I hope your weekend is fabulous and you take some time to treat yourself extra lovely!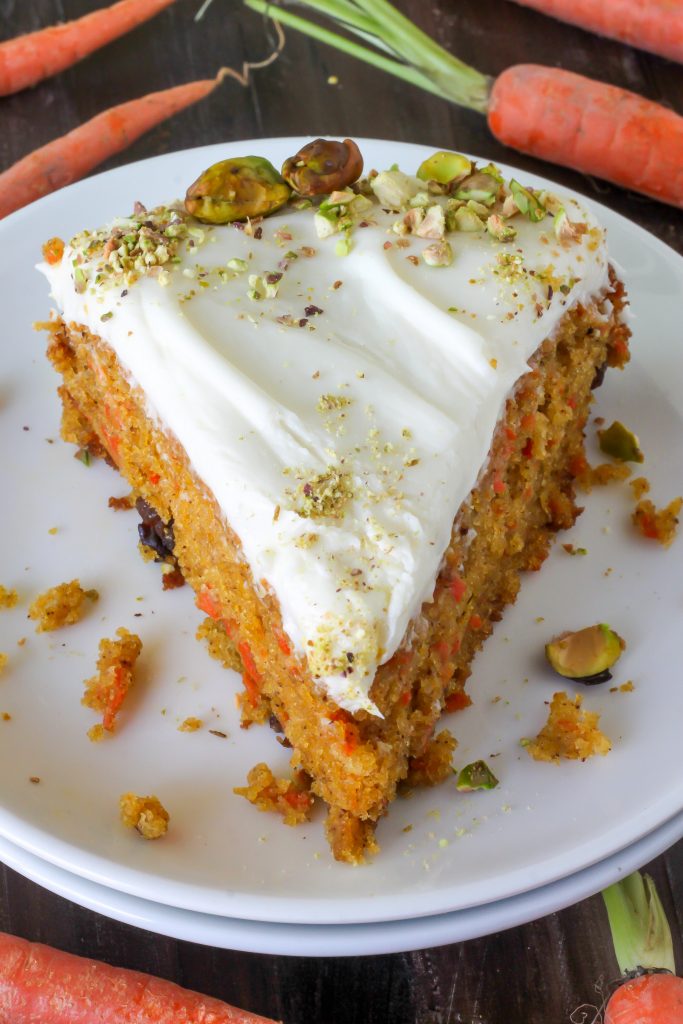 Alright. Moving on to the good stuff. Today's recipe is Pumpkin Carrot Cake with Cream Cheese Frosting and it is straight-up delicious! The recipe is from Averie Sunshine's first cookbook: Cooking with Pumpkin: Recipes That Go Beyond the Pie
and I am thrilled to be giving you a chance to win a copy of this book and a Calphalon Nonstick 9-Inch Springform Pan
– so be sure to check the giveaway details at the bottom of this post!
This book is adorable and more than that, it's FULL of amazing recipes that cleverly incorporate the king of all flavors: PUMPKIN. I'll never understand why us foodie folks go nuts over pumpkin come September then throw it to the wind once November ends, but I'm here to say pumpkin should be celebrated year-round, y'all.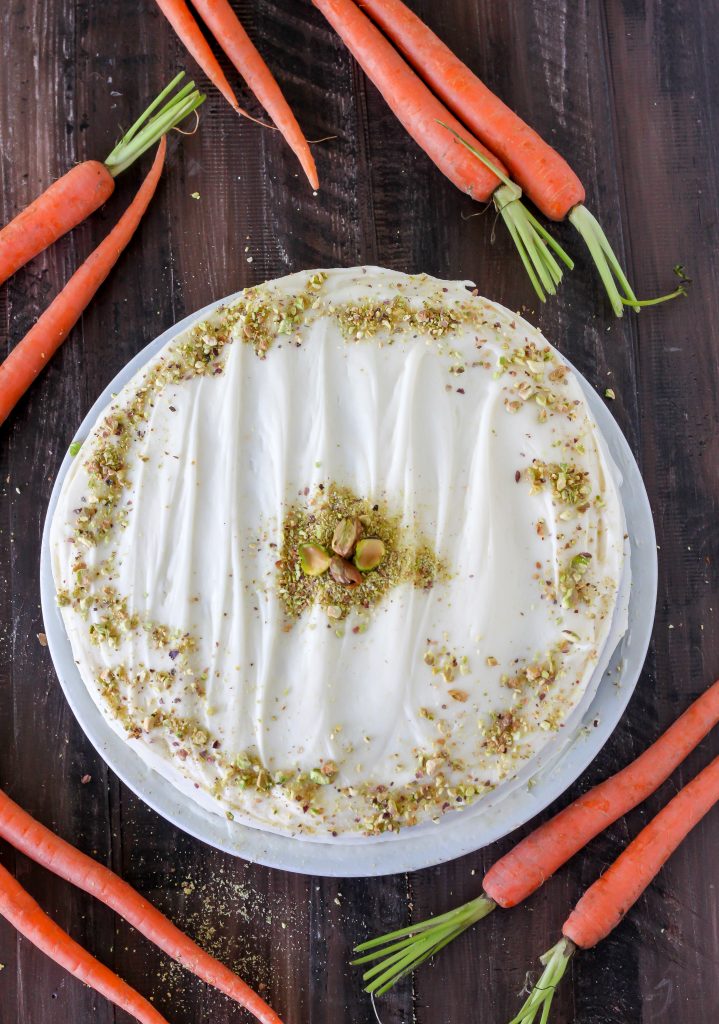 Wanna know the secret to the best carrot cake I've EVER had?
Pumpkin. No, really. I'm not joking! I am not typically a huge fan of carrot cake (I'd much rather eat my weight in carrot cake blondies, thank you very much) but when I spotted this recipe for pumpkin carrot cake with cream cheese frosting in the book… I dunno! It just kind of called to me. I'm sure you know how certain recipes can have that "must make NOW" effect, right? Lucky for us, I had everything to make this cake right in my kitchen. It's always a win when I don't have to run out of the house to buy ingredients!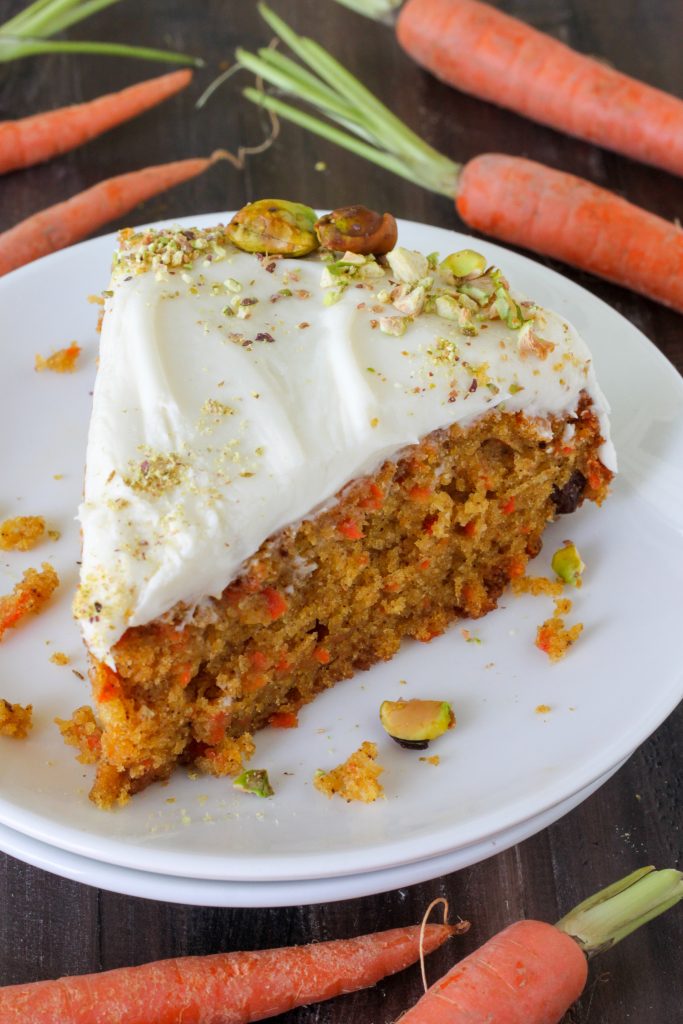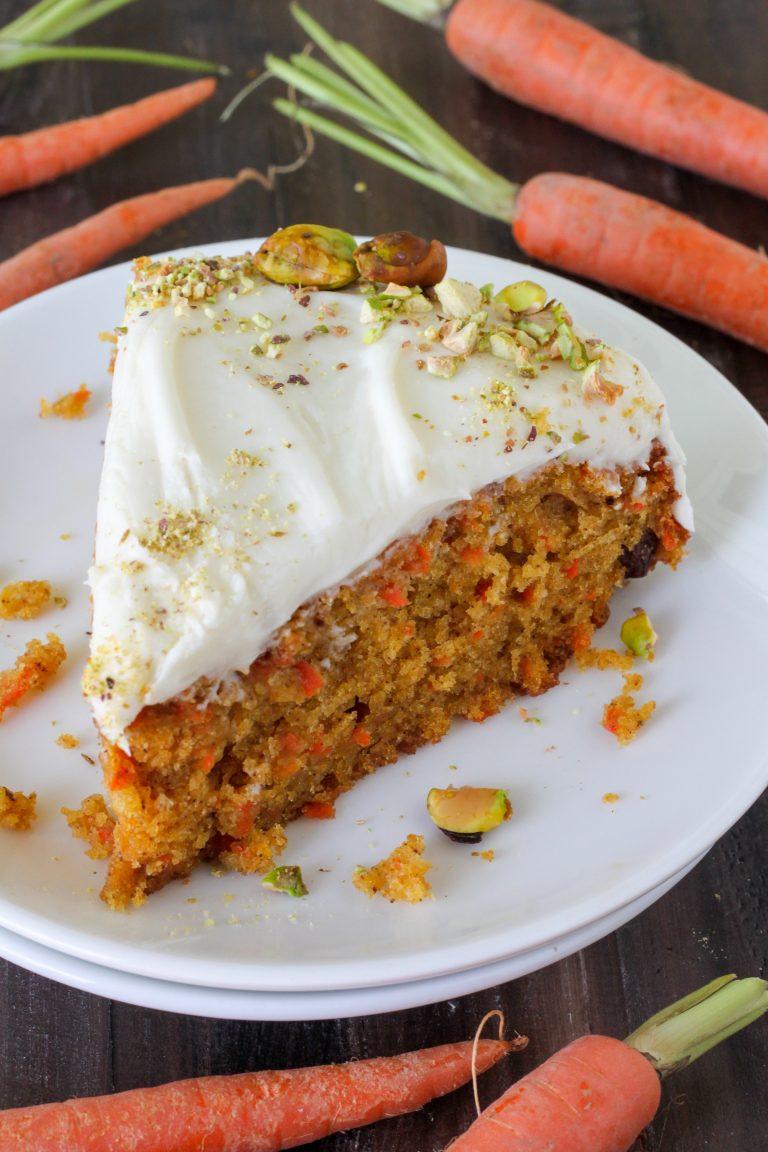 The ingredient list for this luscious cake is simple and I bet you have everything – if not close to everything – to bake it up now in your very own kitchen. The dry ingredients are made up of the usual suspects: flour, sugar (brown and granulated), baking soda and powder, a slew of spices, and a dash of salt; the wet ingredients call for buttermilk, pumpkin puree (not pumpkin pie filling, please!), a hearty amount of freshly grated carrots, and oil (you can use vegetable or canola… or be a little tropical and use melted coconut oil like I did!). You can toss in raisins and/or chopped nuts, too… but that's totally up to you!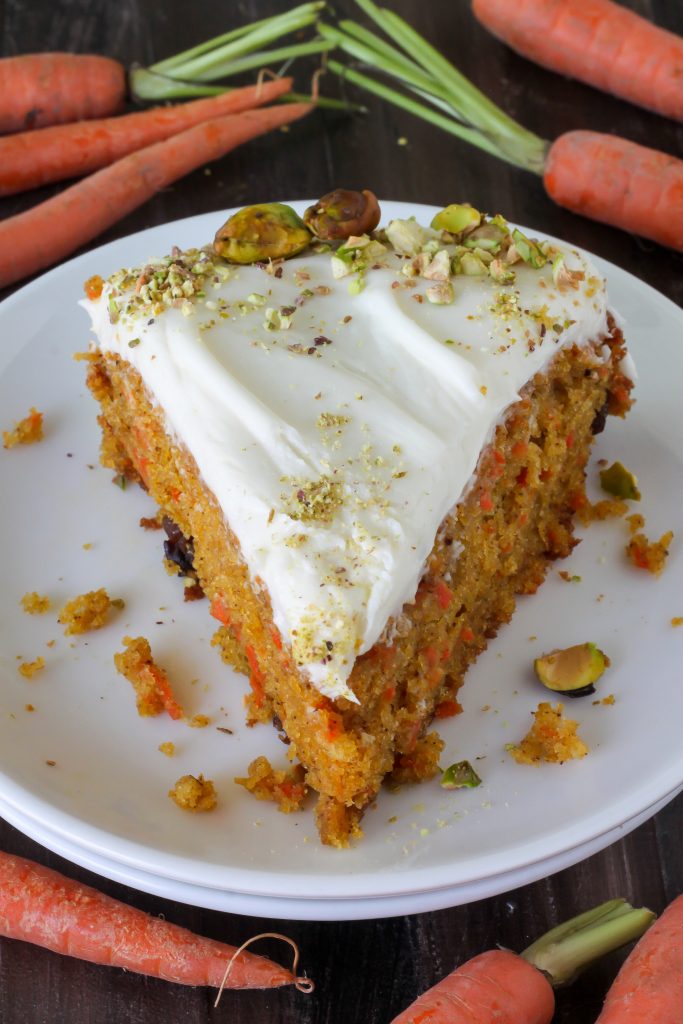 The best part about this recipe method? Everything gets mixed together in ONE-BOWL. You know I love one-bowl recipes (mountains of dirty dishes are no man's friend!), so this alone added another little gold star to this recipe.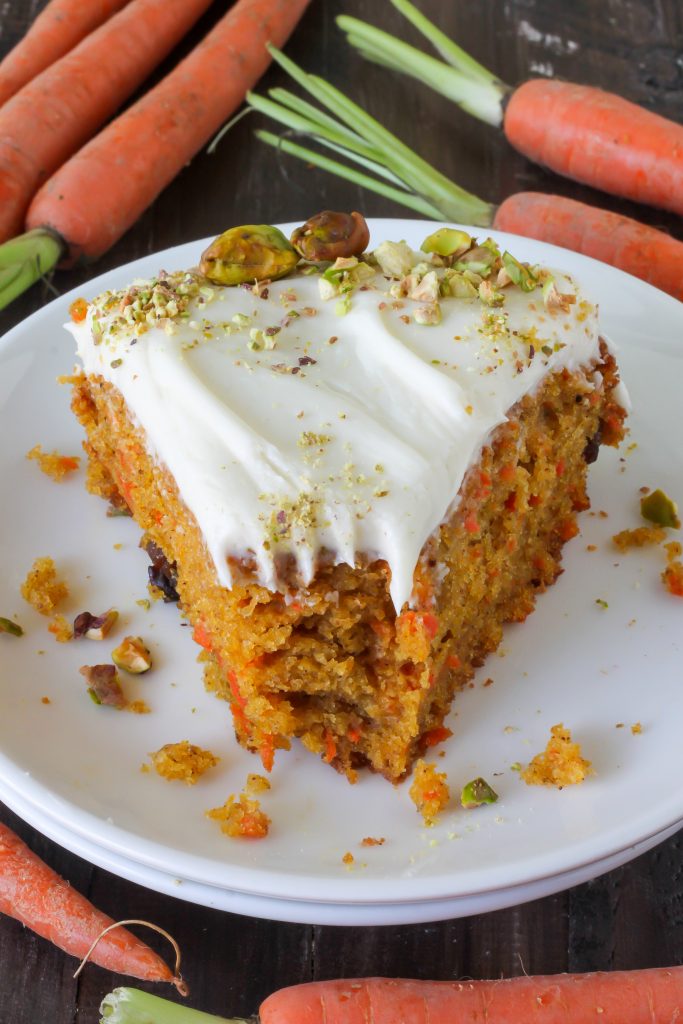 The batter is thick and smells incredible! You will spread it in a greased 9″ springform pan (Please don't use a regular 9″ cake pan as it's not deep enough and your cake will overflow and make a very ugly mess in your oven) and pop it in the oven to about 45 minutes. Spoiler alert: Your house will smell AMAZING while this cake bakes up in yo oven. That's a promise and a fact.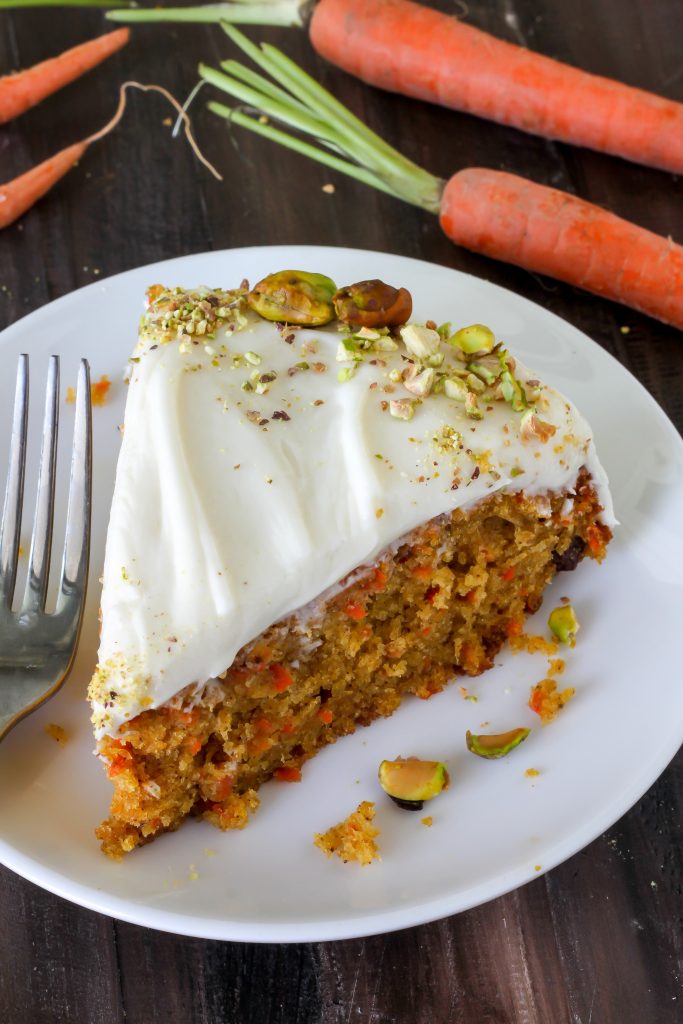 Once the cake has baked, it's time to make your frosting! I like to do this right after the cake has  been transferred to the cooling rack (cake must cool completely before frosting!) but you can also make it while the cake is baking. The one important note I want to stress for making this cream cheese frosting is you must bring your cream cheese and butter to room temperature! They both should be very very soft. I like to set them out on the counter for a good hour before getting started. Soft and slightly warm ingredients will result in the creamiest dreamiest frosting ever! We want that.
Icing this cake is a piece of… well, you know. Simply slather the frosting over the top and around the sides, then decorate with extra nuts if you'd like! I chose bright and salty pistachios because they're vibrant and delicious, but walnut or pecans would also work great.
A note on the finished flavor: This cake is not overwhelmingly pumpkin-y. The pumpkin just sort of melts into the carrot cake flavor, creating this whole new flavor profile that is sure to blow your mind! It's like cake magic.
More Carrot Cake Recipes:
I'll be bringing this cake home for Easter this year, and I highly encourage you to do the same! It also makes a great snack cake to keep in the fridge for little bites here and there! xoxo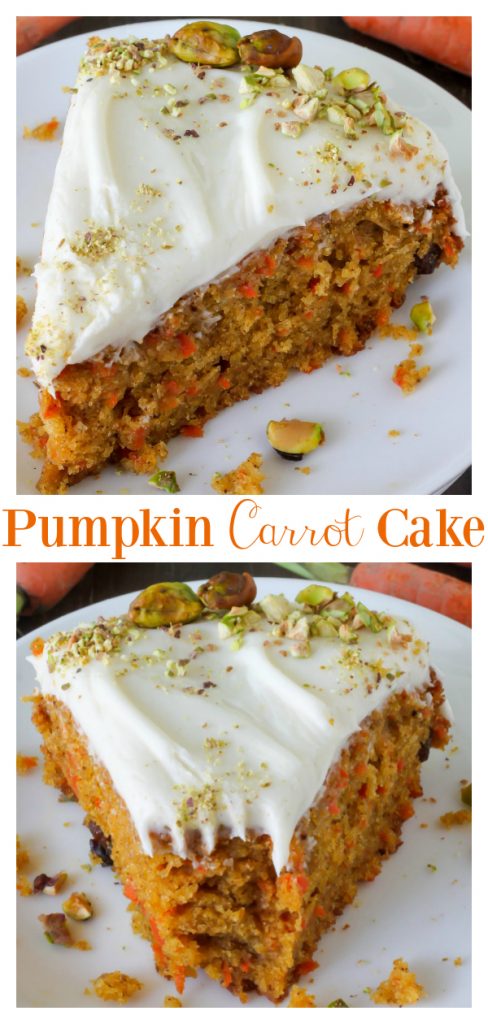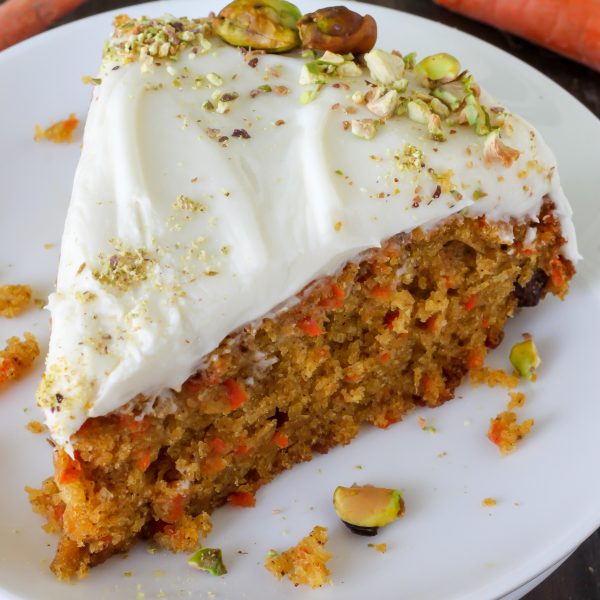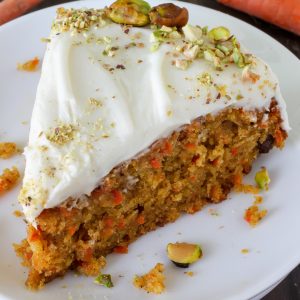 Pumpkin Carrot Cake with Cream Cheese Frosting
My favorite carrot cake - made with pumpkin! After one bite you'll want to add pumpkin to your carrot cake recipe every time. Silky cream cheese frosting and chopped pistachios finish off this delicious cake!
Ingredients
For the Cake:
2 large eggs, at room temperature
3/4 cup granulated sugar
1/2 cup canola, vegetable, or coconut oil (I used melted coconut oil because I love the slight flavor it adds to the overall cake)
1/2 cup pumpkin puree (not pumpkin pie filling)
1/4 cup light brown sugar, packed
1/4 cup buttermilk
1 teaspoon pure vanilla extract
2 teaspoons ground cinnamon
1 teaspoon pumpkin pie spice
1/2 teaspoon ground cloves
1/2 teaspoon all-spice
1/2 teaspoon ground nutmeg
1 1/4 cups all-purpose flour
1 teaspoon baking powder
1/2 teaspoon baking soda
1/4 teaspoon salt
1 1/2 cups coarsely grated carrots
1/2 cup raisins, optional
1/2 cup diced nuts, optional (I used pistachios with great results)
For the Cream Cheese Frosting:
6 oz cream cheese, VERY soft
1/4 cup unsalted butter, VERY soft
1 tablespoon vanilla pure extract
2 cups confectioners' sugar, sifted
Instructions
Preheat oven to 350 degrees (F). Generously grease a 9" springform pan; set aside.

In a large bowl combine the eggs, granulated sugar, oil, pumpkin, brown sugar, buttermilk, vanilla, and spices; beat well to combine. Add the flour, baking powder, baking soda, and salt to the wet mixture; stir until just combined. Batter will be on the thicker side but resist the urge to over mix! Add in the carrots, raisins, and nuts; gently fold together until incorporated.

Pour the batter into the prepared pan and smooth the top with a spatula. Bake cake for 42-50 minutes, or until the top is golden brown and set, and a toothpick inserted in the center of the cake comes out clean. Allow the cake to cool for 20 minutes in the pan, then transfer it to a wire rack to cool completely.
While the cake is cooling, make your frosting!
In the bowl of a stand-mixer fitted with the paddle attachment, or in a large bowl using an electric handheld mixer, beat the cream cheese, butter, and vanilla on medium-high speed until completely smooth; about 2 minutes. Reduce the speed to low and gradually add the sifted confectioners' sugar. Once all of the sugar has been added beat on high-speed for 1-2 minutes. Once the cake has completely cooled, spread the frosting over the cake, decorate with additional nuts, if desired, then slice and serve! Store this cake in the fridge, covered, for up to 4 days. Not that I think it'll last that long 😉
Notes
This recipe is exerted, with permission, from Averie Sunshine's cookbook: Cooking with Pumpkin (Recipes that go beyond the pie). The recipe is written in my own words. This post is not being compensated in any way or form, and all words and opinions are, as always, my own.