Chewy Chocolate Gingerbread Cookies are perfect for holiday celebrations! They're thick, chewy, and loaded with festive spices. The gooey chocolate chunks make them extra decadent!
Chewy Chocolate Gingerbread Cookie Recipe
Welcome to our 1st Annual Holiday Baking Bonanza! I sure hope you remembered your sweet tooth ↓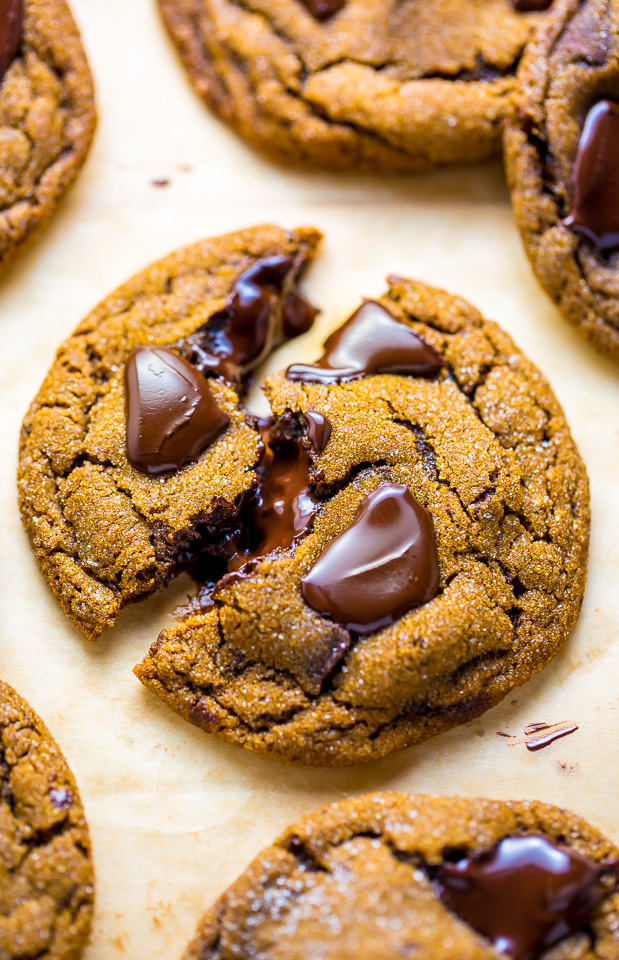 Tessa and I will be co-hosting this event for the remainder of 2016 and we couldn't be more excited. We'll be sharing festive recipes, tons of expert tips and tricks, giveaways, and so much more. Have you joined our FREE FACEBOOK COMMUNITY, yet? We'll be sharing valuable information there, as well as just chatting with you about the holidays and your baking needs, click here to join us!
I couldn't think of a better way to kick off our holiday baking bonanza than by sharing a recipe from Tessa's Christmas Cookies e-book. Tessa is a cookie master, so I knew I was in safe hands with any recipe from her book. After hours of deliberating, I finally settled on her chewy chocolate gingerbread cookies. And I'm SO glad I did. These cookies are a chocolate lovers dream! The aromatic spices are subtle, but add wonderful depth and balance.
I cannot wait to make these with my family on Christmas eve!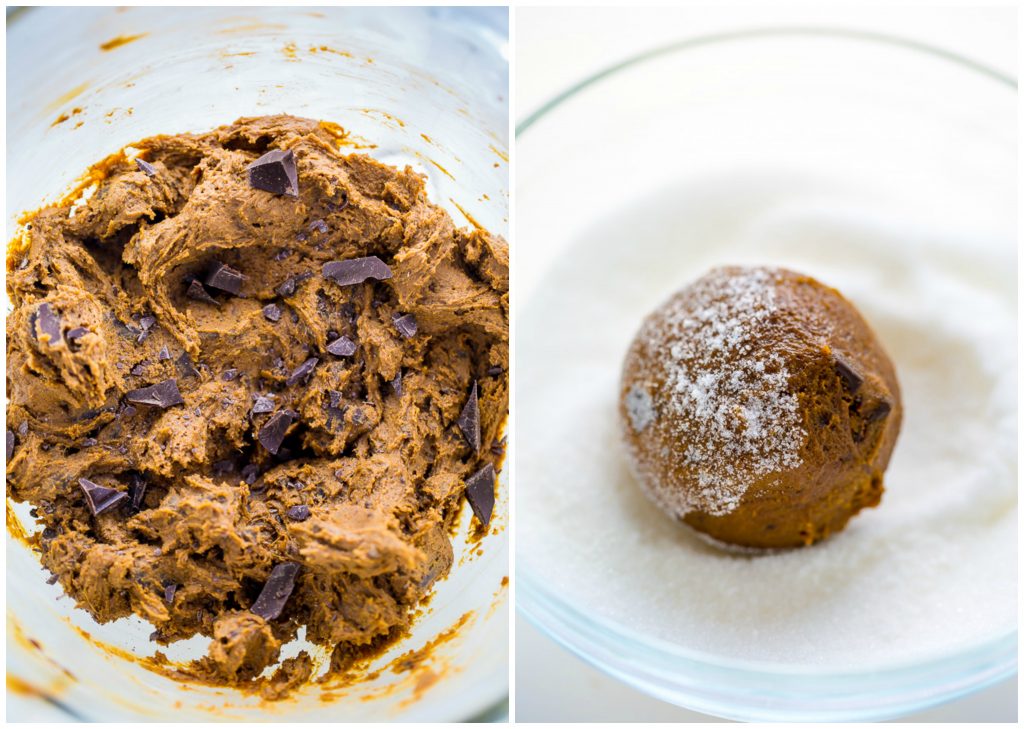 Chewy Chocolate Ginger Cookies
Tips and Tricks for Recipe Success:
This recipe calls for Dutch-process cocoa powder, which is different from regular cocoa powder. Dutch-process cocoa powder is made from cocoa beans that have been treated with potassium solution, which neutralizes their acidity. Dutch-process cocoa powder is also darker and more mellow in flavor. Click here to check-out my favorite brand.
You'll want to plan ahead time wise with this recipe, as the cookie dough needs to chill at least two hours, but can also be chilled overnight. The longer you refrigerate the dough, the thicker and chewier the cookies will bake up.
You will also need to chill the dough once it's been rolled into balls, but only for 20 minutes. I don't recommend skipping either of the chilling stages!
Don't over bake your cookies! The cookies will look almost uncooked in the center when you pull them from the oven, but will firm up quite a bit while cooling.
Don't let the holiday season slip by without baking a batch of these chewy chocolate gingerbread cookies!
More Gingerbread Cookie Recipes:
If you try this recipe, let me know! Leave a comment below and don't forget to snap a pic and tag it #bakerbynature on instagram! Seeing your kitchen creations makes my day.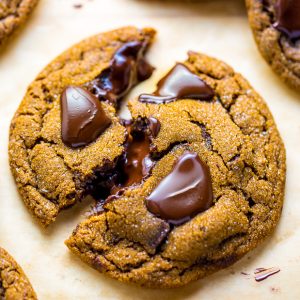 Chocolate Gingerbread Cookies
Extra thick and chewy Chocolate Gingerbread Cookies are perfect for holiday celebrations.
Ingredients
1 and 1/2 cups all purpose flour
1 and 1/4 teaspoons ground ginger
1 teaspoon ground cinnamon
1/4 teaspoon ground cloves
1/4 teaspoon nutmeg, freshly grated
1 tablespoon unsweetened Dutch-process cocoa powder
1 stick (4 ounces) unsalted butter, at room temperature
1 tablespoon fresh ginger, peeled and freshly grated
1/2 cup dark brown sugar, packed
1/2 cup unsulfured molasses
1 teaspoon baking soda
1 and 1/2 teaspoons boiling water
6 ounces semi-sweet chocolate, chopped into 1/4 inch chunks
1/4 cup granulated sugar
Instructions
Line two large baking sheets with parchment paper; set aside. In a medium bowl whisk together the flour, ground ginger, ground cinnamon, ground cloves, freshly grated nutmeg, and Dutch-process cocoa powder; set aside. In the bowl of an electric mixer fitted with the paddle attachment, beat the butter and fresh ginger on medium-speed until light and fluffy, scraping down the sides of the bowl if needed; about 4 minutes. Add brown sugar and beat until well combined. Add molasses and beat until well combined.

In a small bowl combine the baking soda and boiling water. Add half of the flour mixture to the butter mixture, then add the baking soda mixture. Beat in the remaining flour. Mix in the chocolate chunks until just combined. Be sure not to over mix the dough at any point. Cover the bowl with plastic wrap and refrigerate for at least two hours, or overnight.
When ready to bake:
Using a medium spring-loaded cookie scoop, shape the dough into 1 and 1/2 tablespoon rounds and place 2 inches apart on prepared baking sheets. Roll each ball in the granulated sugar, then chill for 20 minutes. Meanwhile, preheat oven to 325 degrees (F). Bake one sheet at a time, for 10-12 minutes, or until the edges are set and the surfaces just begin to crack. Allow cookies to cool on the baking sheet for 10 minutes before transferring them to a wire rack to cool completely.
Notes
Cookies are best served the day they are baked but will keep, stored in an airtight container, for up to 5 days.