Wanna make your morning a little more special? Whip up a batch of Chocolate Frosted Vanilla Donuts! Bonus: It will only take you 20 minutes. Too good but totally true.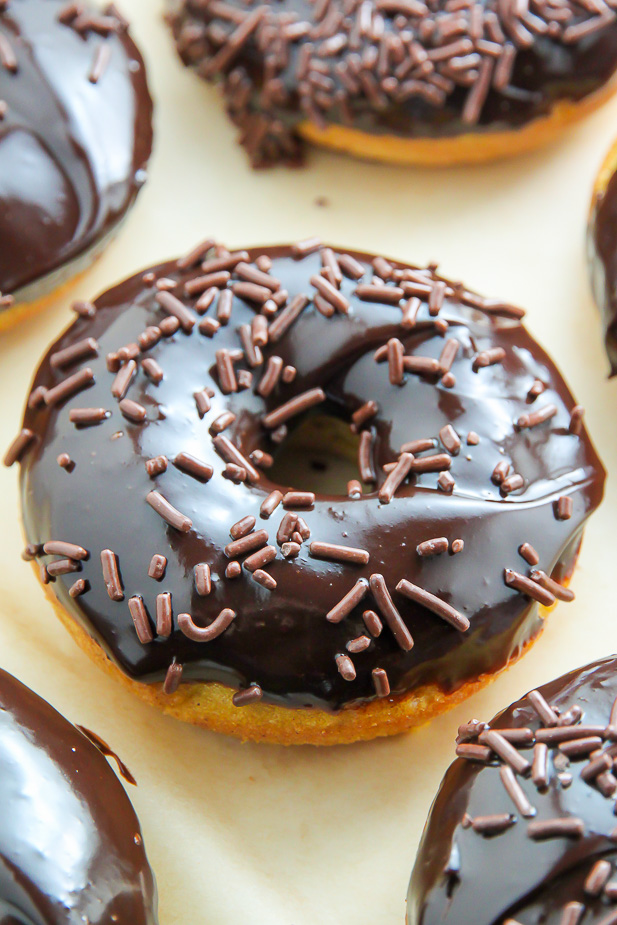 It's the weekend, my friends! Time to eat all of the things, and drink all of the things, and do all of the things that make you happy. Weekends are also about donuts. Donuts you can eat for dessert… or snack… or breakfast. ← Cuz remember, it's the weekend! Also, these donuts are baked.
↑ There is beauty in balance.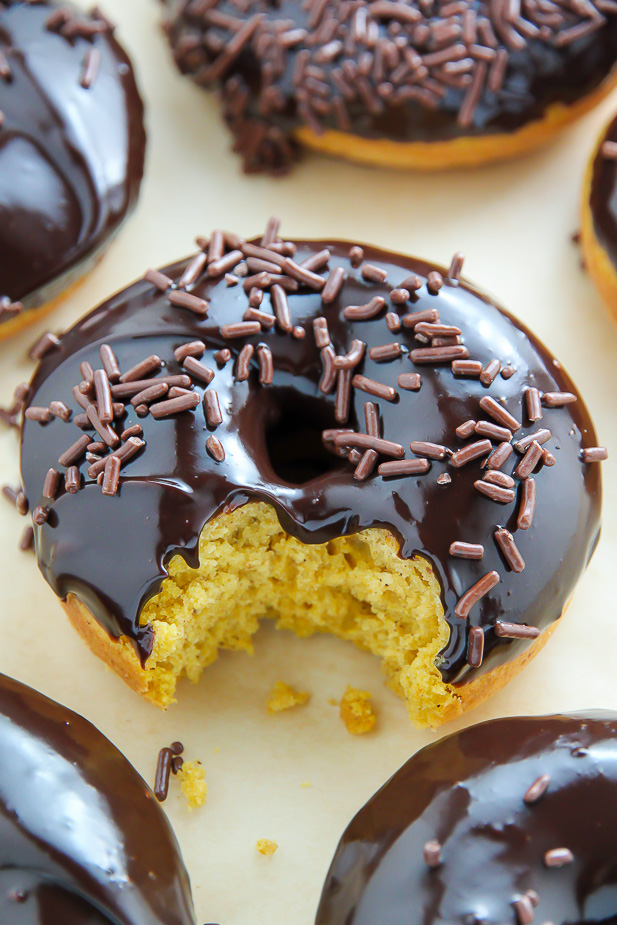 Confession: This is my second time posting baked donuts this week (have you made my brown butter apple cider donuts yet?!) and I'm sorry I'm not sorry. It's impossible to have too many donuts in ones life – and baking repertoire! Especially on the weekend. With that said, this classic donut combination of chocolate on vanilla is seriously one of my all-time favorites.
What can I say? I'm a sucker for simplicity.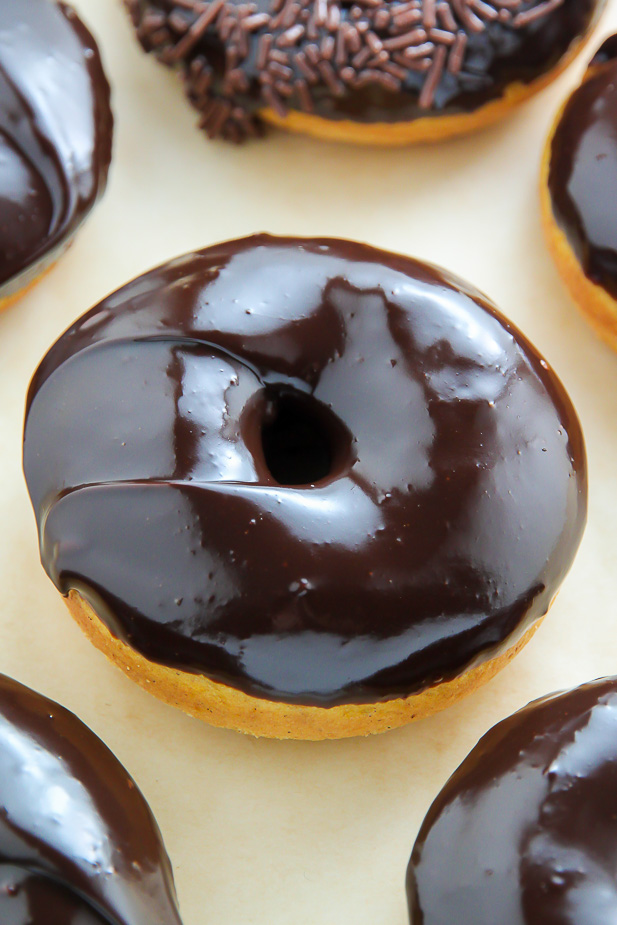 A donut is not a donut without glaze. You can quote me on that. This glaze is actually chocolate ganache. It's mesmerizing.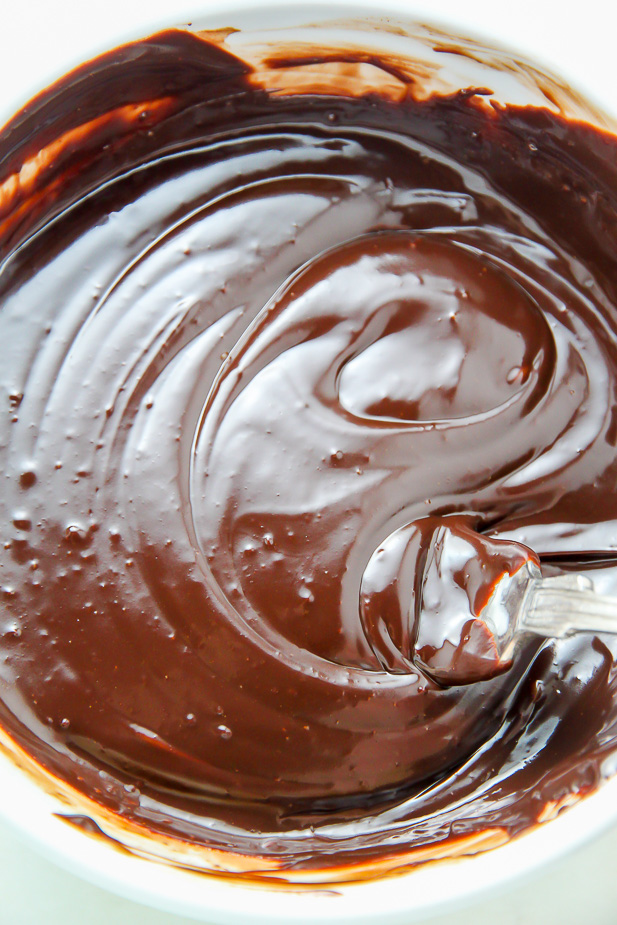 Chocolate ganache meets fluffy vanilla donut. HELLO LOVER.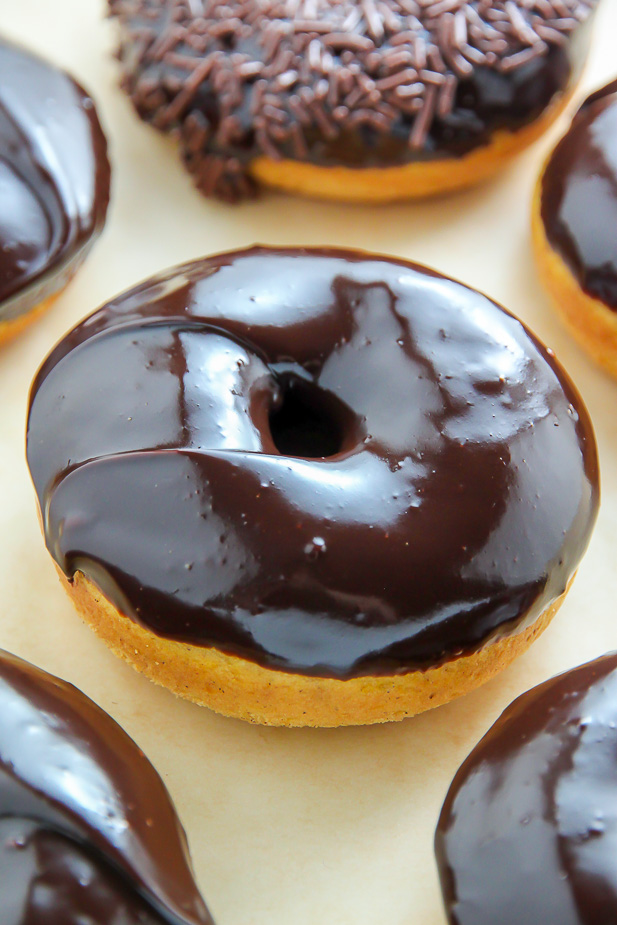 Another interior shot! Because you know I couldn't resist biting into another one…
Add sprinkles for a little pizzazz!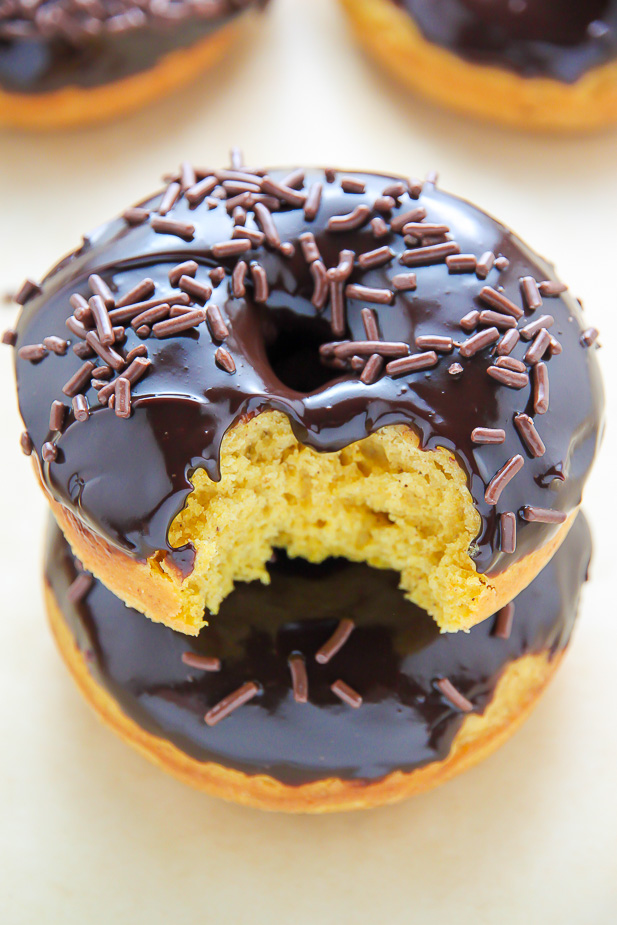 These donuts win hearts and minds, so share selectively 😉
I hope I've sold you on baking these today. You deserve a simple and sweet Saturday.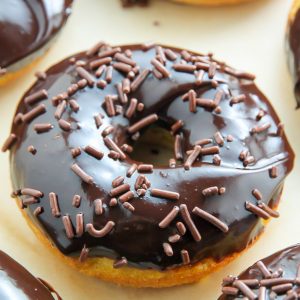 Chocolate Frosted Vanilla Donuts
Baked, not fried, these chocolate frosted vanilla donuts bake up in just 10 minutes! Dangerously easy to make.
Ingredients
For the vanilla donuts:
1 cup + 2 tablespoons all-purpose flour
1/2 cup dark brown sugar
1/2 teaspoon salt
1 teaspoon baking powder
1/2 cup milk (I used vanilla almond milk but any variety will do)
1 teaspoon vanilla extract
2 1/2 tablespoons unsalted butter, melted
1 large egg, at room temperature
For the chocolate glaze:
1 and 1/4 cups bittersweet chocolate chips
3/4 cup heavy cream
Instructions
For the vanilla donuts:
Preheat oven to 350 degrees (F). Lightly grease a donut pan; set aside.

In a large bowl whisk together the dry ingredients. In a separate bowl whisk together the milk, melted butter, and egg. Gently fold the wet mixture into the dry mixture and stir to combine - careful not to over mix!

Spoon mixture into prepared doughnut pan, and bake for 10-11 minutes, or until the donuts spring back when lightly pressed. Allow doughnuts to cool a few minutes in the pan before transferring to a wire wrack to cool for a few more minutes.
For the chocolate ganache:
Place chocolate chips in a wide and shallow heat proof bowl. Heat the cream in a small sauce pan over medium-heat. Bring to a boil, watching very carefully as it will happen fast. When the cream has come to a boil, remove from heat and pour over the chocolate chips. Allow the cream and chocolate to sit for minute, then whisk completely smooth. Let the ganache cool for a few minutes before you dip the donuts.
Assembly:
Once the donuts are cool enough to handle, dip them in the chocolate ganache, allowing excess ganache to drip back into the bowl before placing them back on the cooling rack; repeat with all donuts. Decorate wet ganache with sprinkles, if desired. Let ganache set a few minutes then serve! These donuts are best eaten the day they are made.
Notes
*Be sure not to over bake your donuts! *Decorate with chocolate sprinkles or get colorful and use rainbow sprinkles! *The batter is very thick! Spoon it into the pan, or pour it into a ziplock bag, snip off the end, and pipe the batter into the molds.