Gooey Chocolate Orange Brownie Cookies are insanely decadent and delicious!!!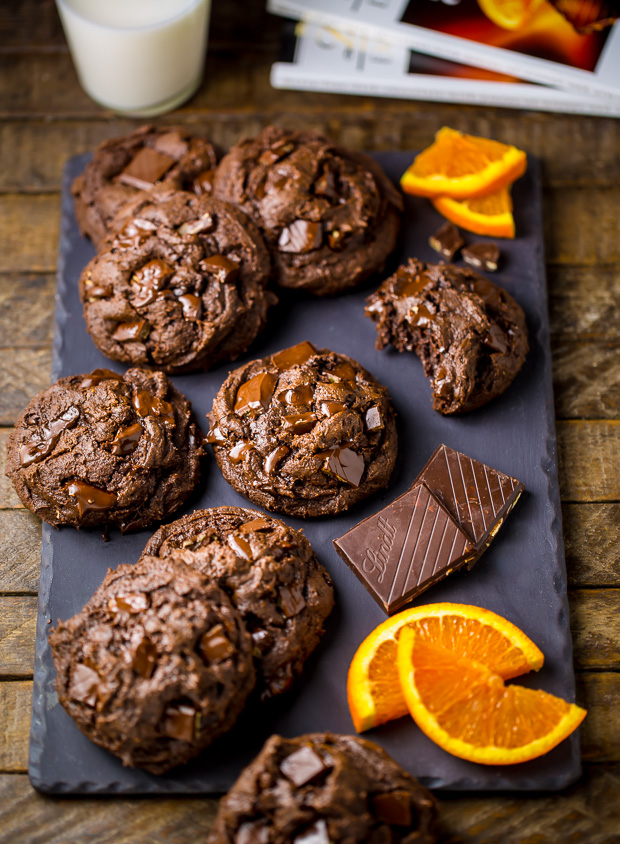 Chocolate Orange Cookies
Hello, hello! Here are those cookies I teased you with on Instagram yesterday…
Chocolate and orange BROWNIE cookies, to be exact. They're rich, chewy, and SO chocolatey. The fresh pop of orange balances everything out and adds an incredibly unique and intriguing flavor profile. I baked a few dozen for a party last weekend and left with nothing but crumbs and requests for the recipe! That's how I measure recipe success 😉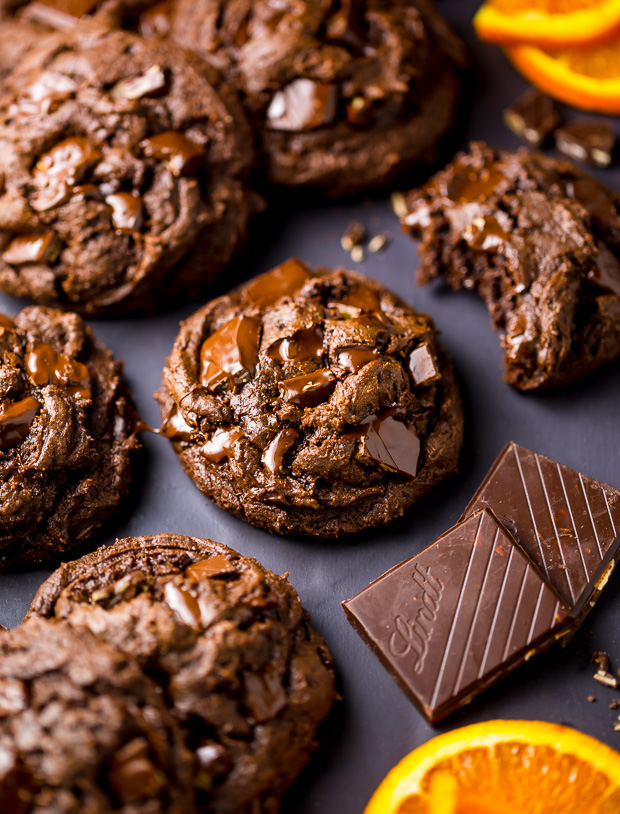 How to make Chocolate Orange Cookies
Tips and Tricks for Recipe Success:
You will need semi-sweet chocolate and orange chocolate for this recipe. I used Lindt intense orange and Lindt semi-sweet chocolate (not sponsored! just the truth.), but feel free to use your favorite brand. Just be sure you use real chocolate for this recipe, and not chocolate chips! You can click here and here to see other orange chocolate options.
The batter will need to be scooped, not rolled. It will be much different in texture than your typical cookie dough, but don't be alarmed by this! To make the scooping step as easy as possible, I like to use a lightly greased 1/4 cup measuring spoon to scoop up the cookie dough.
Make sure you leave a good inch in between each mound of cookie dough – they spread!
Do not skip the salt! These cookies are very chocolate heavy; the salt helps balance everything out.
For a VERY intense orange flavor, try adding 1/2 teaspoon of orange extract.
When it comes time to bake your cookies, you're going to preheat your oven to 325 degrees (F), BUT once you pop the cookies in the oven, you're going to immediately turn the temperature down to 300 degrees (F)! This low baking temperature gives the cookies a shiny, almost brownie like exterior, and an ultra gooey fudge interior.
Don't over bake! These cookies only need about 16 minutes in the oven. Over baking will result in dry cookies.
These cookies must – I repeat – MUST cool completely on the tray. I usually leave the room for a good 30 minutes before I even think about sneaking one off the tray.
If you'd like your chocolate orange brownies to look like mine, top them with a few chunks of orange chocolate right when they come out of the oven.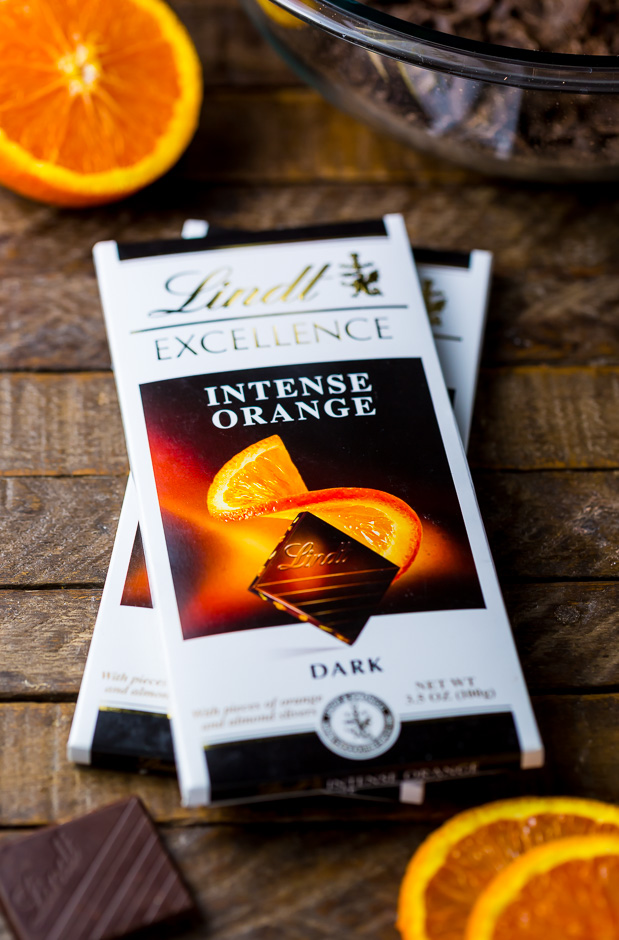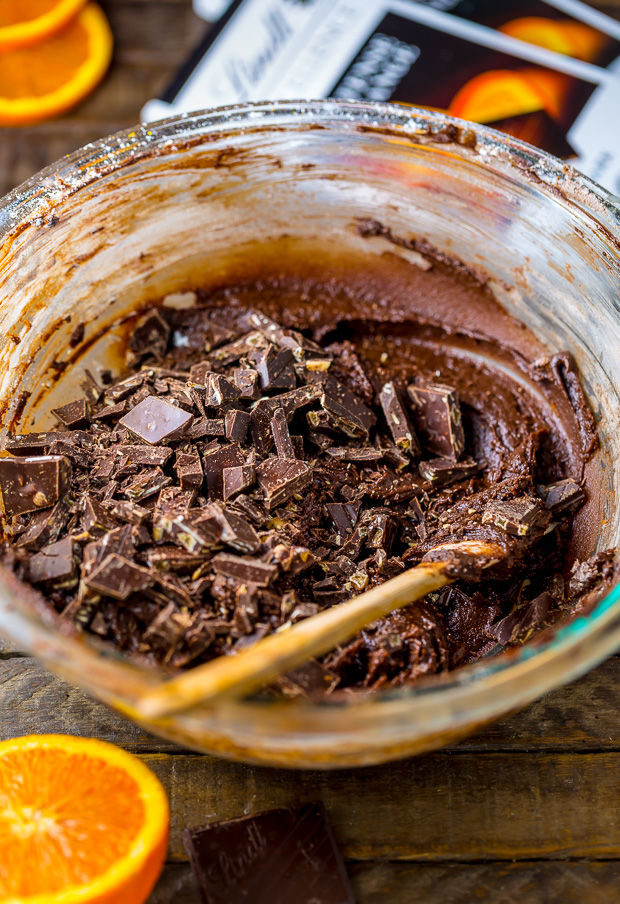 Rich chocolate, vibrant orange, and an incredible texture make these cookies irresistible! Can't wait to hear how yours turn out 🙂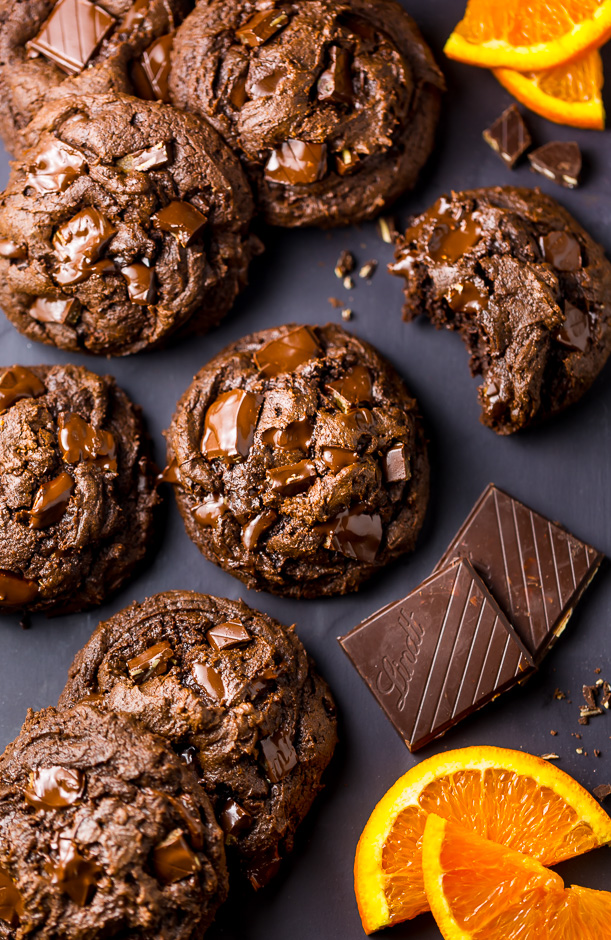 More Cookie Recipes: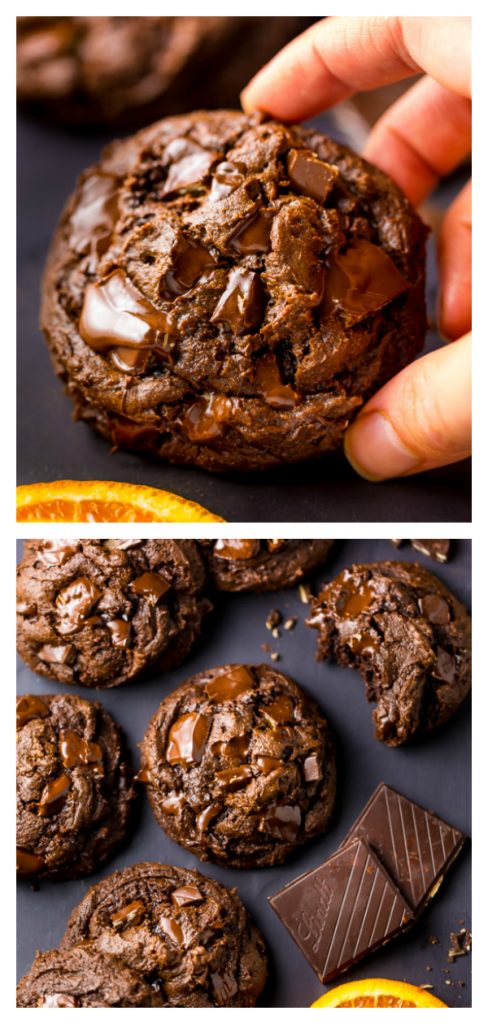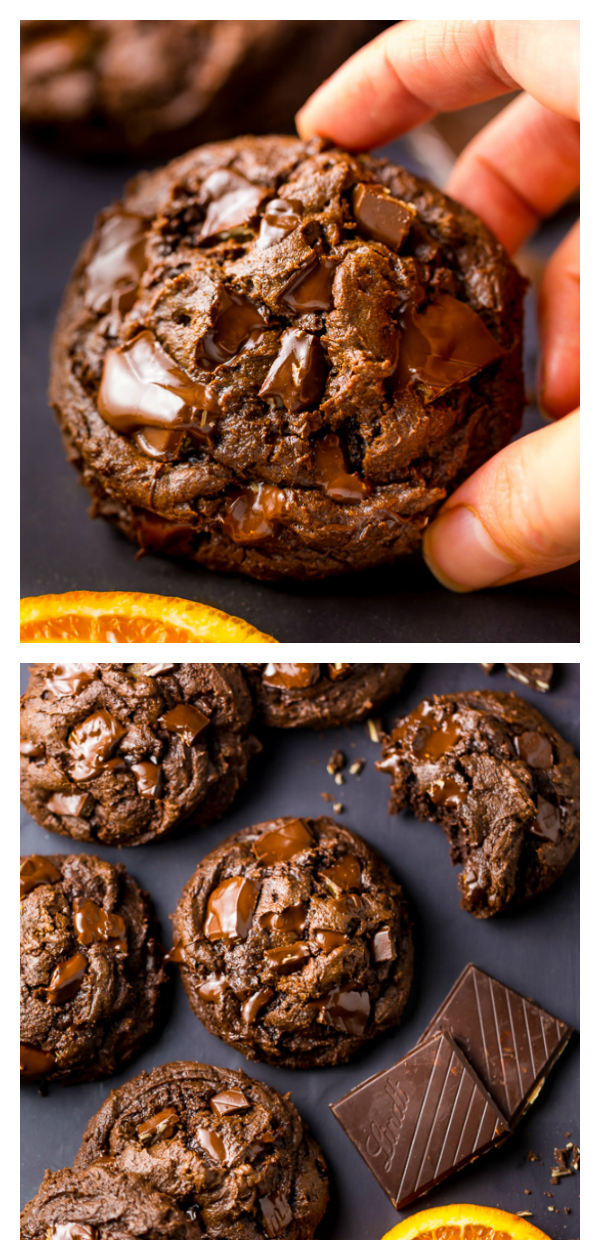 If you try this recipe for Chocolate Orange Brownie Cookies, let me know what you think! Leave a comment below, and don't forget to snap a pic and tag it #bakerbynature on instagram! Seeing your creations makes my day ♥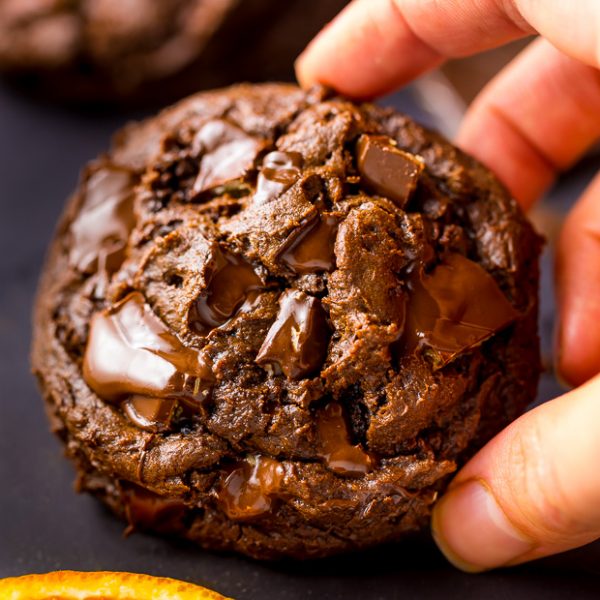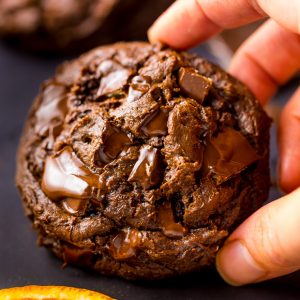 Chocolate Orange Brownie Cookies
These Gooey Chocolate Orange Truffle Cookies are insanely decadent!
Ingredients
1 cup plus 2 and 1/2 tablespoons all-purpose flour (be sure not to pack your flour)
3 tablespoons unsweetened cocoa powder
1 teaspoon baking powder
1/2 teaspoon salt
6 ounces semi-sweet chocolate, chopped
2 tablespoons unsalted butter
1 and 1/2 teaspoons vanilla extract
1/4 cup light brown sugar, packed
1/4 cup granulated sugar
1 teaspoon orange zest
2 large eggs, at room temperature
2 tablespoons whole milk
7 ounces orange chocolate, chopped (I used Lindt intense orange, but also linked to some other great brands in my post)
Instructions
Preheat oven to 325 degrees (F). Line two large baking sheets with parchment paper, lightly spray them with non-stick spray, and set aside.

In a medium-sized bowl whisk together the flour, cocoa powder, baking powder, and salt; set aside.

In a large, microwave safe bowl, combine the semi-sweet chopped chocolate and butter. Heat them in the microwave for 15 second increments, mixing in between each, until butter and chocolate are completely melted and can easily be whisked smooth. Whisk in the vanilla, then whisk in both sugars and orange zest. Beat in eggs, one at a time, beating well after each addition. Beat in milk.

Add the dry ingredients into the wet ingredients, and stir to combine - be sure not to over mix here!

Fold in the chopped orange chocolate, stirring until everything is just combined. (You may want to reserve a few pieces of the chopped orange chocolate to press onto the warm cookies right after they come out of the oven.)

Scoop 1/4 cupfuls of the batter onto the prepared baking sheets. Bake one tray at a time, reducing the oven temperature to 300 degrees after you've put them in the oven.

Bake for 16 to 19 minutes, or until the edges are set and the tops are dark and shiny. Press a few extra chocolate chunks on top of the warm cookies, if desired.

Allow cookies to completely cool on the baking sheet before serving.